ACM Kaleem Saadat is the retired four-star air-force officer in PAF and served as CAS (Chief of Air Staff) from 18th March 2003 to 20th March 2006. His appointment was made after the death of ACM Mushaf in a plane crash along with fifteen Air-Force officers on 19th February 2003.
He is serving as president of CASS (Centre for Aerospace & Security Studies). This article has all the information about him, including Kaleem Saadat Biography.
| Title | Description |
| --- | --- |
| Personal | |
| Name: | Kaleem Saadat |
| In Urdu: | کلیم سعادت |
| Native Name : | Kaleem |
| Famous As: | Soldier |
| Nationality: | Pakistani |
| Residence: | Faisalabad, Punjab Province |
| Religion: | Islam |
| Profession: | Soldier |
| Born | |
| Place: | Faisalabad, Punjab Province, West Pakistan (now-Pakistan) |
| Details | |
| Allegiance: | Pakistan |
| Service/branch: | Pakistan Air Force |
| Years of service: | 1971–2006 |
| Rank: | Air Chief Marshal (General) |
| Commands: | Chief of Air Staff Deputy Chief of Air Staff (Operations) Deputy Chief of Air Staff (Personnel) AOC PAF Base Peshawar Chief Instructor ND Wing at NDC OC No. 14 Squadron Tail choppers No. 32 Wing |
| Battles/wars: | Indo-Pakistani War of 1971 2001–2002 India–Pakistan standoff War in North-West Pakistan |
| Awards: | Tamgha-e-Imtiaz (Military) Sitara-e-Imtiaz (Military) Hilal-e-Imtiaz (Military) Nishan-e-Imtiaz (Military) Légion d'honneur |
| In Office | |
| Role: | 17th Chief of Air Staff |
| Dates: | March 18,2003 – March 18, 2006 |
| President : | Pervez Musharraf |
| Prime Minister : | Shaukat Aziz |
| Preceded by : | Mushaf Ali Mir |
| Succeeded by : | Tanvir Mahmood Ahmed |

Kaleem Saadat Biography
Kaleem belongs to a Rajput and Urdu-speaking family of province Punjab and is an able and high-ranking Air Force Officer who served competently in PAF. During his tenure in PAF, he did outstanding achievements that benefited Pakistan.
He succeeded in reducing the accident ratio of PAF in 2004 that led to the accomplishment of the safest flight record in the history of PAF.  People like Saadat having high education, competency, devotion, and patriotism are an asset of any nation.
His splendid achievements earned him Sitara-E-Imtiaz, Tamgha-E-Imtiaz, Nishan-E-Imtiaz, and Hilal-E-Imtiaz. He is also the recipient of French Legion of Honor.
Kaleem Date of Birth
He opened his eyes in Faisalabad, Punjab on 12th December 1951.
Education of Kaleem
He got an education at 'PAF School' Sargodha and completed matriculation in 1969 with the class of Fourteenth entry. Saadat Kaleem passed out from PAF Academy Risalpur with class of Fifty-One General Duty (Pilot) course alongside with flying officer Rashid Minhas.
He completed Basic Weapon Course from Turkey, Flying Instructors' Course from Risalpur, Staff College & Air-War Course from Air War College PAF, CSI and L'ESGI from France's École Militaire and National Defense Course from Islamabad's National Defense College.
Career
Command & Staff Assignments
During his career in PAF, he commanded Number-Fourteen OCU Squadron, Number-Thirty-Two Wing at Masroor PAF Base and Peshawar PAF Base.
His instructional and staff appointments include plans director at AHQ, Assistant Commandant of CFT (College of Flying Training) at PAF Academy, Air Staff Deputy Chief at AHQ, and Chief Instructor at NDU (National Defense University) Islamabad.
Foreign Tours
Foreign tours of Saadat include 'Deputation to Algeria (1980 to 1983), Exchange Pilot in Turkey (1977 to 1978), War Course at École Militaire, France. He was a close friend and coursemate of flying officer Rashid Minhas.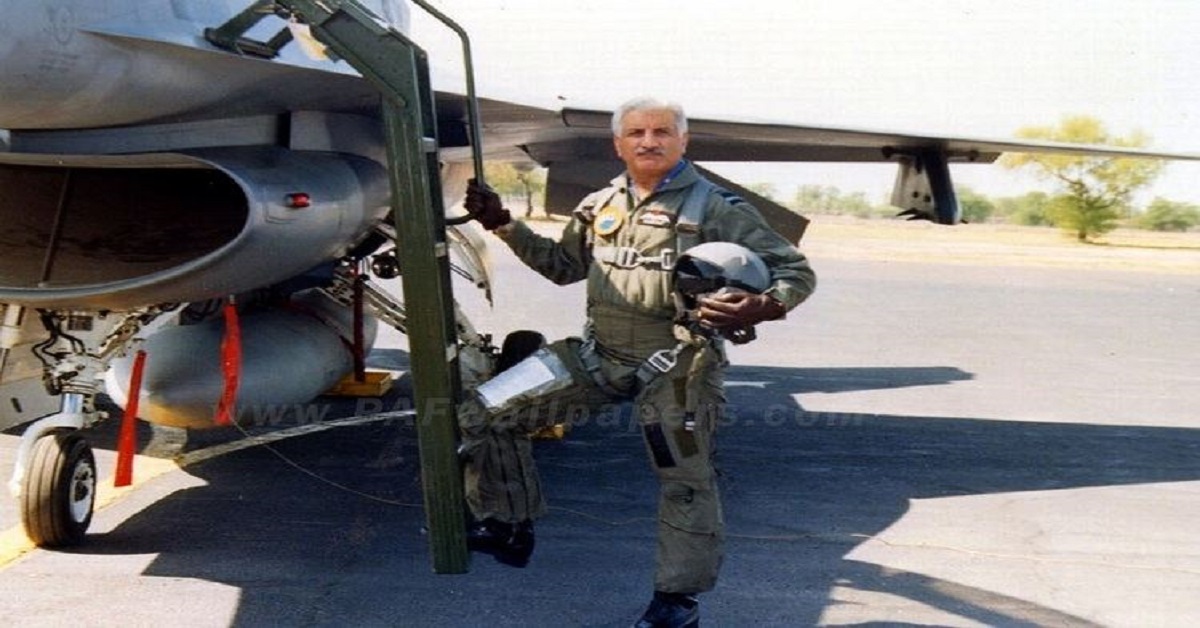 Death of Mushaf Ali
Then Pakistan Air Force Chief ACM Mushaf Ali died on 20th February 2003 in the plane crash when airliner Fokker F27 in which Mir and his spouse, as well as fifteen officers, crashed near KPK city Kohat killing all onboard passengers.
After this accident then Vice-Chief AM Syed Qaisar Hussein was designated acting PAF air chief. On 19th March 2003 then Deputy-Chief of air personnel Saadat was named as PAF Air chief.
President of CASS
In 2019 he was designated as 1st president of CASS (Centre for Aerospace and Security Studies) that is a self-reliant research policy institute established by PAF with métier in economics, doctrine, security, aviation, and aerospace. ACM Mujahid Anwar inaugurated CASS in July 2019.
Achievements
During his tenure air-craft prototype was uncovered and flew for some hours, with its semi-production being commenced in 2005. The Air Head offices were moved to Islamabad after working in Rawalpindi, Peshawar, and Karachi.
In 2004 PAF had the lowest accident ratio and so it succeeded in achieving splendid Flight Safety record of PAF's history. The PAF made the most extensive flying operations 'Highmark-2005' Exercise after a gap of almost ten years.
Recipient of Prestigious Laurels
He is the recipient of Sitara-E-Imtiaz, Tamgha-E-Imtiaz, Nishan-E-Imtiaz, and Hilal-E-Imtiaz. Additionally, on 13th July 2005, he received French 'Legion of Honor' for the outstanding association between Defense Industries of French correlated to 'Aeronautics' and PAF.
Retirement
In 2006 his 3-Year term completed and then Vice-Chief of Air-Staff AM (Air Marshal) Tanveer Mehmood replaced him as Air Chief.