Josh Malihabadi is counted among the poets who started their poetry with Ghazals and later turned to poetry. In the Indian War of Independence, he started a revolution through his poetry that earned him the title of 'Poet of the Revolution.'
Even today, when young people recite poems dedicated to Josh's rebellious tenets and his passion for the country's freedom, there is a boil in their blood. No matter how many rebellions he may have, every poem is following all the principles of poetry prevalent in Urdu poetry.
He overwhelms the  reader's mind with words' power and rhyme's weight. And he speaks his heart out with full force and clarity. This article has all the details about him, including Josh Malihabadi Biography.
| Title | Description |
| --- | --- |
| Personal | |
| Name: | Josh Malihabadi |
| In Urdu: | جوش ملیح آبادی‬ |
| Famous As: | Shayar-e-Inquilab |
| Nationality: | Indian (till 1958), Pakistani |
| Education: | St. Peter's College, Visva-Bharati University |
| Religion: | Islam |
| Profession: | Poet |
| Awards : | 2 |
| Born | |
| Date: | 5th December 1898 |
| Place: | Malihabad, North-Western Provinces, British India |
| Beautiful Couplets Wrotes: | 100,000 |
| Rubaiyat Wrote: | 1,000 |
| Famous Ghazal: | Yaadon ki Barat |
| Poet: | Urdu Language |
| Family | |
| Parents: | Bashir Ahmed Khan (Father) |
| Died | |
| Date: | 22nd February 1982 |
| Rest Place: | Islamabad, Pakistan |
| Aged: | 83 |

Josh Malihabadi Biography
He was a revolutionary and a romantic poet, and the element of romance can be seen in his ghazals. His poetic potential can be gauged from the fact that Gorakhpuri, who was older than him, used to call him his teacher.
In his poetry, who recited poems at the age of 10 and took correction from Aziz Lucknow, the words seem to be intertwined like flowers and plants, and in the poems where there is a spirit of freedom, a flame erupts from the words. His poetry is very fluent.
A river of words seems to be flowing and making noise in his poems. His poems have such a unique and unconventional use of new and successive similes and metaphors that the reader is caught up in the similes and metaphors' spell. He was posthumously awarded Hilal Imtiaz, Pakistan's highest state award, in 2013.
Josh Date of Birth
On a beautiful fertile land like Malihabad, the poet of revolution, Josh was born on December 5, 1898, in an educated family. And as long as Malihabad is established on the planet, his name will come.
Education of Josh
After passing the Senior Cambridge Examination from St. Peter's College, Agra, in 1914, he spent some time studying Arabic and Persian and then spent six months at Tagore's University studying Sanskrit culture. He was unable to attend college because of his father's sudden death.
Josh Malihabadi Family
His elders had migrated from Tirah Valley of Azad tribes and reached Malihabad. He belongs to the Afridi Pathan tribe. His father, Bashir Ahmad Khan Bashir, was also a poet, and his grandfather Nawab Ahmad Khan and his great-grandfather Faqir Muhammad Khan were also a poet.
Two step-uncles, elder aunt, elder sister, and elder brother were also poets. In the last period of Mughals, his ancestors took up permanent residence in UP, where revolutionary changes took place in this family's life, and they fell in love with the Urdu language. The women of the family were also poets.
His grandmother, Begum Nawab Muhammad Ahmad Khan, belonged to the family of Mirza Ghalib. Thus he inherited poetry. He had only two children, a son Sajjad Haider and a daughter Saeedah Begum. His grandson Farrakhan Jamal, and granddaughter Tabassum ikhlaq are carrying out their grandfather's poetry legacy.
Career
Early Career
He stayed in the court of the royal system of Hyderabad in Darul Tarjuma for about ten years. His achievement was that he translated all the medicine books from English to Urdu and performed essential services. Because of his low temperament, he was deported for writing a poem against the system.
The system set a stipend and ordered his deportation. From there, he moved to Delhi and published a magazine 'Kaleem.' Four years later, he became the editor of 'Aaj Kal.' He remained in India until 1955 and was very close to Jawaharlal Nehru, the first Prime Minister of India.
He came to Pakistan in 1958 despite Jawaharlal Nehru's insistence. He felt that the future of Urdu in India was now in jeopardy because of the Hindu majority. For a long time, he remained associated with the Urdu Board in Pakistan. An excellent salary was also fixed. But due to his temperament, he had suspended from there too.
Poetic Career
He was not just a poet; he was a multi-talented figure. Where he excelled in poetry, he also had an understanding of prose. His prose is his example.  He was also involved in film and journalism. He also stepped into the film world and wrote songs and dialogues for several films between 1943 and 1948. His longest poem is 'Harf E Akhir.' His poetry is the pride of Urdu literature.
Literary Services
He also wrote columns and joined the daily Jang and wrote a column entitled 'Ilam Aur Fikar.' His first column was published in 1962.
Josh Malihabadi Autobiography
It is a fact that he gained a lot of fame due to his autobiography 'Yadon Ke Baraat.' Many things became controversial, and there was a stir in literary and political circles; columns were written in his favor and against him in the newspaper. 'Yadon Ke Barat' was published from Karachi.
In this way, he remained embroiled in controversy for ten years, and because of this, he faced immense difficulties and continued to be the target of the government's reprimand. It is a collection of his observations and experiments of seventy years.
He is indeed a poet of rebellion. Revolution means to change one system and bring another system where there is the rule of justice. There is no message of a new system in his poetry. However, there are many revolts in it.
Lament
His great achievement is lamenting 'Hussain and Inqilab' in which he gave a new angle and new thinking to lament. According to him, Hussain was not a symbol of mourning, but in his view, the martyrdom of Imam Ali has bestowed heights to Islam and humanity.
'Hussein and Inqilab' consist of 68 stanzas, at the beginning of which he maps out the world's instability. He also presented the battle of the night of Karbala in his unique way. His metaphors have their uniqueness. He was awarded the title of 'Poet of Revolution' for writing this lament.
JLSC
Arshad Vasti, Iqbal Haider, Janab Alim Ghaznvi. Hasan Zaheer, Nighat Haider, Shaista Rizvi, Dr. Aqeel Athar formed the Josh Literary Society of Canada in 1983 in Canada. The society held its 1st conference with the title of 'Josh The Poet of The Century.'
Josh Memorial Committee
In 1986 Josh's granddaughter Tabassum Ikhlaq formed Josh Memorial Committee and is serving as its chairperson. This committee organizes on birthdays and death anniversaries of Josh.
Josh Malihabadi Death
His poetry, who said goodbye to this mortal world on February 22, 1982, may not be popular. Still, sensitive personalities from the world of Urdu literature have always called him a great poet.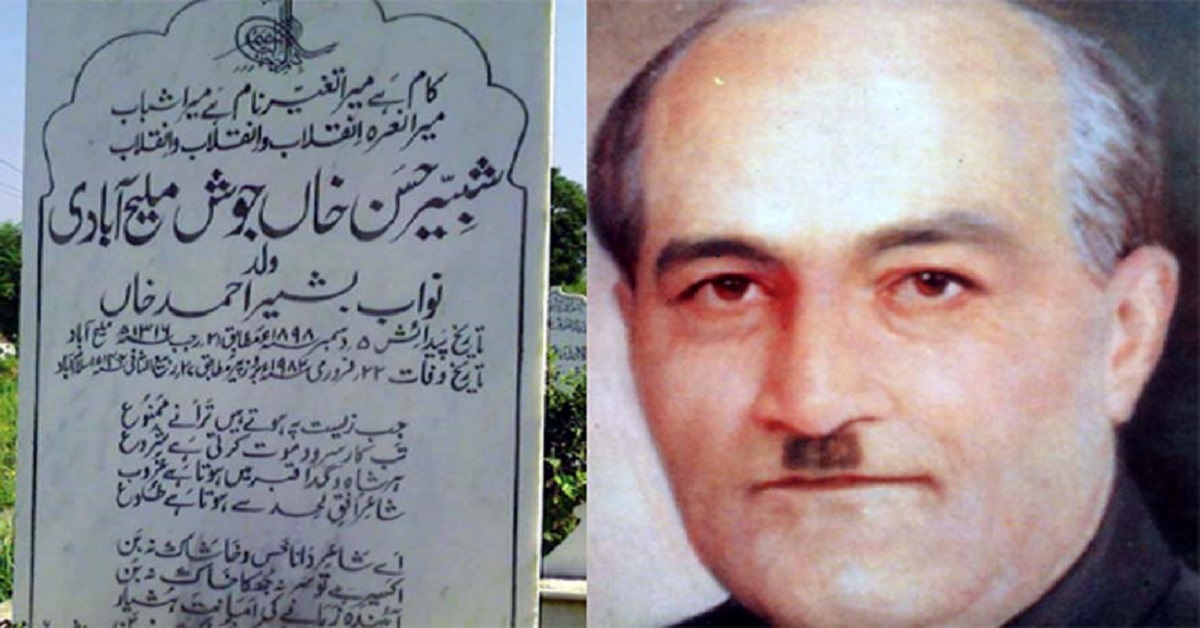 Literary Works
Sholaa O Shabnnam
Janoon O Hikmat
Fikar O Nishat
Sunbal O Salasal
Harf O Hikayat
Sarod O Kharoosh
Rooh E Adaab
Aayat O Naghmat
Arsh O Farash
Saif O Subbu
Sumom O Saba
Talu E Fikar
Qatraa O Qulzum
Nujoom O Jawaahar
Mauja E Fikar
Auraq E Sahar
Ilham O Maqalat E zarren
Nawaredat E Josh
Irfaaniyat E Josh
Yadon Ki Baraat
Song Lyrics By Josh
Hawaa Kay Moti
Aey Wattan Ham Hein Tere Shamma Ke Parwanon Mein