Introduction
Jahangir Khan Tareen is a leading expert on agriculture, sustainable development, rural economy and agri-business. Recognizing his knowledge and skills, Government of the Punjab appointed him as Chairman of the Task Force on Agriculture Development in 1997. Under his dynamic leadership the task force played a landmark role in modernizing the management of major crops and achieving food autarky in Punjab.
Master in Business Administration
After obtaining his Master in Business Administration from University of North Carolina, United States of America, Mr. Tareen worked in Department of Public Administration,
University of Punjab
, and later at Grind lays Bank, Lahore (1975-77) in the corporate banking division. Known for his entrepreneurial skills he bought 1500 acres of barren land in South Punjab at Lodhran from 1978 to 1997 and developed it into the most modern and state of the art cotton, wheat, mango and vegetable farm in the country.
Spearheaded
Between 1981 and 1990, he spearheaded the turning around the Pepsi Cola bottlers in Multan and Lahore as Managing Director and Chairman of the Franchise. As Managing Director of JDW Sugar Mills Limited. Rahim Yar Khan, he has pioneered many farmer friendly initiatives in order to enhance productivity and profitability of both farmers and the sugar mills. Mr. Tareen has panache for philanthropy and public service. He is on Board of Directors of numerous rural development and poverty alleviation organizations. He served as Member Board of Directors of National Rural Support Programme (NRSP) and Punjab Rural Support Programme (PRSP) established on the pattern of Aga Khan Rural Support Programme (AKRSP), and was instrumental in bringing RSPs operations to South Punjab. He is Senior Advisor, on Natural Resource Management (NRM), to National Rural Support Programme and Punjab Rural Support Programme (PRSP).
Director of Pakistan
Presently Director of Pakistan Poverty Alleviation Fund, an autonomous public company set up by the World Bank and Government of Pakistan to administer a $l00m World Bank Fund. PPAF has been instrumental in capacity building of a large number of civil society organizations, and not for profit bodies working for poverty alleviation in Pakistan. Lodhran Pilot Project (LLP) a personal commitment of Mr. Tareen, of which he is Chairman and sponsor, was set up in 1999, on the lines of renowned Orangi Pilot Project (OPP). The legendary Dr. Akhter Hameed Khan personally visited Lodhran on persuasion of Mr. Tareen, and launched the programme.
[2]
Jahangir Khan Tareen Introduction
Jahangir Khan Tareen Director of JDW Group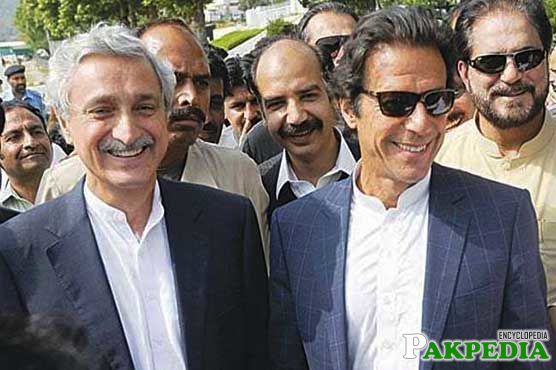 Mr. Jahangir Khan Tareen is the Founder of the JDW Group. From a humble beginning in 1992-93, when a small sugar mill of 4,000 tons per day was set up in District Rahim Yar Khan, the group has grown to its present size and composition under his guidance and vision. As a Director Mr Tareen continues to lead the group ably supported by a team of dedicated and highly motivated professionals.
Education
Born in 1953, Mr. Tareen received his early education in Karachi and graduated from F.C. College in
Lahore
. Upon graduation, he proceeded to the United States of America for higher education and was awarded the degree of Masters in Business Administration from the University of North Carolina in 1974. Mr. Tareen brings with him, rich and varied experiences in the private as well as the public sector. After a teaching stint in the Department of Public Administration, University of the Punjab, Mr. Tareen joined Grindlays Bank, Lahore for a short period of three years.
Farming
After leaving the Bank Mr. Tareen ventured into Farming. He developed and now manages a 2,500 acre Mango and Cotton farm in Lodhran using the most modern farming methods. Many innovations tested upon his farms have been adopted by the Punjab government for dissemination among the poor farmers of Punjab.
Diversified into the Business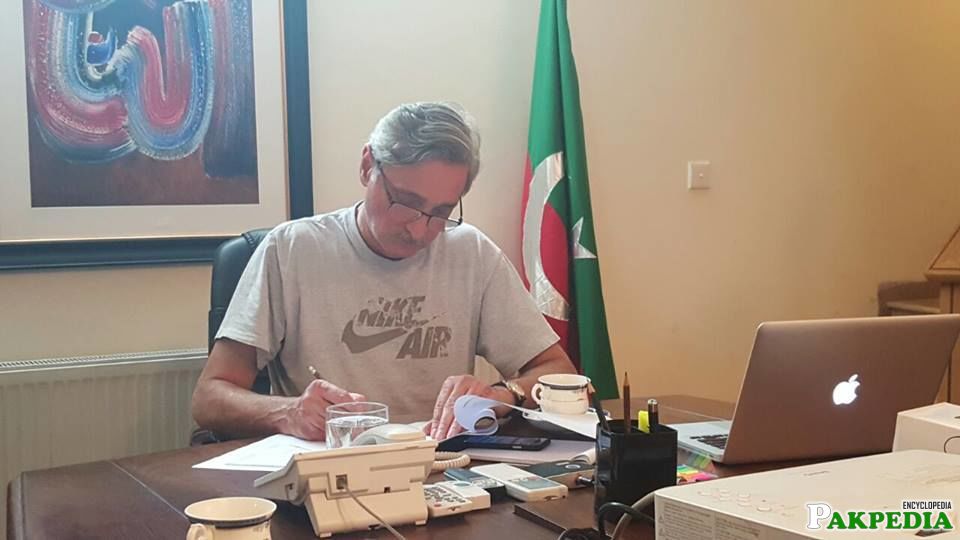 Mr. Tareen diversified into the Business world by Investing in a franchise Bottling business and subsequently established JDW Sugar Mills which has developed into Pakistan's largest and most efficient Sugar milling operations. This is the only Sugar Group in the country which is supported by an associated Sugar cane research organisation. The Mill runs an extensive community development programme geared towards increasing yield and profitability of small farmers while also funding education and health initiatives in its area of operations. Subsequenty JDW has diversified into other businesses which together form the JDW Group.
[3]
Jahangir Khan Tareen   Director of JDW Group
Public Service
Mr. Tareen was called into public service in 1997 as Chairman of the Punjab Task Force on Agriculture which addressed pressing issues pertaining to the agricultural sector by formulating and implementing innovative policies which left a lasting impact on the sector, most notable of which was the complete annihilation of agriculture pesticide adulteration in Punjab and the 'One Window' Agriculture Loaning Operation in which small farmers were able to obtain loans from the Agriculture Development Bank in one seamless operation. Mr Tareen created Crop Management committees to manage all aspects of the major crops and to bring all stakeholders on the same page in decision making. The Punjab Agriculture sector still continues to benefit from the initiatives and changes brought about at that time.
Chairman
He has served as Chairman Punjab Task Force on Wheat Procurement and Marketing and of the State Bank Committee on Rural Finance. Mr.Tareen began his political career when he was elected Member of the National Assembly of Pakistan in the 2002 General elections. He elected to work as Advisor to the Chief Minister, Punjab, on Agriculture and New Initiatives, a position especially created in the Chief Minister's office for developing and implementing "out of the box" solutions for some of the many pressing problems of the province. In a successful two year stint, many significant new initiatives were taken and implemented, most notable among them were the Punjab Education Reforms Program, the RYK Model of Primary Health Care management through BHU's and the new Punjab Industrial Policy. Mr Tareen was brought into the Federal Cabinet as the Minister of Industries, Production and Special Initiatives in August 2004.
Cabinet Minister
In three year as Cabinet Minister Mr Tareen was able to begin many new initiatives. An industrial Strategy was evolved and documented by a group of Pakistani Economists ably led by Dr. Ijaz Nabi. The moribund Pakistan Industrial Development Company (PIDC) was reviltalised into an engine of change by creating multiple sector development companies, each with a complete sector development vision, strategy and implementation plan . A technology Upgradation Company (TUSDEC) was created as a public private partnership to work with key private sector entities to bridge the technology gap. This has led to the establishment of much needed Technology up gradation centres in Karachi and Gujranwala. The RYK model of managing Primary Health Care was spread across the whole country and into every province. A water Channel lining project lined 50% of all watercourses in the country in the short span of three years. A Dairy development initiative led to the establishment of the PDDC or Pakistan Dairy Development Company mandated to work with small livestock owners to bring a quantum change in Dairy management.
Punjab Vocational Training Council PVTC
Mr. Tareen is cognizant of the fact that while Pakistan must rapidly industrialise to provide the economic growth necessary for job creation and poverty alleviation, it must, at the same time, take direct Poverty Alleviation Initiatives so that the people of Pakistan share the fruits of economic growth as soon as possible. He also believes that, in order to be successful, the people of Pakistan must develop their skills so that they can realize their full potential. He is an advocate of sustainable development and encourages communities to adopt a participatory, self-help approach. Mr. Tareen's commitment to the capacity building and strengthening of communities is reflected in the high degree of his involvement with community based initiatives such as the Lodhran Pilot Project, of which he is Chairman and Sponsor. He is also actively involved in the National Rural Support Programme as a Director . He has also served as Director of the Pakistan Poverty Alleviation Fund and was a founder Member of the Governing Council of the Punjab Vocational Training Council (PVTC).
[4]
jahangir Khan Tareen JDW Group Public Service
Political career
In an interview with Newsweek Pakistan, Tareen said "he doesn't belong to a political family, but he married into a political family". He began his political career in 2002 after he was elected to the National Assembly in the Pakistani general elections, 2002 from Constituency NA-195 on the ticket of Pakistan Muslim League (Q). He served as special adviser on agriculture and social sector initiatives to then chief minister of Punjab Chaudhry Pervaiz Elahi. In August 2004, he was inducted into the federal cabinet and was made Federal Minister for Industries and Production in the
Shaukat Aziz
ministry where he remained until 2007. In the Pakistani general election, 2008, Tareen was re-elected as the member of the National Assembly for the second time from Constituency NA-195 on the seat of Pakistan Muslim League (F). He was the parliamentary leader of PML-F in the National Assembly. Later he formed a forward block known as "Tareen's group" which comprised several seasoned politicians. In 2011, he said he was to launch his own political party consisting of politicians free from corruption charges. He later resigned from the National Assembly and in November 2011, joined Pakistan Tehreek-e-Insaf along with a number of associates, saying that his vision was similar to PTI. In September 2013, Imran Khan appointed Tareen as the Secretary General of Pakistan Tehreek-e-Insaf In the Pakistani general election, 2013, Tareen ran for the seat of the National Assembly from Constituency NA-154 (Lodhran) on the seat of PTI, but was unsuccessful. In the 2015 by-elections, he was re-elected as a member of the National Assembly for the third time from Constituency NA-154 (Lodhran) on the seat of PTI. The seat was became vacant after Tareen filed a petition in which he accused of irregularities in the constituency during the 2013 general election. Reportedly, Tareen has heavily invested in Lodhran.
[5]
Jahangir Khan Tareen Political Career
Controversies
In 2016, DAWN reported that critics of Tareen alleged that his sugar business thrived during the
Pervez Musharraf
rule during his tenure as Minister for Industries and Production for five years.DAWN further reported that there are many allegations of money laundering and loans defaulted against Tareen. Mohammad Zubair Umar also accused Tareen of multiplying wealth as a federal minister during the Musharraf rule saying that "Tareen waived a loan of Rs247 million together with interest drawn in the name of 'superior textile mills". A reference filed against Tareen alleged he had received a Rs101m loan from the Zarai Taraqiati Bank Limited in the name of Tandlianwala Sugar Mills, which was later written off in 2005. In 2016, PML-N filed a reference to disqualify Tareen from his National Assembly seat for "submitting false statements with the Election Commission of Pakistan and misleading the commission" In 2017, ECP rejected disqualification references against Tareen. DAWN reported that Tareen is known to finance protests and anti-government rallies of PTI. In 2016, Federal Board of Revenue informed the Supreme Court of Pakistan that Tareen had not disclosed his offshore company in his wealth statements from 2010 to 2015. Later Tareen admitted that he had an offshore company in the United Kingdom registered under the names of his children.
[6]
Jahangir Khan Tareen Controversies
Jahangir Tareen PTIs money man
t has been a rough few months for Jahangir Tareen. Just a few days before the Raiwind rally, the Pakistan Tehreek-e-Insaf (PTI) general secretary became involved in an internal fight, with the party's youth wing, that quickly turned into a very public brawl. Posters calling for his dismissal were printed. Then, PTI Additional General Secretary Saifullah Niazi resigned from his post, allegedly after developing differences with Tareen. Most damning of all, on September 25, 2016, Justice (retd) Wajihuddin Ahmed also resigned.
Wealthiest Men
One of the wealthiest men in politics, owning thousands of acres of farmland, a private plane – that Imran Khan has been criticised for travelling in – and running some of the largest sugar mills in the country, Tareen (with assets worth around 1.18 billion rupees) has remained a controversial figure. He inherited his first sugar mill – in
Rahim Yar Khan
– from his father-in-law Makhdoom Hasan Mehmood, a prominent political figure in the 1970s and 1980s. Tareen's critics allege his sugar business benefitted a lot during the Musharraf era when he remained the federal minister for industries for five years. He joined the PTI in late 2011, after resigning as a member of the National Assembly from a constituency in Rahim Yar Khan, as he felt his vision aligned with Imran Khan's. He contested the 2013 general elections from a seat in Lodhran district — a place he has heavily invested in, in terms of business, charity and development. But he lost the elections. In the by-polls held for the same seat – after the Supreme Court annulled the results of the earlier election – Tareen defeated his opponent by a margin of over 35,000 votes. He is perceived by his detractors – both within and especially outside of the PTI – as someone who is able to buy influence. Allegations of money laundering and loans defaulted continue to haunt him. In April 2016, he admitted to having an offshore company registered in the United Kingdom under the names of his children. The revelation comes as a blow to PTI's most recent rhetoric and spate of protests, with Imran Khan demanding Prime Minister Nawaz Sharif to admit to his and his family's offshore accounts. Tareen is known to fund many of the PTI's protests and anti-government rallies, where Imran Khan promises 'change' and advocates 'anti-mainstream politics', with anti-corruption as their catchphrase. Tareen stands right beside him in these.
Tareens Biggest Political Test
His presence in the upper echelons of the party is highlighting the rift between those who want to focus more on mobilising public support for the party's original agenda of a corruption-free, just and fair Pakistan and those who want the party to focus on winning elections. He represents the latter group. The members of this group, including Tareen and several other PTI leaders – such as the former governor of Punjab, Chaudhry Sarwar and Aleem Khan in Lahore – argue that the party did not win in the 2013 election because it did not have sufficient influential candidates and did not invest as much money in the elections as its rivals did. The way Imran Khan continues to keep Tareen among his inner circle, to the displeasure of many in
PTI,
suggests that he is going to let Tareen's group lead the poll campaign for the next elections. That will be Tareen's biggest political test. It is uncertain whether he will succeed.
[7]
jahangir Tareen PTI's Money Man
Activities
Reading Book, Stuyding constituency politics, Farming and innovative business ideas.
Tareen Education Foundation TEF
A firm believer in the importance of education, Mr. Jahangir Khan Tareen established Tareen Education Foundation (TEF) in 2010. TEF adopted 85 government schools (15,000 students) in District Lodhran, south of the Punjab. Main objective of this initiative has been to demonstrate that public schools, even in rural areas, can become centres of excellence where poorest of the poor can receive modern education with dignity and pride. TEF has spent Rs. 300 million during last six years on upgrading existing schools, construction of additional classrooms, provision of furniture, modern books, 200 teachers, 98 support staff, setting up libraries, restoring science and computer laboratories, training of teachers and introducing innovative programme of studies. TEF's professional and focused commitment has led to improved physical infrastructure, increased enrolment, reduced dropout and brought about a positive change in the learning culture in government schools in Lodhran.The People's Primary Healthcare Initiative (PPHI) which began in Punjab now manages all Basic Health Units in 78 Districts of Pakistan. A recent DFID funded Third Party Evaluation of the PPHI by International Consultants has confirmed the model as the future of primary health management in Pakistan. Mr. Tareen is the founder of this initiative and is currently the Chairman of the National Steering Committee on PPHI overseeing the entire program.
[8]
  Tareen Education Foundation (TEF) 
Jahangir Tareen Disqualified from Parliament
With regards to Tareen, the judgment stated that the PTI secretary general had pleaded guilty to insider trading.  Tareen cannot be termed honest and stands disqualified for life as per Article 62(1)(f) of the Constitution, according to the
Supreme Court
judgment.  Article 62(1)(f) reads: "A person shall not be qualified to be elected or chosen as a member of Majlis-e-Shoora (Parliament) unless-...he is sagacious, righteous and non-profligate, honest and ameen, there being no declaration to the contrary by a court of law." Moreover, the court ruled that Tareen used suspicious terms in his statements to the court.  It was also stated in the judgment that the court is not announcing its decision on Tareen's agriculture land matter.  Tareen did not declare his offshore company, the court stated.  
[9]
Disqualified Disqualified