Muhammad Safdar Awan is a Pakistani Politician and retired Army officer. He belongs to Pakistan Muslim League N. Safdar Awan is the husband of Maryam Nawaz, who is the daughter of former Prime Minister Nawaz Sharif. He is more known to be the husband of Maryam Nawaz and lesser as a politician. This article has all the information about Captian, including Muhammad Safdar Awan Biography and Muhammad Safdar Awan Family.
| Title | Description |
| --- | --- |
| Personal | |
| Name: | Muhammad Safdar Awan |
| In Urdu: | محمد صفدر اعوان |
| Famous As: | Captian Safdar |
| Nationality: | Pakistani |
| Residence: | Lahore |
| Education: | Graduation in Stats and Economics |
| Religion: | Islam |
| Profession: | Politician and Retired Army Officer |
| Website: | https://twitter.com/captsafdarawan |
| Born | |
| Date: | 19th January 1963 |
| Place: | Mansehra, Khyber Pakhtunkhwa |
| Family | |
| Ethnicity: | Awan |
| Spouse: | Maryam Nawaz |
| Children: | Junaid Safdar, Mehrunnisa Safdar and Mahnoor Safdar |
| Parents: | Muhammad Ishaq |
| Relatives: | Nawaz Sharif (President PMLN), Shahbaz Sharif |
| Career | |
| Political Party: | Pakistan Muslim League N |
| Serve As: | Youth Wing President |
| Old Political Affiliations: | Pakistan Muslim League (N) |
| Member of the National Assembly | |
| Constituency: | NA-21 (Mansehra-cum-Tor Ghar) |
| Assumed office: | 2013 – 2018 |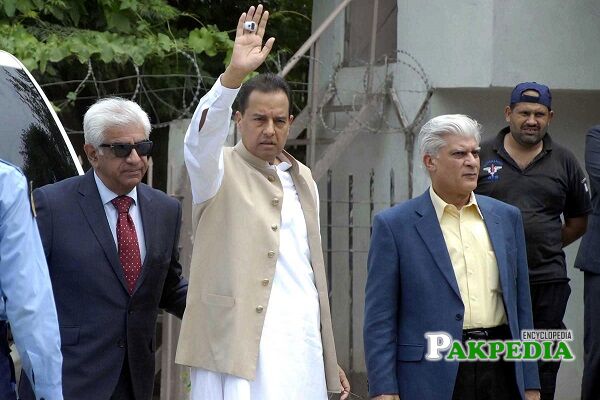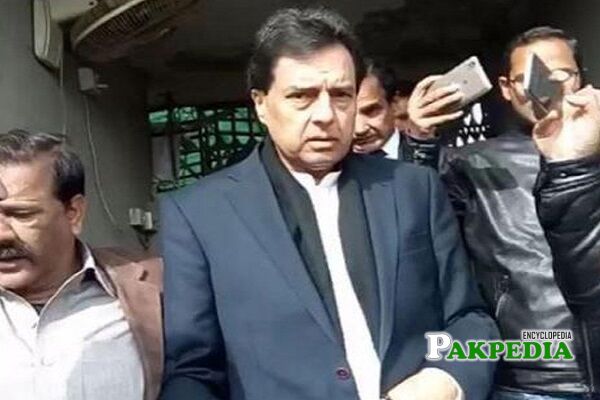 Muhammad Safdar Awan Biography
Safdar Awan, mainly known as Captain Safdar, became a public figure when he married Maryam Nawaz in 1992. At that time, he was the Military Secretary to Nawaz Sharif, who was the Prime Minister at that time. Soon he retired from the Army, joined civil services, and was appointed as Assistant Commissioner of Lahore Model Town. Having married the daughter of one of the leading politicians of the country, Safdar turned political despite not having a great political background. He contested two elections; the general election in 2008 and general elections in 2013. Both times, he was elected. Currently, he is the president of the Youth Affairs of PMLN.
Safdar date of Birth
Awan was born on 19 January 1963 in Mansehra, Khyber Pukhtunkhwa. Currently, he is living in Lahore.
Muhammad Safdar Awan Family
Safdar Awan is the son of Muhammad Ishaq. He belonged to Mansehra. He got married to Maryam Nawaz, the daughter of Nawaz Sharif and the niece of Shabaz Sharif in the early 1990s. Their marriage remained the biggest controversy. They have three children; Junaid Safdar, Mahnoor Safdar, and Mehrunnisa Safdar. Junaid Safdar is not yet the part of politics while Mahnoor is a student of Fine Arts in Pakistan
Education of Safdar
Safdar has his roots in an educated family. He did his high school from Mansehra. Later, he went to Government Post Graduate College Abbottabad where he studied Physics, Economics, and Islamic History. Awan completed his graduation in Economics and Statistics.
Political Career
Initial Career
Safdar Awan had become political personality after tying the knot in a political family. He was along with the Sharif family when they were in exile. After their return, Safdar Awan decided to participate in the elections in 2008. A seat NA-52 Rawalpindi after the general elections was vacated by Chaudhary Nisar. As he had decided, he was fielded by the Party and won the election. It was the first time that he would go to the National Assembly.  In 2011, he was appointed as the Head of Youth wing of PMLN.
In the 2013 general elections, he was re-elected from NA-21. This time he contested from his hometown, Mansehra. The party made the government in the center, but this victory was important to stabilize the party in Khyber Pukhtunkhwa. In 2018, he announced to contest election from NA-14 Mansehra. Unluckily, he was sentenced to one year jail in the Avenfield Corruption case by NAB. He was also disqualified from contesting any election for 10 years. It put a brake on his political career. 
Political Stance
His political views are considered rigid in the political circle. He openly supported the Islamic fundamentalist Mumtaz Qadri who shot dead Governor of Punjab, Salman Taseer. Even though his government hanged Mumtaz Qadri, he continued to criticize his party leaders. It also led to the suspension of his party membership in 2012 by Nawaz Sharif that was resolved next year.
In 2016, Nawaz Sharif decided to rename the Physics center of Quid-e-Azam University after the first Noel prize winner Dr.Abdusslam. 
He severely criticized the decision only because of the Abdussalam's Ahmadi faith. It was approved by Nawaz Sharif and is called Abdussalam Fellowship. He also criticized the Ahmadi community when PMLN was under severe criticism after a controversy over Khatm-e-Nabuwat oath for lawmakers. In his speech in the National Assembly, he called the Ahmadi community a threat to Pakistan and asked the community should not be recruited in the army. He stated that he was in politics only to save the Prophethood laws in Pakistan. He was once arrested by the police after provocative remarks against the state. Later he was released after submitting the surety bonds worth 0.2 million.
The Panama Case
Along with the other members of the Sharif family, Safdar Awan's name also circulated in the Panama Leaks. When the legal procedure of the case started in the court, the Supreme Court ordered the NAB to file a case against him and start an investigation. After he missed so many hearings of the case in NAB, he was held in custody for a period of time and then released on bail. In the investigations, it was found that he had two plots in Islamabad and Mansehra, agricultural and barren land that was worth millions. 
He also disclosed 2 million rupees remittances under his name that, according to him, came from through the sale of a BMW car gifted to him by his wife in Saudi Arabia. He had 4Kg gold and cash of four million in the bank. When the trial concluded, he was sentenced one year prison for not cooperating with NAB and disqualification for 10 years. He, along with his wife, was imprisoned for one year after he surrendered himself to NAB. He was released in September 2018.
Social media Accounts