Jaffer Zaidi is a Pakistani composer, pianist, songwriter, and musician and is recognized as the primary vocalist of band 'kaavish.' He brilliantly plays piano, synth, and keyboard, and his album 'Gunkali' brought fame and recognition to him. After 20 years of struggle, he has made his name in the Pakistani music industry. His father Shehryar Zaidi is a notable Pakistani actor. This article has all the information about Zaidi, including Jaffer Zaidi Biography.
| Title | Description |
| --- | --- |
| Personal | |
| Name: | Jaffer Zaidi |
| In Urdu : | جعفر زیدی |
| Birth name : | Jaffer Ali Zaidi |
| Native Name : | Zaidi |
| Famous As: | Composer |
| Nationality: | Pakistani |
| Residence: | Karachi |
| Education: | Not Known |
| Religion: | Islam |
| Profession: | Pakistani musician, singer-songwriter, composer and pianist |
| Years Active: | 2002-present |
| Instruments: | Vocals, piano, Synthesizer |
| Website: | http://www.kaavish.com/ |
| Born | |
| Date: | 11th December |
| Place: | Karachi |
| Family | |
| Spouse: | Yamina Peerzada |
| Parents: | Nayyara Noor, Shehryar Zaidi |
| Siblings : | Naad E Ali Zaidi |
| Relatives: | Yasmeen Waasti and Arjumand Shaheen |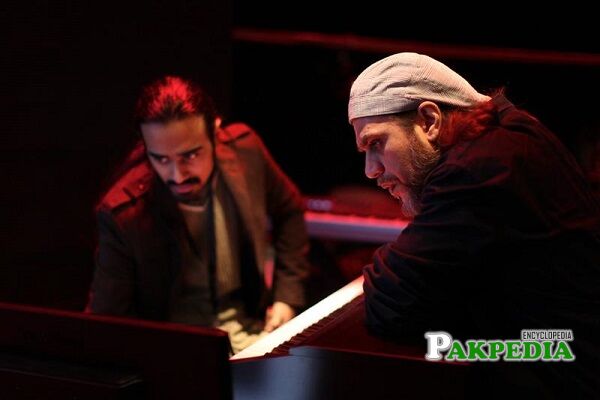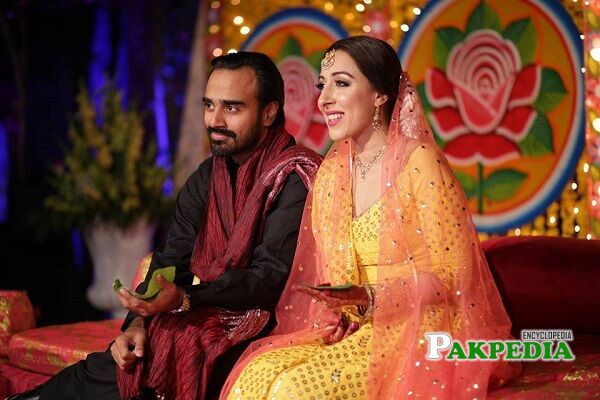 Jaffer Zaidi Biography
His music interest hails from his mother, the legendary and unmatchable singer Nayyara Noor. He was fond of music since his childhood and started playing a toy piano.  After the struggle and experience of 20 years, he has attained a prominent position in the music world. His melodic expression is varied and refined. While performing on musical instruments, he presents the spirit of music soulfully, just like virtuoso musicians.  Being interested in Orchestral music, he is trying to bring new sounds to the Pakistani music industry.  
Jaffer date of Birth
He was born on 11th December in Karachi. Currently, he is still living there with his family. 
Jaffer Zaidi Family
His parents belong to the entertainment industry. His father, Sheryar Zaidi, is a veteran Pakistani actor who appeared in many dramas and is mostly known for 'Mann Mayal,' and 'Sehra Mein Safar,' and 'Kis Ke Aye Ge Baraat.' His mother, Nayyara Noor, is a proficient musician with a magical voice and left singing in 2012. His family migrated from Assam to Pakistan in 1957. His paternal aunts Yasmeen Waasti and Arjumand Shaheen were renowned newscasters at Pakistan Television in 1980. Jaffer tied the knot in 2017 with the young talented actress Yamina Peerzada. His brother Naad E Ali Zaidi is also establishing himself in the music industry.
Music Career
Initial Career
He achieved recognition as a pianist and primary vocalist of a classical music band 'Kaavish.' The band released three songs 'Choti Khushyaan,' 'Bachpan,' 'Apne Wattan Ke Matti,' 'Moray Saiyan,' and Tery Pyaar Mein,' and received huge appraise. Maaz Maudood is a backing vocalist and guitarist of this band. These singles made the band earn the 'Rising Star Award'  at Music Awards in 2006 and nomination at 'Third Jazz IM Awards.'
Kaavish Band
Jaffer and Maaz founded this band in 1999. The band performed off-screen for six years and then released their 1st music video 'Bachpaan' on all country music channels. The conquest of this music video introduced the band to the music world. Following the success of 1st album, the band released two other video songs, 'Tery Pyaar Mein' and 'Choti Khushyaan.'
Music For Telefilm Behad
He, along with band member Maaz penned down, composed and produced the original soundtrack of  telefilm 'Behad.'
Coke Studio
He is a member of Coke Studio's  House Band since season two and kept participating in seasons 2,3,4,6,7,8,9 and 10. He was featured as a backing vocalist in season 2,3,6 and performed on keyboards. In season 7 and 8, he performed on musical instruments, including keyboard, synth, and piano.
As Music Director And Singer
In 2016 he made his debut as music producer and director in season 9 of Coke Studio.
Coke Studio Season 9
For season nine, Zaidi included veteran singers Javed Bashir, Sanam Marvi, Saein Zahoor, and Ali Azmat. Unlike other producers of the studio, Jaffer didn't sing a song and only played the piano on his numbers.
Coke Studio Season 10
In 1st episode of season ten Zaidi, along with young talent, Ali Sethi paid a beautiful tribute to legendary singer Mehdi Hassan (Late). His musical group 'Kaavish' featured QB (Qurat ul ain Baloch) on song 'Faslay.' Strings band gave him the suggestion to pay tribute to unmatchable singer Mehdi Hassan. Initially, he was fearful of paying tribute to the king of ghazals. He discussed his plan and apprehension with Ali Sethi, and they decided to deliver it as a vocal sing with the support of music. His musical group 'Kaavish' featured QB (Qurat ul ain Baloch) on song 'Faslay.'
Debut Album Gunkali
The band began to record the album in 2007. Gunkali planned to be released in 2008, but the band's drummer Raheel Manzar separated himself from the band and was released in 2010 and received well by the music fans. It got recognition as the strongest music album of the Pakistani pop music. The band made a lot of effort to make this album and devoted many hours to record songs. 
Songs have been penned down by Nayyara Noor, Maaz Maudood, Arshad Mehmood, and Jaffer Zaidi. Band's songs are contributed by talented voices including Jaffer Zaidi (Pianist and Vocalist), Amir Zaki (Lead Guitarist), Javaid Iqbal (Violin Player), Omran Shafique (Lead Guitarist), Nafees Ahmad (Sitar Player), Shallum Xavier (Lead Guitarist). The album is marvelous not only in terms of lyrics but also in music. Notes are clear, instruments are unique, and music reaches to listener's soul.
List of Coke Studio Seasons
House Band
House Band
House Band and Nindiya Re
House Band
House Band, (String, Synth, and Piano)
House Band and Neun La Leya
Music Director
Faaslay and Music Director
Jaffer Zaidi Songs
Moray Sayan
Tery Pyaar Mein
Bachpan
Apne Wattan Ke Mati
Choti Khushyaan
List of Album
Gunkali
TV
Behadd
Social Media Handles
His social media accounts include