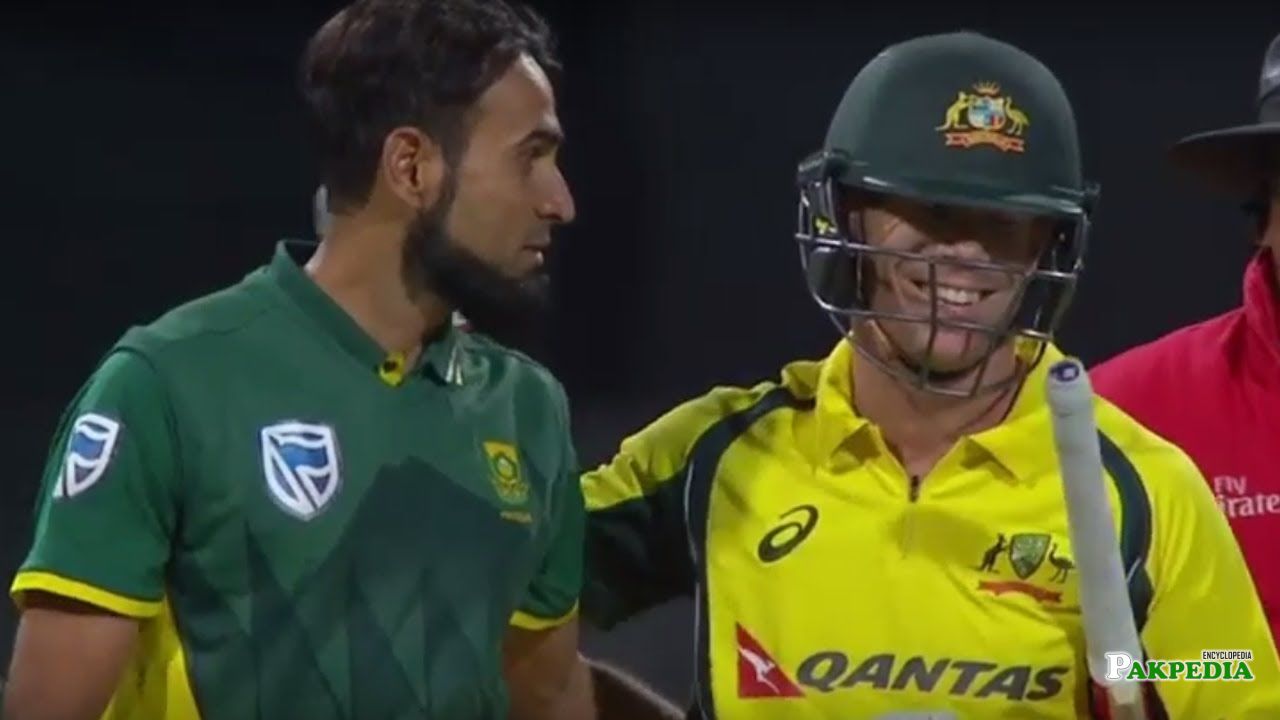 Biography
Tahir was born in Lahore,
Pakistan
. He learnt his trade in Pakistan. He even went on to represent the Pakistan U-19 team and was also a part of the Pakistan A side on some tours. However, he failed to make the transition to the next stage. Pakistan were blessed with some quality spinners and Tahir never really made his mark at the senior level to warrant a selection.
[1]
Biography
Career
Imran Tahir moved from Pakistan to South Africa via the UK for the love of a woman. In the process, he played for more than 25 teams, including four English counties, three South African franchises and an IPL team while carving a reputation as one of the best limited-overs' legspinners of his time. A feisty character with a celebration longer than most fast-bowlers' run-ups and a range of variations, Tahir made the googly his biggest weapon in the limited-overs formats.
1998 Under-19 World Cup
That was not always what Tahir was being primed for. When he arrived in South Africa, after meeting his wife Sumayya during the 1998 Under-19 World Cup, he established himself in the first-class set-up. He was the third highest wicket-taker in the 2008-09 first-class competition and was called up to the South African Test squad in January 2010 during their home series against England.
2011 World Cup
He eventually made his debut in the 2011 World Cup, and from the very onset it was evident that he was special. He had a potent leg-break, had variations in pace and flight, but his most dangerous weapon was almost certainly the googly.He lived up to his hype as a mystery spinner, taking 11 wickets from his first 3 matches. Unlike some others who bore that tag, Tahir retained that aura, troubling batsmen across the world with his incredible repertoire.
Significant Spell
His most significant spell was his 4 for 45 in the 2015 World Cup quarter-final that knocked Sri Lanka out of the tournament. It was the first time in their history that South Africa won a knockout match in tournament. His World Cup record, 29 wickets from 13 matches at 16.31 and an economy of 4.06, bears testimony to his impact on the batsmen.
7 Wickets
The next year he took 7 for 45 against West Indies at Basseterre, becoming the first South African to take 7 wickets in an ODI. These days he typically bowls the middle overs, putting a stranglehold on batsmen just when they decide to focus on singles.
Spectacular T20
He has spectacular T20I numbers too. Just like ODIs, he has reserved his best for the grand stage: from: his 9 World T20 appearances have fetched him 18 wickets at less than 12, and he goes for under 6 an over.
ICCs No. 1-Ranked Spot
It took him six years since debut to zoom to ICC's No. 1-ranked spot for bowlers in both ODIs and T20Is. He achieved the latter with 5 for 24 against New Zealand at Auckland in 2016-17, becoming the first South African spinner to take 5 wickets in a T20I.
T20 Overseas Franchises
His superlative performances won him plenty of offers from T20 overseas franchises, including three English counties, two IPL teams, and perhaps the sweetest of all — Lahore Lions, from the city of his birth.
Test Cricket
Perhaps the only glitch in his career has been his inability to eplicate his superlative limited-overs performances in Test cricket. He did have his moments (5 for 32 and 3 for 98 against Pakistan at Dubai in 2013-14, 2 for 23 and 4 for 48 at Mohali and 1 for 41 and 5 for 38 at Nagpur, both against India in 2015-16), but consistency has remained evasive.
Earned a Reputation
Tahir earned a reputation for being able to contain the middle-periods of matches while also taking wickets, and his rise coincided with South Africa's limited-overs recovery, especially after the 2015 World Cup. Tahir was even more effective in the 20-over format and by April 2016 had risen to No.2 on the ICC bowler rankings.
[2]
 Earned a Reputation 
Represented
South Africa, Dolphins, Easterns, Hampshire, Lahore Blues, Lahore City, Lahore Lions, Lahore Ravi, Lahore Whites, Pakistan A, Pakistan International Airlines, Redco Pakistan Ltd,
Sialkot
, Staffordshire, Sui Gas Corporation,
Multan Sultans
of Pakistan, Titans, Warwickshire, Water and Power Development Authority, Yorkshire - these are the teams that Tahir has represented so far in his career.
Wish of his Parents
The Lahore-born bowler recounted how his late parents Ramzan and Atiya Tahir always wished to see him don Pakistan's national colours. Alas, that never came to pass, and it pains Imran how he could not fulfill this wish of his parents. However, he notes that he has moved past that and is happy with the way his career turned out with South Africa and really appreciates the support given by the Rainbow nation. 
Support and Love
"My family and I have lived here 'in Lahore' so there was always hope that I would play for Pakistan but I am happy with where I am in my career," he added. "In fact I want to thank the South African nation for their support. I can't describe that in words! They love me irrespective of my race and colour which is a very warm feeling".
[3]
Support and Love
Muhammad Masroor
Tahir made a special mention to Pakistan first-class player Muhammad Masroor, who had helped the 36-year-old in his early days and had motivated him in following his dream."I would like to especially mention Masroor because he helped me when I wasn't as rich and took care of me. Now I've heard that he has been appointed as the coach of
Karachi
and I would urge the
Pakistan Cricket Board
that such people should be encouraged as they only can realise the potential and difficulties at grass-root level. I also owe a big thank you to Pakistan's former captain
Rashid Latif
who also supported me when I was nothing," he concluded.
Multan Sultans PSL 2018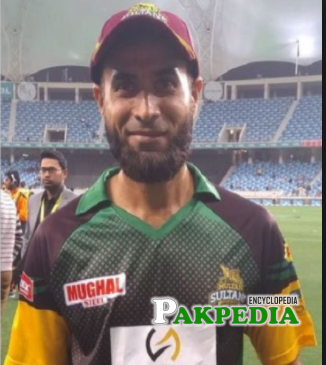 The 38-year-old has made his mark by clinching seven wickets in three
PSL
games for Multan Sultans — his first appearance in the league. And, he's enjoying it."Well done to PSL and the organisers and everybody involved with the league, it's a great league. I didn't think that it was going to be that tough, but now I am loving it," said Imran Tahir, who has played 20 Tests, 85 ODIs and 36 T20Is for South Africa."I feel proud to be playing PSL, specially against the players who are good at playing the spin. It's a very good standard, it is not easy for spinners to come and just take wickets," he added.
[4]
Multan Sultans PSL 2018
Batting and Fielding Averages
| | Mat | Inns | NO | Runs | HS | Ave | BF | SR | 100 | 50 | 4s | 6s | Ct | St |
| --- | --- | --- | --- | --- | --- | --- | --- | --- | --- | --- | --- | --- | --- | --- |
| Tests | 20 | 23 | 9 | 130 | 29* | 9.28 | 235 | 55.31 | 0 | 0 | 18 | 1 | 8 | 0 |
| ODIs | 85 | 28 | 12 | 128 | 29 | 8.00 | 182 | 70.32 | 0 | 0 | 18 | 1 | 17 | 0 |
| T20Is | 36 | 3 | 2 | 18 | 9* | 18.00 | 17 | 105.88 | 0 | 0 | 1 | 1 | 7 | 0 |
| First-class | 194 | 246 | 62 | 2617 | 77* | 14.22 | - | - | 0 | 4 | - | - | 82 | 0 |
| List A | 210 | 68 | 22 | 445 | 41* | 9.67 | - | - | 0 | 0 | - | - | 47 | 0 |
| T20s | 190 | 34 | 17 | 165 | 23 | 9.70 | 143 | 115.38 | 0 | 0 | 14 | 6 | 42 | 0 |
Bowling Averages
| | Mat | Inns | Balls | Runs | Wkts | BBI | BBM | Ave | Econ | SR | 4w | 5w | 10 |
| --- | --- | --- | --- | --- | --- | --- | --- | --- | --- | --- | --- | --- | --- |
| Tests | 20 | 37 | 3925 | 2294 | 57 | 5/32 | 8/130 | 40.24 | 3.50 | 68.8 | 1 | 2 | 0 |
| ODIs | 85 | 83 | 4419 | 3449 | 139 | 7/45 | 7/45 | 24.81 | 4.68 | 31.7 | 6 | 2 | 0 |
| T20Is | 36 | 36 | 797 | 904 | 57 | 5/24 | 5/24 | 15.85 | 6.80 | 13.9 | 2 | 1 | 0 |
| First-class | 194 | | 38291 | 20882 | 784 | 8/42 | | 26.63 | 3.27 | 48.8 | | 53 | 11 |
| List A | 210 | | 9922 | 7659 | 322 | 7/45 | 7/45 | 23.78 | 4.63 | 30.8 | 13 | 6 | 0 |
| T20s | 190 | 180 | 4027 | 4795 | 224 | 5/24 | 5/24 | 21.40 | 7.14 | 17.9 | 4 | 1 | 0 |
Recent Matches
| Bat & Bowl | Team | Opposition | Ground | Match Date | Scorecard |
| --- | --- | --- | --- | --- | --- |
| 2, 3/19 | Sultans | v Islamabad Un | Dubai (DSC) | 25 Feb 2018 | T20 |
| 3/27 | Sultans | v Qalandars | Dubai (DSC) | 23 Feb 2018 | T20 |
| 1/37 | Sultans | v Zalmi | Dubai (DSC) | 22 Feb 2018 | T20 |
| 2, 0/42 | South Africa | v India | Centurion | 16 Feb 2018 | ODI # 3978 |
| 1/52, 8 | South Africa | v India | Cape Town | 7 Feb 2018 | ODI # 3971 |
| 0, 0/30 | South Africa | v India | Centurion | 4 Feb 2018 | ODI # 3970 |
| 0/51 | South Africa | v India | Durban | 1 Feb 2018 | ODI # 3969  |
| 1/44 | Dolphins | v Lions | Durban | 24 Jan 2018 | LA |
| 2/40, 1 | Dolphins | v Titans | Pietermaritzburg | 21 Jan 2018 | LA |
| 4, 2/46 | Dolphins | v Warriors | Durban | 19 Jan 2018 | LA |