Imran Nazir is a Pakistani cricketer who is a right-handed batsman. Imran was known as a hard hitter and aggressive opening batsman who always made high scores with a reasonable strike rate. His batting gained attention from his followers because of his impressive hitting. He can hit sixes and to overtake the bowlers. Imran has also been participating as a guest for raising charity funds for cancer patients. He has gone through a joint problem that stopped his cricket career for more than 4 years. This article has all the information about Nazir, including Imran Nazir Biography.
| Title | Description |
| --- | --- |
| Personal | |
| Name: | Imran Nazir |
| In Urdu: | عمران نظیر |
| Famous As: | Cricketer |
| Nationality: | Pakistan |
| Residence: | Gujranwala |
| Education: | Matric |
| Religion: | Islam |
| Profession: | Cricketer |
| Height: | 5.9″ |
| Born | |
| Date: | 16th December 1981 |
| Place: | Gujranwala |
| Family | |
| Spouse: | Amber Hafeez |
| Children: | 3 sons |
| Siblings : | Mushtaq Nazir and Maha Nazir |
| Career | |
| National Side: | Pakistan |
| Years Active: | 1999-2012 |
| Team Role: | Opening Batsman |
| Bowling Style: | Right-arm Off Spin |
| Batting Style: | Right-handed |
| Test Debut: | Pakistan v Sri Lanka at Lahore, Mar 4-8, 1999 |
| Test Last: | Australia v Pakistan at Sharjah, Oct 11-12, 2002 |
| ODI Debut: | Pakistan v Sri Lanka at Visakhapatnam, Mar 27, 1999 |
| ODI Last: | New Zealand v Pakistan at Johannesburg, Oct 3, 2009 |
| ODI Shirt Number: | 16 |
| T20 Debut : | South Africa v Pakistan at Johannesburg, Feb 2, 2007 |
| T20 Last: | Sri Lanka v Pakistan at Colombo (RPS), Oct 4, 2012 |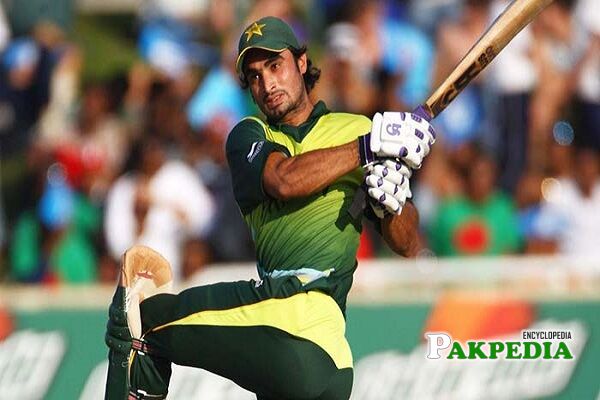 Imran Nazir Biography
Imran had a short career despite his talent. He played for Pakistan in all three formats in an international career. He had the potential to become one of the best openers in Pakistan's history, but some long term injuries did not allow him to play long and consistent cricket. Nazir played in only eight test matches for Pakistan and scored 427 runs in 13 innings. He had scored a half-century and a couple of hundreds in Test matches. Nazir averaged 32.84 in the longer format.
He appeared in 79 One Day Internationals for Pakistan and scored a total of 1895 ODI runs, with an average of 24.61. Imran made two tons in the 50-over format as well as nine fifties.
He was an excellent T20 opener and remained a part of Pakistan's national side in 25 T20 International games. Nazir made 500 T20 runs with a strike-rate of 135.13 and averaged 21.73 in this format, with three half-centuries in Total.
Nazir played for many other teams besides the national team. After that, he laid up for four and a half years by enduring joint issues. In 2018 Nazir recovered under many treatments and therapies and moved forward with appreciable return in cricket again. In 2000 he was 3rd youngest batsman after Shahid Afridi, who made madden century at the age of 18 against Zimbabwe with 105 runs.
Imran date of Birth
He was born on 16 December 1981 at Gujranwala, Punjab. Currently, he is residing in the same place.
Education of Imran
He did matriculation from his hometown in Gujranwala, Punjab.
Imran Nazir Family
Imran belongs to a low-income family, his elder brother Mushtaq Nazir was a domestic player in Pakistan. He also has a sister named Maha Nazir. He was a crazy fan of kites and used to fly kites in his childhood, once he fell while flying a kite, so he left flying kites and started playing cricket. Imran spent his childhood in his village Muridko. It was tough to buy his own cricket bat, so he used to play cricket with his brother's bat. After that, his passion brought him to a sports shop to purchase a cricket bat at installments.
Cricket Career
Initial Career
Nazir initiated his professional cricket with a test match at Lahore. He played for Pakistan under-19s. He was given his first international call when he was a teenager. His hard-hitting batting style games him a chance to play for Pakistan in the year 1999.
Domestic Career
In a first-class cricket career, Nazir made 7174-run in 139 matches with an average of 33.20. However, his entertaining ten centuries and 44 fifties show his class in domestic. His highest first-class score was 185. He also played in 166 List-A matches, where he scored a total of 4386 runs at an average of under 27. He made nine hundred and 16 fifties in this type of cricket. Nazir known for his blistering ball-striking abilities, so he was involved in different T20 sides both locally and internationally. 
He played a total of 103 T20s and scored 2542 runs with an outstanding strike-rate of 148.91. His T20 stats are worth mentioning. He hit 121 T20 sixes, and he also scored 18 fifties in the format. Apart from Pakistan's national team, Nazir played for various teams, including Pakistan under-19s Asia XI, ICL Pakistan, National Bank Pakistan, Lahore Badshahs, WAPDA  XI, Sialkot Stallions, Dhaka Gladiators, Zarai Taraqiati Bank Limited and the rest.
Indian Cricket League ICL
His Career came to light when he named in Lahore Badshahs for ICL 2008-09. Nazir listed a record batting performance in the final match of ICL, aa he smashed 11 sixes in 44 balls with a total 111-runs in a single innings. In his 12 games in ICL, he made 392 runs with the highest strike rate of 175.78. Moreover, he won the most sixes title in the Indian Cricket League.
International Career and Achievements
Imran was a frontline warrior of Pakistani team who always destroyed opponent bowling line up with his attacking display of batting. In March 1999, Imran was selected in two formats test and ODI for the home series against Sri Lanka. He started his Career with outstanding batting and scored 64 runs in his first test match. He was a legendary quick scoring batsman, only in his second ODI, he showed his batting class with 57 runs in 37 deliveries.
After that in 2007, his comeback proved him profitable for the Pakistani team with his rapid 74-run in 39 balls against the African nation reasoned for his sort out for world cup. He was added in ICC world cup 2007, and with his brilliant batting performance, he scored 160 against Zimbabwe a remarkable record in world cup situated him top 10 highest run-scorer in the world cup.
Social Media Handles
His social media accounts include