Imran Khan
Khan was born to a Pashtun family in Lahore and educated at Aitchison, Worcester and later at the Keble College, Oxford. Khan started playing cricket at the age of 13. Initially playing for his college and later for the Worcestershire Cricket Club, he made his debut for Pakistan at the age of 18 during the 1971 English series at Birmingham. After graduating from Oxford, Khan joined Pakistan's national cricket team in 1976, and played until 1992. Khan also served as the team's captain intermittently throughout 1982 - 1992.
[1]
Pakistan Test Captaincy record
He, notably, led Pakistan to victory at the 1992 Cricket World Cup, Pakistan's first and only victory in that competition.
[2]
"Imran Khan". ESPNcricinfo.
 Imran Khan became an inspiration to youngsters for venturing into cricket on an international level. He rose to popularity with his amazing talent as one of the finest cricketers Pakistan has ever produced. His journey of transforming from the biggest heartthrob of cricket to an influential politician is highly impressive and motivating. He is credited for leading Pakistan to its first ever Cricket World Cup title in 1992, defeating England, thereby being termed as the most successful and prominent cricket captain of Pakistan. This champion cricketer surprised the world as an exceptional fast bowler and a great all-rounder, thus giving cricket an all-new form in the country. He excelled not just in the cricketing arena, but also in the political world and social ground. He retired from cricket in 1992 and entered politics by forming his own party – Pakistan Tehreek-e-Insaf (Movement for Justice). He established the first cancer hospital, in Lahore, after losing his mother to the deadly disease, treating the poor for free. He is involved in raising funds for various health and educational projects, coming out a helping hand for the underprivileged and deserving.
Childhood Personal Life
Imran Khan Niazi was born on November 25, 1952 in Lahore, into a well-off Pashtun family to Ikramullah Khan Niazi and Shaukat Khanam.
He completed his schooling from English-medium Aitchison College, Lahore, and went to Royal Grammar School Worcester, England, to pursue higher studies.
He graduated in philosophy, politics and economics from Keble College, University of Oxford, in 1975. Hailing from a cricketing family, he played the game as a teenager in Pakistan and continued in England.
Career
He made his test debut in the 1971 English series in Birmingham, but failed to make a mark due to his not-so-good performance.
In 1974, he debuted in One Day International (ODI) in the Prudential Trophy and was selected in the national team after returning to Pakistan.
His splendid performance against New Zealand and Australia during 1976-77 added to his rapid success, which made him a prominent fast bowler in Pakistan during the 1980s.
He was chosen as the captain of Pakistan cricket team in 1982. He performed stupendously as a fast bowler and all-rounder, leading his team to its first Test victory against England, at Lord's, after 28 years.
Under his captaincy, Pakistan won 14 out of 48 test matches played, losing out on 8 and 26 resulting in a draw. In the ODI version, he played 139 matches, with 77 wins, 57 losses, and one tie.
A stress fracture in his shin kept him away from cricket for two years. He returned and gave Pakistan its first ever Test series win against India in 1987, followed by Test series win in England.
He retired in 1987, but returned in 1988, upon Pakistan President General Zia-ul-Haq's request. He won a Test series against West Indies and was declared 'Man of the Series' for his 23-wicket haul in 3 tests.
In 1991, he established Shaukat Khanum Memorial Trust, a charity organization associated with research and development of cancer and other related diseases, named after his mother.
He retired from cricket in 1992, with 3807 runs and 362 wickets in tests and 3709 runs and 182 wickets in ODI.
He entered politics in 1997 by setting up his own party 'Pakistan Tehreek-e-Insaf' (PTI), as an initiative to eradicate mismanagement and corruption in Pakistan.
He contested in October 2002 elections and was elected as a Member Parliament from Mianwali.
In 2008, he founded Namal College, an associate college of the University of Bradford and established Imran Khan Foundation.
During the 2013 election campaign, he started 'Naya Pakistan Resolution', after which his party posed a threat to the main opposing Pakistan Muslim League-Nawaz (PML-N).
He rejected the offer to collaborate with Pakistan Peoples Party (PPP).
He injured his head and back upon tumbling from a stage during a campaign rally, four days prior to elections and continued to vote appeal from the hospital but party lost to PML-N.
His views on cricket have been published in different British and Asian newspapers and Indian publications, including Outlook, Guardian, Independent, and Telegraph.
He is actively involved with commentary on cricket matches for various sports networks, like Star TV, BBC Urdu, and TEN Sports. [3] Childhood ,  Personal Life & Career
Achievements of imran khan as cricketer politician
Achievements of Imran Khan
Imran Khan Niazi born 25 November 1952 known as Imran Khan Son of Ikram ullah Khan Niazi.Imran Khan was Born in Lahore in a Punjabi Speaking Family of Pathan origin, his Father Was, a civil engineer. Although long settled in Mianwali in northwestern Punjab, the family are of Pashtun ethnicity and belong to the Niazi Shermankhel tribe. A quiet and shy boy in his youth, Khan grew up with his four sisters in relatively upper middle-class circumstances and received a privileged education. He was educated at the Cathedral School in Lahore, the Royal Grammar School Worcester in England, where he excelled at cricket, and at Aitcheson College, Lahore. In 1972, he enrolled to study Philosophy, Politics and Economics at Keble College, Oxford (England) where he graduated with a second-class degree in Politics and a third in Economics. Imran Khan's mother hailed from the Burki family which had produced several successful hockey players.. as well as cricketers such as Javed Burki and Majid Khan.. Early in life, Imran Khan developed an interest in cricket, which is an extremely popular sport in Pakistan. Imran Khan made a lackluster first-class cricket debut at the age of sixteen in Lahore. By the start of the 1970s, he was playing for his home teams of Lahore A then he Play For Lahore B ,Lahore Green and, eventually, Lahore (1970–71) . Imran Khan was part of Oxford University's Blues Cricket team during the 1973–75 seasons. At Worcestershire, where he played county cricket from 1971 to 1976, he was regarded as only an average medium pace bowler. During this decade, other teams represented by Khan include Dawood Industries and Pakistan International Airlines .From 1983 to 1988, he played for Sussex. In 1971, Khan made his Test cricket debut against England at Birmingham. Three years later, he debuted in the One Day International (ODI) match, once again playing against England at Nottingham for the Prudential Trophy. After graduating from Oxford and finishing his tenure at Worcestershire, he returned to Pakistan in 1976 and secured a permanent place on his national team starting from the 1976–77 season,..His credentials as one of the fastest bowlers of the world started to establish when he finished third at 139.7 km/h in a fast bowling contest at Perth in 1978, behind Jeff Thomson (Australia) and Michael Holding (w.Indies) but ahead of Dennis Lillee, Garth Le Roux (South Africa) and Andy Roberts (w.Indies). As a fast bowler Imran Khan reached the peak of his powers in 1982. In 9 Tests, he got 62 wickets at 13.29 each, the lowest average of any bowler in Test history with at least 50 wickets in a calendar year. In January 1983, playing against India, he attained a Test bowling rating of 922 points. Although ICC player ratings did not exist at the time Imran Khan's form and performance during this period ranks third in the ICC's All-Time Test Bowling Rankings.
Imran Khan Captaincy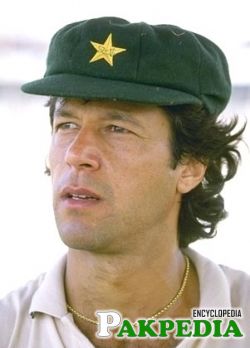 At the height of his career, in 1982, the thirty-year-old Imran Khan took over the captaincy of the Pakistan cricket team from Javed Miandad. As a captain, Khan played 48 Test matches, out of which 14 were won by Pakistan, 8 lost and the rest of 26 were drawn. He also played 139 ODIs, winning 77, losing 57 and one tied. In the team's second match under his leadership, Imran Khan led them to their first Test win on English soil for 28 years at Lord's Cricket Ground. Imran Khan's first year as captain was the peak of his legacy as a fast bowler as well as an all-rounder. He recorded the best Test bowling of his career while taking 8 wickets for 58 runs against Sri Lanka at Lahore in 1981–82. He also topped both the bowling and batting averages against England in three Test series in 1982, taking 21 wickets and averaging 56 with the bat. Later the same year, he put up a highly acknowledged performance in a home series against the formidable Indian team by taking 40 wickets in six Tests at an average of 13.95. By the end of this series in 1982–83, Khan had taken 88 wickets in 13 Test matches over a period of one year as captain. In 1987, Khan led Pakistan to its first ever Test series win in India, which was followed by Pakistan's first series victory in England the same year. During the 1980s, his team also recorded three creditable draws against the West Indies. India and Pakistan co-hosted the 1987 World Cup, but neither ventured beyond the semi-finals. Imran Khan retired from international cricket at the end of the World Cup. In 1988, he was asked to return to the captaincy by the president Of Pakistan, General Zia-Ul-Haq, and on 18 January, he announced his decision to rejoin the team. Soon after returning to the captaincy, Khan led Pakistan to another winning tour in the West Indies, which he has recounted as "the last time I really bowled well". He was declared Man of the Series against West Indies in 1988 when he took 23 wickets in 3 tests. Khan's career-high as a captain and cricketer came when he led Pakistan to victory in the fifth edition of the Benson & Hedges World Cup Cricket World Cup1992 (Australia). Playing with a brittle batting line-up, Khan promoted himself as a batsman to play in the top order along with Javed Miandad, but his contribution as a bowler was minimal. At the age of 39, Khan took the winning last wicket himself. After Winning fifth edition of the Benson & Hedges World Cup Cricket World Cup1992 Imran Khan permanently retired From All Kind Of International Cricket with Lots of Respects and Great Memories . He got every Recognized Cricket Award From All Around The World Such as
University of Oxford's Hall of Fame
The Cricket Society Wetherall Award for being the leading all-rounder in English first-class cricket.
Wisden Cricketer of the Year
Sussex Cricket Society Player of the Year
Indian Cricket Cricketer of the Year
he had also received the president's Pride of Performance Award
In 1992, Khan was given Pakistan's civil award, the Hilal-e-Imtiaz
On 8 July 2004, Khan was awarded the Lifetime Achievement Award at the 2004 Asian
he also was given Jinnah award.
He was Also one of fifty-five cricketers inducted into the ICC Hall of Fame.
Imran Khan Political Career
In 1996, Khan founded a political party, Pakistan Tehreek-e-Insaf (PTI), which emphasized on anti-corruption policies. Imran Khan said in a statement "Very rarely do you see a country on the edge where it can change its destiny—where you move from the stagnant, corrupt society to a vibrant country with a future."
New Pakistan
"If we can get this right, we hope to have a new Pakistan, a completely different country from what it is now." His newly formed party was unable to win a Single seat during the 1997 Pakistani general election. Imran Khan supported General Pervez Musharraf's military coup in 1999 believing Musharraf would "end corruption's Cancerand clear out the political mafias From Pakistan. According to Imran Khan, he was Musharraf's choice of prime minister in 2002 but turned down the offer. The 2002 Pakistani general election were held in October across 272 constituencies. Khan anticipated doing well in the elections and was prepared to form a coalition if his party did not get a majority of the vote. He was elected from the NA-71 constituency of Mianwali and being the only party member to have secured his seat, PTI won only 0.8% of the popular vote During this Time. Khan, who was sworn in as an MP on 16 November. remained part of the Standing Committees on Kashmir and Public Accounts, and expressed legislative interest in Foreign Affairs, Education and Justice.
Held a Press Conference
On 6 May 2005, Khan became one of the first Muslim figures to criticize a 300-word Newsweek story about the alleged desecration of the Qur'an in a U.S. military prison at the Notorious Guantanamo Bay Naval Base in Cuba. Khan held a press conference to denounce the article and demanded that president Pervez Musharraf secure an apology from the American president George W. Bush for the incident In June 2007, the federal Parliamentary Affairs Minister Dr. Sher Afghan Khan Niazi and the Muttahida Qaumi Movement (MQM) party filed separate ineligibility references against Imran Khan, asking for his disqualification as member of the National Assembly on grounds of immorality. Both references, filed on the basis of articles 62 and 63 of the Constitution of Pakistan, were rejected on 5 September. Most of our mainstream politicians make money through politics and then use politics to protect that money. … I'm not interested in those kinds of politicians.
All Parties Democratic Movement
On 2 October 2007, as part of the All Parties Democratic Movement, Khan joined 85 other MPs to resign from Parliament in protest of the presidential election scheduled for 6 October, which General Musharraf was contesting without resigning as army chief. On 3 November 2007, Khan was put under house arrest at his father's home hours after president Musharraf declared a state of emergency in Pakistan. Khan had demanded the death penalty for Musharraf after the imposition of emergency rule, which he equated to committing treason. The next day, on 4 November, Khan escaped and went into peripatetic hiding. He eventually came out of hiding on 14 November to join a student protest at the University of the Punjab. At the rally, Khan was captured by students from the Jamaat-i-Islami political party, who claimed that Khan was an uninvited nuisance at the rally, and they handed him over to the police, who charged him under the Anti-terrorism act for allegedly inciting people to pick up arms, calling for civil disobedience, and for spreading hatred. After A Long and Tireless efforts, On 30 October 2011, Imran Khan changed the political scenario of the Pakistan by addressing more than 100,000 supporters at Minar-e-Pakistan (مینار پاکستان) in Lahore, challenging the policies of the Pakistan Peopleís Party (PPP)'s government, calling this new change a "tsunami"(سونامی) against the ruling parties of Pakistan.Followed by another successful public gathering of 250,000 supporters in Karachi on 25 December 2011. Since then Imran Khan has become a real threat for the current ruling parties and future political prospect in Pakistan.
Tehreek-e-Insaf PTI
According to International Republican Institute (IRI)'s survey, Imran Khan's Pakistan Tehreek-e-Insaf (PTI) tops the list of popular parties in Pakistan both at the national as well as provincial level, leaving Pakistan Muslim League-Nawaz (PML-N) and Pakistan Peopleís Party (PPP) behind. On 30 June 2012, It is because of the principled stance of Pakistan Tehreek-e-Insaf (PTI) chief Imran Khan on the critical issues faced by the country that a survey conducted by an international research organisation has found him the most popular leader of the country, the party said in a statement on Friday. According to a survey conducted by the Pew Research Centre under its Global Attitudes project, the PTI chief has 70 percent approval ratings, moving up the list by 18 percentage points over the past two years. In 2010, his ratings stood at 52 percent.
Protesters From Islamabad
On 6 October 2012, Khan led a vehicle caravan of protesters from Islamabad to the village of Kotai in Pakistan's South Waziristan region. The purpose of this demonstration was to protest U.S. drone missile strikes against Islamic militants in Pakistan's tribal regions. Khan was joined by a number of Americans, including members of Code Pink, a U.S. based anti-drone activist group. Some observers suggested that part of Khan's motivation for the public rally was to build support for his PTI party ahead of national elections in 2013.Party's agenda is remarkably clear. PTI believes in a strong and independent judiciaryPerhaps the most revolutionary aspect of PTI's agenda is to create the first democratic party in Pakistan. the most revolutionary aspect of PTI's agenda is to create the first democratic party in Pakistan. by internal elections in "PTI" party.
Dream of a Democratic Party
Imran Khan deems it his "dream of a democratic party, unlike the family parties that exist." He is referring to two of the biggest political parties .the Pakistan People's Party (PPP) which was started by Zulfiqar Ali Bhutto and remains in the hands of the Bhutto family via Benazir's widower Zardari…. and the Pakistan Muslim League-Nawaz (PML-N), which was founded and is still run by former Prime Minister Nawaz Sharif and his Family Especially brother Shehbaz shareef.
Chairman PTI will Address the Public Meeting
Symbolically, Imran Khan is similar to Barack Obama circa 2008….when he says he will bring change, the nation tends to believe him.Pakistan Tehreek e Insaf (PTI) will hold a big public meeting in Mir Pur Azad Kashmir on Thursday November 15. The chairman PTI will address the public meeting and will announce PTI's policy on Azad Kashmir. Besides the chairman PTI, President Mr Jawaid Hashmi, Vice Chairman Shah Mahmood Qureshi and the other central and local leadership of PTI will also address the public meeting. A high-powered committee headed by the chief organizer Azad Kashmir Mr Tasadaq Khan is already overseeing the necessary arrangements for the public meeting. Other members of the committee are Mr Sikander Baig, Mr Assad Jaral, Raja Saeed Khan, Mr Osama Tariq and Mr. Kaleem Jaral. Different sub-committees under the leadership of Youth Wing Mr Nadeem Kahlun have also been formed to look after the different arrangements of the meeting.
Leadership of PTI
According to the details available from the Central Media Cell PTI, the chairman PTI will make an historic announcement on this occasion and will spell out the policy of PTI on Azad Kashmir. The chairman PTI will also announce different necessary measures that will bring the PTI in full swing in the four corners of Azad Kashmir.The public meeting of PTI has been arranged at the Quaide Azam Stadium and it will start at 2-00 pm on Thursday November 15. The public meeting of PTI has already generated a lot of enthusiasm amongst the workers of the party and the people of Azad Kashmir are keenly looking forward to attend and listen to the chairman PTI. The leadership of PTI has said that on this occasion the foundations of new Azad Kashmir would be laid down. 
[4]
Achievements of imran khan as cricketer & politician
Sporting Awards
National
Imran Khan was captain of the Pakistan national cricket team on three occasions: 1982 – 1983; 1985 – 1987; and 1989 – 1992. In 1992, Khan's team won the Cricket World Cup. This is the only time the Pakistan team has won this competition. For this achievement, Khan received the Hilal-e-Imtiaz, the second highest civilian award and honour bestowed by the Government of Pakistan. In 1983, he received the president's Pride of Performance award.
International
Imran Khan was described by the BBC as, "One of the finest fast bowlers cricket has ever seen." ESPNcricinfo described him as, "The greatest cricketer to emerge from Pakistan, and arguably the world's second-best all-rounder after Garry Sobers."
The Cricket Society Wetherall Award, leading all-rounder in English first-class cricket. (1976 and 1980).
Wisden Cricketer of the Year (1983).
Sussex Cricket Society Player of the Year. (1985)
Indian Cricket Cricketer of the Year. (1990)
International Cricket Council Hall of Fame, Centennial Year celebrations. (9 July 2004).
Inaugural Silver Jubilee award, Asian Cricket Council, Karachi. (5 July 2008)
Philanthropy and politics
Office
Pakistan Tehreek-e-Insaf party, founder and chairman.
Shaukat Khanum Memorial Cancer Hospital & Research Centre, founder and chairman of board of governors.
Namal College, president.
UNICEF, special representative for sports, (Promotion of health and immunisation programmes in Bangladesh, Pakistan, Sri Lanka, and Thailand)
Awards
Oxford University Hall of Fame.
Keble College, Oxford, honorary fellow.
Lifetime achievement award, Asian jewel awards, London, 8 July 2004. ("Acting as a figurehead for many international charities, and working passionately and extensively in fund-raising activities.")
Humanitarian award, Asian sports awards, Kuala Lumpur, 13 December 2007. (Founding the first cancer hospital in Pakistan.)
Jinnah award, 2011.
Royal College of Physicians of Edinburgh, honorary fellowship, 28 July 2012. (Services for cancer treatment in Pakistan through the Shaukat Khanum Memorial Cancer Hospital and Research Centre) [5] List of awards and honours received by Imran Khan
Imran Khan As Welfare Activist
Khan worked for the promotion of immunization and health plans in various countries of Asia, he also worked as Special Representative for Sports in UNICEF.
1 Shaukat Khanam Memorial Trust
Shaukat Khanam Memorial Trust built in 1991at Lahore District Province Punjab. He laid down the foundation of this charity organization, the organization bear's the name of his mother Shaukat Khanam. It was the first and only cancer hospital built in Pakistan, constructed with the donations and funds collected by khan all around world.
2 Namal College Mianwali
Namal College in 2008 at Mianwali District Province Punjab and its affiliation belongs to the University of Bradford.
3 Foundation of Imran Khan
Imran khan foundation is based on welfare work, which is helping needy and poor people in all around Pakistan. In different sudden natural disasters and calamities, Imran khan foundation teams reach on victims place and help people via various sources. 
[6]
IMRAN KHAN AS WELFARE ACTIVIST
Asset Case
The Supreme Court on 15th December 2017 disqualified Pakistan Tehreek-e-Insaf (PTI) Secretary General Jahangir Tareen but ruled in favour of PTI Chairperson Imran Khan in its judgment on the disqualification case against the two party leaders.  The decision was expected to be announced at 2pm  but took around an hour-and-a-half's delay. As the judges took their seats, Chief Justice of Pakistan Justice Mian Saqib Nisar apologised for the delay and explained that there was a mistake on one page so all 250 pages of the judgment had to be read again. Reading the judgment, the chief justice ruled that Imran is not disqualified as a parliamentarian as the petitioner was not directly affected in the foreign funding case. The court also ruled that the ECP will impartially investigate the foreign funding claims against the PTI chief by scrutinising accounts up till five years ago.  The judgment states that Imran wasn't bound to declare his offshore company, declared his London flat in an amnesty scheme and that his former wife Jemima gave Imran the funds for buying the Bani Gala estate.  
[7]
Asset Case
Imran Khan Marriage with Bushra Manika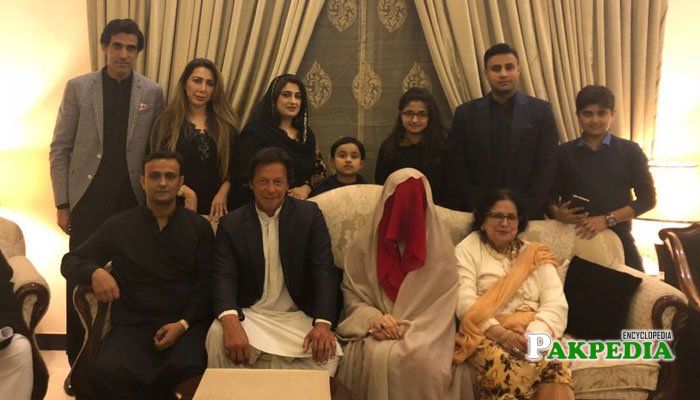 Pakistan Tehreek-e-Insaf (PTI) has confirmed party chairman Imran Khan's third marriage with Bushra Riaz Wattoo, known to be his spiritual guide. The party issued pictures of Imran's nikah with Bushra Bibi, in which close relatives of the bride could be seen. Imran's friend Zulfi Bukhari and Awn Chaudhry said the nikah was solemnised by Mufti Saeed in Lahore on Sunday 18th Feb 2018. Bukhari and Chaudhry also stood witness to Imran's nikah. Family sources said that none of Imran's sisters was present at nikah. The PTI chairman reportedly left for Islamabad alone later Sunday night. Imran Khan, 65, first came in touch with Bushra Bibi for spiritual guidance a couple of years ago. 
[8]
marriage with bushra
Hosts Walima At Bani Galla
Imran Khan held his Walima ceremony at the Bani Gala residence in Islamabad on Sunday 25th Feb 2018 evening where limited leaders of Pakistan Tehreek-e-Insaf (PTI) were invited. According to details, among those who attended the occasion include Jahangir Tareen, Imran Ismail, Pervez Khattak, Fawad Chaudhry, Awn Chaudhry, Naeem ul Haq and other PTI. There were almost 25 to 30 people who attended the reception and the party members were introduced to Imran's third wife Bushra Wattoo. Earlier reports had suggested that Imran's wedding reception will remain a private affair with family members and close friends only. 
[9]
walima at bani galla
SC Demands response for Fake NOC
The Supreme Court of Pakistan demanded a response from PTI chief Imran Khan within one week regarding the alleged fake No Objection Certificate for his Bani Gala land. Stating that Imran Khan was being accused of submitting a fake No Objection Certificate, the chief justice demanded the cricketer-turned-politician submit his response within one week. Former prime minister Nawaz Sharif had stated earlier during the day that he was consulting advisers and legal experts concerning recent reports that the PTI chairman had submitted fake NOC and blueprint of the Bani Gala land. 
[10]
Fake NOC
11 Points unveiled by Imran Khan
Pakistan Tehreek-e-Insaf (PTI) displayed a strong show of power at Minar-e-Pakistan, as thousands of party supporters and workers from all over the country gathered at the Greater Iqbal Park. PTI chairman Imran Khan outlined an 11-point reforms programme to usher in a new era of prosperity as he contemplates for the country after coming in power.
Education for all
Health
Self Reliance
Corruption free Pakistan
Open New Vistas of Investment
Employment
Agriculture Emergency
Strengthening The Federation
Promote Tourism & Environment 
Improve Police and Justice System
Women Empowerment Through Education  [11] unveil 11 points
Prime Minister of Pakistan
Imran Khan became the Prime Minister of Pakistan after the 25th July 2018 Elections and is ready to take an oath on 10th or 14th of August in a president house. Just after winning the elections he gave a remarkable speech in front of media which was praised by many people and many prime ministers around the world. Many Indian cricketers and actors are invited by Imran khan n his oath-taking ceremony including Bollywood superstar Amir Khan. Imran Khan is the only Prime Minister of Pakistan who has a very strong fan following on social media approximately 8m followers. Cricketer turned politician is a set to rule the world with his strong determination and power and is all set to make this country Pakistan a peaceful and a successful country to live in.
Officially elected PM of Pakistan
Imran Khan has officially become 22nd  prime minister of Pakistan today on 17th August 2018 where he won from the majority of votes. Imran (whose party swept the general elections 2018) will take an oath on 18th August 2018 which will be addressed by a number of famous personalities. PPP who claimed to be at Pmln's side changed their decision at the last moment and gave their vote in favor of Imran Khan and made him won by 176 votes while Shahbaz Sharif saw a major defeat by securing only 96 votes in the National Assembly.