Prof. Dr. Ihsan Ali (SI), Vice-Chancellor, Abdul Wali Khan University Mardan (2009-2017) is an eminent researcher, academician and administrator with outstanding record of distinguished services rendered in various fields.He remained also Vice-Chancellor of Hazara University from 2006-2009.
| Title | Description |
| --- | --- |
| Personal | |
| Name: | Ihsan Ali |
| In Urdu: | احسان على |
| Famous As: | Prof. Dr Ihsan Ali |
| Also Served in : | Researcher, Academic and Administrator |
| Nationality: | Pakistani |
| Primarily a Professor in: | Archaeology Department |
| Residence: | Pakistan |
| Education: | Archeology, PhD |
| Religion: | Islam |
| Profession: | Vice Chancellor |
| Alma Mater : | University of Peshawar, University of Cambridge, UK |
| Institutions: | Hazara University (2006-2009), Abdul Wali Khan University Mardan (2009-2017) |
| Fields : | Archeology |
| Awards : | Sitara-i-Imtiaz |
| Born | |
| Date: | 3 February 1955 |
| Place: | Charsadda Khyber Pakhtunkhwa Pakistan |
Education

Prof. Dr. Ihsan Ali has done his Master in Archaeology from Department of Archaeology, University of Peshawar. He not only stood first and got gold medal but no one tilldate has scored marks more than he obtained in his Master Degree. He was awarded MS degree and his theses were Analytical Techniques in Archaeology. He also has the credit that he was awarded PhD scholarship and he completed his PhD from University of Cambridge UK which one of the most prestigious Universities of the world.[1]  Education 
Career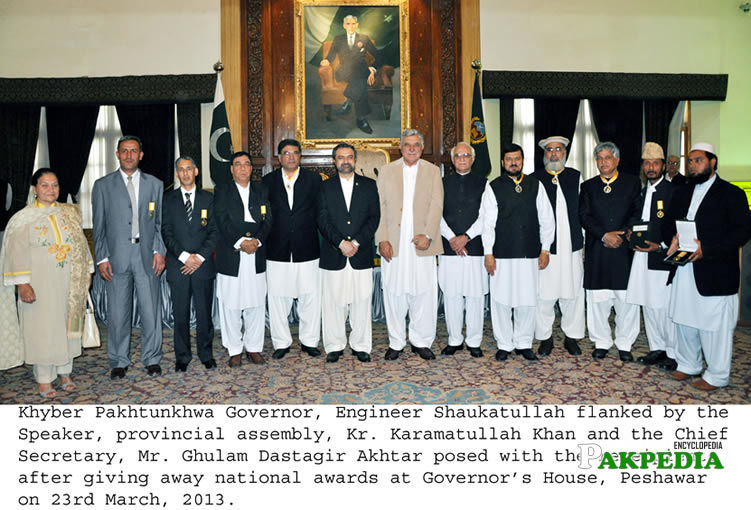 From 2002 to 2006,he was appointed as Director Archaeology and Museums, Govt of Khyber Pakhtunkhwa and he has been able to establish nine museums during this period.
Invited by other Countries
He has been invited by the Leading Universities of UK, America and Italy for delivering lectures on Archaeology in Pakistan and has won a good name for his Country Pakistan.
Published Books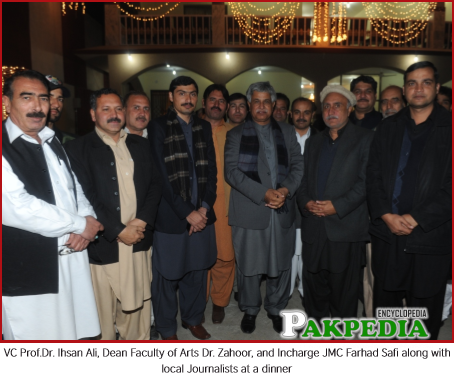 He has published seventeen books and he has also published more than sixty research Papers in the National and International Journals of world repute. He remained on key positions and has held important portfolios.
Vice Chancellor

He was appointed Vice-Chancellor, Hazara University Mansehra in 2006 and in 2008 he was appointed as Project Director of Abdul Wali Khan University Mardan and was entrusted with the task of establishing of AWKUM as well as keeping his portfolio of Vice Chancellor, Hazara University Mansehra. In 2009he was appointed as Vice-Chancellor, Abdul Wali Khan University Mardan. Currently once again he has been entrusted the additional responsibility of Acting Vice-Chancellor of Islamia College University Peshawar and at the moment he is administering both AWKUM and Islamia College University Peshawar.
AWKUM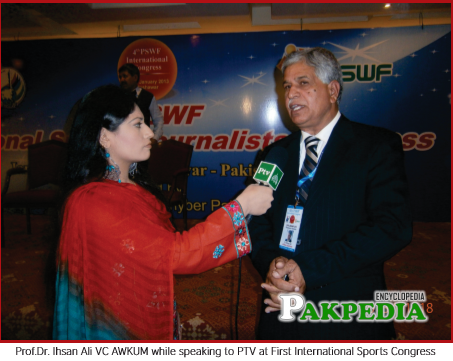 No doubt, he is a trend setter personality and within a short span of less than four years he has been able to make AWKUM a great seat of learning. His untiring efforts have not only made the university a success but expanded it throughout the province by establishing Nine Campuses where almost 6000 students are currently studying. The Higher Education Commission of Pakistan has recently ranked Abdul Wali Khan University 34th out of the 111 total Public Sector Universities in the country.
Assigned him the Task

In 2008, the Govt. assigned him the task of establishing Abdul Wali Khan University at Mardan, with nine Campuses, two of which have now attained the status of independent universities ( Bacha Khan University, Charsadda & University of Swabi) and taken to a level where they are rated very high amongst the Public Sector Universities of Pakistan. The Government of Pakistan, recognizing the services, contributions and achievements of Prof.[2] Task
Award

Dr. Ihsan Ali, awarded him with the distinctive Civil Award of "Sitara-e-Imtiaz" in 2013 in the field of Culture in which alone he has to his credit establishing nine Museums in different parts of Khyber Pakhtunkhwa.
Deewa Radio Report

Establishing a net-work of Universities and institution of higher education standard across Pakhtunkhwa and particularly in FATA will not only attract more and more students, but help in countering the growing extremism in the region, Prof. Dr. Isan Ali Told VOA Deewa Radio."We have enrolled about 7000 students including 36 percent of them girls in the past three years only at Abdul Wali Khan University Mardan and efforts are on to accommodate 6000 more students in the near future", said Dr. Ihsan Ali. He told Deewa Radio that at present, 64 Ph.D teachers are teaching at the University and an equal number have been awarded with scholarships to complete Ph.Ds in different subjects.  He said that state of the art libraries and laboratories have been set up in several newly established universities.
Research Publications
1994:(Author and Editor) 1994. Settlement History of Charsadda District (Ancient Pakistan), Vol. IX, Peshawar, pp. 175.
1994:(Editor) 1994. Peshawar University Teachers' Association Journal (PUTAJ), Vol. I, Peshawar.
1994:(Co-Editor) 1994. Excavations in the Gomal Valley (Ancient Pakistan), Vol. X, Peshawar.
1997-8: (Editor) 1997-8. Ancient Pakistan, Vol. XII, Peshawar.
1998:(Co-Editor) 1998. The Glory that was Pakistan: 50 years of Archaeological Research in Pakistan, Spinzar Press, Peshawar.
1998:1998. Ancient Pakistan, Vol. I (Reprinted), Peshawar (First edited Professor Dr. A.H. Dani in 1962).
1998:(Editor) 1998. Ancient Pakistan, Vol. XIII, Peshawar.
2003:(Editor) 2003. Early Settlements, Irrigation and Trade Routes in Peshawar Plain, Frontier Archaeology, Volume I, Peshawar.
2004:(Editor) 2004. Catalogue of Coins in the Peshawar Museum, No. I (Kushan Period), Frontier Archaeology, Vol. II, Peshawar.
2004:Ali, I. and Lari, Y. 2004. Peshawar Document One: Walled City of Peshawar, Islamabad.
2004:(Editor) 2005. Explorations & Excavations in the Khyber Pakhtunkhwa, Frontier Archaeology, Vol. III, Peshawar.
2005: Ali, I.& Zahir, M. 2005. Guide to Peshawar Museum, Peshawar, Pakistan.
2006: Ali, I. (Editor) 2006. Catalogue of Coins in the Peshawar Museum, No. 2, Frontier Archaeology, Vol. IV, Peshawar.
2007: Coningham, R and Ali, I. 2007. Charsadda The British-Pakistani Excavations at the Bala Hisar (BAR International Series 1709), Oxford: Archaeopress, England.
2008: Ali, I. and M. N. Qazi 2008. Gandharan Sculptures in the Peshawar Museum (Life Story of Buddha), Hazara University, Mansehra, Pakistan.
2009: Ali, I, Shah, I, and Young, R. (Editors) 2009. Pakistan Heritage (Research Journal of the Department of Archaeology, Hazara University, Mansehra, Pakistan Vol. 1.
2009: Ali, I. and Ahmad, H. (Editors) 2009. Cultural and Biological Resources of Pakistan (Proceedings of the National Conference held at Bara Gali, August 22–26, 2006).[3]  Research Publications