Ibne-e-Insha is a well known Urdu writer and Poet of Pakistan. He has also worked in Punjabi field as well, but his Urdu work got more fame than the Punjabi.Ibn-e-Insha has worked into different dimensions of Urdu writing.He was also Urdu poet, humorist, Travelogue writer and newspaper columnist.
| Title | Description |
| --- | --- |
| Personal | |
| Name: | Ibn-e-Insha |
| In Urdu: | ابن انشا |
| Famous As: | Pakistani Urdu Poet |
| Nationality: | Pakistani |
| Genre : | Ghazal |
| Pen Name : | Insha |
| Education: | M.A. from University of Karachi in 1953 |
| Places he Visited: | Japan, Philippines, China, Hong Kong, Thailand, Indonesia, Malaysia, India, Afghanistan, Iran, Turkey, France, UK and the United States |
| Religion: | Islam |
| Profession: | Urdu poet, humorist, Travelogue writer and newspaper columnist |
| Awards : | 1 |
| Born | |
| Date: | 15 June 1927 |
| Place: | Phillaur, now in Jalandhar district, Punjab, British India |
| Died | |
| Date: | 11 January 1978 |
| Rest Place: | London, England buried in Karachi, Pakistan |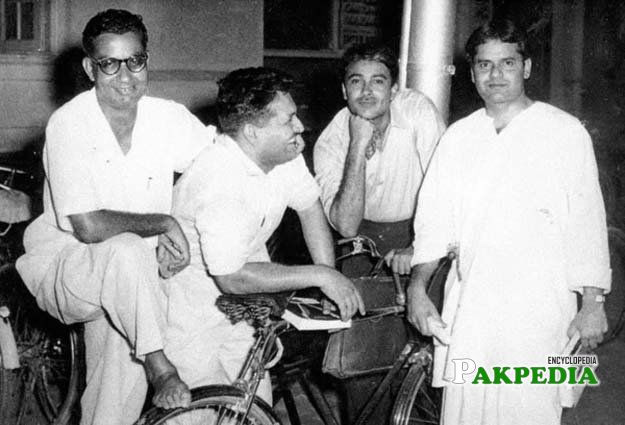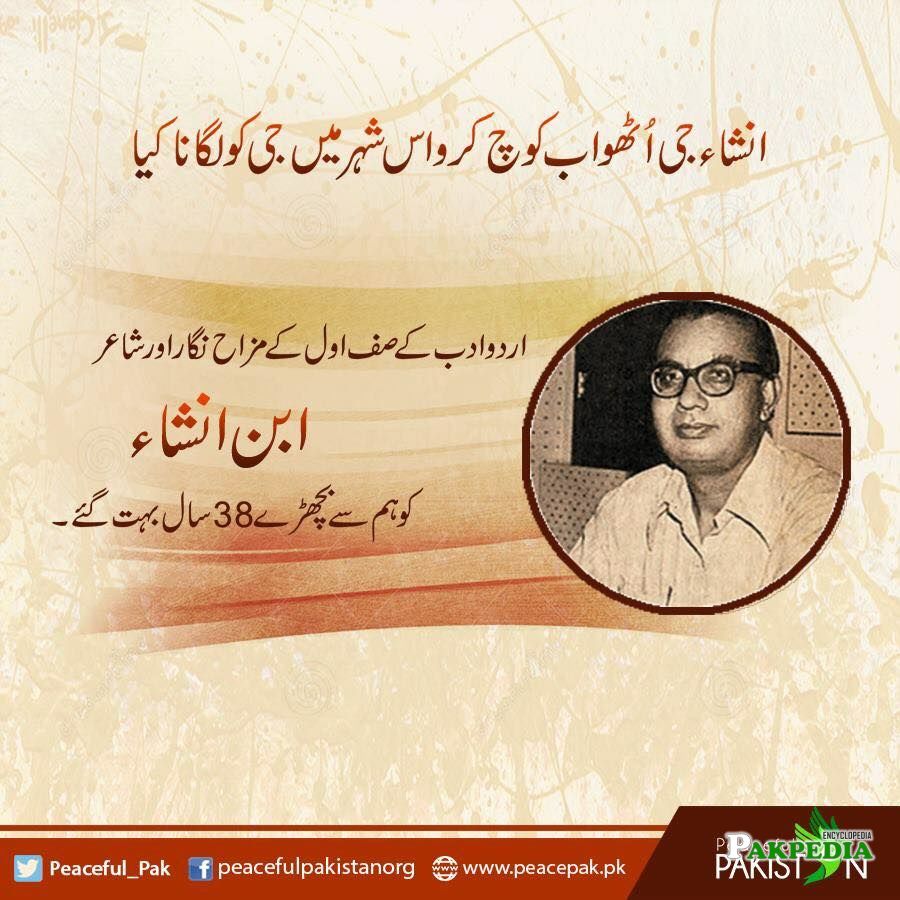 Biography

Ibn e Insha was an eminent Pakistani Leftist Urdu poet, and columnist. Along with his poetry, he was regarded as one of the best humorists of Urdu. He was associated with various government services including Radio Pakistan, Ministry of Culture and National Book Centre of Pakistan. He also served UN for some time and this enabled him to visit a lot of places and was the reason of his subsequent travelogues. Insha got the mentors like Habibullah Ghazanfer Amrohvi, Dr. Ghulam Mustafa Khan and Dr. Abdul Qayyum.[1]  Biography 
Born and Family Background

He was born in Phillaur tehsil of Jalandhar District, Punjab. His father hailed from Rajasthan.When he was born, there was a united India under the British administration. But later on, his father was called upon from Rajasthan.His Father's name is Sher Muhammad Khan.[2]  Born and Family Background 
Education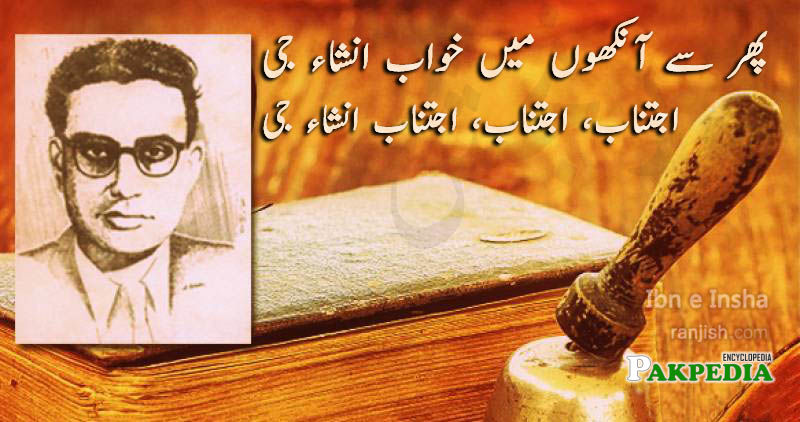 He got his early education from his native residing. The role of family is also crucial in the educational achievement. His family socialized properly that he got success in his social as well as the practical life. He got admission in the University of the Punjab where he completed his graduate degree in 1946.Later he went to Karachi University and got his Master of Arts Degree in 1953. He has associated with different fields during his career. He has also been a member of many governmental departments like Radio Pakistan, the Ministry of Culture and National Book Center of Pakistan.
Effective and Positive Guidance

The role of an effective and positive guidance is very crucial for the successful career. IBn-e-Insha has also guideline from his family, writing community and teachers as well. The role of his teachers like Habibullah Ghaznafer Amrohiv, Dr. Abdul Qayyum, and Dr. Ghulam Mustaf Khan is very important in his life that led him to the way of progress in the literal field. During his youth career, he also spent his years with a well-known poet Sahir Ludhhianvi in Lahore who also gave him thought to provide lessons.  Like the other prominent writers of Urdu, Ibn-e-Insha also participated in the writer's movement known as "Progressive Writers Movement."
Recognized Himself

He recognized himself in the primary fields of Urdu such as poet, humorist and Travelogue Writer as well. He also worked as columnist writer in newspapers. Ibn-e-Insha has used such a different style for his poetic work that inspired the generations. The young poets are so impressed by the poetry of Ibn-e-Insha.
Professional Life

After the accomplishment of his educational period, Ibn-e-Insha attached himself with the professional life. He served the different job careers both in governmental and non-governmental sectors. But he relates himself especially with the literal activities that polished him to take part into writings actively. At the start of his professional
Professional Career
At the start of his professional career, he served in the different departments of Pakistan like Radio Pakistan. His participations were directly concerned with his literary fields like books, radio, and culture.
Early Period of his Professional Life
The early period of his professional life enhanced his inner capabilities that became able to participate at the international level. He served United Nations Organization also that is the widely accepted organization in the whole world. During his service at UN, Ibn-e-Insha visited so many countries of the globe that inspired him to do work on an important field of writing "Travelogue."  He visited countries like Japan, Philippine, China, Hong Kong, Thailand, Indonesia, Malaysia, India, Afghanistan, Iran, Turkey, France, UK and United States. Due to his visit to these many countries, he devoted himself in the writing field of travelogue, and he wrote some but very professional travelogue.
Best Humorists of Urdu

Along with his poetry, he was regarded as one of the best humorists of Urdu.His poetry has a distinctive diction laced with language reminiscent of Amir Khusro in its use of words and construction that is usually heard in the more earthy dialects of the Hindi-Urdu complex of languages, and his forms and poetic style is an influence on generations of young poets.[3] Best Humorists of Urdu 
Literary Work Books Details

Ibn-e-Insha is known as one of the very famous Urdu writers. He is also considered the well-known poet and writer of his generation. The youth of his generation was very inspired by him. His most memorable ghazal "Insh Ji Uthoo Ab Kuch Kro" got so much fame that took him to the toppers of the poets.Ibn-e-Insha has written a variety of writings like poems, Ghazals, and Travelogues. The whole of his work appreciated by the audience and the literal community. 
Famous Ghazal

Insha is considered to be one of the best poets and writers of his generation. His most famous ghazal Insha Ji Utthoo Ab Kooch Karo (Rise oh Insha Ji, and let us set off ) is an influential classic ghazal. Ibn-e-Insha had written several travelogues, showcasing his sense of humor and his work has been appreciated by both Urdu writers and critics. He also translated a collection of Chinese poems into Urdu in 1960. 
Worked and Traveled
He worked for the United Nations and traveled extensively.Most places where he visited include:[4] Worked and Traveled
Japan
Philippines
China
Hong Kong
Thailand
Indonesia
Malaysia
India
Afghanistan
Iran
Turkey
France
UK 
United States
Poetry
Inshaji uttho ab kooch karo, sung by Ustad Amanat Ali Khan
Kal Chaudavi ki raat thi, shab bhar raha charcha tera, sung by Jagjit Singh
Is Basti Key Ik Koochey Main
Chand Nagar
Dil-e-Wehshi
Billo Ka Basta (Rhymes for Children)
Travelogue
Awara Gard Ki Diary
Dunya Gol Hey
Ibn Battuta Kay Taqub mien
Chaltay Ho To Cheen Ko Chaliye
Nagri Nagri Phira Musafar
Humor
Aap se kya Parda
Khumar e Gandum
Urdu Ki Aakhri Kitaab (1971)
Khat Insha Jee Kay Collection of letters
Awards and Recognition
Ibn-e-Insha was awarded the Pride of Performance Award by the President of Pakistan in 1978.
Death
Ibn-e-Insha spent last years of his life in Karachi. He died on 11th January 1978 in London but later buried in Karachi, Pakistan.