8th governor of North West Frontier of Pakistan, Mr Hayat Mohammad Khan Sherpao was a leader of Pakistan Peoples Party. He was one of the founding members of PPP. He was also a close ally of Late prime minister Zulfiqar Ali Bhutto.
     
| Title | Description |
| --- | --- |
| Personal | |
| Name: | Hayat Mohammad Khan Sherpao |
| In Urdu: | حيات محمد خان شيرپاؤ |
| Famous As: | Politician |
| Nationality: | Pakistani |
| Education: | Graduation from Islamia College |
| Religion: | Islam |
| Profession: | Politics |
| Born | |
| Date: | 1 February 1937 |
| Zodiac: | Aquarion |
| Place: | Peshawar, North-West Frontier Province, British India |
| Family | |
| Ethnicity: | Sherpao |
| Parents: | Khan Bahadar Ghulam Haider Khan Sherpao |
| Siblings : | Aftab Ahmad Khan Sherpao, Wali Muhammad Khan, Dost Muhammad Khan, Abdul Wadood Khan, Sher Muhammad Khan |
| Died | |
| Date: | 8 February 1975 |
| Cause: | Assassinated in a bomb blast on the campus of University of Peshawar |
| Aged: | 38 |
| Rest Place: | Peshawar, North-West Frontier Province, Pakistan |
| Career | |
| Political Party: | Pakistan Peoples Party |
| Serve As: | 8th Governor of North-West Frontier Province |
| Prime minister: | Zulfiqar Ali Bhutto |
| Proceeded by: | Khwaja Mohammad Azhar Khan |
| Succeeded by: | Arbab Sikandar Khan |
| Time Period : | 25 December 1971 – 20 April 1972 |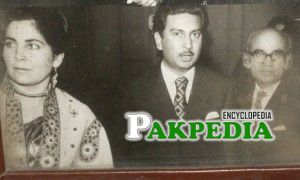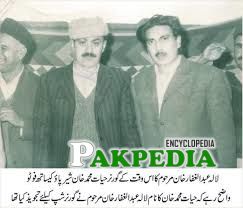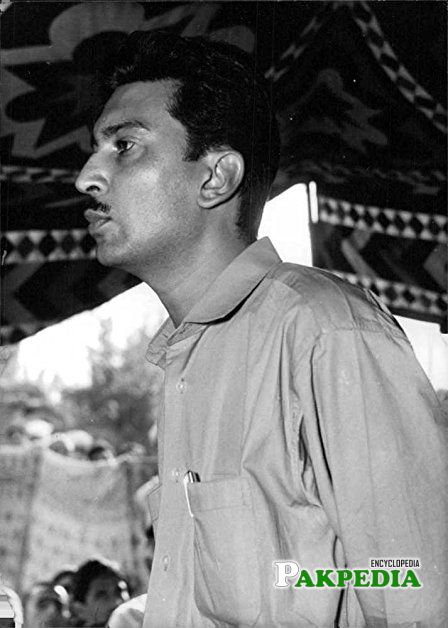 Biography

Hayat Sherpao was born in 1943 in the influential Sherpao family of the Frontier province. He was the son of Khan Bahadar Ghulam Haider Khan Sherpao, a Pakhtun leader who was a key player in the Pakistan movement. Hayat Khan was also the older brother of Aftab Ahmad Khan Sherpao who is an invincible force in national politics. 
Education
Hayat Sherpao graduated from Islamia College, Peshawar, where he also worked for student rights. He became a front runner against dictatorship and gained massive popularity.
He joined the front ranks in Fatima Jinnah's electoral campaign, when she challenged the Genera Ayub. [1] bio and education
Political career

Sherpao was a close ally of the former President and Prime Minister of Pakistan Zulfiqar Ali Bhutto and a Co-founder of the Pakistan Peoples Party (PPP). Sherpao became Governor of the North-West Frontier ( now KPK)  Province shortly after Bhutto had become president of Pakistan. He was the governor from the 25 December 1971 to 30 April 1972. He also remained a Federal Minister in Zulfiqar Ali Bhutto's cabinet and a Senior Minister in the NWFP cabinet. 
Lion of the frontier
Hayat Khan Sherpao's rise in politics was of almost meteoric proportions. The surge in his popularity in the Frontier as well as the rest of Pakistan is said to have cast many jealous eyes upon him and earned him a number of enemies, quite often in the form of seasoned and already established politicians from other mainstream political parties. This popularity and political success, however, also led to him being named the "Lion of the Frontier" or "Sher-i-Sarhad". [2] Career and Lion of frontier
Assassination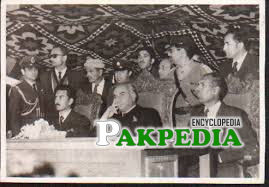 On February 8, 1975, as Sherpao was visiting the Peshawar University, his vehicle exploded by a timer device which killed him instantly. There was no immediate claim by any group but it was generally believed that it could be the work of Bhutto's opponents whom Sherpao had punished on Bhutto's insistence. 
 Bhutto and Sherpao
Indian nuclear tests on May 18, 1974, changed the geopolitical situation of the subcontinent; however, Z.A. Bhutto undertook an official visit to the United States in February 1975 to muster Western support. On February 8, 1975, Bhutto received a message from Pakistan about the murder of his close friend and a PPP stalwart Hayat Mohammad Khan Sherpao who had been killed in a bomb blast in Peshawar University. Bhutto cut his visit short and rushed to Pakistan. There was no valid evidence of who could be behind the murder. Sherpao was Bhutto's close friend from the very early days of the formation of PPP. He worked selflessly for the party's promotion in the KP (the then NWFP) and remained its vice chairman from December 8, 1967, till his death. A left-wing intellectual, Sherpao did not work just for the party but also oversaw the covert operations in Afghanistan in 1975. When Bhutto took over in 1971 Sherpao was appointed governor of NWFP. He worked hard to implement the party's programme which became a source of his growing popularity.  
Arrests and ban of NAP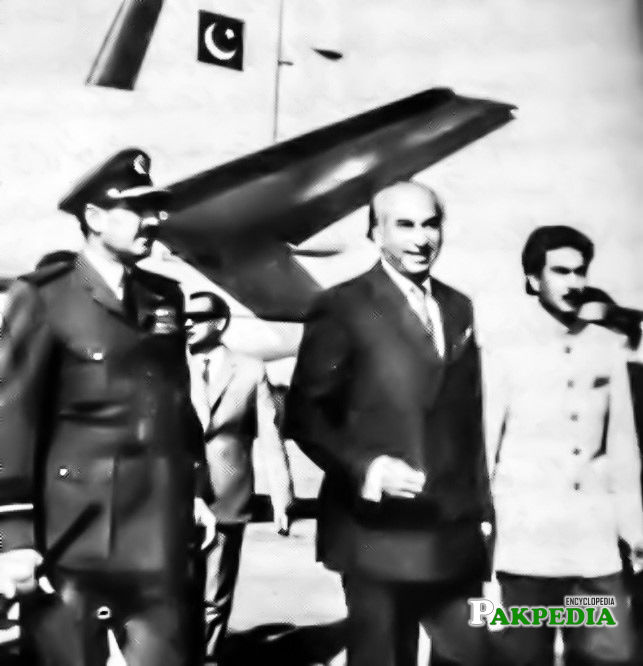 Bhutto was in the US at that time, and from there he called his special assistant Rafi Raza and asked him to take interior minister Khan to Peshawar, arrest Wali Khan and all National Awami Party (NAP) key people and think of banning the NAP. Two days later, on February 10, the NAP was banned and all its assets were confiscated. Governor Aslam Khan Khattak was removed and the provincial government of Sardar Inayatullah Khan Gandapur dissolved.  Wali Khan was arrested from Lahore the same evening Sherpao was assassinated. He was preparing to leave for Peshawar to attend the funeral of Sherpao. He was first sent to Rawalpindi jail and then to Sahiwal and finally to Hyderabad where he and 80 of his associates had to face treason charges against him. The case was later known as Hyderabad Conspiracy Case. With Wali Khan were arrested Khan Amirzadah Khan, Syed Kaswar Gardezi, Ghaus Bakhsh Bizenjo, Nawab Khair Bakhsh Mari, Mir Gul Khan Nasir, Sardar Attaullah Khan Mengal, poet Habib Jalib and barrister Azizullah Shaikh. After the NAP was banned, to prove it an anti-state party, a number of colleges in NWFP, Punjab and Sindh were raided and the government claimed seizure of a huge cache of arms and ammunition. [3] Bhutto and ban of NAP 
Salutations to a great leader.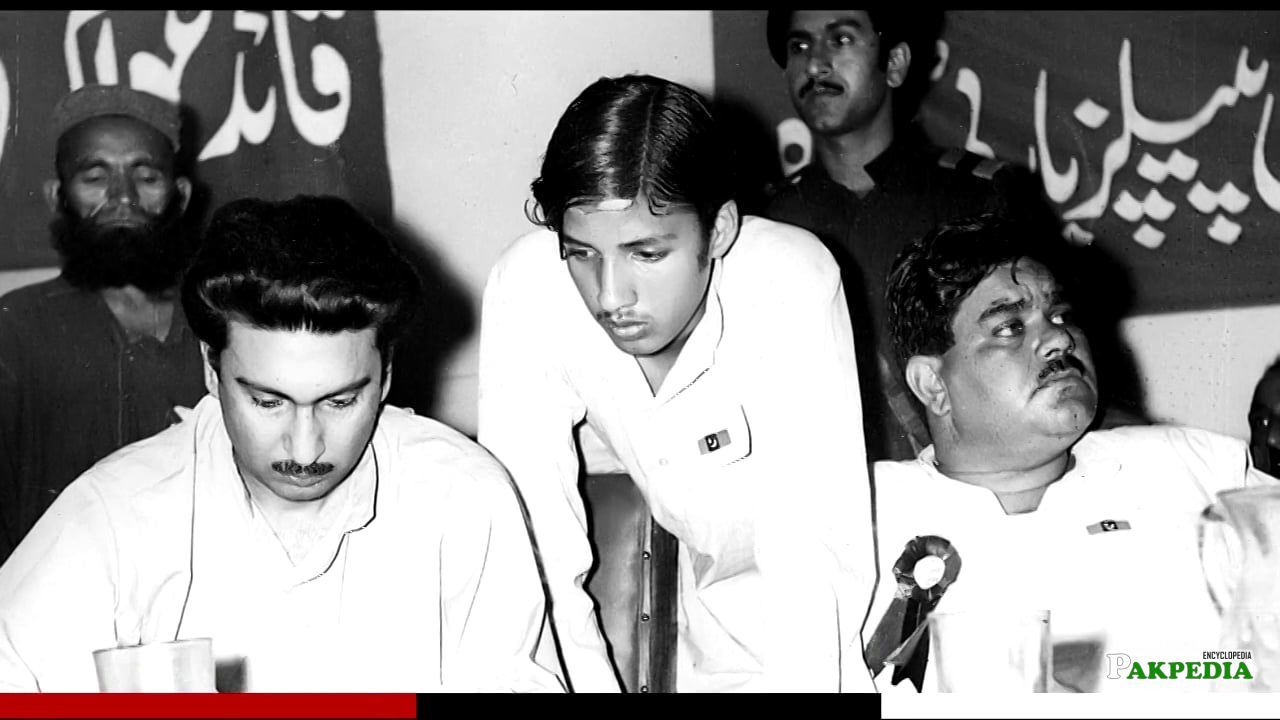 On the death anniversaries of Hayat Mohammad Khan Sherpao, politicians and other citizens renew their pledge for the establishment of an egalitarian society. His death in a bomb explosion at Peshawar University is unforgettable in Pakistan's troubled political history and is an historical event for all times to come. To pay tribute to the slain leader many places, roads, and institutions were named after him. The famous town of Hayatabad and Hayat Shaheed Hospital in Peshawar District, Sherpao Bridge in Lahore and the many Sherpao colonies in different parts of Pakistan including Rawalpindi and Karachi are some examples of this. [4] Salutations 
Legacy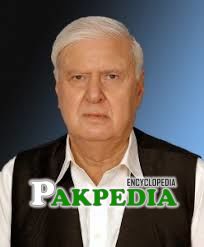 He was succeeded by his younger brother Aftab Ahmad Khan Sherpao who was elected chief minister of K-P on two occasions. Aftab parted ways with PPP after differences emerged with former prime minister Benazir Bhutto in 1998. He formed his own party called PPP-Sherpao and renamed it Qaumi Watan Party in 2013."My brother was the first victim of terrorism," said Aftab Ahmad Khan Sherpao when contacted. He said QWP would carry his mission forward and serve the poor of the country with the aim of an uplift.
Sikander hayat khan the son of aftab ahmed khan sherpao is a political voice and force to reckon with and recognised as the voice of pukhtoon rights .The hallmark of his political acumen rests in avoiding negative politics. It goes to credit of the shaheeds legacy that large public gatherings every year commemorate his death anniversary.