Hafiz Muhammad Saeed born in Pakistan and is the leader of Pakistan-based charity group Jamaat-ud-Dawa. He is known to have founded Lashkar-e-Taiba (LeT) an armed group mostly fighting Indian soldiers in the disputed Kashmir region since 1990.
| Title | Description |
| --- | --- |
| Personal | |
| Name: | Prof. Hafiz Muhammad Saeed |
| In Urdu: | حافظ محمد سعید |
| Famous As: | Pakistani Islamist |
| Nationality: | Pakistani |
| Denomination : | Ahl-i Hadith |
| Belongs To: | Gujjar Family |
| Won: | Gold Medal |
| Teacher After Completing his Education at: | University of Engineering and Technology in Lahore |
| Degree: | First Masters Degree in 1972,Cecond Masters Degree also from the University of Punjab in 1974 |
| Education: | Bachelor's Degree from the University of Punjab Lahore in 1970 |
| Visited the United States: | 1994 |
| Born | |
| Date: | 1948 |
| Place: | Sargodha Punjab Pakistan |
| Family | |
| Spouse: | Maimoona Saeed |
| Children: | Talha Saeed |
| Parents: | Father Name Kamal-ud-Din |
| Career | |
| Organization: | Jamat-U-Dawa |
| Serve As: | Founder / Leader |
| Agenda: | National Interests, Welfare, health/education, religion preaching and relief work |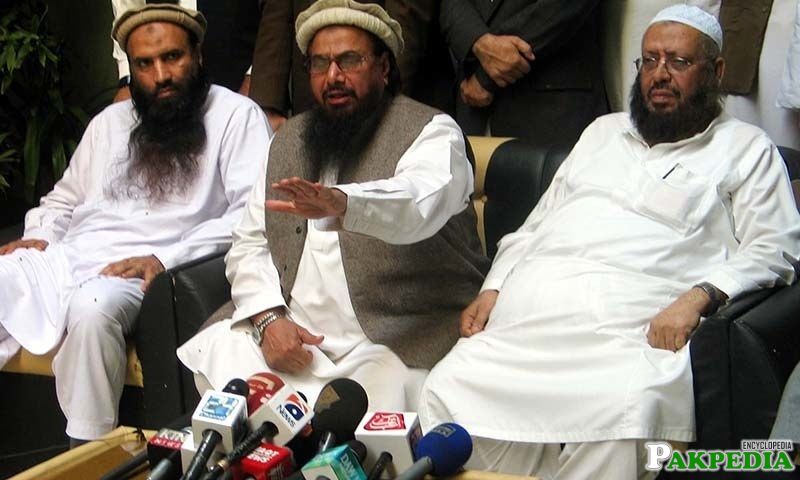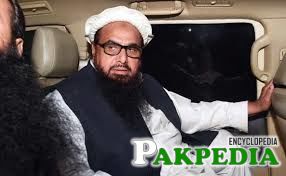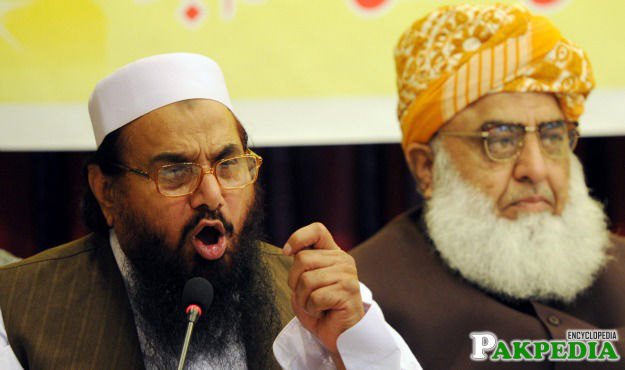 Biography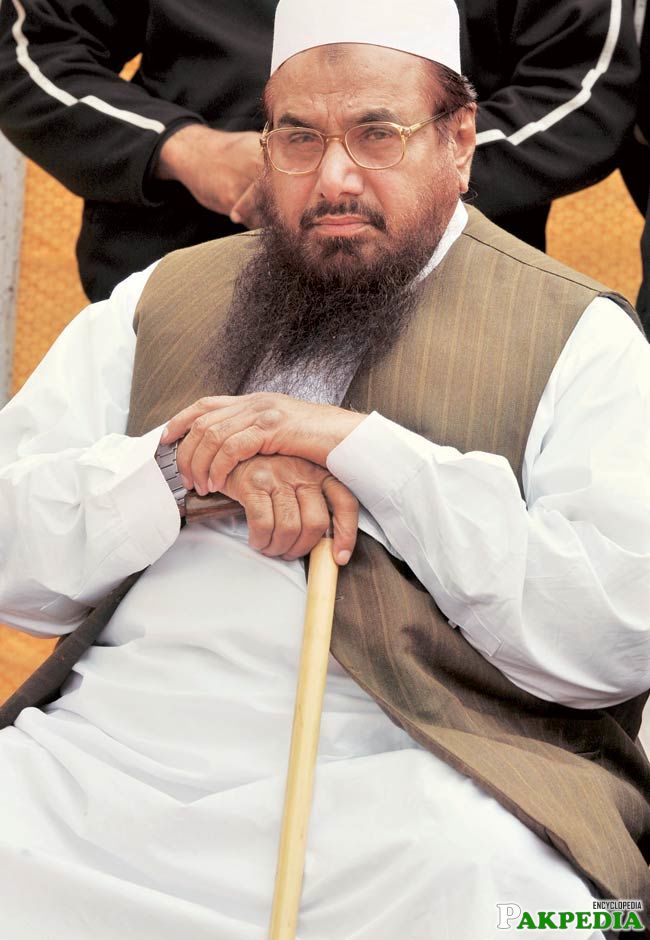 Hafiz Muhammad Saeed's ancestors hail from Kashmir while his father was settled in Simla, India before migrating to Pakistan after the partition of the sub Continent in 1947. It was during this thorny journey of migration that Hafiz Muhammad Saeed was born on route to an independent Pakistan. This migration also resulted in numerous sacrifices on the part of Hafiz Saeed's family as various members of his family lost their lives while migrating to Pakistan.[1]  Family Background 
Family Background
Hafiz Saeed's whole family is well-known for their devotion towards acquisition of knowledge. His father, Kamal-ud-Deen, was a scholar, while his uncle and father-in-law, the late Prof. Hafiz Abdullah Bahawalpuri, rahmatullah alaih (May Allah have mercy on him), was a renowned and distinguished Islamic scholar and has a very famous and respectable reputation among the masses and scholars alike. Hafiz Saeed's mother too, was a well educated lady and thousands of women used to come and learn from her.
HafizbGbiven Name By His teacher
'Saeed' is his given Profile Name, while 'Hafiz' is a title bestowed upon him by his teachers because he had memorized the whole Quran by the youthful age of only twelve years. Hafiz Saeed comes from a family which has produced eminent and noted Islamic scholars throughout the ages, and he therefore received his early education from members of his own family and relatives.[2]  Hafiz Given Name By His teacher 
Grandfather and His Cousins
Similarly, Hafiz Saeed's maternal grandfather, the late Maulana Noor Muhammad, rahmatullah alaih, was also a prominent Islamic scholar and several famous Islamic scholars of Pakistan were his students. All of Hafiz Saeed's cousins and brothers are well-known scholars in their own right too and have been learning and teaching at various universities of America and Pakistan. In short, his whole family comes from a well-educated and scholastic background. Hafiz Saeed has two daughters and a son. His daughter too, is a graduate, while his son is a professor at a university, as well as studying further for PhD.
Education
Hafiz Saeed's education was not limited to Islamic courses alone. He cleared his matriculation exams (Junior School) in 1966; passed the FA (High School) exams in 1968, two years later; received his bachelor's degree from the University of Punjab, Lahore, in 1970, and finally went on to receive his first Masters degree in 1972, and his second Masters degree, also from the University of Punjab, in 1974.
Hafiz saeed as a Teacher
Although Hafiz Saeed joined the University of Engineering and Technology in Lahore as a teacher after completing his education at the University of Punjab, his quest for knowledge was not satiated and he traveled to Saudi Arabia for further education and completed a Specialization in Arabic Language from the Jamia Malik Saud (King Saud University). He stood first in the specialization exams and won a gold medal. While he was there, he also enhanced his knowledge of Islam from various well-known Saudi scholars and became the favorite pupil of the most distinguished Islamic scholar of Saudi Arabia, Shaykh Abd-ul-Aziz ibn-e-Baz, rahmatullah alaih. Another source of enhancing  Islamic knowledge for Hafiz Muhammad Saeed were the wealth of books in several libraries of Saudi Arabia, where he was able to study a huge selection of books on Islam while being employed there.[3] As a Teacher 
Son ofHafiz Saeed
Talha Saeed is the name of the son of Hafiz Saeed.
Teachers ofHafiz Saeed
Some famous Islamic scholars in whose company Hafiz Muhammad Saeed spent considerable time, in Pakistan, as well as in Saudi Arabia, and was able to learn and augment his knowledge from, include such distinguished Profile Names as, Shaykh ibn-e-Baz, rahmatullah alaih; al-Shaykh Ataaullah Hanif Bhojiani, rahmatullah alaih; Shaykh Badi'-ud-Deen Rashidi, rahmatullah alaih; al-Shaykh Hafiz Abdullah Bahawalpuri, rahmatullah alaih; Dr. Khalid Alvi, rahmatullah alaih; Dr. Ala-ud-Deen Siddiqui, rahmatullah alaih; Vice Chancellor of Punjab University, Dr. Zulfiqar Ali Malik; Shaykh Muhammad Ali al-Kholi al-Masri, and Mudeer, Mahad-al-Lugha, Jamia Malik Saud, Dr. Seeni. He especially benefitted from the following scholars while in Saudi Arabia; al-Shaykh Muhammad ibn Saalih al-Uthaymeen; Shaykh Abd-ar-Razzaq al-Afifi, and the famous scholar of Islam from India, Shaykh Safi-ur-Rahman Mubarakpuri, rahmatullah alaihim. It is worth mentioning here that Hafiz Muhammad Saeed received numerous character certificates praising his excellent manners from all the above mentioned scholars and teachers during this time.
Research Work

Prof. Hafiz Muhammad Saeed has undertaken several research and scholastic works, notable among which are;
 A thesis on Aijaz-ul-Quraan of Imam al-Baqlani rahmatullah alaih alaih;
 A thesis on biography of Abu Hurairah, radi'Allah'anhu, the illustrious companion of the Prophet, sallallahu alaihi wasallam.
An informative educational thesis on 'Hudood' in collaboration with the Government of Pakistan's Council of Islamic ideology.
Hafiz Saeed is also an author of books; Tafseer Surah Tawbah' & Tafseer Surah Yousuf.
Apart from these, Prof. Hafiz Muhammad Saeed has written thousands of educational and reformative articles and discourses on various religious, political, and scholastic subjects.
Undertook extensive research work and wrote enormous papers on Islamic Jurisprudence, and Historiography;
Wrote down x number of articles on education, and character-building;
Wrote out articles, gave reviews and discourses on various religious, political, and academic subjects of thought.
Experience
Joined University of Engineering as lecturer and eventual promotions elevated him to the rank of Professor and served the University as chairman of the Department of Islamic Studies. He worked for the University for more than 25 years. 
Apropos of the training of members of civil service and the judiciary, served National Institute of Public Administration (NIPA), Lahore, Pakistan, as Guest Speaker. Thus he trained many thousands of Government officers and justices.
Regular speaker at Radio Pakistan during the early '80s. He wrapped up Islamic perspective on diverse national issues;
Visiting faculty at various colleges and universities, including; Punjab University, Lahore; Karachi University, Karachi; Agricultural University, Faisalabad, over and above other higher educational institutions across Pakistan. His lectures covered such topics as Islamic philosophy, Pakistan's economic crises, social problems and their corresponding remedies, Pakistan's geo-political challenges, to mention a few.
As a prolific writer wrote columns on education and literacy. He also contributed solicited articles for Pakistan's print media.[4]  Experience 
Conferences and Seminars
 Participated in near enough all seminars and conferences in Pakistan on education, youth development, and society building.
Reading Culture
To promote reading culture, he was instrumental in setting up some libraries across Pakistan. [5]  Reading Culture 
Vision of Education
The purpose and goals of the departments of Education and Social Welfare of JAMA'T-UD-DA'WAH are the classic examples of his vision.
Visit to the United States
Owing to high respect and esteem that Prof. Hafiz Muhammad Saeed cherished thanks to his commitment to education, healthcare and social work, he was invited to the US in 1994 by various Islamic Centers. Most lectures of Hafiz Muhammad Saeed centered on 'Islamic Perspectives of Raising Children.' Thus, he spoke at the Islamic centers of Florida, New York, and Houston.[6] Hafiz Saeed Visited The United State
Journey to the United Kingdom
Prof. Hafiz Muhammad Saeed visited the Great Britain in 1995. During his tour he lectured on, 'Kashmir: A Disputed Issue' and, 'Violations of United Nations Resolutions' at various Islamic Centers in London, Birmingham, Rochdale, and several other cities.[7] Hafiz Saeed Also Visted United Kingdom
Reaction on Trumps Announcement
The co-founder of Lashkar-e-Taiba and the chief of Jama'at-ud-Da'wah recently reacted strongly to U.S. President Donald Trump's announcement to shift the American Embassy to Jerusalem, terming the decision pro-Zionist and anti-Muslim. He made these statements in both Lahore and Karachi. He warned President Trump that his recognition of Jerusalem as the capital of Israel would evoke a strong reaction from the Muslim world and could possibly lead to a declaration of war across Middle East. He further added that Israel in Palestine are "committing atrocities" and urged the Government of Pakistan not to become the victim of external forces and stand with Palestinians in their "freedom struggle". [8] U.S. Announcement