Hafiz Muhammad Saeed is a Pakistan-based Islamic militant and co-founder of 'Let' (Lashkar-e-Tayyaba) and chief of 'JuD' (Jamat-ud-Dawah) Pakistan. The USA announced a reward of ten million dollars on him in April 2012 for his supposed part in Mumbai Attacks 2018 that killed one-hundred and sixty-four civilians.
India supported this move of the USA, while protests were held in Pakistan against this move. His name is listed on the National Investigation Agency (NIA) most-wanted list. India banned his organizations JuD and LeT as terrorist organizations. Australia, Russia, European Union, United Kingdom, and the USA also banned Lashkar-e-Tayyaba.
India demanded that Pakistan hand over Saeed to India, but no treaty is signed between them. Saeed denied all allegations against him and said he has never planned any attacks in India. The article carries every piece of information about him, including Hafiz Muhammad Saeed Biography.
| Title | Description |
| --- | --- |
| Personal | |
| Name: | Prof. Hafiz Muhammad Saeed |
| In Urdu: | حافظ محمد سعید |
| Famous As: | Pakistani Islamist |
| Nationality: | Pakistani |
| Denomination : | Ahl-i Hadith |
| Belongs To: | Gujjar Family |
| Won: | Gold Medal |
| Teacher After Completing his Education at: | University of Engineering and Technology in Lahore |
| Degree: | First Masters Degree in 1972, Second Masters Degree also from the University of Punjab in 1974 |
| Education: | Bachelor's Degree from the University of Punjab Lahore in 1970 |
| Visited the United States: | 1994 |
| Born | |
| Date: | 1948 |
| Place: | Sargodha Punjab Pakistan |
| Family | |
| Spouse: | Maimoona Saeed |
| Children: | Talha Saeed |
| Parents: | Father Name Kamal-ud-Din |
| Career | |
| Organization: | Jamat-U-Dawa |
| Serve As: | Founder / Leader |
| Agenda: | National Interests, Welfare, health/education, religious preaching and relief work |

Hafiz Muhammad Saeed Biography
When it comes to the Kashmir issue, defence of Pakistan and competition with India, the first person who comes to mind is Hafiz Saeed. There are some people whose lives are spent not for themselves but for the betterment, happiness, and freedom of the whole of humanity.
Undoubtedly, he is one of those personalities who have become the heartbeat of millions. The Indian, American, and Western media testify the limit to which India and the United States are terrified of him. He believes that if a Muslim is injured and oppressed or upset, other Muslims are obliged to help the oppressed Muslims.
Muslims are the nation that has been helping non-Muslims, but today, 60 Islamic countries together cannot raise a voice for Kashmiris' right to freedom.
Saeed Date of Birth
He was born on 5th June 1950 in Sargodha, Pakistan.
Education of Saeed
He memorized the Holy Quran from his mother. After matriculation, he went to his uncle Hafiz Obaidullah Bahawalpur in Bahawalpur, a well-known Salafi cleric. He holds a master's degree in Islamic Studies and Arabic Language from Punjab University. In Lahore, he was a lecturer at the University of Engineering and Technology.
Former President Zia-ul-Haq included him in the Islamic Ideological Council. Around 1980, he went to King Saud University of Higher Education in Saudi Arabia for further education.
Hafiz Muhammad Saeed Family
His father, Kamal-ud-din, was a small landowner, another 36-member caravan of Saeed's migrating family was martyred entirely, and not a single child survived. He was born near Sargodha, and his mother raised him.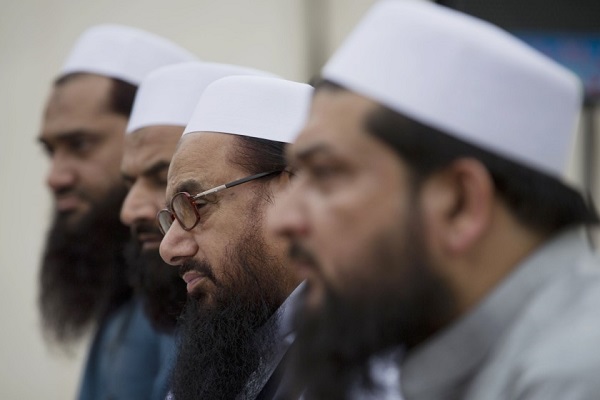 Life Events
In 1986, he started publishing a monthly magazine entitled Al-Dawa, with the Dawa Wal-Arshad Center's formation. The work of the organization was only to preach and do welfare work. His primary focus was on Punjab and Azad Kashmir and set up Markaz-e-Taiba near Murid K, a few kilometres from Lahore.
Founded Lashkar-e-Tayyaba
Along with Zafar Iqbal and Abdullah Azam, he founded Lashkar-e-Tayyaba in 1987 with Usama Bin Laden's funds. The aim behind its foundation was to raise the voice of Kashmiris and strive for their freedom.
Ideology of Lashkar-e-Tayyaba
It is the only party that has raised its voice against democratic politics. The training of this party is very high. To date, no vandalism, illegal burning, and road-blocking, etc., have taken place. Instead, the party believes that armed struggle against the Muslim governments is not right, as it allows non-Muslims to be successful in their conspiracies.
There is no other party that works like this party. The party believes that exploding bombs at public places, damaging public property, killing innocent people, raping women, and committing other crimes against humanity is open terrorism. The protection of minorities is also necessary.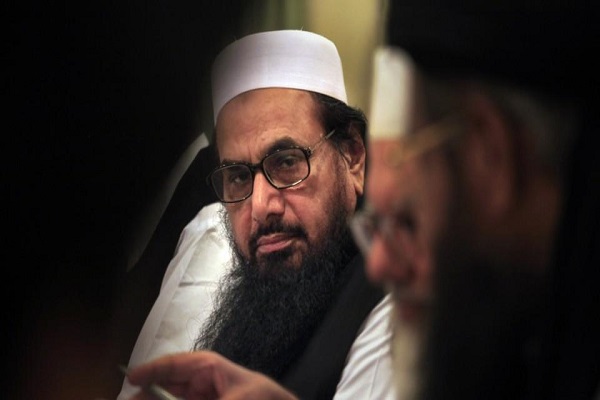 Falah-e-Insaniyat
It is an institution in Pakistan that is unparalleled in the country. On the 8th Oct 2005 earthquake in Kashmir and NWFP, it played such a significant role that the international media had to acknowledge it. This Islamic welfare organization is engaged in various welfare activities in natural calamities, emergencies, and free medical centers with free ambulance service in all Pakistan corners.
This party's welfare work in remote areas of Sindh and Baluchistan is a testament to its performance. Its relief work in the flood situation in Pakistan a few years ago is commendable.
Efforts for Freedom of Kashmiris
In a meeting with journalists, he shared horrific statistics on the atrocities against Muslims in Occupied Kashmir, which shocked and overwhelmed the audience. According to Saeed, 117 people have been martyred since 8th Jul. The number of people injured with pellet guns has exceeded 7500, the number of people who have lost their eyes is 1390, out of which 22 people have lost their eyes completely, including four infant girls.
The number of people injured due to the terrorist activities of Indian forces is 6700, while 1762 people have been arrested and kept in various jails and prisons. Similarly, crackdowns are carried out in settlements for 18 to 20 hours. So far, 961 people, including 90-year-olds and 5-year-old children, have been detained. Incidents of women abuse have increased. So far, more than 3561 incidents have taken place. They are increasing over time.
Detention
He was detained for the first time, along with a ban on Jamaat-ud-Dawa. A year later, he was released on the High Court order, but the administration took him into custody on the same day and detained him at Sheikhupura Rest House. In Oct 2006 High Court released him.
He was also charged with the Bombay attack in India. The United States, Britain, Russia, and Australia imposed a ban on him, and a 10 million reward was announced for his arrest. The government of Pakistan kept him in prison from 11th Dec 2008 to June 2009, and he was released on the Lahore High Court order.
On the night of 30th Jan 2017, on the Interior Ministry's orders, a heavy contingent detained Saeed and Abdul Rehman Abid, Abdullah Obaidullah, Zafar Iqbal Qazi Kashif for six months. He was detained at 116/E Johar Town, Lahore. The house was declared a sub-jail.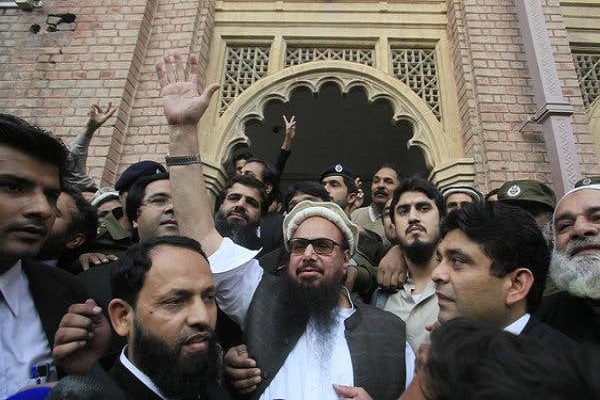 Hafiz Muhammad Saeed Arrest Warrants
In Nov 2020, the anti-terrorism court in Lahore sentenced him to ten and a half years in prison and a fine of 110,000 rupees on three different charges. He is currently serving a prison sentence in a terrorism-related case. The court convicted him and his two accomplices, Zafar Iqbal and Yahya Mujahid, on two separate charges of raising funds for the banned organization and illegal possession.
Meanwhile, an anti-terrorism court comprising District and Sessions Judge Arshad Hussain Bhatta sentenced him to further imprisonment for fine non-payment. The court further ordered that they would have to spend one year and ten days behind bars if they did not pay the fine.
Comments of Interior Ministry about Detention
According to the Interior Ministry, Jamaat-ud-Dawa and Falah-e-Insaniyat are on the watch list, and these measures were taken in the light of UN Security Council resolutions. According to the order, Jamaat-ud-Dawa and Falah-e-Insaniyat were committing acts that were detrimental to peace and security.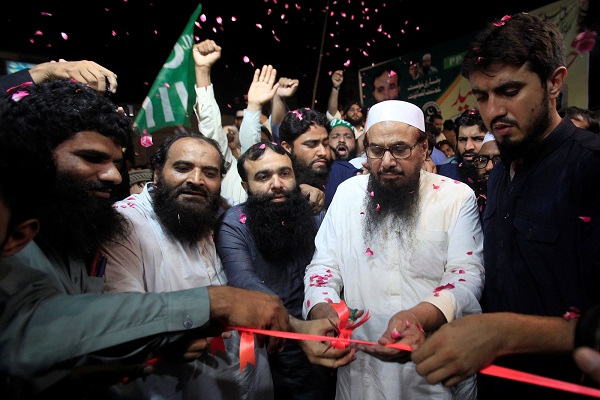 Public Reaction on Hafiz's Detention
Protests against his detention took place in all major and minor cities, including Lahore, Faisalabad, Muzaffarabad, Gujranwala, Gujarat, Islamabad, Rawalpindi, Multan, Hyderabad, Karachi, Sheikhupura, Sahiwal, and Okara. The protestors burnt flags of India, the United States, and Israel.