Poets like Habib Jalib are the conscience of any society. He devoted his entire life to the liberation of democracy and challenged the time's tyrants by reciting the famous poem ' Aise Datoor Ko Subha E Be Noor Ko Mein Nahin Maanta' and never bowed before rulers of the time.
He was deported for speaking the truth and was sentenced to prison several times. However, he did not give up. He raised his voice for the people even in unfavorable circumstances and uttered the word of truth before the tyrant and dictators. What his fearless pen wrote about oppression, abuse, injustice, and inequality became popular. This article has all the information about him, including Habib Jalib Biography.
| Title | Description |
| --- | --- |
| Personal | |
| Name: | Habib Jalib |
| Born As: | Habib Ahmad |
| In Urdu: | حبیب جالب |
| Famous As: | Poet |
| Nationality: | Indian (1928 – 1947), Pakistani (1947 – 1993) |
| Religion: | Islam |
| Profession: | He was a Known Pakistani Poet |
| Literary Movement: | Progressive Writers Movement |
| Notable Work: | Sir-e-Maqtal, Gumbad-e-Bedar, Zikr Behte Khoon Ka and many others. |
| Awards : | Nigar Awards Nishan-i-Imtiaz (Posthumously awarded on 23 March 2009) |
| Born | |
| Date: | 24th March 1928 |
| Place: | Hoshiarpur, Punjab |
| Family | |
| Children: | Tahira Habib Jalib |
| Died | |
| Date: | 12th March 1993 |
| Rest Place: | Lahore, Pakistan |
| Career | |
| Occupation(s): | Urdu Poet, Political Activist |

Habib Jalib Biography
The poetry of Jalib, who fought with a pen against social inequalities, still teaches people to stand firm on the truth. He spent his life in prisons and beatings by the police in the hope of revolution, of which he was proud. Once in jail, he was told that he would not be provided with paper and pen.
He replied, 'I will recite my poem to your bodyguards and recite it to other people, and thus it will reach Lahore.' The best thing about him was that he was against the prevailing traditions in society in many ways. His success was that he knew how to turn complex socialism ideas into politics, poetry, and satire.
While he introduced new dimensions to Urdu literature with his bold poetry, he also gave a style to romantic poetry in which the intensity of emotions is prominent. The Government of Pakistan has awarded him the country's highest civilian honor, the Nishan-e-Imtiaz, for his services. This award was given to him 16 years after his death, and this is the first time a literary personality has been given this award.
Habib Date of Birth
He was born on February 28, 1928, in a peasant family in the Hoshiarpur district of United India, his real name was Habib Ahmed.
Education of Habib
He passed the 10th class examination from Anglo-Arabic High School, Delhi.
Habib Jalib Family
He remained obedient as a son and brother, loving and kind as a husband and father. His brother Shaukat Pervez is working to promote Jalib's thoughts. He has also launched Habib Jalib Peace Awards for this purpose. Her daughter Tahira Jalib has dedicated her life to promoting her father's poetry and ideas.
Early Life
He inherited poetry from his father and elder brother. In the publication of his first collection, 'Berg-e-Aura' was the role of his younger sister, who collected pieces of his useless paper, on which most of his poetry was written.
After Pakistan's formation, he migrated to Karachi and from here passed through many cities and settled permanently in Lahore. Initially, he was influenced by Jigar Murad and used to sing traditional ghazals. He also remained associated with Pakistani journalism and the film world.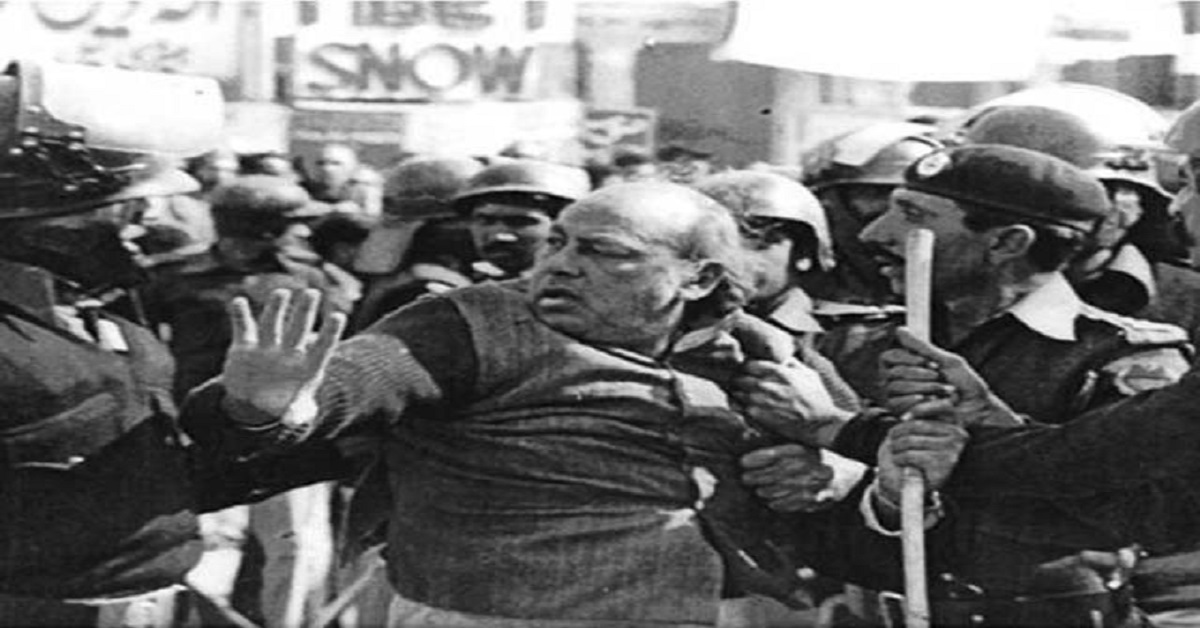 Struggles and Services via Poetry
He appeared on our poetic horizon when the All India Muslim League, led by Quaid-e-Azam, was active in the Tehreek-e-Pakistan. Under the influence of this movement, he went from a romantic poet to a revolutionary poet.
His poems are the shining chapters of our democratic history, which are missing from the history books but are safe in the people's hearts and minds. These poems are a shining example of Islam's revolutionary spirit and the ideological maturity of Jalib in a situation of ideological conflict.
Poetic Services in Era of Ayub Khan
When the dictator Ayub Khan had to hold elections under his basic democracy, the opposition united against him. The opposition declared the mother of the nation, Fatima Jinnah, as their joint representative. As soon as she entered the politics of motherland elections, the youth became active under her leadership.
The government of Lathi Goli started bathing the youth in blood. Jalib immortalized the protest of  Fatima Jinnah by his poem titled 'Mother.' Drowning in grief over the dictatorial abuse of two oppressed dancers, Nelo and Mumtaz, he recited two beautiful poems.
During the dictatorship, the famous dancer Nelo was invited to dance to please the Emperor of Iran, but she refused. She was arrested and taken to a dance party. The first two stanzas of the poem Nelo are 'Tu Kay Na Waqif Adab E Shenshae Th, Raqs Zanjeer Pehan Kar Bh Kiya Jata Hai.'
Poetic Services in Era of Benazir Bhutto
When Benazir Bhutto Shaheed came to Pakistan for the first time after her long exile, the dictatorship walls began to shake with the warmth with which the people greeted her. He illustrated this situation in his poem 'Nahatti Larki.'
Patriotism
The courage shown by Habib and his family during their imprisonment is a shining chapter in National history. Despite all the sufferings, he continued to love Pakistan as much as he enlightened his heart and mind with Pakistan's dreams during the Pakistan Movement.
The most admirable personality attribute is that he was never disappointed with Pakistan's future despite his lifelong experience of accountability and punishment. From his sufferings and hardships, he found a new glimmer of hope in every difficulty that befell him and his homeland and continued to dream of a better future.
He also endured the oppression of Zia-ul-Haq and Bhutto during the days of struggle. He remained close to Benazir Bhutto, even under Pervez Musharraf, his poetry was repeated in the lawyers' movement as a protest. In one of the women's gatherings, he was beaten with sticks on his body.
The scene was captured on camera by renowned photographer Azhar Jaffery. The photo is now a historical reference.
Poetic Collections
Five collections of his poems have come to light, namely 'Berg-e-Aura,' 'Sir Muqtal,' 'Ahd-e-Satam,' 'Zikr Bahte Khoon Ka' and 'Goshe Mein Kafs Ke.' These collections' names indicate that he has addressed public issues and the people's oppression in his poetry.
Habib Jalib Death
On March 12, 1993, this 'leader' of the people passed away.
Habib Jalib Books
Sir-e-Maqttal 2
Zikar Behtay Khoon Ka
Gumbadd-e-Bedaar
Kulyat E Habib Jalib
Ic Shehar-e-Kharaabi Mein
Goshaay Mein Qafas Ke
Harf E Haq
Harf-e-Sar-e-Dar
Ehd-e-Sittam
Habib Jalib Famous Poetry
Zulmatt Ko Zia
Quaid-e-Azam Dekh Rahe Ho Apnaa Pakistan
Faranggi Ka Jo Mein Darbaan Hota
Mazaray Lagharay
Wattan Ko Kuch Nahe Khatra
Yeh Munsif Bh Thoo Qaidi Hein
Gall Sun
Jinn Thaa Ya Referendum Thaa
 Dastur