Habib Jalib was a Pakistani revolutionary poet. A left-wing activist and politician, he was a democrat who opposed martial law, authoritarianism and state oppression. He was awarded by Nishan e Imtiaz, higher civilian award of Pakistan in 2009. He also won the most respectable Nigar award. He died on 12th March 1993 leaving behind his mater piece.
| Title | Description |
| --- | --- |
| Personal | |
| Name: | Habib Jalib |
| Born As: | Habib Ahmad |
| In Urdu: | حبیب جالب |
| Famous As: | Poet |
| Nationality: | Indian (1928 – 1947), Pakistani (1947 – 1993) |
| Religion: | Islam |
| Profession: | He was a Known Pakistani Poet |
| Literary Movement: | Progressive Writers Movement |
| Notable Work: | Sir-e-Maqtal, Gumbad-e-Bedar, Zikr Behte Khoon Ka and many others. |
| Awards : | Nigar Awards Nishan-i-Imtiaz (Posthumously awarded on 23 March 2009) |
| Born | |
| Date: | 24 March 1928 |
| Place: | Hoshiarpur, Punjab |
| Family | |
| Children: | Tahira Habib Jalib |
| Died | |
| Date: | 12 March 1993 |
| Rest Place: | Lahore, Pakistan |
| Career | |
| Occupation(s): | Urdu Poet, Political Activist |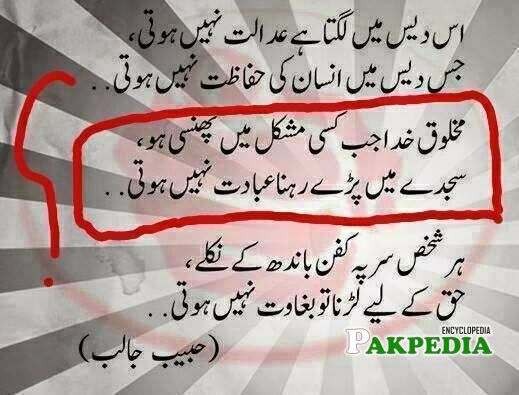 Biography

Habib Jalib was one of the revolutionary poets from Pakistan. He was born on 24 March 1929 as Habib Ahmad in a village near Hoshiarpur British India. His family migrated to Pakistan after partition. Habib started working as a proof-reader in Daily Imroze Karachi. He wrote in simple language and generally addressed common issues directly related to people. He was a staunch democrat and always opposed martial law, authoritarianism and state oppression. Some of his important books are Sir-e-Maqtal, Zikr Behte Khoon Ka, Gumbad-e-Bedar, Kulyaat e Habib Jalib, Is Shehar-e-Kharabi Main, Goshay Main Qafas Ke, Harf-e-Haqq, Harf-e-Sar-e-Daar, Ehad-e-Sitam etc. He had received the highest Civilian award of Pakistan Nishan-e-Imtiaz (posthumously) in 2009.  [1] Biography Biography  
Career
He was a progressive writer and soon started to grab the audience with his enthusiastic recitation of poetry. He wrote in plain language, adopted a simple style and addressed common people and issues. Habib Jalib was a left wing activist and politician and was a faithful democrat who opposed martial law, totalitarianism and state oppression. He was one of the most popular poet speaking the common people's dialect and was very famous due to his ghazals and loud voice of conflict against dictatorship and established order in Pakistan. The poetry of Habib Jalib can be divided into two parts first comprises ghazals composed during the period when Jalib had chosen to keep a somewhat low profile.  He bravely confronted first martial law of Ayub Khan. He wrote his famous poem "Dastoor" which is the landmark in the history of Pakistan's political struggle and became a glowing symbol of protest literature. [2] Career Career
Political Views

He was a Marxist-Leninist and aspired to the ideals of Communism. He was a member of the Communist Party of Pakistan; later when the Communist Party was banned and started working under the banner of National Awami Party (NAP), Jalib joined the NAP. Due to his blunt expression of his beliefs, he suffered hard time all his life and spent most of time in Jails.  
Ayub Khans Martial Law
Habib Jalib was first imprisoned during the martial law regime of Ayub Khan due to his defiant views on Ayub Khan's capitalistic policies. He wrote his legendary poem "Dastoor" during those days.Criticizing those who supported Ayub Khan's regime, he wrote:
There is smoke of teargas in the air 
and the bullets are raining all around 
How can I praise thee 
the night of the period of shortsightedness
A humble man with limited means of livelihood, Jalib could never reconcile with the dictatorship of Ayub Khan. So when Ayub enforced his tailor-made constitution in the country in 1962, which a former prime minister Chaudhry Muhammad Ali likened to the Clock Tower of Lyallpur, Jalib wrote a poem against it.  [3] Ayub khan martial law
Habib Jalib Poetry
The history of Urdu Poetry is filled with many multitalented Poet and Poetess who worked really hard to recognize Urdu Poetry all over the world. Habib Jalib is a revolutionary Urdu Poet of 20th century, whose passion behind his words, the style of delivering his poems and his emotional energy associated with the sensitivity of the socio-political perspective is what evoked the audience. He is a well-recognized Pakistani revolutionary poet, which reflected his vision and approach of life and provides guidance to the lost souls.  Jalib was a poet highlighted the common people's dialect and became famous through his revolutionary Ghazals and loud voice of conflicts over political disputes of Pakistan.  His notable book includes Sir-e-Maqtal, Gumbad-e-Bedar, Zikr Behte Khoon Ka and many others.  [4] Poetry POetry
Habib Jalib Work
Sar-e Maqtal 
Zikr Behte Khun ka 
Gumbad-e Bedaar 
Harf-e Sar-e Daar (Collection of all of his poetry) 
Kulyaat e Habib Jalib 
Is Shehar-e-Kharabi Main 
Goshay Main Qafas K 
Harf-e-Haqq 
Ehad-e-Sitam      
Poetry
He mainly wrote about the evils brought upon society by corruption and inequity. An example is :
Farangi ka jo main darbaan hota
Tho jeena kis kadar aasaan hota
Meray bachay bhi amreeka may parthay
Main Har garmi may main Inglistaan hota
Meree English bhi balaa ki chusth hotee
Balaa say jo na main Urdu-daan hota
Sar jhuka kay jo ho jaata sir main
Tho leader bhi azeem-u-shaan hota
Zameenain meree har soobay may hoteen
Habib Jalib Peace Award
An event was organised in 2009 by the Habib Jalib Peace Committee  at the Karachi Press Club,  to honour philanthropist Abdul Sattar Edhi with the third Habib Jalib Peace Award while remembering, and paying tribute to, the shaer-i-awam Habib jalib.  Sobho Gianchandiani was the recipient of the very first Habib Jalib Peace Award in 2007. The next year it was given to Barrister Aitzaz Ahsan. Habib Jalib's son Nasir Jalib, who had especially come from Lahore to take part in the programme, touched upon the wave of violence that has recently engulfed Karachi, and apprised the audience that his illustrious father would visit the megapolis whenever it underwent a turbulent phase.  [6] peace award
Views about Habib Jalib
Journalist Nazir Laghari lamented the fact that there is no Habib Jalib in the present era, and added that in modern times there are buyers and sellers of intellect, intelligence and loyalty.
Human Rights activist Iqbal Haider appreciated the fact that the organisers had chosen April 30, a day before May 1 (Labour Day), for the programme because Jalib always spoke for the underprivileged.
Poet Tauqir Chughtai read out his poem 'Jalib ki rooh se mukalima', which was very well received.
Senator Raza Rabbani spoke on the fact that Habib Jalib's ideology and philosophy haven't been properly followed by society. He said if Pakistan is in danger of disintegration then the solution doesn't solely lie in giving fiery speeches; the entire nation or each individual has to look inwards in order to protect the federation.
Senior Vice-President of the Pakistan Workers Party Yousuf Masti Khan said Jalib was not merely a poet, he was a movement; and movements never die. He was Pakistan's Pablo Neruda.