Raja Zafar ul Haq is a Pakistani senator who is serving since 12th March 2009. He is the present opposition leader in the Pakistani senate. Currently, he is serving as PML-N chairman since 20th February 2000.
He also served at the post of Ministry of Religious Affairs in 2nd administration of PM Nawaz Shareef from 1997 and served until 1999. He is recognized for his advocacy for 'religious conservatism' but intensely advocated for his religious humility and temperance.
This article has all the information about him, including Raja Zafar ul Haq Biography.
| Title | Description |
| --- | --- |
| Personal | |
| Name: | Raja Zafar ul Haq |
| In Urdu: | راجہ ظفرالحق |
| Famous As: | Diplomat |
| Nationality: | Pakistani |
| Education: | LLB |
| Alma Mater: | Government College University, Punjab University |
| Religion: | Islam |
| Profession: | Politician |
| Cabinet : | Nawaz Sharif government |
| Born | |
| Date: | 18th November 1935 |
| Place: | Matore, Punjab, British India (now in Punjab, Pakistan) |
| Career | |
| Political Party: | Pakistan Muslim League (N) |
| Serve As: | Leader |
| In Office | |
| Role: | Pakistan Ambassador to Egypt |
| Dates: | 1984–1985 |
| In Office 2 | |
| Role: | Political adviser to Prime minister of Pakistan |
| Dates: | 1986–1987 |
| Minister of Information and Broadcasting: | 1981–1985 |
| President : | Muhammad Zia-ul-Haq |
| Minister of Religious Affairs: | 1981–1985 |
| President : | Muhammad Zia-ul-Haq |
| Minister of Religious Affairs: | 21 February 1997 – 12 October 1999 |
| President: | Rafiq Tarar |
| Prime Minister: | Nawaz Sharif |
| Chairman of Pakistan Muslim League (N): | 20 February 2000 |
| Leader of the House of Federation: | 12 March 2015 |
| Pakistani Senator from Punjab: | 12 March 2009 |

Raja Zafar ul Haq Biography
Zafar ul Haq is an educated and competent personality who served at various important posts. He holds a Law degree but also made his name in politics. Since 1963, he has been active in national politics via PML. He is noted for his views on conservatism regarding religion while emphasizing on the adoption of Modesty to deter insanity and violence.
He is recognized for heading the legislative initiatives to set up a commission to investigate Kargil conflict to be scrutinized by the Pakistan Supreme Court against Pervaiz Musharaf, whom he considered as a 'traitor' later and raised his voice for the Military's civilian control.
Zafar Date of Birth
He was born on 18th November 1935 in Matore, Punjab.
Education of Zafar
He completed his matriculation from Sialkot. Later, he did graduation in Philosophy in GCU Lahore in 1956 and studied Political Science and Law from Punjab University and an MSc degree in Political Science in 1958.
Zafar ul Haq Family
His father Raja Fazal served as Deputy Superintendent in Punjab Police.
Law Career
He began to practice law with the 'S.M. Zafar associates' a law firm in Lhr but later went to Rawalpindi. In Rawalpindi, he started practising law and took cases until 1981. He moved to ISB where he became SC Bar Association's member and became an advocate of SC from 1985-1987. He was appointed president of Bar Association Rawalpindi and served as vice president of 'Punjab Bar Council' in 1981.
Political Career
Joined PML
In 1956 after his graduation he joined PML and remained part of PML for over fifty years.
Appointment as General Secretary
From 1963-1971 he served as General Secretary PML in Rawalpindi.
Appointment as PML President
In 1971 he got elected as PML President in Rawalpindi.
As President and Vice President
From 1977-1978 he served as RWP Bar Association's President and from 1981-1982 he served as Vice President of High Court Bar.
Ministry
He held the ministry of 'Religious Affairs' and, 'Information and Broadcasting.'
Chairman National Committee
He held the office of chairman of 'Social Reforms National Committee,' and his submitted report got wide acceptance and appraisal.
As Diplomat
Pakistani President Zia made him Pakistan Diplomat to Egypt, post which he served until 1986. Until 1987 he remained advisor of PM Junejo on legal and political matters.
Services as Political Advisor
He worked as Political Advisor of Pakistani PM having the status of 'Federal Minister' from 1986 to 1987. Later, he participated as Pakistan's representative in UN General Assembly in Forty-Fifth session held in 1990-1991.
Membership of Pakistan Senate
In 1991 he got selected as a member of Pakistan's senate, for six years and served at this post until 1997. From 1991-1994 he remained Chairman of Standing Committee on Law & Religious Affairs. Afterward, he worked as Chairman of Economy Commission of Pakistan and presented a detailed report.
Services for PML-N  
He got appointed as PML-N Central VP in 1996. He served as Secretary-General of World Muslim Congress (Motamar-al-Alam-al-Islam) in 1992. Moreover, he served as Opposition Leader, Pakistan Senate from 1994 to 1996. And from 1997 to 1999 he served as Leader of House, Pakistan Senate.
He remained Minister of Religious Affairs from 1997-1999 and re-elected as Secretary-General of Motamar-al-Alam-al-Islami from 1997-2002. In 2002 he designated as PML-N chairman. In 2011 he got re-elected for this post.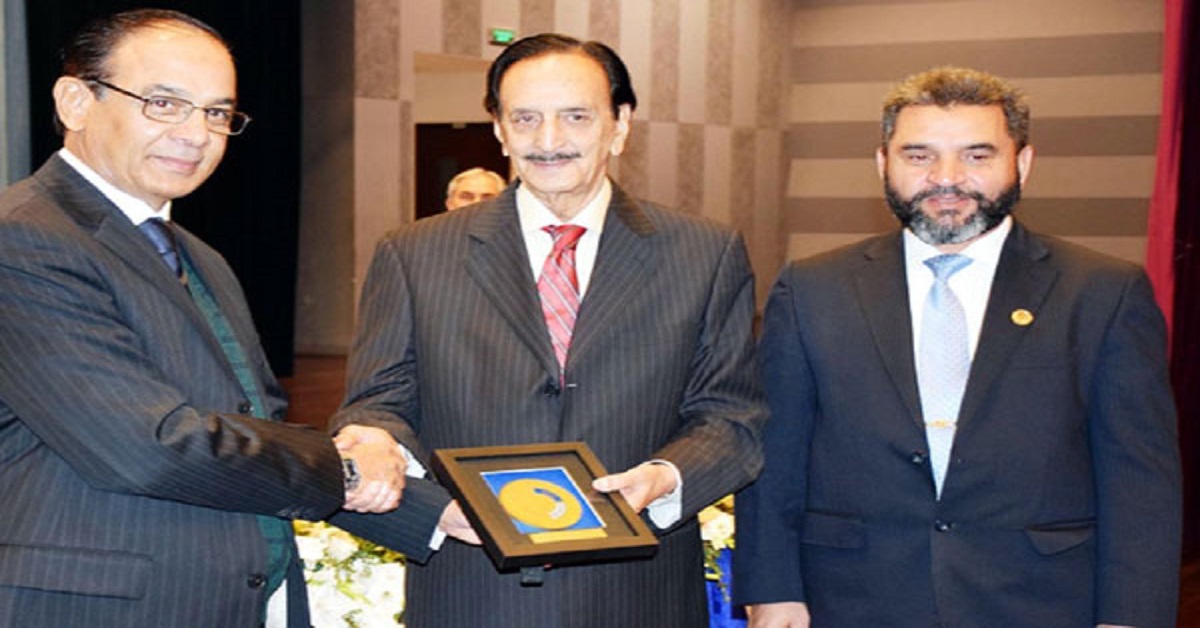 Chairman of Senate's Standing Committee
He got elected as chairman of the standing committee of the senate in 2012, in 2013 was designated as House Leader, Pakistan Senate.
Panel Member
From 1980 to 1981, he worked as a member of experts' panel on Pakistan Law Commission member under Law & Justice ministry. In 1981, in the regime of Zia, he served as Minister for Religious Affairs and Information Minister.
Member of BoT
In 1992 his name listed in BoT (Board of Trustees) of Intl Islamic University in ISB. In 1999 he warned the Ministry of BJP in India regarding Kargil War, by stating that Pakistan would restore to nuclear weapons if India would harm Pakistan's security, sovereignty, and integrity.
His statement got ignored and considered as only a political statement because he wasn't part of national security issues.
Social Media Handles
His social media account include
https://www.facebook.com/WLRZUHS/