Civil Servant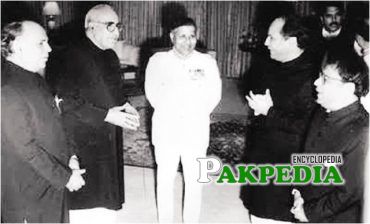 Nawaz Sharif with Ghulam Ishaq Khan
Pakistani Bureaucrat
Ghulam Ishaq Khan address's to the nation on dissolving the Nawaz Sharif's govt(18-4-1993)
Served as 7th President of Pakistan
Biography
A powerful player in the political equation was President Ishaq Khan.The president, under the constitution, is elected by a majority of the members of the national and provincial assemblies. Ishaq Khan was a seasoned senior bureaucrat-turned politician who had been a key figure in Pakistan for more than three decades.
[1]
Biography
Born and Education
Ghulam Ishaq Khan was born on January 20 , 1915 in Ismailkhel ,
Bannu District
, Pakistan 's
Northwest Frontier Province
, in a Pashtun ethnic family . He joined Peshawar University in 1933 where he received his B.S. in Chemistry first and then Botany, followed by his M.S. in Nuclear chemistry in 1940.
[2]
Born and Education
Career
Despite his educational field, Khan joined the Indian Civil Service and became a career bureaucrat in the Government of British Indian Empire. He was appointed to the significant Civil Service of Pakistan after
independence in 1947
.
Various Local Posts
Provincial Secretary
After the unification of West Pakistan into One Unit in 1955, Ishaq Khan was appointed Provincial Secretary of West Pakistan for Irrigation Development. In this capacity he represented the Provincial Government in the Federal Planning Commission. In 1958, he became Member
W. A. P. D. A.
In 1966, he was appointed Federal Finance Secretary and promoted to Secretary General Defense during Bhutto's tenure.
[3]
Provincial Secretary
Chairman
Ghulam Iskhaq Khan, first of all, held various local posts in the
Sindh Government
and then he was selected as the Chairman of the West-Pakistan Water and Power Development Authority in 1961. 
Finance Secretary
In 1966, he was out and was made Finance Secretary of the Ministry of Finance until 1970 when he resigned from his position. After witnessing the terrible Indo-Pakistani War of 1971, Khan was tasked to run the retail and commercial services, since the economy was in breakable state. This task was considered quiet difficult and challenging for a country that was mutilated as a result of this war. 
Governor
In 1971, Zulfikar Ali Bhutto appointed him as the Governor of
State Bank of Pakistan
when he was tasked to carry out monetary and credit policy in accordance to Government policy with influence of socialism. In the latter position, he asked the wisdom of a number of the economic policies of then Prime Minister
Zulfiqar Ali Bhutto
who was keen to strengthen his nationalization and socialist influence in the financial institutions that marked the slowdown of the economy.
Secretary of Ministry of Defense
In 1977, Bhutto accordingly moved Khan from the bank and appointed as the Secretary of Ministry of Defense. Although an unusual post for a senior economics expert, it proved to be fortuitous in that it brought him into close contact with the senior officers of the
Pakistan Army
Forces.
Chairman of the Senate
Mr. Khan was considered a close aide of
General Zia
. In February 1985, Mr. Khan was elected chairman of the Senate. As per constitutional arrangement, Mr. Khan assumed the role of president after General Zia's plane crash in August 1988 and was formally elected president that December.
7th President of Pakistan
As president, Mr. Khan twice used a constitutional amendment that gave the president sweeping discretionary powers to dismiss a government and override the government's choice of army chief.
[4]
7th President of Pakistan
General Elections in 1988
He held the general elections in 1988 in which
Benazir Bhutto
became prime minister of Pakistan, the first woman to do so. In 1990, Mr. Khan dismissed Ms. Bhutto's government, which was tainted by charges of corruption, mismanagement and nepotism.In 1993, he also dismissed the government of Prime Minister Nawaz Sharif on the same charges of corruption and mismanagement. He then started a collaboration with Ms. Bhutto, whom he had earlier thrown out of the government. After the Supreme Court ordered that
Mr. Nawaz Sharif
be restored, a political crisis gripped the country.Amid growing tension, Pakistan's powerful army chief asked both men to resign in 1993.
Founded the Institute
In early 1990s, he founded the Ghulam Ishaq Khan Institute of Engineering Sciences, a leading engineering university, in Swabi.He has to his credit the establishment of Rs 2.2 billion Ghulam Ishaq Khan Institute of Engineering Sciences and Technology in Swabi, Topi,
Khyber-Pakhtunkhwa
.
[5]
 Founded the Institute 
1993 Elections
Even though there is the existence of coming to an arrangement with the
PPP
government to be re-elected to the (time when someone is president/being a president) after the 1993 elections, he was eventually dropped as a candidate in favour of Farooq Ahmed Khan Leghari. He (after that) retired from politics and avoided contact with the international and national media.
Death
He died on 27 October 2006 after a bout of pneumonia.