Ghulam Farid Sabri along with his brother Maqbool Sabri were known as Sabri Brothers and earned much fame in Qawwali."Mera Koi Nahin Hai Tere Siwa", "Bhardo Jholi Meri Ya Muhammad" and "Taajdar-e-Haram" are some of their most acclaimed qawwalis.He belongs to a leading member of the Sabri Brothers, a leading qawwali group in Pakistan in the 1970s, 1980s and the 1990s.He was also known as a Sufi mystic along with connected the Chishti Order.
| Title | Description |
| --- | --- |
| Personal | |
| Name: | Ghulam Farid Sabri |
| In Urdu: | غلام فرید صابری |
| Famous As: | Qawwali Singer |
| Nationality: | Pakistani |
| Religion: | Islam |
| Profession: | Qawwali Singer |
| Member of : | The Sabri Brothers |
| Connected to : | The Chishti Order |
| Also Known as: | Sufi Mystic |
| Awards : | Pride of Performance Award |
| By: | President of Pakistan |
| Born | |
| Date: | 1930 |
| Place: | Kalyana, Rohtak, British Punjab |
| Family | |
| Children: | 5 Sons including Amjad Farid Sabri and 6 Daughters |
| Parents: | Inayat Sabri (Father) |
| Siblings : | Maqbool Ahmed Sabri (Brother) |
| Died | |
| Date: | 5 April 1994 |
| Rest Place: | Karachi, Sindh, Pakistan |
| Career | |
| Occupation(s): | Qawwali Singer |
| Genres: | Qawwali, Ghazal, Sufi music |
| Professional Work | |
| Years Active: | 1946–1994 |
| Instruments: | Vocals, harmonium |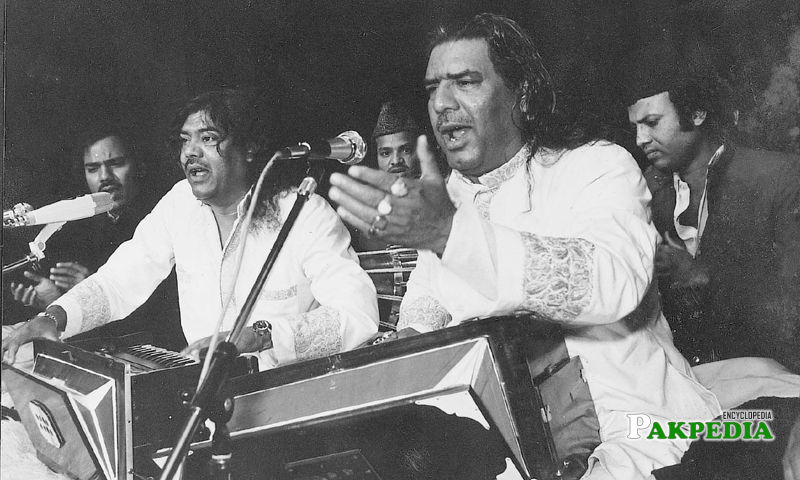 Biography
Ghulam Farid was born in Rohtak a village in Indian Punjab, back in 1930.His family belongs to the Sabriyya order of Sufism, which is why he has the surname Sabri.He was migrated to Karachi after Partition. He began training in qawwali under his father Inayat Sabri, who was also a renowned musician.Ghulam Farhid Sabri was a legendary Qawwal singer, and a member of the Sabri Brothers group, led by him and his brother Maqbool Ahmed Sabri. After his death, his son Amjad Farid Sabri took over the family tradition until his own death in 22 June 2016.[1]  Biography 
Career
The qawwal was just 16 when he delivered his first performance, at the urs of Mubarak Shah in Kalyana, India. After relocating to Karachi, Ghulam Farid and his brother Maqbool got together and soon came to be known as the acclaimed Sabri brothers who introduced a new, raw side of qawwali in Pakistan.Their careers took off soon after Ghulam Farid released his 1958 qawwali Mera Koi Nahin Hai Tere Siwa. Thereafter, the duo delivered success after success, with qawwalis such as Sarela Makan Se Talab Hui, Bhardo Jholi Meri, Saqia aur Pila and Tajdar-e-Haram, amongst many others.[2]  Career 
Sabri Brothers
Ghulam Farid Sabri was one of the most versatile Qawwali singers of modern times and, as one of the Sabri Brothers, the first to bring this devotional music, invented by medieval Sufi poets and mystics, to audiences in the West. With his younger brother, Maqbool, he composed and performed several Indian and Pakistani film scores in the Qawwali style, had recorded hits and began the poetic embassies from the subcontinent to the expatriate Indo- Pakistani populations of the United States and Britain.
Tajdaar-e-Haram
Though the repertoire of the Sabri brothers was substantially devotional and one of their biggest recorded hits was 'Tajdaar-e- haram' ('King of Medina'); a hymn to Muhammad, it included love lyrics and Qawwalis which could be construed as Sufi defiance of orthodoxy.[3]  Tajdaar-e-Haram 
Golden Era
The Sabri brothers formed the golden era of qawwali in Pakistan. Even today, some of our villages have a tradition to start their day by listening to the voice of Ghulam Farid Sabri," folk singer Shoukat Ali told The Express Tribune. Time passes and we forget those who have passed away too. But that's not the case with Ghulam Farid…people are still listening to Tajdar-e-Haram. He was truly one of a kind and will be missed forever.
Sher Ali and Meher Ali
Another renowned qawwal duo, Sher Ali and Meher Ali, claimed that the very history of qawwali in Pakistan kick started with the Sabri brothers. "There may be many people who listen to or sing qawwali but its true followers will know that only three names matter in the genre: Ghulam Farid Sabri, Nusrat Fate Ali Khan and Sher Ali and Meher Ali," they said, jointly. "Amongst us, Ghulam Farid was the most popular as he introduced qawwali in Pakistan. After him, Amjad was taking his music further but he was also martyred. We salute the services the Sabri family had made to qawwali," they added.
Introduction of qawwali
Musician Mohsin Raza echoed similar sentiments. "It wasn't just Pakistan Ghulam Farid introduced qawwali to but the rest of the world too. He was just as popular abroad as he was in Pakistan and his style was unique and impressive, hesaid. "Such greatness comes once in centuries and his work will remain an asset to Pakistan forever."
Famous Qawwalis
Mera Koi Nahin Hai Tere Siwa, Bhardo Jholi Meri Ya Muhammad and Taajdar-e-Haram, are some of their most acclaimed qawwalis.[4] Famous Qawwalis The Sabri brothers sang in every language available to Qawwali, from the traditional Urdu to Persian, Poorbi, Punjabi and Sindhi.
Death
Ghulam Farid Sabri died on 5 April 1994 in Liaquatabad, Karachi following a massive heart attack.The night before he died, Sabri was discussing a tour of Germany later this year. His appearances in Britain and the United States set a pattern and began to build an audience for what has now come to be known as 'World Music'. Following the Sabris to London and the US came other Pakistani Qawwals, the most famous of whom is Nusrat Fatch Ali Khan.Haji Ghulam Farid leaves behind him five sons, six daughters and a legacy to an art that he assisted in making international.His funeral was attended by approximately 40,000 mourners.
List of Qawwalis
Mera Koi Nahi Hai Tere Siva (Rehman Ramdan)
Bhar Do Jholi Meri Ya Muhammad
Mera Koi Nahi Hai
Phir Dikha De Haram 
Savere Savere – Live Version 
Balaghal Ulla Be Kamale Hi 
Ban Gayi Baat 
Bhar Do Jholi Meri 
Jis Ne Madine Jana 
Saqia Aur Pila 
Bar Sabil E Dil Farsi 
Kash Yeh Dua Meri 
Khasa E Khasane Rasool 
Ramzan Aa Gaya 
Rok Leti Hain Aap Ki Nisbat
Karam Mangta Hoon
Mein Qabar Andheri Mein
Tauba Qabool Ho Meri
Ya Rab Meri Soi Hui Taqdeer 
Ajmeer Ke Wali 
Kaabe Ki Raunaq 
Kaisa Lage Ga 
Mere Liye Har Gulshan E Rangeen 
Sare Lamakan Se Talab 
Savere Savere 
Tajdar e Haram 
Allah Hoo
Karam Karam Gharib Nawaz 
Karam Yeh Mujh Pe Hamesha 
Khabram Rasida (Farsi) 
Salle Alla Subhan Allah 
Taiba Ke Janey Waley 
Ya Ali Maula Ali Mushkil Kasha 
Kaabe Ki Raunaq – 2nd Version 
Lal Meri Pat Rakhiyo Bhala 
Sakhi Lajpal Ho Sarkar 
Tajdar-E-Haram Ho Nigha-E-Karam 
Deewana Deewana Khawaja Ka 
Haleema Gaud Mein Teri
Allah Allah Allah 
Andhere Ke Dil Main Chirag-e-Mohabbat 
Main Nazar Karo Jaan-e-Jigar 
Touloh-e-Seher Hau Sham-E-Galander 
Sare La-Makaan Se 
Ya Muhammad SAW 
Dua
Ya Mustafa 
Meri Tauba Qabool 
Morey Angna 
Ya Muhammad Noor-e-Mujasam 
Utho Rindo Piyo Jaam-e-Qalandar[5] List of Qawwalis