Farhat Hashmi is a Canada based Pakistani national, a Muslim TV preacher, Islamic Scholar, and a founding member of Islamic Institute Al-Huda. She owns a PhD degree from the University of Glasgow. She served as an assistant professor and lecturer at Usul-al-Deen at IIUI (International Islamic University, Islamabad).
In 1994 she founded Al-Huda International-Welfare Foundation. And this foundation commenced several schools to teach females Hadith and Quran and make them practising Muslims. It also administers social welfare projects, seminaries, and schools. This foundation set up Al-Huda in Mississauga, Canada.
She has become popular as great feminist-scholar in both abroad and Pakistan as indicated by crowds of more than 10,000 that actively attend her Dars. This article has every detail about her, including Farhat Hashmi Biography.
| Title | Description |
| --- | --- |
| Personal | |
| Name: | Farhat Hashmi |
| In Urdu : | فرحت ہاشمی‬ |
| Native Name : | Dr. Farhat Hashmi |
| Famous As: | Islamic scholar |
| Nationality: | Pakistani |
| Residence: | Sargodha, Punjab, Pakistan |
| Education: | Masters degree in Arabic Language |
| Institutes: | Government College for women Sargodha & University of Punjab |
| Religion: | Islam |
| Profession: | Doctor & Islamic scholar |
| Organization founded: | Al-Huda Institute |
| Foundation founded: | In 1994 |
| Teaching: | International Islamic University |
| Other Studies: | PHD degree in Islamic studies |
| Awards : | Women's Icon of Pakistan 2015, Dawah Award 2016 & The 500 Most Influential Muslims |
| Born | |
| Date: | 22nd December 1957 |
| Place: | Sargodha, Punjab, Pakistan |
| Family | |
| Ethnicity: | Punjabi |
| Spouse: | Muhammad Idrees Zubair |
| Children: | Maryam Zubair, Asma Zubair, Hisham Zubair, Taimiyyah Zubair |
| Parents: | Abdur Rehman Hashmi |

Farhat Hashmi Biography
Farhat is an Islamic scholar and preacher who is striving to teach Quranic teachings to females and make them better and practising Muslims. Despite facing a lot of criticism from conservative minds, she is carrying out her mission successfully.
She started her religious career as a lecturer in IIU and later founded a welfare institute with the name Al-Huda Institute. She preaches Islam on famous TV Channel Geo TV by fully covering herself via veil, gown and gloves. Her Islamic getup and PhD degree is evidence for those who consider veil and covering body only the trait of un-educated ones.
She has earned popularity and now has thousands of fans who help her in running Al-Huda by donating money or voluntarily working for the institute.
Farhat Date of Birth
She opened her eyes on 22nd Dec 1957 in Sargodha, Punjab.
Education of Farhat
She attended a local school for her early education and later enrolled at Govt College for Women in Sargodha and secured a Master's degree in the Arabic Language from Punjab University Lahore. Her father gave her religious education at home and taught her Islamic principles.
She tied the knot with a Hadith scholar Muhammad Idris Zubair, and they both served as lecturers at IIU (International Islamic University). Soon they went to Scotland and completed a Doctorate in Islamic Studies from Glasgow University.
Farhat Hashmi Family
She is the daughter of a Muslim Scholar and the leader of JI (Jamat-e-Islami) Pakistan.
Career
During her teaching career at IIU, she started arranging informal Islamic classes for females.
Founded Al-Huda Islamic Institute
Upon her return to Pakistan, she established a non-governmental welfare organization entitled 'Al-Huda International' intending to educate Muslim females about Islamic principles and how to implement them in daily life. Her efforts were seen as a direct reaction to bigger seminaries.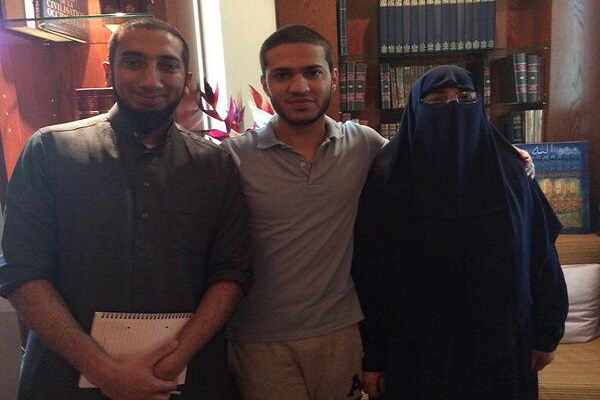 Non-Traditional Teaching Style
Her non-traditional teaching style is notable and her lectures concentrate on feminism. She uses advanced teaching methods during her lectures and has command over English, Arabic, and Urdu languages. So, her female audience/ students who belong to urban and educated families easily interact with her.
Academic surveys have indicated that the introduction of innovative and latest techniques by Farhat is a big reason behind the popularity of her institute.
As a TV Preacher
She began her religious career on TV as a preacher on Geo Television where Hashmi hosted 'Shahru-Ramadan' during Ramadan. She also joined a program 'The Quran and You' on Aag Television. She kept giving lectures on Tafsir of the Quran in the show Fahm-ul-Quran on Geo TV.
Getup in TV Programs
During her TV shows, she keeps herself covered via niqab and Islamic veil. She also covers her hand by wearing gloves.
Views of Hashmi
She is in favour of female participation in daily matters of belief and faith and support females to pray outside their houses and favours the females to lead their prayers.
She states that females can recite and touch the Quran during menstruation by wearing gloves (when teaching or learning the Quran). At the same time, some prohibit touching and recitation of Quran during menstruation.
An advocate of Islam's revival
She advocates Islam's revival and motivates her followers for interpretation of the Quran to support their beliefs and opinions with robust evidence. She inspires her followers to concentrate on becoming better and practising Muslims. Her Islamic lectures focus on family structure.
Criticism of Hashmi's Views
Her critics criticize her view with the objection that her lectures are focused on family and personal development instead of community service. She, however, rejects these objections, and her stance is if her listeners would make themselves better and useful individuals, it would reflect on a global and national level.
Views Regarding Roles of Men and Women
She wants to establish Sharia-Law in Canada. Her opinions on domestic affairs are according to her interpretation and understanding of Sharia-Law. She is of the view that both women and men specifically influence society.
She states that in our society men earn by working outside the home while females work in the house. She, however, argues that these duties and roles aren't fixed and are interchangeable.
Views About Polygamy
She calls polygamy a legal act and preaches her followers that they should allow their husbands to marry for the 2nd time as it would not only save them from extramarital affairs but also benefit other females.
Criticism on Hashmi
Some religious scholars criticize her that a female can't become an interpreter of the Holy Quran and an Islamic Scholar. She also faces criticism from puritan, right-wing Islamic preachers, and ultra-conservative men for ignoring the role of genders in Islam, particularly on her opinions about females preaching and teaching outside their homes.
A few people have objections on her methods of preaching that is by use of audio-visual aids, and internet calling them western methods. Secular and liberal outlets criticize her for being limited in Islam's interpretation. She is also criticized for her complimentary views about polygamy.
Social Media Handles