One of the world renowned female Islamic scholars, Dr Farhat Hashmi was born to a well-known Islamic scholar, (Late) Abdur Rehman Hashmi in Sargodha in 1957. She had her initial Islamic learning at home. Her father was responsible for instilling in her the desire to spread the word of Allah. Her innate genius and sincerity was coupled with a supportive and like-minded husband, Dr Muhammad Idrees Zubair, also a scholar with special interest in Hadith. [1] female Islamic scholars 
| Title | Description |
| --- | --- |
| Personal | |
| Name: | Farhat Hashmi |
| In Urdu : | فرحت ہاشمی‬ |
| Native Name : | Dr. Farhat Hashmi |
| Famous As: | Islamic scholar |
| Nationality: | Pakistani |
| Residence: | Sargodha, Punjab, Pakistan |
| Education: | Masters degree in Arabic Language |
| Institutes: | Government College for women Sargodha & University of Punjab |
| Religion: | Islam |
| Profession: | Doctor & Islamic scholar |
| Organization founded: | Al-Huda Institute |
| Foundation founded: | In 1994 |
| Teaching: | International Islamic University |
| Other Studies: | PHD degree in Islamic studies |
| Awards : | Women's Icon of Pakistan 2015, Dawah Award 2016 & The 500 Most Influential Muslims |
| Born | |
| Date: | 22 December 1957 |
| Place: | Sargodha, Punjab, Pakistan |
| Family | |
| Ethnicity: | Punjabi |
| Spouse: | Muhammad Idrees Zubair |
| Children: | Maryam Zubair, Asma Zubair, Hisham Zubair, Taimiyyah Zubair |
| Parents: | Abdur Rehman Hashmi |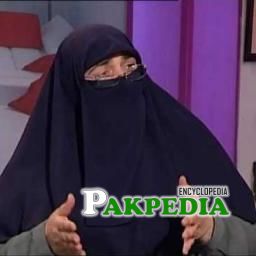 Details
Mini Bio
One of the most world renowned female Islamic scholars of the century, Dr Farhat Hashmi is today seen as an iconic figure, responsible for helping generations of Muslims develop a personal, one on one relationship with the Quran. She is considered as one of the most influential contemporary Muslim scholars (Ulema) today. As an orator, her lectures and talks, based on authentic knowledge, are known to touch the hearts of millions, as every word she speaks is from the heart. Personally, she considers herself an "eternal student and servant of the Quran" and, more than an icon, orator or scholar, prefers to be simply called a "Muallim" (teacher). [2] Mini Bio –  Mini Bio 
About Family
Dr. Hashmi and Dr. Zubair have four children: three married daughters and a son. Their daughters are also teachers there. There is Asma Zubair also known as Bint al-huda who teaches recitation and Taimiyyah Zubair who teaches grammar. She has one daughter in Pakistan Maryam and a son Hisham, who lives with her. Currently, the family resides in Mississauga, Ontario, Canada.
Education
She received her masters in Arabic at the Punjab University, Lahore, and was married shortly afterwards to Dr. Idrees Zubair. She received her PhD in Hadith Sciences from the University of Glasgow, Scotland. She taught at the International Islamic University Islamabad, while also conducting informal "duroos" or religious study circles for women in the Pakistani capital Islamabad. Her fame caught on as her study circles were regularly attended by the social elite in the capital, including Mrs. Farooq Leghari, the First Lady of Pakistan in the late 1990s. [3] Education –  Education 
Resigned from
She resigned from her post at the University and decided to pursue her mission of establishing a center of Islamic learning, particularly catering to women. She is known worldwide for having established Al-Huda International, a chain of centers that cater towards the promotion of Qur'anic knowledge for the common women. "Al-Huda" means "The Guidance", which is one of the epithets of the Qur'an. It is the ultimate guidance provided by God to mankind to lead a righteous life.
On her return
On her return, she again resumed teaching at the International Islamic University. While teaching at the University, she simultaneously continued conducting Quranic study circles for women. After realizing that there is a strong need for promoting the deeper understanding of Quran, she decided to establish a center of Islamic learning. This is how her brainchild, "Al-Huda International", came into being in 1994 in Islamabad.
Views of Dr.Farhat Hashmi
Hashmi considers taqlid in regards to Islamic jurisprudence to be permitted for those, who have no other choice, but discourages the blind taqlid that shuns the verses of the Qur'an, the sunnah of the prophet, the sayings of the companions and the taqlid that prevents people from searching for evidence. During a sermon when asked by a woman, what a wife should do if her husband was unwilling to help her destitute parents, Hashmi promptly quoted An-Nisa, 34 (Chapter Al Nisa, verse 34) of the Quran, arguing that the wife should comply with her husband's wishes, "no matter what, as he was her divinely appointed imam." Hashmi has preached that Muslim women should let their husbands marry a second time so "other sisters can also benefit". This saves men from having a non-marital relationship, which is forbidden according to the Quran. According to Hashmi, women can touch and recite the Quran during their menstrual periods, wearing gloves (either when learning Quran from a teacher or teaching Quran to others), traditionally considered prohibited.(Pakistan) Daily Times, March 17, 2001 in South Asian Multidisciplinary Academic Journal (SAMAJ) by Faiza Mushtaq in issue 4, 2010. Hashmi encourages her followers, mostly well-to-do Pakistani women, to interpret the Qur'an for themselves, but her critics argue that "Hashmi's talks center around personal and family development, rather than community service," instead of using their knowledge to improve their social conditions., in Fort Worth Weekly by Shomial Ahmad on 15 April 2009. [4] Views of Dr. Farhat Hashmi 
Al Huda Institute

Al-Huda International Welfare Foundation was founded in 1994 in Pakistan. It is striving to enlighten people with the knowledge of the Qur'an and Sunnah of the Prophet (saw) while serving the people through diverse social welfare programs. Alhamdulillah, not only in Pakistan but in many countries of the world, branches of Al-Huda are actively working to attain this objective. [5] Al Huda Institute 
History ofAl Huda Institute
Al-Huda is a movement of Islamic education and reform with a dedicated female following in Pakistani cities. Its founder and leader is a woman, Dr. Farhat Hashmi, who has become a well-known public figure in Pakistan. This paper explores how Hashmi derives her authority, displays it, and defends it against challenges. Women who become active participants in her classes claim she transforms their understanding of Islam and inspires them to change their lives. However she is criticized by the secular-liberal elites of the country and by the traditional male leadership of Islamic institutions, who question her religious expertise and are uncomfortable with the role of both gender and class in this movement. This analysis highlights the collective interactions and organizational innovations through which Hashmi's teachings acquire an authoritative status for selected women. [6] History of  Al Huda 
Audio cassettes and CDs
Her audio cassettes and CDs are available worldwide on a variety of topics, online and otherwise. She has written papers on the rights, roles and responsibilities of a woman in the light of Quran and Sunnah and contribution of Muslim women scholars in dissemination of al-Hadith-al-Nabawi.
As an Iconic Figure
Dr Farhat Hashmi is seen today as an iconic figure, responsible for helping generations of Muslims develop a personal, one on one relationship with the Quran. She is considered as one of the most influential contemporary Muslim scholars (Ulema). As an orator, her lectures and talks, based on authentic knowledge, are known to touch the hearts of millions, as every word she speaks is from the heart. Mother of three married daughters and a son, Dr Farhat Hashmi is, a role model for women, multi-tasking her responsibilities as a mother, wife, teacher and scholar.