Kazi Mannan is a Pakistani American businessman who owns a restaurant in Washington DC with the name ' Sakina Halal Grill.' This restaurant aims to serve food to poor people free of cost.
Kazi is an inspiration for every young generation who took the start by selling vegetables on the streets of Pakistan, and today he is the owner of a restaurant.
His family, including his wife and 2 children, resides in Pakistan. He has received considerable love from across the globe for his initiative. This article has every detail about him, including Kazi Mannan Biography.
| Title | Description |
| --- | --- |
| Personal | |
| Name: | Kazi Mannan |
| In Urdu: | قاضی منان |
| Nationality: | Pakistani |
| Residence: | Washington D.C |
| Religion: | Islam |
| Profession: | Owned Restaurant in D.C, where the Homeless Eat For Free |
| Type: | Halal |
| Ownership In: | 2013 |
| Restaurant: | Sakina Halal Grill |
| Address: | 1108 K St NW, Washington, DC 20005, USA |
| Contact Number: | +1 202-637-9770 |
| Menu: | http://www.sakinahalalgrill.com/ |
| Website: | https://www.facebook.com/mayurkababhouse/ |
| Born | |
| Place: | Village |
| Family | |
| Spouse: | Married but name not known |
| Children: | 3 son |
| Parents: | Sakina (Mother) |
| Siblings : | Sohail (Brother) |

Kazi Mannan Biography
Mannan is a Pakistani American Entrepreneur and businessman known for being the owner of a restaurant, 'Sakina Halal Grill,' named after her mother. The restaurant serves needy people free of cost. The primary purpose is to spread love and humanity among people and put a right Pakistan's image.
He started his professional career by selling vegetables on Pakistan's streets and indulging himself in 3 different jobs at a time. With his hard work, today, he is able to run an entire restaurant. One of his sons lives with him while his other family members are in Pakistan.
Manna Date of Birth
He was born in Pakistan. In search of a job, he went to the US after receiving his green card.
Kazi Mannan Family
He was born in an ordinary family. His mother, Sakina, taught him to be generous in any case. One of his brothers is the head chef of the restaurant. His father has worked in Lybia for many years. His wife and 2 sons live in Pakistan while one of his sons lives with him, a college-going student.
Career
Initial Career
At the age of 12 he started earning by selling vegetables in Pakistan. He was born in a middle-class family that made him responsible at quite an early age. After some time, Mannan received a green card, and he went abroad, where he did 3 jobs at a time.
He did a job of collecting urine specimens at a medical center and also did a job of driving an airport shuttle. When he came abroad in 1996, he only had 5 dollars. He started doing executive car service after buying his own car.
Kazi Mannan Sakina Halal Grill
In 2013 he inaugurated a Pakistani Indian restaurant in Washington DC that serves food to needy people free of cost. Despite being an owner, he did every possible job for this restaurant in his employee's absence. The restaurant provides a meal to the homeless people living in Washington.
He welcomes every needy and poor person in his restaurant. His restaurant comprises chefs from different countries, including his brother Sohail. With love and humanity, he wants to change the world and make it a better place to live. He received Humanity and Service Award.
Orphan School
He is also running a school of orphans in Pakistan.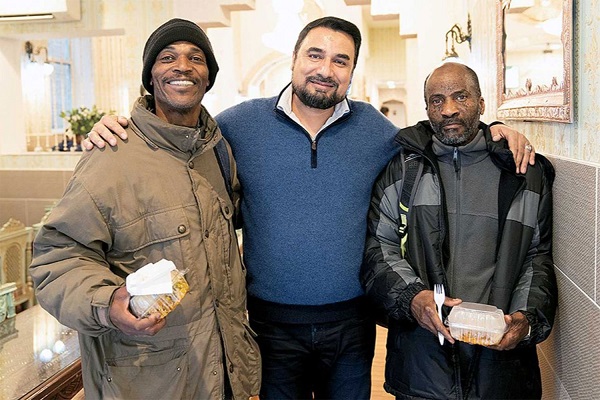 Financial Crisis
Kazi Mannan, known for being an angel for needy people, faced a financial crisis due to the Coronavirus pandemic. Like every other business, his business was also severely affected. Hopeless Kazi Mannan finally took help from the public and made a page with the name 'GoFundme.' Within 24 hours, the page received $100,000, and after a few days, the fund exceeds to $261,000.
Social Media Handles
His social media account include
https://www.facebook.com/KAZIAMANNAN/