A left-handed batsman and a handy part-time slow left-armer, his methods suit the limited overs format. He had a fantastic run in the 2016 edition of the Pakistan Cup where he scored 297 runs in five games including 2 fifties and a century. Thus, ended up as the second highest run-getter behind Ahmed Shehzad. His stroke-filled 115 in the finale helped his team – Khyber Pakhtunkhwa to win the title. [1] Fakhar Zaman
| Title | Description |
| --- | --- |
| Personal | |
| Name: | Fakhar Zaman |
| Current age:: | 27 years |
| Nationality: | Pakistan |
| Residence: | Mardan, North-West Frontier Province, Pakistan |
| Religion: | Islam |
| Profession: | Cricketer |
| Major Teams:: | Pakistan, Abbottabad, Abbottabad Falcons, Habib Bank Limited, Karachi Blues, Karachi Dolphins, Karachi Zebras, Karachi Zebras, Khyber Pakhtunkhwa, Lahore Qalandars, Pakistan A, Pakistan Navy, Peshawar |
| Born | |
| Date: | 10 April 1990 |
| Place: | Mardan, North-West Frontier Province, Pakistan |
| Career | |
| National Side: | Pakistan |
| Team Role: | Opening batsman |
| Bowling Style: | Left arm orthodox |
| Batting Style: | Left hand batsman |
| Matches: | ODI ,4 T20, 3 FC,35 LA,51 |
| Wickets : | ODI, – T20,0 FC,0 LA,16 |
| Bowling Average: | LA,31.37 |
| Batting Average: | ODI,63.00 T20,13.00 FC,63.00 LA,50.18 |
| 5 wickets in Innings : | LA,1 |
| Best Bowling: | LA,5/27 |
| Catches/Stumpings: | ODI,2/– T20,1/– FC,23/– LA,-/ – |
| Balls Bowled: | ODI,3 T20,0 FC,258 LA,614 |
| Runs Scored: | ODI,252 T20,26 FC,2,269 LA,2,409 |
| ODI Debut: | Pakistan v South Africa at Birmingham, Jun 7, 2017 scorecard |
| ODI Last: | India v Pakistan at The Oval, Jun 18, 2017 scorecard |
| ODI Shirt Number: | 39 |
| T20 Debut : | West Indies v Pakistan at Port of Spain, Mar 30, 2017 scorecard |
| T20 Last: | West Indies v Pakistan at Port of Spain, Apr 2, 2017 scorecard |
| 100s / 50s: | ODI,1/2 T20, FC,0/0 LA, 5/13 6/18 |
| Top Score: | ODI,114 T20,21 FC,205 LA,180 |
| First-Class Debut: | Multan v Karachi Blues at Multan, Jan 19-22, 2013 scorecard |
| First-Class Last : | Habib Bank Limited v Water and Power Development Authority at Karachi |
| List A Debut: | Karachi Zebras v Multan Tigers at Karachi, Feb 27, 2012 scorecard |
| List A Last: | India v Pakistan at The Oval, Jun 18, 2017 scorecard |
| Domestic team: | Pakistan, Abbottabad, Abbottabad Falcons, Habib Bank Limited, Karachi Blues, Karachi Dolphins, Karachi Zebras, Karachi Zebras, Khyber Pakhtunkhwa, Lahore Qalandars, Pakistan A, Pakistan Navy, Peshawar |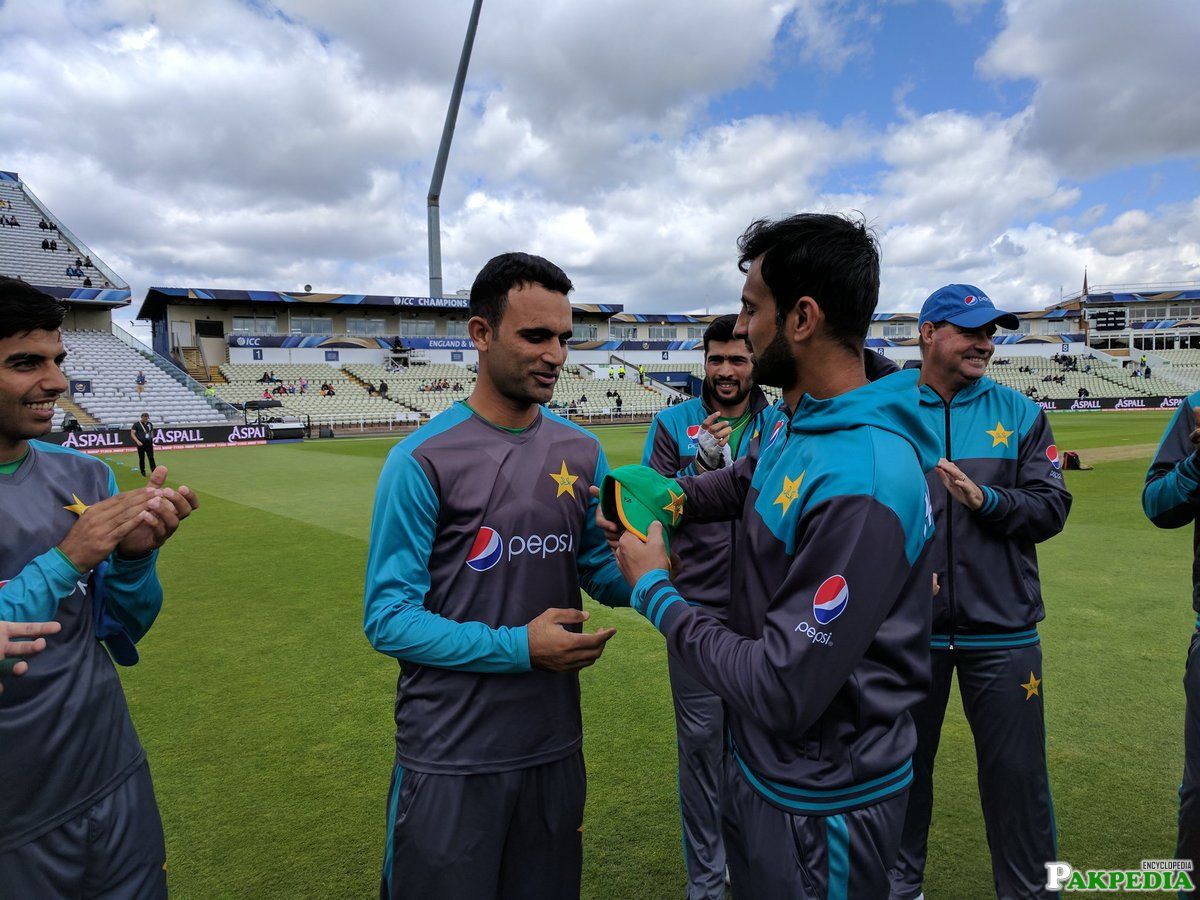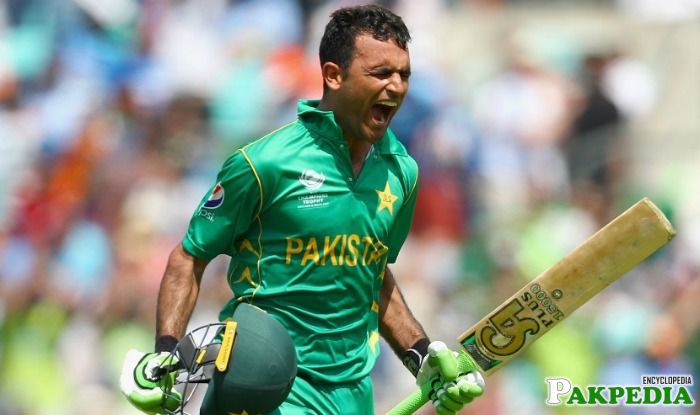 Profile

Born in Mardan, where the standard of batsmanship will always be measured by arguably Pakistan's greatest Test batsman Younis Khan, Fakhar Zaman has been on Pakistan's thankless domestic circuit for over five years with almost no attention. A left-handed opener with an unusually high backlift, Zaman relies on timing for his runs, which he's made plenty of. This is illustrated by his domestic average (42 in first class cricket and 49 in List A). But it wasn't until the Quaid-e-Azam trophy in 2016-17 that his form began to be noticed. Zaman scored 663 runs in the competition at an average of 51, including 170 in the second innings of the final, a game dominated by the twin centuries of former Pakistan captain Salman Butt.
However, his prolific form earned him a contract in the PSL with the Lahore Qalandars. He showed flashes of the class he'd been displaying domestically, particularly during a 33-ball 56 against Karachi where he destroyed the opposition bowling and looked extremely elegant while doing so. It earned him a call-up to Pakistan's T20I side for the West Indies tour, and he made his debut in the second match in Port of Spain.
His first three T20Is only brought him 26 runs, and much of the world was still unaware of his talent when he made his ODI debut a couple of months later, in England, during the 2017 Champions Trophy. Having missed the opening-match defeat to India, Zaman turned Pakistan's batting fortunes around with scores of 31, 50, 57 and 114 in his first four ODI innings, his strike rate of 113.00 giving a dated 50-overs line-up much-needed oomph at the top of the order. The maiden hundred went on to win him the Player-of-the-Match award in the final, setting up a total of 338 that proved a long way beyond India's reach. [2] Fakhar Zaman
Career Information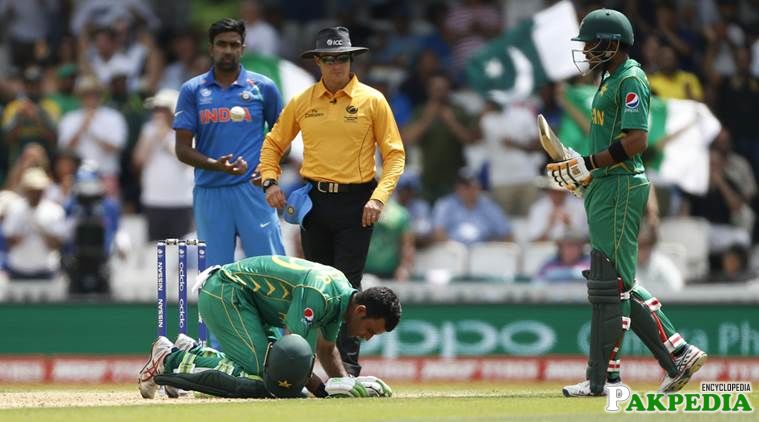 ODI debut vs South Africa at Edgbaston, Jun 07, 2017
Last ODI vs India at Kennington Oval, Jun 18, 2017
T20 debut vs Quetta Gladiators at Sharjah Cricket Association Stadium, Feb 18, 2017
Last T20 vs West Indies at Queen's Park Oval, Apr 02, 2017 [3] Career Information 
Zamans maiden ton propels Pakistan to 338
This Fakhar is good. Fakh(ar) this! Lucky Fakhar. Fakhar Zaman's name was always going to be the cynosure of trolls in the age of the Internet.
On Sunday (June 18), Zaman made sure his batting was the bigger talking point, as he laid into the Indian attack with a blistering maiden hundred. Zaman slammed 12 fours and three sixes during his 106-ball 112, laying the platform for Pakistan to amass 338 for 4 and leave defending champions India with a tall order in the final of the ICC Champions Trophy 2017. Mohammad Hafeez and Azhar Ali's fifties at either end of the innings provided the necessary support as India's bowling came undone.
Zaman's stay at the crease could have ended even before he'd struck his first boundary. Off the third ball he faced, he inside edged a ball just past the stumps. Off the sixth, he set off for a non-existent single and survived the run-out attempt. Two balls later, he edged Jasprit Bumrah to the 'keeper and walked off. Replays, however, showed that the bowler had overstepped, and how India were made to rue that slight over-exertion.
India had come in with their plans for Zaman intact. The left-hander was deemed not as effective when the ball was aimed at his body. Bhuvneshwar Kumar stuck to the task and hardly gave anything away during his five-over spell at the start. Bumrah, at the other end, was all over the place. While Zaman found the going tough, Azhar cashed in.
A forced pull down the ground got the former ODI captain underway, and he ensured he kept Pakistan's run rate close to run a ball. Zaman needed more than ten over to get his first properly-timed boundary, a flick off Bumrah. Then, with the spinners at work, the left-hander started to assert himself a lot more.
Both batsmen went on to notch up their fifties and looked in no mood to step back. India's breakthrough came through a mix up, as Azhar was run out for 59.
Zaman cut loose immediately after, trying to atone for his role in his partner's wicket. He slammed Ravindra Jadeja for two fours and a six before hitting R Ashwin for a six and a four. He went on to bring up his maiden hundred with a sweep off Ashwin. A hundred off 92 balls, and all set for a strong finish.
Babar Azam chipped in with a fine 46 off 52 balls, while Hafeez and Imad Wasim used the long handle to great effect to push Pakistan's score to 338. Hafeez in particular looked in prime touch, smashing a fiery fifty to deflate India.
On a day when the bowling suffered a near-collective failure, Bhuvneshwar shone well above the rest. He was superb at the start, and continued to impress at the death, finishing with 1 for 44 in 10 overs. India will be left wondering what could have been if the others had done as well as him.
Brief scores: Pakistan 338/4 in 50 overs (Fakhar Zaman 114, Azhar Ali 59, Mohammad Hafeez 57*; Bhuvneshwar Kumar 1-44) vs India. [4] propels Pakistan 
Pride of Pakistan
On January 12, 2007, Fakhar Zaman joined the Pakistani Navy. After years of trying to dissuade their son from his addiction with cricket, which impacted his academics greatly, his father Faqir Gul had decided that that was the best move for his son. Once he was done with his selection process, he moved from his hometown of Mardan to Karachi and was posted as a sailor.
Fakhar didn't last too long in the Navy, however. By the time he underwent the complete training of becoming a fauji — also his nickname in the team — at the Pakistan Navy School Bahadur, his talent with the bat had already been identified by Navy coach Azam Khan. The coach wasted no time in contacting the naval headquarters and informing them that the young left-hander would be more valuable to the country's batting order rather than on a naval boat. Fakhar hasn't looked back since.
On June 18, 2017, he proved Azam right by scoring a spectacular century to set up Pakistan's first ODI title win in 25 years. Fakhar didn't play the first game against India and made his ODI debut against South Africa at the expense of the out-of-form Ahmed Shehzad.
"He was once only the fakhar (fakhr, the pride) of Katlang. Now he is the fakhar of Pakistan," his father was quoted on Geo.tv as he followed his debut with two half-centuries against Sri Lanka and England.
Fakhar revealed that Sunday was the first time he felt like playing an international match, and admitted to feeling the pressure of the "big match". On the eve of the match, there were fears that he might not make the XI after he started feeling ill.
"My body had no energy. I played 3-4 balls and told the coach that I have no energy, I'm going back to the dressing room. He said alright. Then I called our massuer, and our physio and told them that my body feels very bad, please do something," he said. Fakhar then revealed how the Pakistani physio then skipped dinner and treated him all night, and how the opener only slept for five hours before waking up at 4 am for prayers feeling a lot better just in time to help make Pakistan champions again. [5] Pride of Pakistan 
Good Performance
Fakhar Zaman neatly summed up the glorious chaos from which Pakistan seems to draw its cricketing strength, having begun the Champions Trophy as an uncapped drinks carrier and ended it with a maiden one-day international hundred in just his fourth appearance, an average of 63 and a shiny winner's medal. There was chaos along the way in the left‑hander's 114 from 106 balls too, not least the edge behind on three off a no-ball, the four leg-byes that pinged off his helmet in the following over and some wacky running that included the mix-up that left Azhar Ali run out. But the counter-attack that followed his opening partner's demise was breathtaking in its execution, not least the takedown of the two Ravis, Ashwin and Jadeja, that plundered the spin twins for eight fours and three sixes including one audacious straight hockey-style club off the former. A decade on from a spell as a trainee in the Pakistan navy, it has been plain-sailing for Fakhar at the start of his international voyage. [6] Good Performance 
Fakhar Zaman – 114 106 vs India
The Pakistani left-hander came to Champions Trophy without any international experience, and in no time showed the kind of spark Pakistan's batting has lacked in a long time. His aggressive and positive approach at the crease made a huge impact in Pakistan's surprising road to the final, and even in the summit clash, his innings was the difference between what Pakistan lacked in the tournament opener and what they had in the finale.
The start to his innings was scratchy, when he was finding it difficult to middle the ball. However, as the innings progressed, he got the confidence to go after the bowlers. And on a small ground, he managed to hit 12 boundaries and three sixes en route his century. A maiden ton. In the final. Against India. It couldn't have gotten bigger. [7] 114 (106) vs India