Faisal Subhan who is a director of Capital construction and Engineering Ltd, he is a CEO of Multan Metro Construction Company and very close to Shehbaz Sharif, who is currently elected as a president of PMLN. Faisal is missing from last few days and everyone is trying to find him out.
| Title | Description |
| --- | --- |
| Personal | |
| Name: | Faisal Subhan |
| In Urdu: | فیصل سبحان |
| Famous As: | Politician |
| Nationality: | Pakistani |
| Religion: | Islam |
| Profession: | He is a CEO of shell co, Capital Construction, |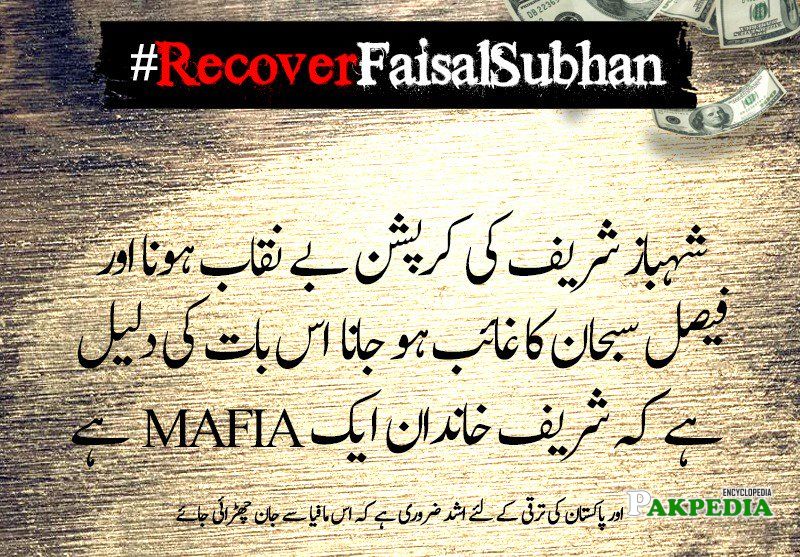 Multan Metro Bus Scandal
Punjab government spokesperson Malik Ahmed Khan on Tuesday 27th Feb 2018 dubbed Faisal Subhan,  a "suspicious character" in an interview to GeoNews' programme Geo Pakistan. Subhan, who is accused of involvement in corruption in the Multan Metro Bus Project (MMBP), recently went 'missing' after allegations surfaced that he had transferred money to the Punjab chief minister's (CM) personal accounts. According to media reports last year, Capital Construction and Engineering Ltd, a subcontractor of the MMBP, had been involved in laundering money along with Chinese company Jiangsu Yabaite Technology. Allegations of corruption against CM Punjab had subsequently emerged. A report on ARY News had accused Sharif of receiving more than Rs10 million in kickbacks from the MMBP. However, Sharif had declared in a subsequent press conference that the company "did not exist" and told the media house to "fear God" before making such claims. He had also vehemently denied any corruption charges against him. [1] Multan metro bus scandal
Fake Company
Spokesperson of the Punjab government on Tuesday 27th Feb 2018 expressed doubt on the character of Faisal Subhan — CEO of Capital Engineering which was probed for corruption allegations in the Multan Metro Bus project. "Subhan created a fake company by colluding with a man named Aijaz," Malik Ahmed Khan said on Geo News' programme Geo Pakistan. "His character is suspicious."  Counterfeit letters from Chief Minister of Punjab Shehbaz Sharif and Mushahid Hussain Syed used to create the company. [2] Fake company
The Case
The China Securities Regulatory Commission (CSRC) had blacklisted Jiangsu Yabaite Technology Co Ltd forever and awarded the maximum penalties to the company and its owner in December last year.  The Chinese company's fraud was highlighted when the Pakistani media reported that Shehbaz was allegedly involved in money laundering and sent a huge amount of kickback money to China through Yabaite.  The Punjab CM had not only strongly rebutted the media reports but also sent legal notices to the media organisations that were involved in the alleged misreporting.  The case was then referred to the Federal Investigation Authority (FIA) by the Securities and Exchange Commission of Pakistan.  The National Accountability Bureau's Multan extension had also started a probe into the alleged money laundering in the Multan Metro Bus project.  
Imrans View on Faisal Subhans Case
PTI chief Imran Khan said  that Faisal Subhan had gone missing after he had issued a statement against the Sharif brothers.  Speaking to media person, the cricketer-turned-politician said that Faisal Subhan, the CEO of Multan Metro Construction company, had gone missing after he had given a statement exposing the kickbacks that Shebaz Sharif had allegedly received in the Metro project. "Is this a banana republic that the man who issued a statement against the Chota Don has now gone missing?" asked Imran. Imran Khan said that Nawaz Sharif had gone down as a result of the Panama Leaks scandal and that the Multan Metro Bus project corruption scandal would be the cause of Shehbaz Sharif's downfall. "The corruption that has taken place as a result of the Multan Metro Bus project is being investigated by the Chinese SECP," he said. [3] Imran view on scandal
Pakistan Tehreek-e-Insaf Campaign
Pakistan Tehreek-e-Insaf (PTI) Chairman announced that his party would start a campaign for the recovery of Capital Engineering Chief Executive Officer (CEO) Faisal Subhan, who revealed Punjab Chief Minister Shehbaz Sharif's corruption in Multan Metro Bus project. PTI chief alleged that he went missing after he exposed Punjab CM's corruption and demanded that an inquiry should be started into his alleged disappearance. He said that Subhan had exposed Shehbaz's corruption in the Multan Metro Bus project to Chinese regulatory authority. Subhan revealed that the Sharif family received a huge sum in their overseas bank accounts. PTI chief also requested the Supreme Court (SC) to ensure that the contracts of such projects are made public. [4] PTI campaign