Fahmida Riaz was an enlightened, progressive, and revolutionary Urdu writer, human rights activist as well as a renowned feminist of Pakistan. She was the author of many famous books such as Khatt-e Marmuz, and the Godavari, she authored more than 15 poetry and fiction books.
Moreover, she was a liberal and progressive writer due to her vision she encountered many controversies during the General Zia-Ul-Haq government. Her second collection entitled Badan Dareeda had sensual language which made her the centre of many controversies. This article has every detail about her, including Fahmida Riaz Biography.
| Title | Description |
| --- | --- |
| Personal | |
| Name: | Fahmida Riaz |
| In Urdu: | فہمیدہ ریاض |
| Famous As: | Women right activist |
| Nationality: | Pakistani |
| Residence: | Lahore |
| Education: | Graduation |
| Religion: | Islam |
| Profession: | Urdu Poet and Writer |
| Awards : | She got many awards for her services |
| Born | |
| Date: | 28th July 1946 |
| Place: | Meerut JP, British India |
| Family | |
| Spouse: | Zafar Ali Ujan |
| Children: | 3 Children |
| Parents: | Riaz-ud-Din Ahmed |
| Died | |
| Date: | 21st November 2018 |
| Rest Place: | Lahore |

Fahmida Riaz Biography
Fahmida  was a writer and poet by occupation and famous for her revolutionary and progressive thoughts, she wrote many books, of which some are Khatt-e-Marmuz, Godavari, Pathar Ki Zaban, Badan Dareeda, Kia Tum Pura Chand Na Dekho Ge, Men Mitti Ki Moorat hon, Ye Khana-e-Aab-O-Gil.
Moreover, she awarded the Pride of Performance Award in the year 2010 by the Government of Sindh. She was multi-linguistic who learned Urdu, Sindhi, and Persian language. She learned Sindhi literature in her childhood and worked as a newscaster for Radio Pakistan after completion of her education.
Fahmida Date of Birth
She was born on 28 July 1946 at Meerut Uttar Pradesh, British India.
Fahmida Riaz Family
Her father was an educationalist and her family came to Sindh after her father's transfer. They settled in Hyderabad while her father died when she was just four years old; her mother looks after her.
She got married after her graduation and spent few years in the United Kingdom with her first husband. During her stay, she worked with BBC Urdu service (Radio) and studied film making and got a degree in film making.
She had one daughter from the first husband then they were divorced, her second husband was Zaffar Ali khan Ujan from whom she had two children.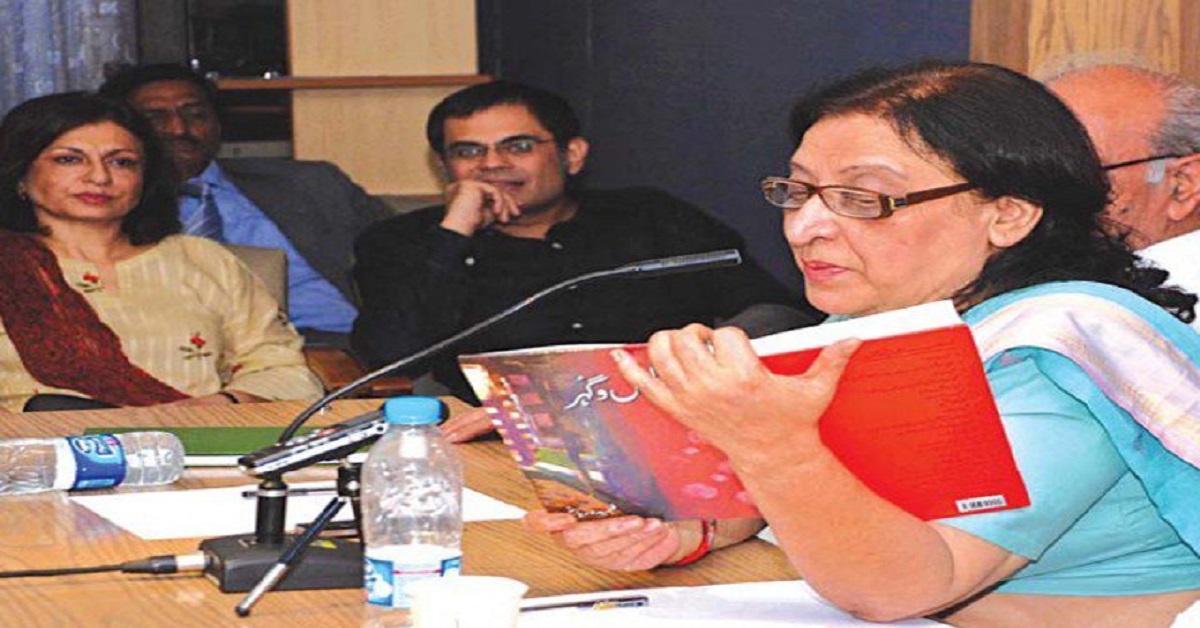 Career
Work and Progressive activism
Fahmida Riaz started a Publication named Aawaz; she had a revolutionary, liberal, and progressive vision. Therefore Aawaz had been banned and her husband Zaffar Ali Ujan was arrested by the Government due to publishing anti-establishment, progressive, and revolutionary content.
She was famous for feminist expressions, as feminist, she stated that women and men are complete human beings with the boundless potentials. She believed that they have to achieve social equality; in the case of women, it is so much more complicated.
Moreover, she narrated that women should have the right to walk on the road without getting bullied and harassed.
Translation of Books
She did translations of Shah Abdul Latif Bhitai, and Shaikh Ayaz works from Sindhi to Urdu. Apart from this she also translated the Masnavi of Maulana Jalaluddin Rumi from Persian to Urdu.
She spent seven years in exile and lived in India as a refuge because she wrote on those themes which were considered as taboo for women writers at that times, she faced many challenges due to her progressive and revolutionary content.
Exile in India 
Due to her revolutionary vision, she faced many challenges in General Zia-Ul-Haq government, she was charged with sedition under Section 124A of the Pakistan penal code. They had more than ten criminal charges, her husband arrested, and she manages to flee India with her children and sister, they spent seven years in India as a refuge.
At the same time, she was a refuge; she expressed her pain in her poems; they came back to Pakistan after the death of General Zia-Ul-Haq. She had relatives in India; her husband joined them there after his release from prison.
Fahmida Riaz Death
On 21 November 2018, she died at the age of 72 years.
Awards and Recognition
She received many awards and recognition for her poetry and books, including the Hammett Grant by Human Rights Watch in 1998, Al Muftah Award in 2005, Sheikh Ayaz Award for literature, Poetry by Government of Sindh, Pride of Performance Award by Government of Sindh in 2010, Kamal-e-Fun award by Pakistan Academy of Letters in 2014.
Fahmida Riaz Famous Poetry
Badan Darida
Pathar Ki Zuban
Kia Tum Pura Chand Na Daikho Gai
Main Mitti Ki Moorat hon
Sab laal o Gauhar
Ye Khaanai Aab o Gil