Ijaz Chaudhary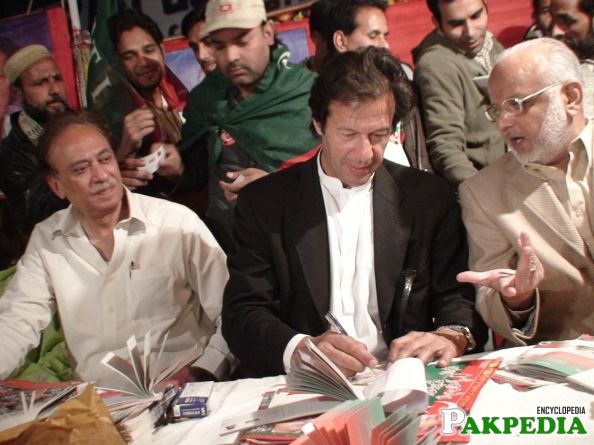 Ijaz Chaudhary with Imran Khan
Ijaz Chaudhary in meeting
Ijaz Chaudhary In Jalsa
Early life
Ejaz Ahmad Chaudhary was born in Lahore. He went to a boarding school in the North of the country, in
Kohat
. He has an FSc from Cadet College Kohat and a BSc in Civil Engineering from University of Engineering and Technology Lahore.Chaudhary married Salma Ejaz in 1984, his wife is the daughter of Mian Tufail Mohammad one of the original founding members and leader of Jamaat-e-Islami. Chaudhary is the founder and the chief executive officer of Kisan Care (pvt ltd) providing agricultural chemicals.
[2]
Ijaz chaudhary In Kisan 
Political Career
Early careerJamaat-e-Islami1975-2007
Chaudhary started his political career in the Jamaat-e-Islami student wing and had gradually progressed up the ranks of the party; he became national leader of the Jamaat student wing. Chaudhary and
General Zia-ul-Haq
were initially on good terms as Zia was keen to placate the religious right.
[3]
Early career
 The death of General Zia in 1988 breathed new life into Pakistan's faltering democracy; during this period Chaudhary served as deputy mayor of Lahore in the early 1990s. Chaudhary continued to rise in the party's ranks and by 1998 he was appointed to the Central Executive Committee (the top decision-making body of the party) Chaudhary continued to dissent in the 1990s from official party line on many cases; he voted against the Jamaat forming a coalition with the Pakistan Muslim League (N) for the 1999 elections while on the Central Executive Committee.
[4]
Political career
He left the party in 2006. Upon the death of Qazi Hussain Ahmed (the man who Chaudhary fell out with over his moderate approach compared to Ahmed's more conservative approach) it became evidently clear the two men had managed to reconcile their differences at some point while Chaudhary had still defected to PTI.
[5]
Ijaz chaudhary in   meeting 
PTI 2007present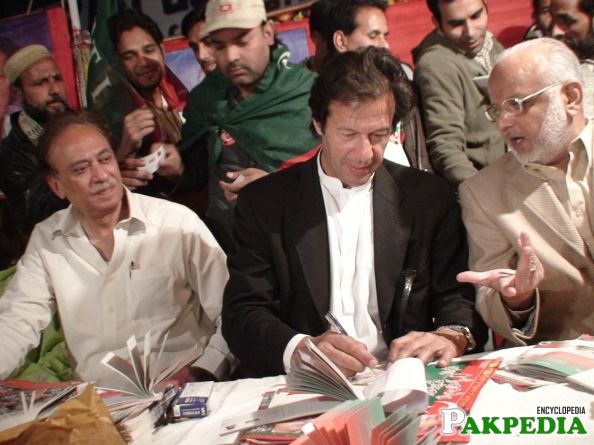 In September 2007, Chaudhary joined
Pakistan Tehreek-e-Insaf
and since then has risen through the party's ranks. Presently he is a spokesperson for religious affairs, former central vice-president (Punjab) of the party, currently President of Punjab and is also currently responsible for organising PTI in southern parts of Punjab province.
[6]
In election punjab
.Chaudhary won the PTI intra-party elections, scoring victories in three out of four regions in Punjab province, electing him to the higher position of President of PTI in Punjab and his panel including Dr Yasmeen Rashid as general secretary in Punjab.
Pakistan Tehreek-e-InsafISF Contributions
After he joining Pakistan Tehreek-e-Insaf, Chaudhary took charge of establishing the Insaf Students Federation (ISF). After successfully preparing the student youth wing structure in Pakistan's important universities, he empowered the youth to struggle for democracy and an independent judiciary.
[7]
In PTI election
On 2 February 2014, Chaudhary made it evidently clear that
Imran Khan
would not be negotiating for the Taliban in the peace process; he stated that Khan, himself and PTI were happy to facilitate the process but could not get involved directly because PTI did not have the constitutional legitimacy to lead the process, which was to be led by PML-N. He also stated that the Taliban should not negotiate Imran Khan to negotiate on their behalf, but rather members of the Taliban because then peace talks were more likely to come to fruition.
Social Conscience
In 1985 he was appointed head to the Majlis Khidmat e Islami (the main Jamaat-e-Islami) charity, they provided free medical aid, blood transfusion's and ambulance to the poor in Lahore and also the charity helped to provide emergency relief to those who suffered from natural disasters such as earthquakes and floods, furthermore Chaudhary has been vocally advocating for improved conditions in the Pakistani jail system, which is closely linked to the justice system. In August 2012 Chaudhary strongly condemned the attacks against Pakistan's Shia' community in
Gilgit-Baltistan
which killed 25 Shia Muslims.
[8]
Ijaz Chaudhary condemns
.