Dr. Sageer Ahmed has been an MPA three times including in the current Sindh Assembly. He also an MPA from 2005-08 and 2008-13. He was Sindh's health minister till 2014.He was removed from his post by the party in August 2014.He also served as minister for environment in the Sindh government in 2005-2007.
| Title | Description |
| --- | --- |
| Personal | |
| Name: | Dr.Sagheer Ahmed |
| In Urdu: | ڈاکٹر صغیر احمد |
| Famous As: | Doctor |
| Nationality: | Pakistani |
| Residence: | Karachi Pakistan |
| Education: | MBBS,M. Phil |
| Alma Mater: | Dow Medical College, Karachi, Post Graduation – M.Phil in Biochemistry |
| Religion: | Islam |
| Profession: | Doctor |
| Served as : | Provincial Assembly of Sindh |
| Email : | drsagheirahmed@hotmail.com |
| Mobile #: | +92 300 9289772 |
| Born | |
| Date: | 23 November 1972 |
| Place: | Karachi Pakistan |
| Family | |
| Parents: | Ekramuddin Ahmed (Father) |
| Career | |
| Political Party: | MQM(Past),PSP(Present) |
| Serve As: | Member |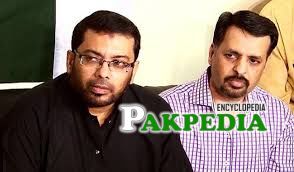 Biography
He is a doctor and graduated from Dow Medical College (now known as Dow University of Medical Sciences) and also has an M.Phil from the University of Karachi.He served as a minister thrice having portfolios of health and environment.In the current Sindh Assembly, he is also a member of the Standing Committee on Labour and Human Resources.
Political Career
Dr Sagheer Ahmed is a doctor by profession and is associated with current Sindh Assembly whose tenure spans from the year 2013 till date.He belongs to a middle class family where has arose from the ground roots in politics. He belongs to constituency PS-117 Karachi-XXIX. Currently he is serving as a Member of Standing Committee on Labour and Human Resources. He has served his areas with new ideas and growing developments. He is associated with left wing famous political party of Karachi and Pakistan Muttahida Quami Movement led by Altaf Hussain.[1] Profession In the 2013 election, Dr Sagheer Ahmed won PS 117 seat bagging 43,924 votes against 21,754 votes of PTI's Ahsan Jabbar.PS-117 includes the following areas: 
PIB Colony
Amynabad
Clayton Quarters
Jamshed Quarters
Jehangir Road
Martin Quarters
Usmania Mohajir Colony
Pakistan Quarters
Islam Nagar
People's Colony
Mohammadi Colony
Mustafa Colony
Patel Para
Garden East
Soldier Bazaar
Parsi Colony
Catholic Colony
According to Ahmed, he remained with the party for 28 years.[2]  Political Career 
Previous Official Positions
|  Official Body | Post | Duration |
| --- | --- | --- |
|  Provincial Assembly of Sindh[3] Official Positions | Member & Minister Environment |  2005-2007 (Bye-election) |
Visited Countries
He has travelled to India, Saudi Arabia, United Arab Emirates, and United Kingdom, to United States twice; once on a Conference on Vaccines and other time with Governors Delegation. He follows Islam as religion.
Join PSP
Former Sindh health minister Dr Sagheer Ahmed on Monday quit the MQM and expressed his full support to the new political party of former Karachi mayor Mustafa Kamal Pak Sarzameen Party ( PSP) .In an emotional press conference here, Ahmed said that he would stand shoulder to shoulder with Mustafa Kamal and Anees Qaim Khani for their positive cause.
"I have decided to part ways with the MQM after a long association of 28 years. I am also resigning from my provincial assembly seat," he said. "I apologize to my voters for not being able to serve them."He announced joining Mustafa Kamal's party."I have come here to play a positive role for Pakistan and a role, which could put Pakistan on the path of progress and prosperity," he said."I want to play a role which could help defeat Pakistan's enemies and want to play a role for Karachi's progress. I have come here due to this positive mindset and message for our community and country. I have witnessed how every nook and corner of Karachi has been turned into garbage heap," he said.[4]  Join PSP 
Message
"I want to give a message to my community that I have joined this caravan and I categorically state that I have never been in contact with Mustafa Kamal after he had left Pakistan".The MQM leader called upon people to break the shackles of fear and join Mustafa Kamal for his cause.He lashed out at the MQM chief for his politics of dead bodies, protests, violence and strikes in Karachi."What have you achieved from such politics? "We too first used to think that allegations of RAW were fake, but now everybody knows the truth," he said.He said that Mohajir Urdu speaking community was not anti-Pakistan."I want to appeal to the establishment that the Mohajir community should be brought back to national mainstream. Our patriotism has become a joke. Mohajirs are being considered as agents of RAW," he said.He said that he kept pleading the leadership to have mercy on workers.