Dr. Sagheer Ahmed is a political figure and remained a member of the political party MQM (Muttahida Qoumi Movement). On ticket of MQM, he elected to Provincial Assembly for three times. After the return of Mustafa Kamal to Pakistan Sagheer joined him and ended his long-term association with MQM.
He accused MQM of deteriorating the condition and peace of Karachi. As MQM member he also designated to Ministry of Environment and Health. This article has all the information about him, including Dr. Sagheer Ahmed Biography.
| Title | Description |
| --- | --- |
| Personal | |
| Name: | Dr.Sagheer Ahmed |
| In Urdu: | ڈاکٹر صغیر احمد |
| Famous As: | Doctor |
| Nationality: | Pakistani |
| Residence: | Karachi Pakistan |
| Education: | MBBS,M. Phil |
| Alma Mater: | Dow Medical College, Karachi, Post Graduation – M.Phil in Biochemistry |
| Religion: | Islam |
| Profession: | Doctor |
| Served as : | Provincial Assembly of Sindh |
| Email : | [email protected] |
| Mobile #: | +92 300 9289772 |
| Born | |
| Date: | 23rd November 1972 |
| Place: | Karachi Pakistan |
| Family | |
| Parents: | Ekramuddin Ahmed (Father) |
| Career | |
| Political Party: | MQM(Past),PSP(Present) |
| Serve As: | Member |

Dr. Sagheer Ahmed Biography
Sagheer Ahmed is an educated and seasoned politician who sticks firmly to his views. Being patriotic, he didn't prefer Ministries and senator posts; instead, he chose to serve his people who vote him with an expectation that he would help them. He remained a loyal member of MQM for Twenty-Eight years.
Still, after realizing the deficiencies and incapability of MQM to improve the situation of Karachi, he parted his ways from MQM and also resigned from the Provincial Assembly. He found the vision and mission of Mustafa Kamal according to his expectations and views. So, he decided to join Mustafa Kamal and announced his decision in a press conference.
Sagheer Date of Birth
He opened his eyes on 23rd November 1972 in Karachi.
Education of Sagheer
He completed his MBBS from DUHS (Dow University of Health Sciences) and postgraduate education in Biochemistry.
Political Career
Early Political Activities
During his student life, he actively participated in student politics. He was a member of APMSO (All Pakistan Mohajir Students Organization).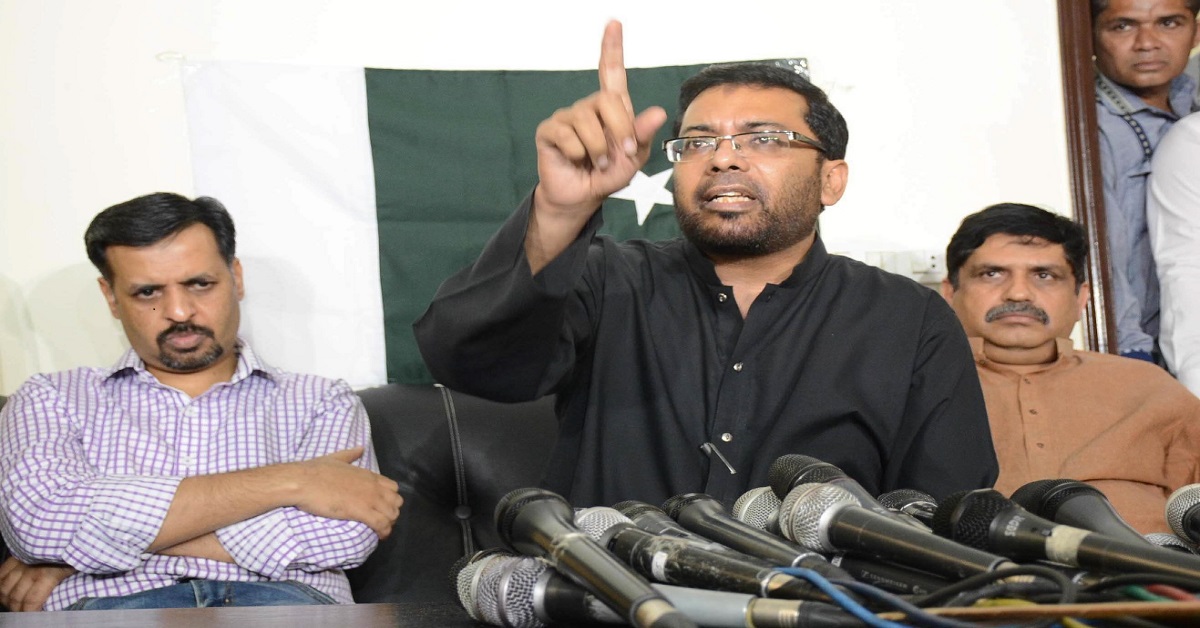 Elected to Provincial Assembly
He was elected to Provincial Assembly for 3 times, with his 1st term beginning in 2005. He contested for the vacated seat of Provincial Environment Ministry and served at this post until 2007. His 2nd tenure in Provincial Assembly started in 2008 and continued till 2013.
He returned to Provincial Assembly in 2013 by winning Constituency PS-117 by securing Forty-Three Thousand votes.
Designated as Health Minister
In 2008 he was designated 'Provincial Health-Minister' and held this ministry until 2014.
Parted Ways from MQM
In March 2016 he ended his Twenty-Eight-year association with MQM and became the 1st to join the party of Mustafa Kamal after he returned Pakistan. He also resigned from Provincial Assembly as he had won this seat on MQM ticket.
He announced his decision of quitting MQM in a press conference where he sat along with Mustafa Kamal and stated that we hadn't joined MQM to get Ministries.
Expressed Dissatisfaction from MQM
He showed dissatisfaction on working with MQM and apologized to his voters that he had not served him according to their expectations. He stated that MQM members served and respected Altaf Hussain like a God. Karachi's condition and peace have deteriorated; human bodies packed up in sacks are found every day.
He accused MQM of using its members like a tissue paper. He further added that educated people are not part of MQM as education is not a priority of MQM.
Social Media Handles
His social media account include
https://twitter.com/drsagheermqm