Cannoli is a popular and most visited Islamabad-based restaurant, which after serving well in Islamabad, opened its doors in Lahore for food lovers. The specialty of this restaurant is its desserts and burgers though other dishes are also worth trying. Cannoli is an Italian dessert prepared with elongated, baked dough having a creamy filling.
It is similar to cream roll consumed in Pakistan, but it has less cream and is like a stick. The menu consists of Pasta, Flat Bread, Beef & Chicken Burgers, and Drinks & Coffees. This article has all the information about the restaurant, including Cannoli Menu.
| | |
| --- | --- |
|        Title |          Description |
| Name: | Cannoli |
| Residence: | Islamabad and Lahore |
| Branches: | Gol Market Islamabad, Nazm-ud-din Road Islamabad, and Boulevard Gulberg Lahore. |
| Owners: | Dia and Uzma |
| Scandal: | Making Fun of Manager over the English Language |
| Contact Number: | 042-35873000 |
| Known For: | Desserts and Burgers |
| Menu: | Burgers, MilkShakes, Desserts, Pasta, Starters, Flat Bread, etc |
| Social Media Handles: | https://www.instagram.com/cannoli_cafesoul/ |

Cannoli Menu
Soul Burger-Meals
Blue Blaze
Beer Cheese
Smokie Buffalo
Cheese Burger
Sriracha Burger
Shroom & Swiss
Michelangelo
Ranch Burger
Spicy Chicken Fillet
Luther Burger
Milk Shakes
Salted Caramel
Oreo
Mixed Berry
Kit Kat
Coffee
Very Vanilla
Pasta
Tangy Tomatoes Pasta
Alfredo Pasta
Starters
Sticky Wings
Buffalo Rings
Onion Rings
Desserts
Toffee & Chocolate Chip Cookies
Nutella Calzone
Cannoli with Nutella and Whipped-Cream
Apple and Cinnamon Calzone
Cannoli with Vanilla Custard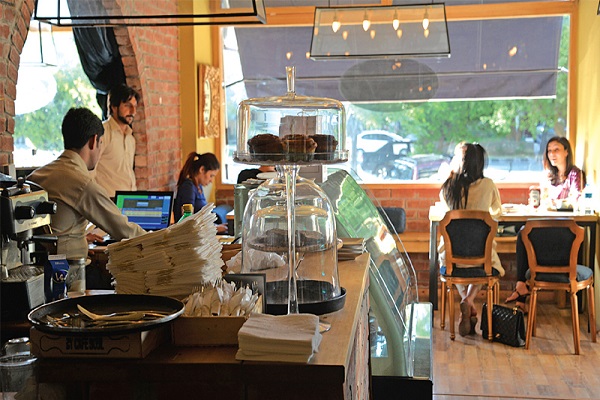 Flat Bread
Supreme
Pepperoni
Classic Margherita
Aubergine & Wild Mushroom
Spinach and Feta
Barbeque Chicken with Caramelized Onions
Buffalo Mozzarella, Fresh Tomato, and Basil
Gen C-Burgers
Chili Slaw
Buffalo Shoe Strong
Ringo Star
Soy-Glazed
Jalapeno Cheese-Filled
Order Placement
Beef Burgers served with Swiss Cheese and Mushroom. The specialty of Bahria Town Cannoli is their beef burgers served with minty lime. Fresh and high-quality beef is used in burgers.
Cannoli Restaurant Environment
The restaurant is an aesthetic spot decorated with un-plastered brick walls and a full-sized glass front. The restaurant is always crowded, but this crowd is worth bearing as it provides good company. The layout and arrangement are clean and beautiful, including neat washrooms. To keep customers entertained hip hop music is played on quality speakers.
Food Quality
Food is of excellent quality; the only problem is their serving size as Pakistani are healthy eaters and need to order some extra fries or dish.
The price range suits only the elite class as a meal for four persons could cost 8000 Rupees or more, including taxes.
Their burgers are unmatchable in taste.
Cannoli Branches
Shop Number Three, Gol Market Islamabad-44000
Shop Number Fifty-Six Beverly Center, Nazm-ud-din Road, Islamabad Pakistan
Main Boulevard Gulberg Lahore, Pakistan 54000
Cannoli Scandal
On 21st Jan 2021, Cannoli received a lot of criticism for making fun of the manager. Cannoli owners names Dia and Uzma made a video mocking at restaurant manager for not having a command of English. The scenario was that Uzma and Dia started making a video, and at its start, they said we are getting bore, so let's have some fun and introduce our staff.
They called their manager and asked him to talk in English, who struggled to say some words, and after listening to this, they started criticizing him and accused him of wasting money that owners pay for English courses of their staff. Those owners didn't limit themselves to make videos only and uploaded the video on the social media platform.
This act shook the social media users, and they flooded the social media sites with criticism of Uzma and Dia. Twitter users started a trend #BoycottCannoli urging Pakistanis to boycott this restaurant. Public but also media stars also severely criticized them, stating that English is not a scale to measure intelligence and ability.
Statement by Management of Cannoli Lahore
In response to the social media criticism, the administration at Cannoli Lahore stated that Cannoli Lahore and Cannoli Islamabad are two different bodies and are not related to each other in any way. And they wouldn't own any mistake made by Cannoli Islamabad owners. But no one knows the authenticity of this statement.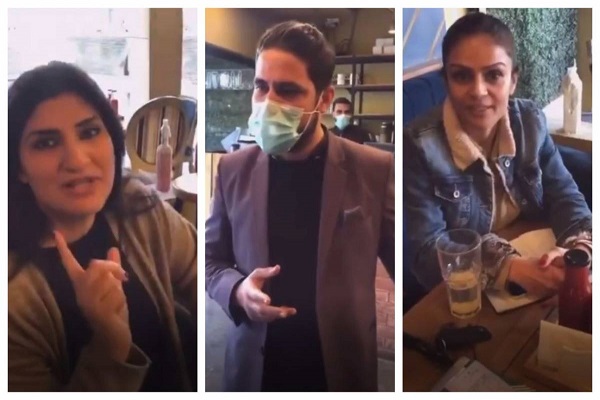 Apology by Cannoli Owners
After receiving severe criticism from Pakistanis, restaurant owners apologized to the public, stating that they never meant to humiliate their staff. Their employees are working with them for a decade, and they don't feel any need to portray themselves as kind and cooperative owners, but the public didn't accept this apology and started making memes on that. After this incident, the restaurant closed for a few days.
Social Media Handles
https://www.facebook.com/Cannoli.lhr/
https://www.instagram.com/cannoli_lahore/
https://www.instagram.com/cannoli_cafesoul/
Address of Cannoli Islamabad
Nazm-ud-din Road Shop# 56, Beverly Centre, Islamabad 44000, Pakistan
Ph# +92 51 8739324
Address of Cannoli Lahore
Boulevard 57 57, Main Gulberg, Lahore, Punjab 54000
Ph# 042-35873000