Bushra Manika age is around 50 years old and belongs to influential Wattoo family in Punjab's Pakpattan district. She served as a supporter of Imran Khan, they both recently got married on 18th Feb 2018. After marriage, Imran Khan announces Bushra Bibi will continue to remain at Bani Gala and will live a private life away from the public glare and politics.
| Title | Description |
| --- | --- |
| Personal | |
| Name: | Bushra Maneka |
| In Urdu: | بشری منیکا |
| Famous As: | Bushra Bibi |
| Also Famous As: | Pinky |
| Nationality: | Pakistani |
| Residence: | Punjab's Pakpattan district |
| Religion: | Islam |
| Met With Imran Khan: | Election in Lodhran for the NA-154 Seat |
| Belongs to: | Wattoo Family |
| Family | |
| Ethnicity: | First Belongs to Watto, after Married Maneka |
| Spouse: | Imran Khan |
| Ex-Husband: | Khawar Farid |
| Children: | Two Sons and Three Daughters– Ibrahim and Musa (Sons) |
| Career | |
| Political Party: | Pakistan Tehreek-e-Insaf (PTI) |
| Serve As: | Supporter |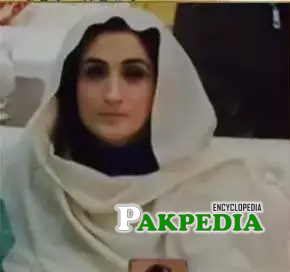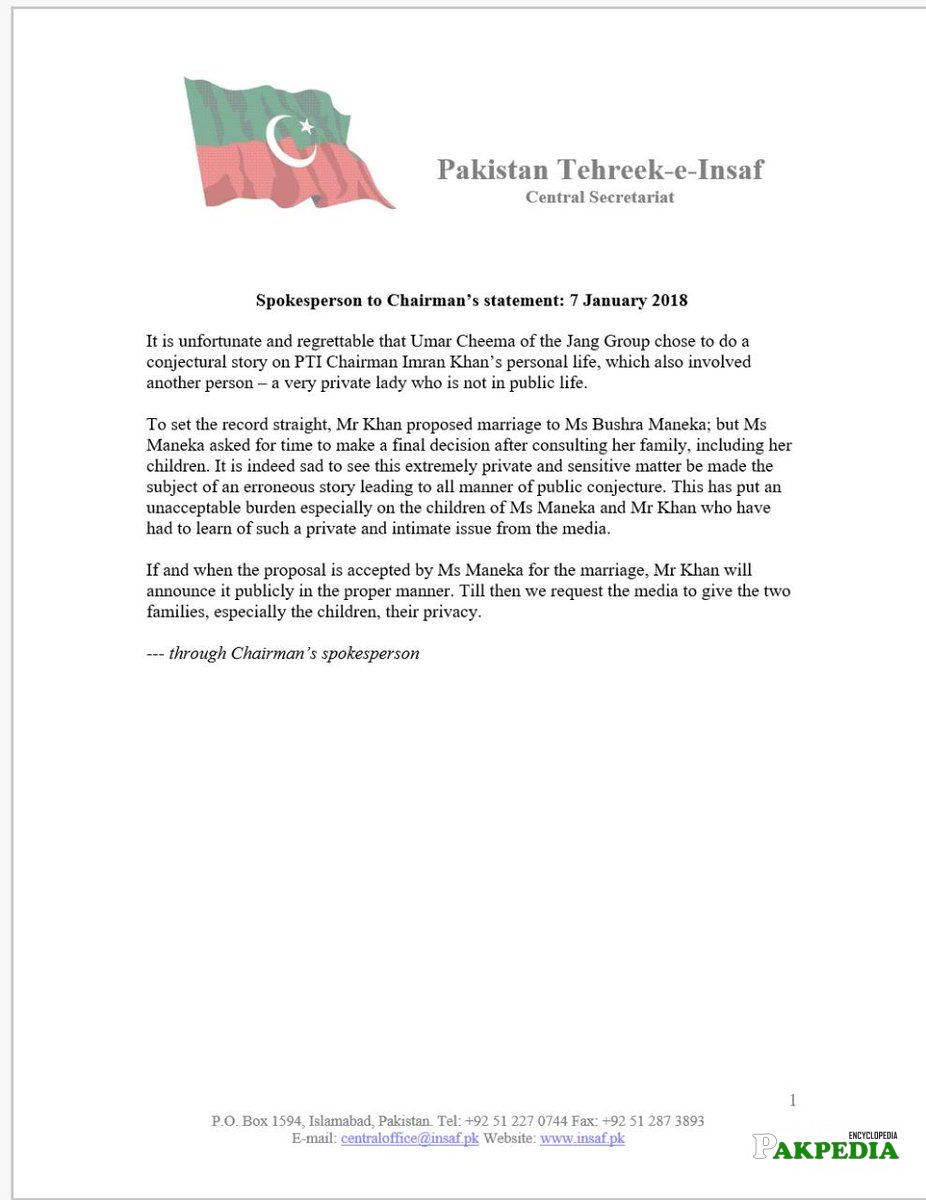 Bushra Manika biography
Bushra Maneka, in her late 40s, is known as a respected faith healer in Pakpattan, Punjab. She was married to Khawar Fareed Maneka, a senior customs official, and son of former Federal Minister Ghulam Farid Maneka. Bushra and Khawar reportedly got divorced in 2017 because of personal reasons, ending their 30-year old marriage. Bushra is reportedly the mother of three sons and two daughters. Her sons, Musa Menaka and Ibrahim Maneka, graduated from Aitchison College in 2013 and pursued higher studies abroad while her eldest daughter Mehru Maneka is the daughter-in-law of the son of Member of Provincial Assembly (MPA) Atta Maneka. Bushra Manika belongs to Pak Pattan Sharif and is known as a very spiritual person who follows and spreads the teachings of "Khawja Ghulam Fareed", "Bibi Pak Daman" and many other spiritually influential personalities, whose shrines are in Pak Pattan Sharif. It is said that she has a huge influence over PTI leader Imran Khan as he declared her as his spiritual adviser. [1] Biography Biography
Khawar Fareed Ex-husband
Khawar Farid Maneka is a senior official of Customs department, belonging to Pakpattan and is a spiritual devotee of the 13th-century mystic Baba Farid Ganj Shakkar. Khawar's father Ghulam Muhammad Maneka was a politician and also served as a federal minister under Benazir Bhutto. Ghulam Muhammad Maneka passed away in 2011. Khawar's brother Ahmad Raza Maneka had also contested an election in 2013 on PTI ticket from NA-165 but lost to PML-N's Syed Athar Hussain Shah Gillani. Khawar Maneka is an ex-Aitchisonian and has also studied in the United States, where he was considered one of the rich students from Pakistan. After returning to Pakistan, he attempted CSS exam and joined Customs department. Currently, he is an officer in Grade-21. He was married to Bushra Riaz of the Wattoo clan. [2] khawar farid
Rumors about marriage
Pakistan Tehreek-i-Insaf (PTI) chairman Imran Khan said he has only had spiritual relations with Bushra Maneka, to whom he proposed marriage after her divorce. Responding to a question about rumors of his third marriage, the PTI chief said: "It hurts me to talk about the matter because she belongs to a very conservative family and observes the purdah." He claimed that even his children and his sisters didn't know that he had proposed marriage to Bushra Maneka. Mr. Khan added: "This woman has observed purdah for most of her life. It hurt her family's sentiments. Every time I have interacted with her, she has been in purdah… This story has caused her so much embarrassment.'' [3] Rumors Rumors
Khawar Discussion On Media
My name is Khawar Fareed Maneka. I never came in front of media like this but now after watching all these fake news on media about my ex-wife has totally distressed me and my family and especially media is miss leading. Recently I heard that all our family issues were due to Imran Khan. I strongly condemn this news and I want to make clear 1 thing to everyone that My ex-wife is the most pious wife in this world and it's totally unfair to say anything wrong about such woman. And it's even sadder to listen such things about Imran Khan, May Allah give him health and happiness and I strongly condemn this and for next time if anyone will ever say anything wrong about my ex-wife and Imran Khan than I will go to court and in the end I will only say that it's just a rumor without any authentication.[4] Khawar's Discussion on Media
Mosa Maneka Statement
Son of Bushra Maneka, Musa Maneka has also condemned this news and said: Truth is No marriage has occurred and news has spread which is totally fake. I don't know which immoral person has spread this news but I have a doubt on Shakeel ur Rehman who is the owner of Geo Tv and if he hasn't done this than his any immoral habitant has done this. I have talked with mother about this marriage news and she has made it clear that it is just a rumor.I don't want to talk on anything because it is completely a personal matter but yes I want to make it clear that it is a fake news and the people whom I wanted to give answer have better got it and it's true that my mother is pastor of Imran Khan.[5] Mosa Maneka on Media
Bushra Manika marriage with Imran Khan

Pakistan Tehreek-e-Insaf (PTI) has confirmed party chairman Imran Khan's third marriage with Bushra Riaz Wattoo, known to be his spiritual guide. The party issued pictures of Imran's nikah with Bushra Bibi, in which close relatives of the bride could be seen. Imran's friend Zulfi Bukhari and Awn Chaudhry said the nikah was solemnized by Mufti Saeed in Lahore on Sunday 18th Feb 2018. Bukhari and Chaudhry also stood witness to Imran's nikah. Family sources said that none of Imran's sisters was present at nikah. The PTI chairman reportedly left for Islamabad alone later Sunday night. Imran Khan, 65, first came in touch with Bushra Bibi for spiritual guidance a couple of years ago. [6] Marriage with imran khan  
Away From Politics
PTI chief Imran Khan's new wife Bushra Manika has decided to stay away from politics and will not take part in PTI meetings or rallies.  According to details revealed by sources from within the party, Bushra Bibi's children will stay with their father while she takes up residence at Bani Gala with the cricketer-turned-politician. Bushra Bibi will continue to remain at Bani Gala and will live a private life away from the public glare. [7] Away from politics
Reception Ceremony of Bushra and Imran

Imran Khan held his Walima ceremony at the Bani Gala residence in Islamabad on Sunday 25th Feb 2018 evening where limited leaders of Pakistan Tehreek-e-Insaf (PTI) were invited, According to details, among those who attended the occasion include Jahangir Tareen, Imran Ismail, Pervez Khattak, Fawad Chaudhry, Awn Chaudhry, Naeem ul Haq and other PTI. There were almost 25 to 30 people who attended the reception and the party members were introduced to Bushra Wattoo. Earlier reports had suggested that Imran and Bushra's wedding reception will remain a private affair with family members and close friends only. [8] Reception ceremony  
Oath Ceremony
Bushra Maneka, wife of Pakistani Prime Minister Imran Khan attended the oath ceremony of her husband on 18th of August 2018 where a warm welcome was given to her. She also talked with the journalists and share her views about the prime minister of Pakistan. Bushra said that a huge responsibility has been given to Imran Khan which should be fulfilled as per promised. 
First Interview with Nadeem Malik
First Lady Bushra Maneka is in the media spotlight since she got married to Prime Minister Imran Khan. Yesterday on 27th September 2018 she gave her first live interview in a show of Nadeem Malik where she praised her husband and called him a true leader of Pakistan. She added that the change which Imran Khan wants to bring will take some time because he doesn't have any power to bring it a few days. She further added that she is lucky to have him who is working day and night for the betterment of the country.