Bushra Maneka, currently known as Bushra Bibi or Bushra Imran, is a first lady and the third wife of Prime Minister Imran Khan. She got married to him 6 months before the 2018 General Elections when Imran Khan was made the PM of Pakistan. Bushra married Imran after being divorced by her first husband, Khawar Fareed Maneka, a senior Customs officer.
Bushra and Imran both met in 2015 in Pakpattan on Baba Farid's Shrine. She has always shown complete faith in Imran Khan and doesn't involve in political and social gatherings. This article contains every detail about her, including Bushra Maneka Biography.
| Title | Description |
| --- | --- |
| Personal | |
| Name: | Bushra Maneka |
| In Urdu: | بشری منیکا |
| Famous As: | Bushra Bibi |
| Also Famous As: | Pinky |
| Nationality: | Pakistani |
| Residence: | Bani Galla |
| Religion: | Islam |
| | |
| Belongs to: | Wattoo Family |
| Family | |
| Ethnicity: | First Belongs to Watto, after Married Maneka |
| Spouse: | Imran Khan |
| Ex-Husband: | Khawar Farid |
| Children: | Two Sons and Three Daughters– Ibrahim and Musa (Sons) |
| Career | |
| Political Party: | Pakistan Tehreek-e-Insaf (PTI) |
| Serve As: | Supporter |

Bushra Manika Biography
Bushra, being born in Pakpattan, has a deep interest in Sufi shrines. Her interest made her come close to Prime Minister Imran Khan, and both married in 2018 in a private ceremony. She is the first lady who always does a veil and doesn't attend political gatherings. Bushra prefers to stay at home and is living a private life.
She came from a politically influential family; her sister Maryam Riaz Watto is also a part of Pakistan Tehreek e Insaf who introduced Maneka to Imran Khan for the first time. Bushra attended his oath-taking ceremony and did an interview once with Nadeem Malik, where she praised her husband's struggles and shown trust in him.
Bushra Date of Birth
She belongs to Pakpattan and was born on 16th August 1973. Currently, she is living in Bani Galla with Imran Khan.
Bushra Maneka Ex-Husband
She first married a Senior custom officer, Khawar Maneka, with whom she has 2 sons and 3 daughters. In 2017 she got divorced and, after a few months, married Prime Minister Imran Khan. After her marriage news circulated on social media, people badly criticized her for leaving her family for wealth.
However, in a press conference, Khawar Manika revealed that their divorce has nothing to do with Imran Khan. On 18th Feb 2018, their Walima Ceremony was held in a private gathering.
Bushra Manika Family
She is currently married to Imran Khan. Her sons Ebrahim and Musa Manika are graduates of Aitcheson College. One of her daughters, Mehru Manika, got married in a political family. She is daughter in law of politician Atta Muhammad Manika. In 2018 a news circulated that one of her daughters has joined PTI.
Bushra Manika History
She belongs to a conservative family of the Watoo clan. Before marrying Imran Khan, she used to live in Pakpattan, famous for Baba Farid's shrine. Imran used to visit that shrine where he met Bushra Bibi. He started taking spiritual education from her and got inspired by her.
In 2015 by-elections, Bushra predicted the victory of Jahangir Tareen that came out to be true, and Jahangir won the elections. Imran used to spend a few hours now and then with Manika's family. When Imran learned about her divorce, his interest started developing in her because of increasing mutual understanding.
However, according to Imran, he never saw her face before marriage as she was always in a veil. But he once saw her old picture where her face was uncovered.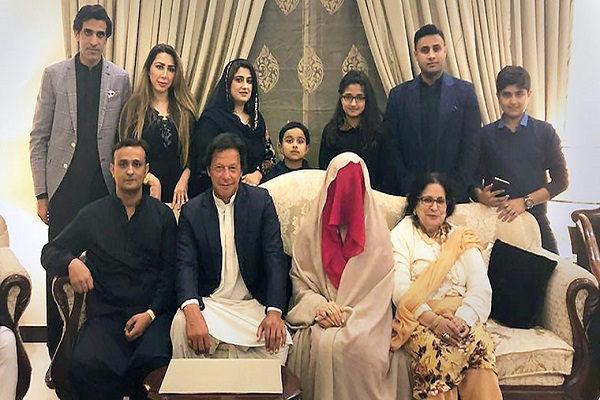 Bushra Maneka Interview
On 27th September 2018, she gave her first live interview with Nadeem Malik, where she praised her man and told him how loyal he is to the country. She revealed that Imran Khan wants to bring change in the country for which he is doing day and night struggle. She added that she is lucky to be married to Imran Khan, who is a man of strong character.