Syed Abdullah Shah Gillani or Syed Abdullah Shah Qadri famous as Bulleh Shah was a Sufi-poet and Punjabi philosopher during the seventeenth century. His 1st spiritual mentor/teacher was a Lahore based Sufi Murshid Shah Inayat Qadri. He was known as 'The Father of Punjabi Enlightenment.'
He had an intense hatred for the Mullah's concept of religion. Despite being a scholar in Arabic and Persian, he used Punjabi as a medium of expression to communicate with the people. He was the son of Syed, but he swore allegiance to Shah Inayat who was an Arian.
Perhaps this is why when he died in 1758, the city clerics refused to conduct his funeral as per a few sources. He was a resident of Kasur and also embedded there. This article contains all the information about him, including Bulleh Shah Biography.
| Title | Description |
| --- | --- |
| Personal | |
| Name: | Bulleh Shah |
| In Urdu: | بلھے شاہ‬ |
| Famous As: | Punjabi Poet |
| Real name: | Syed Abdullah Shah Qadri |
| In Urdu: | سید عبداللہ شاہ قادری‬ |
| Nationality: | Pakistani |
| Religion: | Islam |
| Profession: | Poetry, Preacher of Islam |
| Born | |
| Date: | 1680 |
| Place: | Uch, Multan Subah, Mughal Empire (now Punjab, Pakistan) |
| Family | |
| Ethnicity: | Syed |
| Parents: | Shah Mohammed Dervish( father) |
| Teacher: | Inayat Hussain Qadri |
| Died | |
| Date: | 1757 |
| Aged: | 77 |
| Rest Place: | Kasur, Bhangi Misl, Sikh Confederacy (now Punjab, Pakistan) |
| Influences: | Shah Hussain, Sultan Bahu, Shah Sharaf |
| Influenced: | Countless Sufi poets |
| Traditions: | Kafi, Bara-Baha, Seh-Harfi |

Bulleh Shah Biography
Just as English literature is incomplete without William Shakespeare and Urdu literature is insufficient without Mirza Ghalib, so is the Punjabi literature without Bulleh Shah. His name needs no introduction for those living in the subcontinent, especially obsessed with the Punjabi language.
He has left an enormous legacy in the field of poetry. In his poetry, he criticized the religious principals and strongly condemned ignoring the worldly needs and calls the mere accumulation of knowledge a waste. Opposition to learning is opposition to 'knowledge without action'.
That's what he tried to explain through his Kafis. He was a powerful voice against his era's social and religious oppression and continued to struggle in harmony with his generation's requirements. Due to his high human values ​​and thoughts and deeds, Hindus, Muslims, Sikhs and people of different faiths love him equally.
Shah Date of Birth
He was born in 1680 in Uch, Multan Subah, Mughal Empire.
Education of Shah
After receiving his early education from his father, he moved to Kasur for higher education that was a well-reputed education centre at that time. There were eminent and able teachers in Kasur, including Maulana Mohiyuddin and Hazrat Ghulam Murtaza.
He became a disciple of Hazrat Ghulam Murataz and with his moral inclination and native intelligence gained much from his teacher.
Bulleh Shah Family
His father Shah Muhammad Darvish was well-versed in Holy Quran, Persian and Arabic. He was a pious soul having spiritual fondness. Their father's high moral character positively influenced Bulleh and his sister. Darvish's tomb is in Pandoke Bhattian, and a urs is observed at his grave every year, and Kafis of his son are sung there. Both the son and father are honoured in this way.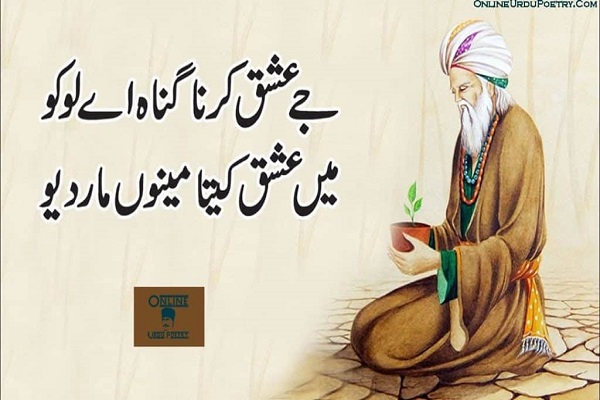 Career
Childhood Period of Bulleh
Bulla Shah's childhood was spent grazing cattle in the village. The father was imam, and the mosque's imam's status was the same as that of the other skilled cobblers, barbers and weavers of the village. That is why Bulla Shah had a profound observation not only regarding the oppressed sections of the society.
Instead, he went through these situations yourself. This observation and experience further laid the foundation of the bold poetic style.
Use of Poetry to Target Social Issues
Among the unparalleled poets of that era, this honour came only to Shah that his poems, kafis and duets became the voice of the hearts of the people in Punjab, Sindh, Rajasthan and other parts of India. And the voice of this great poet resounded in every corner of India.
His poetry and life struggled with religious mullahs and pundits. He specifically targeted the outdated caste system and class difference. He raised his voice against extremists who created hatred and strife on religious grounds. And declared all human beings a human community.
Faced Extreme Opposition 
When he became a disciple of Shah Inayat, his community and mullahs caused a commotion because he was a Syed. But Shah Inayat was of Arain caste that was considered inferior and cheap. It was unacceptable for his community and religious extremists to allow a high family's member to kneel before a lower caste person.
But he refused to be Syed and accepted Shah Inayat as his Murshid after gaining the opposition of all. And out of that racial pride, he reorganized himself and emerged as a new man free from all past prejudices. For these acts had to face strong opposition from his family, caste and believers.
He remained firm, endured all kinds of curses, and responded to them with his poetry and deeds.
Practical Steps for Lower-Class
When he was being punished for destroying racial pride, he started rearing donkeys, which was the lowest class in that era. And no respectable person could do that. He brought himself to the lowest level of society and became a practical part of it.
Poetic Career
He lived after saint and Sufi poet of Pashto language Rehman Baba. His poetic career also overlapped with Sufi poet of Sindhi language Abdul Wahab popularly known by his literary name Sachal Sarmast and Punjab poet Waris Shah famous for Heer Ranjha.
He practised Sufi tradition of the Punjabi poetry compiled by legendary poets like Shah Sharaf, Sultan Bahu, and Shah Hussein. Bulleh Shah poetry is still evergreen.
Kafis by Shah
The form of verse he mainly employed is 'Kafi' that is a classical type of Sufi music and is most liked in Sindhi and Punjabi poetry. Many musicians have used his kafis into music, from street-singers to legendary singers like Waddali Brothers, Abida Parveen, Sain Zahoor, Nusrat Fateh Ali Khan, Pathanay Khan, from Pakistani rock-band 'Junoon' to synthesized qawwali remixes of the U.K. based artists.
Use of Shah's Kalam in Modern Arts
The Pakistani rock band Junoon rendered Shah's poems 'Aleph' and 'Bullah Ke Jana' in the 1990s. An Indian music artist Rabbi Shergill turned his metaphysical poem 'Bullah Ke Jana' into fusion/rock song in his 1st album Rabbi. The song topped the charts in 2005 leading to more than ten-thousand copies of the album and received popularity in India and Pakistan.
India-based Punjabi Sufi team 'Wadali Bandhu' made a version of 'Bullah Ke Jana' in their music album 'Aa Mil Yar. Lakhwinder Wadali performed another version and named it 'Bullah.'
Rendering of Dama Dam Mast Qalandar
The famous qawwali 'Dama Dam Mast Qalandar' composed to pay tribute to renowned Sufi-saint and religious-poet Shehbaz Qalandar is the most famous poem of Shah. And many Bangladeshi, Indian, and Pakistani singers including Runa Laila, Rehman, Wadali Brothers, Sabri Brothers, Abida Parveen, Nusrat Fateh Ali Khan, and Noor Jehan have rendered it many times. His other popular qawwali songs are Mera Piya Ghar Aya,' and 'Saday Vehray Aya Kar.'
Use of Shah's Verses in Paintings
His verses are an inspiration for painters. An India-based painter Geeta Vadhera has displayed this inspiration and love for Shah's verses in her 2-painting series 'Shah Shabad,' and 'Jogia Dhoop.' An England-based Pakistani musician Yasir Akhter used Shah's poetry in his song 'Aram Naal Ker'.
In 2019 Indian lyricist, musician and composer Sona Mohapatra used his Kalam in her song 'R.A.T. Mashup.'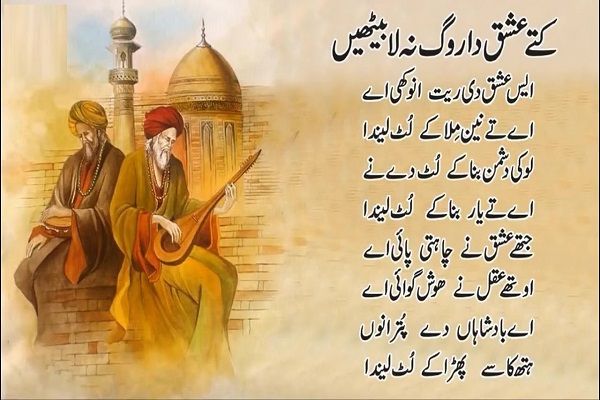 Movies
The song of 1973 film Bobby sung by Narendra Chanchal begins with the verse 'Beshak Mandir Masjid Toro Bulleh Shah Yeh Kehta.' Some of his verses like 'Terry Ishaq Nachaaya' have been employed and adapted in songs of Indian movies including 'Thaya Thaya,' and 'Chaiyyan Chaiyyan' in film Dil Sey released in 1998, and 'Ranjhaa Ranjhaa' in film Rayan released in 2010.
Lollywood movie 'Khuda Ke Lye' released in 2007 has his poetry in song 'Bulleh Shah O Yar Meray.' Ali Zafar sang his few verses 'Chal Bulleya' for a Bollywood album 'Total Siyapa' and reprised the song in Pakistan Idol in that same year. The Bollywood movies of 2016 Aey Dil Hei Mushkil,' and 'Sultan' included the song 'Bulleyah' sung by Amit Mishra and Sultan.  His poetry was also utilized in the film 'Wedding Pullav' released in 2015.
Coke Studio
The coke studio's season 2 featured 'Aik Alif' in 2009, which Noori and Sain Zahoor performed. Famous singer Ali Zafar also employed some verses of Shah Hussein and Bulleh Shah in his 'Dastaan-e-Ishq.' In season three broadcasted in 2010 Arieb Azhar performed on 'Makke Gayan Gal Mukddi Nahin,' and 'Na Rainde Hei.'
In season eleven's 3rd episode Abu Mohammad Qawwal brothers and Farid Ayaz performed the Qawwali based on Shah's Kalam. In season twelve Hadiqa used his verses in song 'Dachi Waleya.'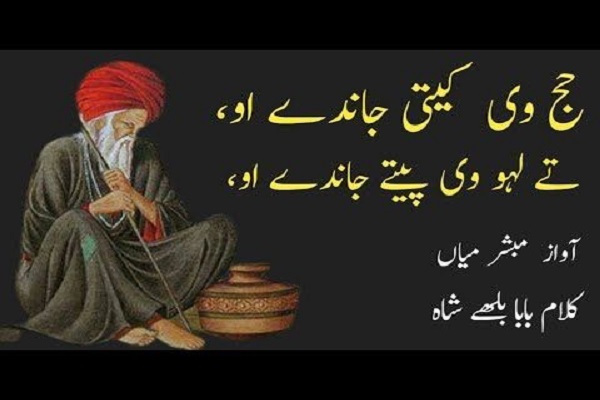 Bulleh Shah Death
He passed away in 1757 at seventy-seven and was embedded in Kasur, and a shrine was constructed over his mausoleum. Some Mullah of Kasur declared him non-Muslim, and his funeral prayer was prohibited. A great and senior religious figure Qazi Hafiz Syed Zahid led his funeral prayer. The shrine's ceiling is decorated with his verses in stylish and elegant calligraphy.