Awais zia
Young talent
Awais while receiving trophy
In a show at PTV sports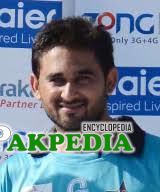 Cricketer Awais zia
Domestic Career
As a youngster, Zia got introduced to the game playing street cricket in his village of Bhaun, before playing club cricket in Chakwal. Zia was encouraged to attend local trials, where he came to the attention of Jhelum coaches, who offered him a place in the Jhelum team. He accepted their offer and started playing for Jhelum district and then Grade 2 cricket before finally getting his chance in first-class cricket for the Rawalpindi cricket team in 2007. 
[1]
domestic
Prominence
Zia came into prominence during the final of the Faysal Bank T20 Cup. He has also played 22 Twenty20 matches representing the Rawalpindi Rams, who made it to the final of the Faysal Bank T-20 Cup in 2011 where Awais delivered a fitting start to their chase of 181 – it ended in a 10-run defeat, but Awais smashed 32 in just 13 balls while opening the batting. That potential to make an impact at the top of the order won him his first international stint. He has played 35 first-class and 19 list-A matches. 
[2]
Prominence
Debut in International Cricket
A middle-order batsman in the first-class format and also an opener in Twenty20 cricket, Awais Zia won a call-up to the national side for the first time in 2012, when he was picked in the T20 squad for the series against England in the UAE. By then, Zia had already spent four years on the domestic circuit and was with Rawalpindi at the time of selection. He played all three T20I matches against the England cricket team, scoring 47 runs with a best of 23. He had shown glimpses of the hitting ability that brought him to the attention of the national selectors. Pakistan went on to lose the series 1–2. 
[3]
debut
Stereo-typed version of Afridi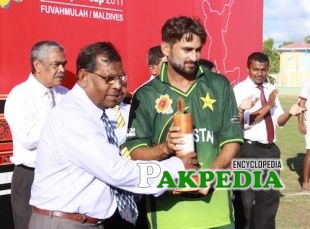 A gallant left-hander built on the likes of his nation's hero, Shahid Afridi; Awais Zia barged into the international arena in this fashion. Facing his first international delivery, he attempted a full-throttled slog over covers off Steven Finn's bowling. Finn was perplexed by Zia's onslaught straight away. Zia earned only two runs off that delivery but carved himself a stereo-typed version of Afridi of all sorts from there on. Featuring in the T20I series against England in 2012, Awais may not have cemented his place, but the manner in which he went about in his stride has surely sent a notice to the cricketing fraternity. 
[4]
version
Statistics
The overall career statistics of Awais Zia cricket career are stated underneath: 
[5]
Stats
First-Class Career Batting and Fielding (2006/07-2017/18)
M
I
NO
Runs
HS
Ave
100
50
SRate
Ct
Overall
82
136
9
4981
232
39.22
7
28
61.70
69
First-Class Career Bowling (2006/07-2017/18)
Balls
Mdns
Runs
Wkts
BB
Ave
5wI
10wM
SRate
Econ
Overall
1206
28
611
7
2-30
87.28
0
0
172.28
3.03
---
List A Career Batting and Fielding (2006/07-2016/17)
M
I
NO
Runs
HS
Ave
100
50
SRate
Ct
Overall
65
61
0
2105
134
34.50
5
11
96.73
26
List A Career Bowling (2006/07-2016/17)
Balls
Mdns
Runs
Wkts
BB
Ave
4wI
5wI
SRate
Econ
Overall
420
1
417
8
2-20
52.12
0
0
52.50
5.95
---
International Twenty20 Career Batting and Fielding (2011/12-2014/15)
M
I
NO
Runs
HS
Ave
100
50
SRate
Ct
Pakistan
5
5
0
70
23
14.00
0
0
87.50
0
---
Twenty20 Career Batting and Fielding (2008/09-2017/18)
M
I
NO
Runs
HS
Ave
100
50
SRate
Ct
Overall
62
62
3
1258
100*
21.32
1
6
131.58
23
Twenty20 Career Bowling (2008/09-2017/18)
Balls
Mdns
Runs
Wkts
BB
Ave
4wI
5wI
SRate
Econ
Overall
212
0
244
8
2-17
30.50
0
0
26.50
6.90