Arshad Nadeem Athlete
Arshad is a Pakistani athlete who is a trained Javelin throw player. Since 2016, he is playing international and national matches. In 2019, he made a record of 86.29 m distance in Javelin Throw. An athlete who belongs to Miann Channu has made the entire nation proud several times with his talent worldwide.
From his school days, he showed his versatility in different sports. Since then, he was sure to be an athlete in the future. He was always passionate about cricket and has played at the district level too. Fiaz Bokhari coached him. This article comprises all the information about him, including Arshad Nadeem Biography.
| | |
| --- | --- |
|               Title |            Description |
| Name: | Arshad Nadeem |
| Religion: | Islam |
| Nationality: | Pakistani |
| Residence: | Mian Channu |
| Profession: | Athletes player |
| Specializes in: | Javelin Throw |
| Medals: | Gold Medal and Bronze Medal |
| Coach: | Fiaz Bokhari |

Arshad Nadeem Biography
Arshad is a young Pakistani athlete who has played several matches till now and has won different medals. He has always been into sports since his school days. He was impassioned for cricket at that time, but fate had something else for him, so he became Javelin Throw. He has set numerous records in different matches on the international level.
In the 2020 Tokyo Olympics, he was the only Pakistani who qualifies finals leaving behind athletes from different countries. He is a hard worker; he is passionate, he is promoted. Rasheed Ahmad Saqi, who has created various sportspeople saw him playing and later convinced him to be an athlete.
Arshad Date of Birth
He was born on 2nd January 1997 in Khanewal. He resides in Mian Channu with his family.
Arshad Nadeem Family
He belongs to a standard family. He has 4 siblings, but no one is an athletic player like him.
Career
2016 Games
He went to the 2016 South Asian Games held in India and got 3rd position. He made a range of 78.33 m in Javelin's throw. The same year he went to Vietnam for Asian Junior Athletics Championships and again acquired the 3rd position. This time the distance was 73.40 m. Furthermore, he went to Poland for World U20 Championships and played Javelin throw with a length of 67.17 m.
2017 Games
In 2017, he reached Baku, Azerbaijan, for Islamic Solidarity Games and again obtained the 3rd Position. He won a bronze medal in this competition. This time the distance he made was 76.33 m. He also went to India for Asian Championships, but unfortunately, he got the 7th position.
2018 Games
In 2018, he reached Australia for the Common Wealth Games. It is one of the biggest gaming events where approximately 50 events are being held. More than 900 athletes from different countries take part. Arshad secured 8th Position and managed to create a distance of 76.02 m. The same year he went to Indonesia and took part in Asian Games, and acquired the 3rd position. He was again awarded a Bronze medal.
2019 Games
In 2019, he went for 3 competitions, including World Championships, Asian Championships, and South Asian Games. In the South Asian Games, he finally managed to secure 1st position with 86.29 m distance. Furthermore, in the South Asian Games, he won the gold medal. He was the only Pakistani who went for Worlds Championship in Doha, where he also made the national record.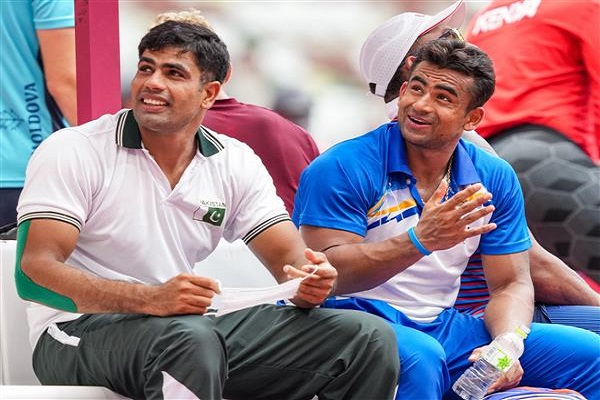 Arshad Nadeem Olympics 2021
Due to the Covid lockdown, no games were held in 2020. In 2021, he went to Iran for Imam Reza Cup and secured the 1st position. He also went for Tokyo Olympics 2020 that was supposed to be held in 2020, but COVID delayed it. Moreover, he is the only Pakistani who qualifies for the Javelin throw finals. He defeated Julian Weber, a German Athlete, and other contestants to be in the finals.
Arshad Nadeem vs Neeraj Chopra
The finals were held on 7th August 2021, but Arshad couldn't win the game and remained in 5th position. In an interview, he expressed his disappointment over losing the match. However, he won millions of hearts. Neeraj Chopra, an Indian athlete, grabbed the gold medal. Arshad Nadeem and Neeraj Chopra shared congratulatory messages via social media.
Arshad Nadeem wins Gold
On 7th August 2022, Arshad made all the Pakistanis proud by winning gold at Commonwealth Games happening in Birmingham. In the first round, he brilliantly threw a javelin at an 86.81-meter distance, and in the second round,  he threw at the distance of 88m breaking his own record.
In the fifth attempt, he left behind all the amazing athletes including Neeraj Chopra with his 90.18m throw. While talking to the media, he showed his wish to win a gold medal in the Islamic games as well.
Social Media Handle
His social media account include
https://twitter.com/arshadnadeem76