Alys Faiz, wife of renowned poet Faiz Ahmed Faiz was a Poet, writer, journalist, human rights activist, social worker and a teacher. She was born in London but later she became Pakistani citizen after her marriage with Faiz Ahmed Faiz.
| Title | Description |
| --- | --- |
| Personal | |
| Name: | Alys Faiz |
| In Urdu: | ایلس فیض |
| Famous As: | Poet |
| Nationality: | Pakistani |
| Residence: | Karachi |
| Religion: | Islam |
| Profession: | Poet, writer, journalist, human rights activist, social worker and a teacher. |
| Born | |
| Date: | 2 September 1915 |
| Place: | London |
| Family | |
| Spouse: | Faiz Ahmed Faiz |
| Children: | Salima Hashmi and Muneeza Hashmi |
| Siblings : | Christobel (Sister) |
| Relatives: | Salman Taseer (Son of her sister), Adeel hashmi (Grand son) |
| Died | |
| Date: | 12 March 2003 |
| Rest Place: | Lahore |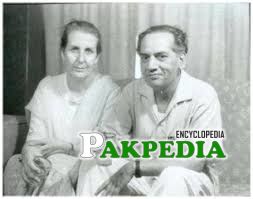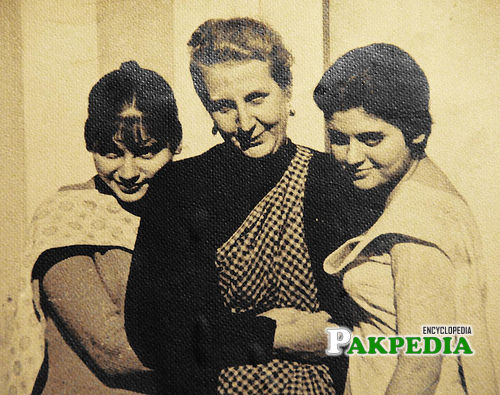 Biography
The journalist Alys Faiz, was one of the last surviving members of a diminishing band of internationally minded campaigners. Born in London, the daughter of a bookseller, she went to school in Leyton, Essex, and joined the Communist party as a teenager. With her sister Christobel, she became close to a group of London-based Indian intellectuals, and joined the Free India League. She worked as the unpaid secretary to Krishna Menon, the league secretary. In 1938, Alys went to India herself to visit Christobel, who had married a well-known educationist and writer, MD Tasser. There, she fell in with a group of radical writers and political activists, including her future husband, the Urdu poet and Lenin peace prizewinner Faiz Ahmed Faiz. They were married in 1941. [1] Biography Biography
Life After Marriage
After the partition of the sub-continent, Alys adopted Pakistan as her homeland. In 1951, Faiz Ahmed Faiz was imprisoned for his alleged role in what became known as the "Rawalpindi conspiracy" to overthrow the government of Pakistan. Alys bore this difficult period with dignity. She joined the staff of the country's leading English-language daily, the Pakistan Times, editing its women's and children's pages with flair. Her regular column, Appa Jan (or "elder sister"), inspired a generation of young women into writing and human rights activism. After her husband's release in 1955, the family moved to London, but Faiz Ahmed Faiz could not endure exile and, a year later, they returned to Pakistan, settling in Karachi. In 1971, when Zulfikar Ali Bhutto formed Pakistan's first democratically elected government, Alys moved to Islamabad, where her husband became cultural adviser to the new administration. From 1973, Alys herself worked with the United Nations children's fund (Unicef).
After Faiz Ahmed Faiz Death
Following her husband's death in 1984, Alys continued to write for Viewpoint until it folded in 1992, after which she produced a regular column for She magazine. She also collected material for a national centre of folk heritage and handicrafts, and worked for Unicef in Islamabad, having been closely engaged with the Pakistan human rights commission since its birth in 1986.
She was survived by her daughters Saleema Hashmi, an artist and former head of the National College of Arts, and Muneeza Hashmi, a television producer and former general manager of Pakistan Television.
Her Poem for Faiz Ahmed
A poem For Faiz
I will sing of you later,
when the tread of a thousand feet
the unending roll of sorrow,
the breath of roses enfolding
the eulogies, the warranted praise
the drawn out memories of others
the grief of recalling, the total acceptance of death is over
Then will i sing, not to the tread of a thousand feet,
nor to the roll of sorrow
Nor will i lift the roses
nor echo praise
nor recall, nor accept
My song neither begins nor ends
Over My Shoulder
Over My Shoulder her famous book begins with memories of a rather conventional childhood in England, amidst Victorian furniture and a loving grandmother. Towards the end of the book, she includes details of her mother's life. However, the narrative is not in any chronological order. It drifts back and forth quite easily – from Lahore to London and to Beirut and back – much like a good conversation with friends, in which disruptions in sequence do not matter. Over My Shoulder has a small selection of Alys Faiz's poems as well, covering subjects as varied as her childhood and Beirut. This is an important book and should have been edited and proofread more professionally. Also, an index at the end of the book would have helped. [3] Over my shoulder
Death
Human rights crusader, peace activist and wife of poet Faiz Ahmad Faiz, Alys Faiz, passed away at the age of 88. She had been unwell for some time and was confined to her house after suffering a fracture of the hipbone in a fall. She died at the Ittefaq Hospital at around 10am where she was taken for emergency treatment. Mrs Faiz was buried  in the Model Town graveyard by the side of her husband. Faiz had died on Nov 20, 1984. Hundreds of people from all walks of life attended the funeral prayers. Prominent among them were Foreign Minister Khurshid Mehmood Kasuri, former finance minister Dr Mubashir Hasan, and PPP leader Salman Taseer. Mrs Faiz is survived by two daughters, Salima Hashmi, former principal of the National College of Arts, and Muneeza Hashmi, a senior producer at PTV in Lahore. [4] Death Death
Tribute
The family, friends and admirers of Alys Faiz got together and paid her glowing tributes as a woman who wore many hats and rode out the trials and tribulations in life with aplomb. The event was organised as part of the centennial celebrations of Alys Faiz by the Faiz Foundation Trust at the Human Rights Commission of Pakistan auditorium on 21st September 2014. The grandchildren of Faiz and Alys read out some of the letters the couple had written to each other from time to time. Later, a short documentary film commemorating the life of Alys Faiz was shown to the audience before a cake-cutting ceremony. [5] Tribute Tribute
Views of her Daughter
Recalling the memories of her mother, Ms Saleema Hashmi read out a paper, "Someone's knocking on my door" which she had earlier presented in Doha. It was the story of Alys Faiz's struggle against injustices and tyranny of the state in the form of Faiz's incarceration, threat of evacuation from the house that was the property of the Evacuee Trust Property Board and two-year stay in Beirut during Gen Zia's regime. She said her father paid the price of speaking the truth but 'Mama' always exhorted us to lead a life of principles and truthfulness. "She (Alys) became a member of the Communist Party at the age of 16 and worked at The Pakistan Times against a salary of Rs420," she recalled.