Ali Wazir is a Pakistani politician and a leader of PTM who belongs to an Ahmadi Wazir tribe. He became the head of the party after being defeated in all the General elections. He is best known for his criticism of the Taliban and Pakistan's security establishment.
| Title | Description |
| --- | --- |
| Personal | |
| Name: | Ali Wazir |
| In Urdu: | علی وزیر |
| Famous As: | Criticism of Taliban |
| Nationality: | Pakistani |
| Residence: | Waziristan |
| Religion: | Islam |
| Profession: | Politician |
| Website: | https://twitter.com/Aliwazirna50 |
| Born | |
| Place: | South Waziristan |
| Family | |
| Parents: | Malik Mirzalam Wazir |
| Siblings : | Farooq Wazir |
| Career | |
| Political Party: | Pashtun Tahafuz Movement |
| Serve As: | Leader of Party |
| Old Political Affiliations: | Member of National Assembly |
| Member of the National Assembly | |
| Constituency: | NA 50 |
| Assumed office: | 13th August 2018 |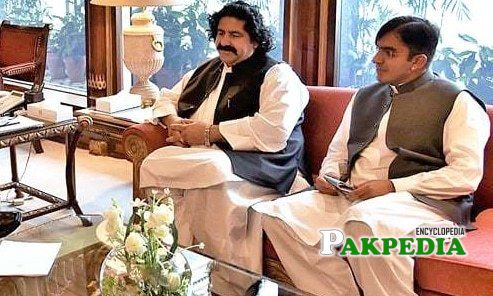 Ali Wazir Biography
Ali Wazir is a Pakistani politician who is a frontman of a political party, Pashtun Tahafuz Movement which aims to provide basic human rights to the people of Pashtun. Being born to the chief of Ahmadi Wazir tribe Malik Mirzalam Wazir he did his schooling from the school in Waziristan while studying in a Gomal Unversity for further education he started taking interest in politics and thought of adopting it as a profession. He is famous for his vocal condemnation of the Taliban and Pakistan's security establishment.
Ali Wazir Family
In 2003, Ali Wazir's senior sibling Farooq Wazir, who was an innate pioneer and extremist incredulous of the Taliban's essence in Waziristan, was killed by the Taliban activists. It denoted the beginning of a long battle amid which the Taliban slaughtered a huge number of neighborhood activists, government officials, and ministers in the Pashtun ancestral zones who had restricted the Taliban. In 2005, while Ali Wazir was in jail under the Frontier Crimes Regulations, the Taliban killed his dad, two siblings, two uncles, and two cousins in a solitary snare. From 2003 to 2018, 16 relatives of Ali Wazir were slaughtered by the Taliban altogether. The activists likewise demolished the organizations claimed by his family. His family's service stations were devastated, their cylinder wells were loaded up with earth, and their apple and peach plantations were showered with harmful synthetic compounds. In 2016, their market in Wanna was exploded with explosive. 
Ali Wazir Career
Ali began his political career in 2008 by contesting the General Elections from the Constituency NA 41 as an independent candidate but unfortunately lost the seat against Abdul Malik Wazir by receiving 3294 votes. In 2013 he again holds the seat from the same constituency against Ghalib Khan but again faced defeat by receiving 7641 votes. In 2018 he became the head of PTM (Pashtun Tahafuz Movement) which emerged after the illicit murder of Naqeeb Ullah Mehsud. In 2018 Prime Minister Imran Khan offered him a ticket to contest the elections which he completely refused and again contested as an independent candidate and won by the majority of votes.
Attack on Ali Wazir
On June 3, 2018, ace government shooters associated with the Taliban assaulted Ali Wazir and different supporters of the Pashtun Tahafuz Movement (PTM) in Wanna, South Waziristan. Ali Wazir endures, however, ten supporters of PTM were slaughtered in the assault while many others, including Ali Wazir's cousin Arif Wazir and a nearby writer Noor Ali Wazir, were harmed. A large number of the harmed were taken to emergency clinics in Dera Ismail Khan, Khyber Pakhtunkhwa. On June 4, the Pakistan Army representative Major General Asif Ghafoor affirmed at a public interview that the assault on the PTM activists in Wanna was done by an administration supported "peace committee'