Born to prolific sagarveena player, Noor Zehra Kazim, Ali Hamza is singer-songwriter, multi-instrumentalist recognized as a luminary in Pakistani music. Having worked as one half of the illustrious pop-rock band, Noori, Ali Hamza has also showcased his individual musical prowess in recent times with his solo act, Sanwal.
| Title | Description |
| --- | --- |
| Personal | |
| Name: | Ali Hamza |
| In Urdu: | علی حمزہ |
| Famous As: | Singer |
| Nationality: | Pakistani |
| Residence: | Lahore |
| Education: | Economics degree from LUMS |
| Religion: | Islam |
| Profession: | Singing, Music Direction |
| Born | |
| Date: | 21 March 1980 |
| Star sign: | Aries |
| Place: | Lahore |
| Family | |
| Ethnicity: | syed |
| Spouse: | Nafeesa |
| Children: | A son |
| Parents: | Noor Zehra, Ali Kazim |
| Siblings : | Ali Noor |
| Relatives: | Raza Kazim, the famous lawyer and a great patron of art and music, Mandana Zaidi, |
| Career | |
| Occupation(s): | Singing, copmoser, Music Director |
| Professional Work | |
| Years Active: | 1996 |
| Music Band: | Noori |
| Instruments: | Guitar |
| Affiliation: | Coke Studio |
| Famous songs: | Tinak dhin, Jindjaani in coke studio 10 |
| Songs: | Karachi Se Lahore Ost, Begum Gul Bakaoli Sarfarosh |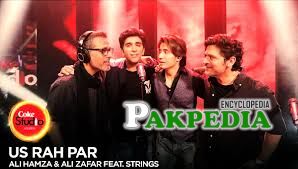 Profile

Being a veteran Coke Studio artist, both as a featured artist and guest musician in previous seasons, Ali Hamza takes it up a notch by lending his signature musical stylings as music director in Season 10. Having previously taken on the role of music director as Noori, Hamza comes into stride by tapping into his personal musical sensibilities and creating a collaborative, innovative environment to brew some fantastic music packed with energy. 
Birth and Education
Ali Hamza was born on 21st of March,1980 in Lahore. Ali Hamza studied at Cresent Model School growing up. He recalls the time fondly and says he was always 'a decent student' and he didn't have to try to hard. Ali Hamza joined LUMS to eventually graduate in 2001. He has no answer for why he did that except that's what 'seemed right'. Interestingly, this was the only university he had applied to. 
Family

Ali Hamza is the grandson of Raza Kazim, the famous lawyer and a great patron of art and music. Music has simply been another language that Hamza speaks since birth. Speaking of his mother he mentioned, 'She plays the Sagarveena, an instrument invented by my grandfather. Even as a baby she would play it for me… I grew up with music all around'.
Hamza spoke of his grandfather's extensive music collection and the live recordings in his studio. At a very young age, Ali Hamza and Ali Noor had the privilege of being exposed to fine music and artists.  [1] Birth,edu,family
Career
Underground hits
LUMS also defined Hamza as a musician in many ways. The usually shy musician developed a bit of a cult following with underground hits like Gawalmandi. Ali Hamza explained, '"These songs are not to be taken at face value, everything I write has a meaning to me", said Hamza.
Creation of Noorie-the band

Ali Hamza told in an interview that how tha idea to form a band with the title of Noorie came into execution. He also talked about his role in the early days of band. He recalled " Somewhere around the late 80's this cousin of ours comes from Riyadh and he shares some music with us which is hard core heavy metal rock kind of music and suddenly Ali Noor starts dreaming that he wants to become a rock star because he sees a bunch of videos, at that time there were no dishes or cable TV's, we had VCRs but getting music videos was like, somebody had to come from abroad record those videos on tape and the bring them so we were able to see them because there was no such thing as Music Channels. There was on PTV, so watching all these rockers at the age of 8 was an inspiration for Ali Noor to become a rock start, the videos he watched were Def Leopard "Pour some Sugar on me" and I think that was the day he decided he wanted to become a rock star. I don't come into the picture until very late, these days my statement is that I'm the father of Noori and Ali Noor is the mother of Noori because Ali Noor wanted to do English Music, he was more of an English guy and he was in a ban called Coven which is still there but in the early 90's there was a massive rave in Lahore in which this band (Coven) was playing original rock songs, they weren't playing covers, they were the first Pakistani band to release an English album. So in all of that I was just trying to figure out song by the band on Ali Noor's guitar because he had the instruments and everything, I didn't even know If I wanted to be a musician. I was never actively involved in doing music, I was trying to figure out this song by Coven, it was called Samson and Dalilah which was a love song and I ended up making another song just by listening to that, my song was an Urdu song it was called Do Dil, we released it back in 2008. Me making that song, my brother realised that there's no room for English music in Pakistan, so we might as well pursue making Urdu music. Thus the idea of Noori was born.   
Band work back in 90s

Hamza told that" That was in the mid 90's, from then onwards Ali Noor was constantly sitting in his studio working on creating new songs. I would come in every now and then but was never serious about it. In my brother's head I was supposed to be the lead singer of Noori and he was supposed to be the lead guitarist, but I wasn't sure about it. I didn't even know if I wanted to do music, not at least until two years ago. So for a good 10 years I didn't know if I wanted to do this. I was talented, making melodies came naturally to me, but I never went on to explore it as such. I would go in and out of the studio every now and then but Ali Noor was more active, he was even working professionally on a few commercials, scoring for dramas, TV plays. At that time I was studying, in 2002 they released the video of Manwa Re, which was all Ali Noor but the idea was still to launch Noori. We made a good 40 to 50 songs before our album was released, after 7 years of ground work. A lot of hard work! In 2002 Noori was set to release an album and it was almost done, we had Gumby come on board with Ali Noor and Muhammad Ali Jafri and this other guy KV, who was supposed to be one of the guitarist but before Noori was due to perform its first live gig, he called and told Ali Noor that he's found a job and won't be able to join the band. That's when Gumby proposed that Ali Hamza has been a part of this journey why don't you bring him as part of the band. And I just very casual about it, I said let's do it! That's how Noori started for me, it's been a journey ever since. [2] Creation of band  
Origin of the title Noori

Noori is a Persian word that means 'light', and while everyone believes that the band was named after Ali Noor, himself, it comes from their mother: Zehra Noor. [3] noorie  
Live performing
Ali Hamza enjoys performing live. He finds that the type of adrenaline rush you get from a live performance is unmatched. One of his most memorable performances of his career was in Dubai when Noori performed infront of a 50, 000 packed crowd. Ali Hamza feels that over time, raw musical talent has been compromised owing to recording studios. While he feels the recording studios have added great value, he also thinks that an artist should never let go of concerts and gigs as those truly grow an artist.
 
Commercial Music

For him music is made to serve oneself. Music should be for a purpose and that purpose must be reflected in what an artist puts out there. There is nothing wrong with commercial music so long as the artist doesn't compromise on quality. Hamza also feels that an artist's reach has expanded many folds with the coming of the internet age – Noori's rise came from Kazaa and Napster. He expressed that music for him was a not a commercial product but rather a journey for self-discovery. 
Favorite Musicians
When asked who his favorite artist from Pakistan was; Hamza said he like Pathane Khan. In addition to this he loves the songs that artists have done. His recent favorite song is by the artist, Faris Shafi, 'Muskura'. In relation to which he says,  'The real artists of the 21st century are going to be artists that are giving you the whole experience; the musical experience, the visual experience and the human experience.'
Work beyond border

The Band Noori have already worked with a lot of artists from India. They have made a couple of songs with artists there. They made a song with Anaida which was called Naya Jahan. The latest collaboration with Hari and Sukhmani, it's called Yaarian, They did it last year and in Coke Studio we collaborated with Shilpa. So They've been working on bringing both countries together through music for a while. Ali Hamza also told that the band manager is also from India. Music has no borders or boundaries, he believe. 
Experience with Coke Studio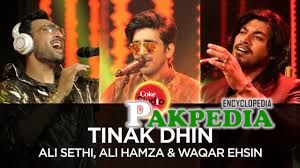 When asked about his experience with Coke studio, He said " Coke Studio is in its tenth year now, and it has gone through a whole journey. It definitely brought Pakistani music to the global front, before that there wasn't anything consistent coming out of our industry. Coke studio has changed that. Everybody is loving it. Kudos to Rohail Hayat for making it such a successful show. It's a great platform in the sense that it gives opportunities for musicians who are doing their own thing to come together with other people and collaborate and make music also get to explore your own music and culture. The requirement of Coke Studio is that you have to represent some kind of a Pakistani sound, and Pakistani sound is really incomplete if we don't look into the ethnic folk music of Pakistan. People call it Sufi music but it is essentially folk tradition which has Sufi elements in it for sure. The treasures that Pakistan had in terms of talent and the rich musical tradition and melodies, tunes and lyrical content that reached out to the whole world. And it's a modern sound also because of the fusions, guitars, drums, bass and all that. It was a sound that was more palatable to the whole world, and the world sort of recognised Pakistan as a place of rich musical tradition. On that not Coke studio has been great! 
AHs concern about Pakistani music

Ali Hamza shared his views on the present condition of Pakistani Music industry in these words " The sad part is that today Coke Studio stands as the only platform which is working for Pakistani music. I don't blame Coke Studio for it, I blame the musicians for not being able to put out new content and basically wait the whole year for Coke Studio to approach them for another season. The so called music industry of Pakistan is kind of a limbo, we don't know whether it's an industry or not. There was a time when a lot of music albums would come out, new content used to come out, there's been a lot of lethargy from the artists to put out new material out there. I guess we just wait for someone to give us something to work on that's when we start working on something new. Music is all about expressing yourself, sharing your feelings and ideas. We hope that more opportunities come up for the musicians to explore and the musicians bring about a change within themselves and push themselves to consistently pursue music." 
Awards
Noori won the Award for the Best Rock Song for "Do Dil" at MTV Music Awards in 2009.
Noori was selected as "Picked Artist of the Month" on the Pakistani music channel called "The Musik" in June 2006.
Noori has won the Best Rock Song Category Award for "Nishaan" in Indus Music Awards 2006.
Noori has won the Ultimate Rock song Category Award for "Saari Raat Jaga" in MTV Music Awards 2006.
Noori has won best music album award for "Begum Gul Bakaoli Sarfarosh" in Lux Style Awards 2016
AHs advice for young musicians

For people who want to be part of this industry my only advice would be to be consistent and hardworking and also explore different dimensions of yourself as a musician. If you're passionate about it, don't be afraid to experiment. If things are not working out the way you want them to, don't lose hope. We're living in a very different time now, the way people got their breaks back in the day, those models are not working anymore. At the same time, it's a much bigger audience you can share your art with, social media has been a blessing in disguise and it has made it much more easier for musicians to reach out to people. Use these tools to express yourselves.