Ali Ejaz was a Pakistani TV and film actor. Whether it was a comedy or a serious role, he had proved his mettle in every field and reached fame. There are more than 106 films on Ijaz's career. He had worked with many great actors, including Muhammad Ali, Nadeem, Nannha, actor Aslam. This article contains his every detail, including Ali Ejaz Biography.
| Title | Description |
| --- | --- |
| Personal | |
| Name: | Ali Ejaz |
| In Urdu: | علی ایجاز |
| Nationality: | Pakistani |
| Residence: | Lahore |
| Religion: | Islam |
| Profession: | Actor |
| Social Welfare Project: | Ali Ejaz Foundation |
| Awards : | He got many awards |
| Born | |
| Date: | 1941 |
| Family | |
| Spouse: | Married |
| Children: | Babar Ali |
| Died | |
| Date: | 18th December 2018 |
| Due To: | Cardiac arrest |
| Rest Place: | Lahore |
| Career | |
| Occupation(s): | Actor and Comedian |
| Popular Tv Show: | Khawaja and Son |
| Film Debut: | Insaaniat |

Ali Ejaz Biography
Ali had a very versatile personality who performed a variety of roles in his acting career. Despite being so successful and famous, he was a very humble man. He didn't limit his talent to himself but also trained his junior co-stars. Besides acting, he also paid attention to social work and made a foundation for older people.
He did justice to every role he got. He was a very principled and frugal man. In recognition of his services to the showbiz industry, the Government of Pakistan awarded him the Presidential Medal of Excellence on August 14, 1993, and the Nigar Award.
Ali Date of Birth
He was born in 1941 in Lahore (British India).
Ali Ejaz Family
He belonged to the Syed family of the Qila Gujar Singh area of ​​Lahore. His father's shrine is located on Multan Road in Hanjarwal.
Career
Initial Career
He started his theater career and came to prominence in the 1960s when the theater was in vogue in Pakistan. In Lahore, plays were performed on the Al-Hamra Art Council stage, which was very popular. When TV started broadcasting from Lahore in 1964, a series of plays written by Athar Shah Khan (Jedi) 'Lakhon Mein Teen' was aired live, with Ali playing one of the three main characters.
His dialogue 'Everybody Ko Chai Ke Sulah Marta Hai' became famous. This is where he got his first break in the media.
Film Career
Ali Ejaz played some small roles in films, but he got the real opportunity to go to the film industry after the TV play 'Dubai Chalo' presented by Arif Waqar. A movie of the same name based on the same play was released in 1980, after which he started getting movies in droves.
His pairing with actor Nanha (Khawar Rafi) was very popular among audiences in the 1980s. According to an old movie tradition, when he went to the movies, he chose a movie name for himself, which was 'Ali Baba.' But when he found out that a senior radio artist had adopted the name before, he gave up the name after only one film and returned to Ali Ijaz.
Punjabi Films
He has also acted in countless Punjabi films including 'Muft,' 'Bura,' 'Dada Ustad,' 'Payar Da Badla,' 'Yamla Jutt,' 'Bad Nalon Badnam Bura,' 'Sadhu Aur Shaitan,' 'Laila Majnoon,' 'Sadha Rasta,' 'Badal,' 'Mr. Aflatoon,' 'Naukar Tay Malik,' 'Baooji,' 'Andheri Nagri,' 'Chor Machaye Shor,' 'Bharosa,' 'Ishq Summandar' and others raised the flag of his success.
Comedy Roles
Apart from 'Dubai Chalo' that kept his art alive for a long time is the series of comedy plays written by Ata-ul-Haq Qasmi. In these TV dramas, he played different ages, accents, and personalities, which shows his acting diversity. He was particularly good at playing old characters.
His favorite pastime was to play the role of a half-witted older man with a heavy mouth. His role in Khawaja & Sons is still one of the favorite roles of Pakistani television viewers.
Social Activist
He opened a foundation for senior citizens' rights in his name, which provides food and accommodation for the elderly.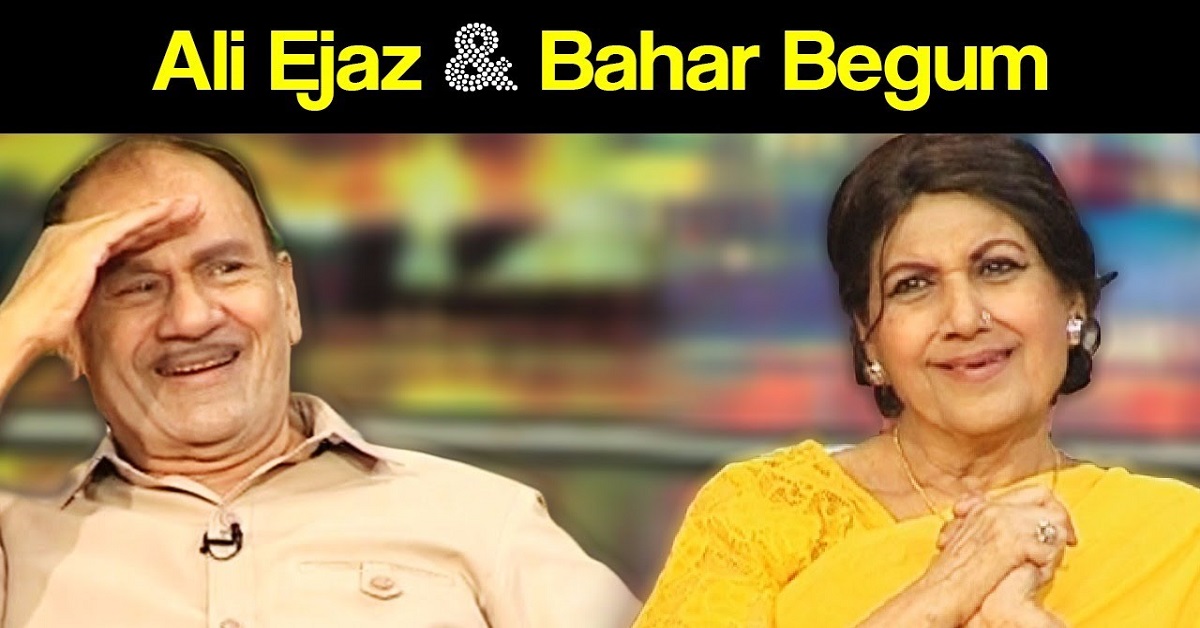 Ali Ejaz Death
He died of a cardiac arrest on December 18, 2018. He has left behind a widow and two sons who are living abroad.
Ali Ejaz Films
Insaniyat
Dilbar Jani
Yamlaa Jutt
Saiyan
FBI Operation Pakistan
Dil Aur Duniya
Geo Jutta
Sajan Dushman
Nizaam
Laila Majnu
Joggi
Wehshi Jutt
Hathkarri
Warrant
Dubai Chaloo
Ap Sey Kia Parda
Sohraa Tey Jawaae
Chacha Bhatija
Mola Jutt Tey Nurii Nath
Dostaana
Mirza Jutt
Sahib Ji
Susraal Chalo
Samundar Paar
Sona Chandi
Ishq Paicha
Jooraa
Chor Machaye Shor
Popular Dramas
Khawaja And Son
Parossi
Lakhon Main Teen
Heer Ranjha
Dubai Chalo