Ali Dar is the son of the Pakistani Finance Minister Ishaq Dar and also the son-in-law of Pakistani Muslim League's leader Mian Mohammad Nawaz Sharif.
| Title | Description |
| --- | --- |
| Personal | |
| Name: | Ali Dar |
| In Urdu: | علی ڈ١ر |
| Famous As: | Business man |
| Nationality: | Pakistani |
| Religion: | Islam |
| Profession: | Business Man |
| Owner of: | HDS Group |
| Son-in-Law of: | Former Prime Minister Nawaz Sharif |
| Own a Car: | Lamborghini Aventador LP 700-4 for the Inaugural Run |
| Price of a Car: | $2000,000 equal to 2,00,00,000 PKR |
| Family | |
| Spouse: | Asma Nawaz |
| Parents: | Ishaq Dar |
| Siblings : | Hasnain Dar (Brother) |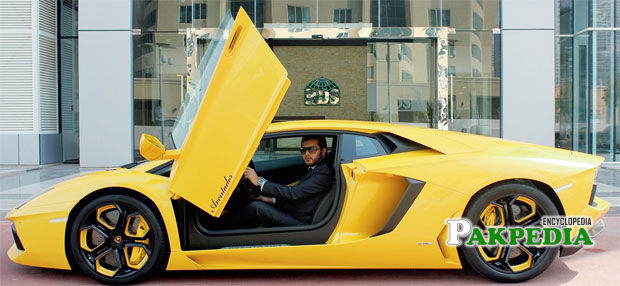 Biography
Ali Dar is a business man and he is the son of Ishaq Dar  Current finance minister of Pakistan. In Saudia Arab, The wedding ceremony was done and the only special guest was invited. Many friends of Nawaz sharif got angry for not to invite in this ceremony. It is claimed that only 80 guests were invited. It is the story of 2004, all this was happened in 2004, In 2004 Dar's eldest son married Nawaz Sharif's daughter Asma Nawaz in Jeddah a city of Saudia Arab. Ishaq Dar worked for Ittefaq Group, Now he is the relative of Nawaz Sharif and Nawaz Sharif choose him as finance minister of Pakistan.Asma Nawaz has no interest in Politics so people not know much about her. Asma Nawaz never gives any statement about politics.
Owner of HDS Group
He and his brother Hasnain own the mighty HDS Group in the Gulf, which owns several buildings at Jumeirah Lakes Towers cluster in Dubai, along with several other properties at Business Bay and International City. Their signature building is the massive 34 storey HDS towers.[1]  Owner of HDS Group 
Business Empire
Ishaq Dar announced that Pakistan was open for business once again but it seems more likely he was expanding his own business. Surreptitiously, on the sidelines, Ishaq Dar has built himself a business empire, reportedly managed by his two sons Hasnain Dar and Ali Dar. HDS Tower in Cluster F of Jumeirah Lakes Tower is only one of the 34 story buildings that belong to the mighty HDS Group. Several other buildings in Jumeirah Lakes Towers, Business Bay and International City, like the HDS Sunstar Towers, are also owned by the millionaire brothers.[2] Business Empire 
Manage Everything Perfectly
The owners of HDS Group, Ali Dar and Hasnain Dar manage everything perfectly for Ishaq Dar. It's worth mentioning here that the elder son Ali Dar. Real estate business and development is the main concentration of the HDS group, moreover owning various commercial and residential towers in JLT, Business Bay and Central Business District of International City in Dubai.
Lamborghini Aventador LP 700-4
Senator Ishaq Dar's son Ali Dar takes the Lamborghini Aventador LP 700-4 for the inaugural run.The photo of Ali dar viral on Facebook, he was sitting on car Lamborghini which cost is $2000,000 equal to 2,00,00,000 PKR.[3]  Lamborghini Aventador LP 700-4