Aizaz Cheema is a former Pakistani cricketer who served as a right-arm medium-fast bowler in the national team. He is famous as a sensible bowler in do and die situations. His aggressive bowling has always resulted in dismissals of batsmen. On many occasions, Aizaz defended small scores in the last overs and surprised the opposition by winning difficult matches for his team. This article has all the information about Aizaz, including Aizaz Cheema Biography.
| Title | Description |
| --- | --- |
| Personal | |
| Name: | Aizaz Cheema |
| In Urdu: | اعزاز چیمہ |
| Famous As: | Cricketer |
| Nationality: | Pakistani |
| Residence: | Lahore |
| Education: | B.Com |
| Religion: | Islam |
| Profession: | Cricketer |
| Height: | 6 ft 0 in (1.83 m) |
| Website: | https://twitter.com/aizazcheema |
| Born | |
| Date: | 5th September 1979 |
| Place: | Sargodha |
| Family | |
| Spouse: | Sheema Cheema |
| Children: | Arisha Cheema and Irtiza Cheema |
| Parents: | Ilyas Cheema |
| Career | |
| National Side: | Pakistan |
| Team Role: | Bowler |
| Bowling Style: | Right-arm medium-fast |
| Batting Style: | Right-hand batsman |
| Matches: | 7 in Tests & 14 in ODIs |
| Wickets : | 20 in Tests & 23 in ODIs |
| Test Debut: | Zimbabwe v Pakistan at Bulawayo |
| Test Last: | Sri Lanka v Pakistan at Colombo |
| ODI Debut: | Zimbabwe v Pakistan at Bulawayo |
| ODI Last: | Australia v Pakistan at Sharjah |
| T20 Debut : | Zimbabwe v Pakistan at Harare |
| T20 Last: | England v Pakistan at Abu Dhabi |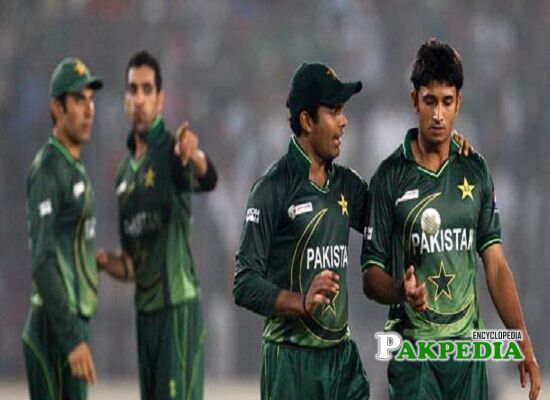 Aizaz Cheema Biography
Aizaz is a former attacking bowler of the Pakistani team who does not have a long international career but appeared in 26 international matches for Pakistan in all formats. He became part of 7 test matches for the national team and got 20 wickets with his best match bowling of 8/103. He has the best bowling of 4/24 in an inning. Aizaz has played 14 ODI international matches and took 23 wickets with an average of 25.78 in bowling and has 4/43 best bowling figures in a game.
He also played T20 format in which he participated five matches and dismissed eight batsmen in his T20 career with his best bowling of 4/30.
Aizaz date of Birth
Aizaz was born on 5th September in 1979 at Sargodha, Punjab. Currently, he is living in Lahore.
Education of Aizaz
He got his early education from divisional public school, Model Town Lahore. He completed his graduation in Bachelor of Commerce (B.com.) from Punjab College of Commerce. Aizaz has also done his qualification in ECB's Level 2 Coaching.
Aizaz Cheema Family
He belongs to an educated family. His father served as a professional lawyer while his mother served as a teacher. His father wanted Aizaz to be a banker but then permitted him to play cricket under the condition of continuing his education. Aizaz married to a girl named Sheema and has two children, a daughter and a son name Arisha and Irtaza.
Cricket Career
Initial Career
In 2001 Aizaz got selected in domestic cricket for Pakistan International Airlines. He struggled for many years in domestic cricket and improved his bowling. In 2012, he finally got selected for the national team for ODI and test formats against Zimbabwe.
Domestic Career
Aizaz initiated his career in first-class cricket in 2001. He played 140 matches and took 572 wickets with a bowling average of 20.0 and has 7/24 his best bowling figure in an inning. He involved in 89 List-A matches in which he took 134 wickets with 5/37 his best bowling and had two five wickets haul in his career. He also played brilliantly in domestic T20 cricket and played 93 matches with an average of 20.85 in bowling, including 134 total wickets with 4/17 best bowling match.
Aizaz has participated in various club teams in domestic cricket, including Pakistan, Pakistan A, Quetta Gladiators, Lahore Eagles, Lahore Shalimar, Punjab Stallions, Lahore Lions, Punjab (Pakistan), Lahore Qalandars, Pakistan International Airlines, Lahore Ravi and Model Town Green. He has contributed to Champion League held in India 2014, where he took 11 wickets in six matches.
Quaid-e-Azam Trophy
Aizaz has listed many records in his name, in 2017–18 Quaid-e-Azam Trophy Aizaz played nine matches and took 60 wickets with a title of leading wicket-taker in the tournament. He also emerged leading wicket-taker in 2018–19 Quaid-e-Azam One Day Cup and dismissed 59 batsmen in ten matches.
Pakistan Super League PSL
Aizaz got selected in Quetta Gladiators in 2016. In the season of PSL, he has made remarkable bowling against Quetta Gladiators in which he defended 8-runs in final over, and Quetta won the match.
International Career and Achievements
After playing long in domestic cricket, officials have given a chance to new players against Zimbabwe. Aizaz debuted in international cricket on the 1st September 2011 tour. He took eight wickets in his debut match, and that was the second-best debut bowling. In the same series against Zimbabwe, on 8th September 2011, Aizaz emerged with excellent bowling in his first ODI with 3/36. 
He appeared as the highest wicket-taker in the series with eight wickets. He got man of the match in the final game with the best bowling of 4/43. He also played in a T20 match against Zimbabwe on 16th September 2011. Aizaz got awarded man of the game three times in his international career.
Asia Cup 2012
In 2012 he added in Asia Cup, held in Bangladesh. He destroyed Sri Lankan's batting line and took eight wickets in a match. Aizaz Cheema also showed his aggressive bowling against Bangladesh and got nine wickets. He got the reliable player award for his last over against Bangladesh in final match innings in which he defended 3-runs and resulted in Pakistan's win.
Future Planning
Aizaz is looking forward to coaching through his experience, and he has also completed ECB's Level 2 Coaching course and continuing ECB's Level 3. He also performed as a mentor for the PIA team. He has been looking for club coaching to improve his skills to get opportunities in PCB.
Social Media Handles
His social media accounts include