Meer Aijaz Khan Jakhrani is a Pakistani politician affiliated with the Pakistan People Party (PPPP).He is agriculturist by profession.He travelled to the U.S.A, U.K, France, Holland, Germany, Canada and Mexico. Areas of Legislative Interest Religious Affairs Health Defence Law Membership of National Assembly Committees Standing Committee on Information Technology and Telecommunication Standing Committee on Interior Standing Committee on Sports.
| Title | Description |
| --- | --- |
| Personal | |
| Name: | Aijaz Hussain Jakhrani |
| In Urdu: | اعجاز حسین جاکھرانی‬ |
| Famous As: | MNA |
| Nationality: | Pakistani |
| Residence: | Jacobabad |
| Education: | BBA |
| Religion: | Islam |
| Profession: | Politician |
| Served as: | Federal Minister for Sports and Health |
| Country: | Pakistani |
| Province: | Sindh |
| Facebook: | https://www.facebook.com/Mir-Aijaz-Hussain-Khan-Jakhrani |
| Website: | http://www.na.gov.pk/en/profile.php?uid=45 |
| Born | |
| Date: | 5 March 1967 |
| Place: | Jacobabad |
| Career | |
| Political Party: | Pakistan Peoples Party |
| In Office | |
| Role: | Member of the National Assembly of Pakistan |
| Dates: | 1 June 2013 |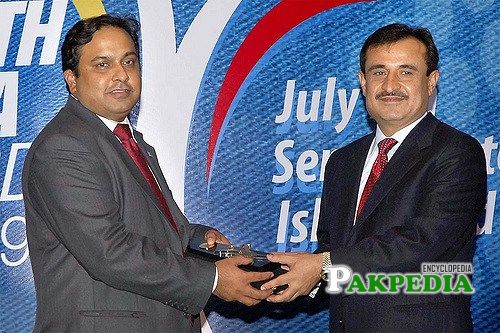 Biography

Mir Aijaz Hussain Jakhrani son of Mir Ahmed Nawaz Khan Jakhrani was born in Jacobabad sindh Pakistan.He became MNA by defeating Fahad Malik of PML by a great margin of thirty six thousand votes.He is a Pakistani politician who is currently a member of the National Assembly of Pakistan.[1]  Biography Meer Aijaz Jakhrani is married.He is seasoned politician that has earned him a lot of success in elections and is a current member of national assembly of Pakistan.
Education
He graduated in a BBA from University of Sindh in 1984.[2]  Education 
Political Career
Join Pakistan Peoples Party
His career in politics began when he decided to join Pakistan peoples party in 2002. He was given the ticket to contest elections in that same year . Being his first experience in the elections , he was remarkably able to win by beating his peoples part  rival and thus became a member of national assembly .
Election 2008
In the next elections, in 2008, it came as no surprise when he was given the ticket to contest in the elections. PPP wasn't disappointed this time around either as he was able to defeat his MQM rival this time around too and secured his place in the National assembly .
Member of National Assembly
Due to his previous success, in 2013 when he again won the election in NA 208 , it didn't come as a surprise to anyone and thus he retained his seat as the member of National assembly. 
Federal Minister of Sports and Health
He was appointed as the Federal  minister of sports and health.[3] Political Career
16th Asian Games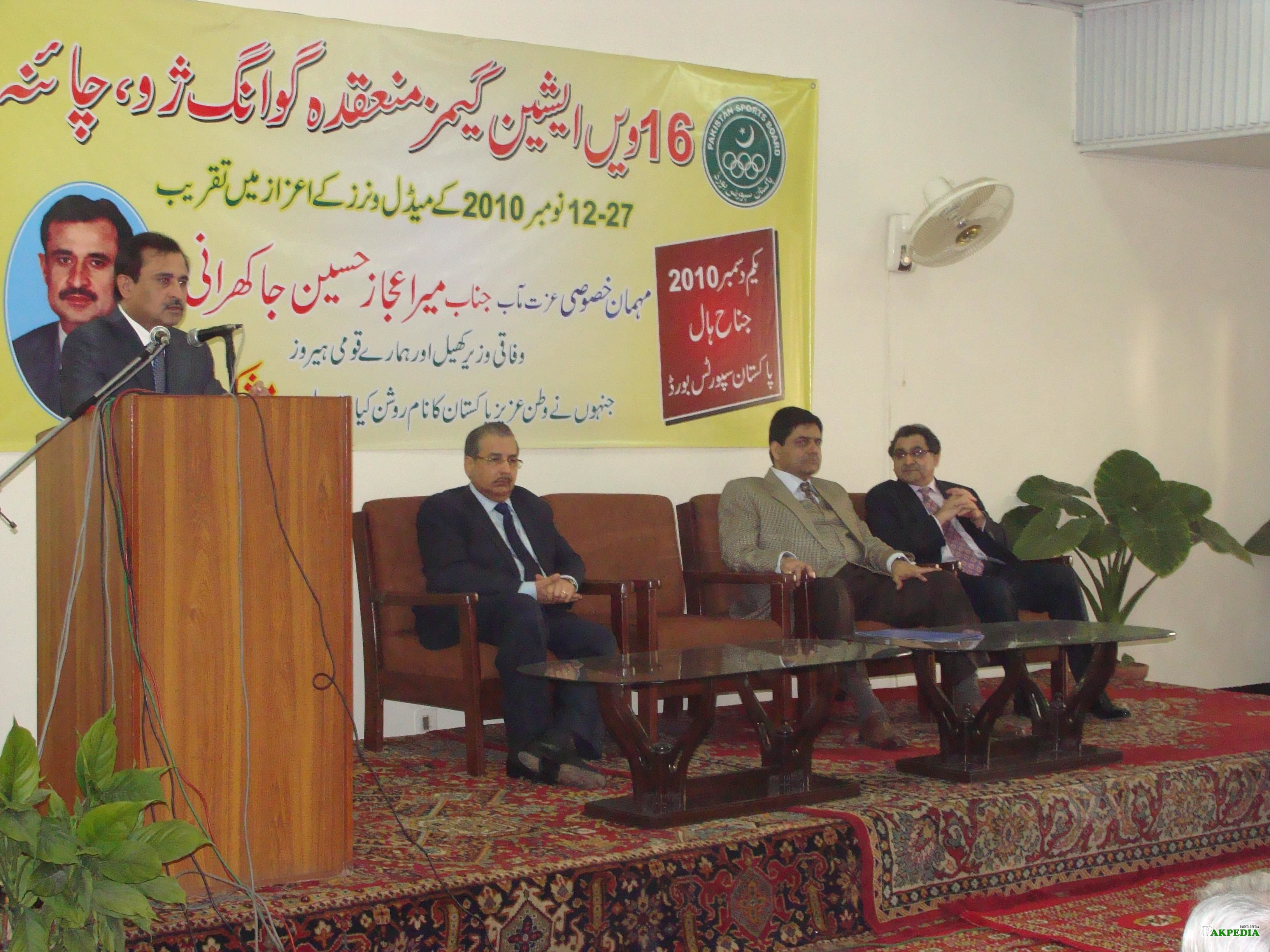 Federal Minister for Sports Mir Aijaz Hussain Jakhrani hosted a reception to honor the success of the medalists of the 16th Asian Games at the Sports Complex Islamabad on 1st December, 2010. Federal Secretary Sports Aziz Ahmed Bilour and DG PSB Syed Amir Hamza Gilani were also present on the occasion.In his address, the Minister congratulated the medalists of Hockey, Squash, Cricket , Snooker, Wushu and Kabbadi and the whole nation for a commendable performance in the 16th Asian Games Guangzhou, China.Mr. Jakhrani said that the Prime Minister has taken personal interest in the welfare of the players and directed him to ensure job security to the medalists. The Minister said that all the medalists will be provided with permanent jobs and those who have temporary jobs will be regularized on priority basis.
Players and Coaches
He said the players and coaches associated with different departments are facing problems in representing the country in national and international competitions. He assured them that all the departments would me made bound to facilitate and relieve the players and coaches so that they can represent the country in national and international competitions.Mr. Jakhrani was of the view that being a third world country it is very difficult for Pakistan Government to match the heavy investments that the western nations inject in sports. But despite all odds our Government is committed to provide every possible support for the betterment of sports in Pakistan.
Hockey Team
He said the hockey team and federation was under severe criticism and pressure from former Olympians and hockey lovers. But the ministry of sports always extended support to the federation in difficult times when national game was touching the lowest ebb. He commended the role of former Olympians and media whose constructive criticism brought about change in the character of hockey and helped win the gold medal at last.[4] 16th Asian Game
NAB Approves Complaint

The National Accountability Bureau (NAB) confirmed that it has given approval to verify a complaint against PPP MAN Aijaz Hussain Jakhrani for possessing assets disproportionate to his declared sources of income.Meanwhile, the anti-graft body has announced the recovery of millions of rupees from Al-Hamra (Pvt) Ltd Management, Eden Builders (Pvt) Ltd and returned it to Managing Director Shaheen Foundation Air Marshal (retd) Mohammad Jamshed Khan, said a press release.The accountability body claimed that it successfully persuaded the management of Al-Hamra (Pvt) Ltd to return Rs 1832.168 million in total as the accused not only failed to handover the plots despite given payments but also sold the land to other parties.
Shaheen Foundation
During the inquiry the accused in writing promised to further return Rs 573 million along with the principal amount to the Shaheen Foundation members.In the first phase, Rs 366 million was returned to the affectee of M/s Shaheen Foundation. In the second phase Rs50 million were reimbursed, In the third phase, the returned amount was Rs 117.5 million. In the fourth and fifth phase Rs137 million were returned.
Irfan Naeem Mangi
DG NAB Rawalpindi Irfan Naeem Mangi said that in light of the directions of NAB Chairman Justice (retd) 0Javad Iqbal the anti-graft watchdog believes in zero tolerance policy against corruption.[5]  NAB Approves Complaint 
Contact Information
Permanent Address: Sardar Jakhrani House, Near Session Court, Jacobabad
Local Address: G-207, Parliament Lodges, Islamabad
Contact Number: +92 72 2654354 Res +92 51 9212933
Res +92 51 9204618 +92 300 8504011