Abdul Razzaq
Abdul Razzaq
Abdul Razzaq
Abdul Razzaq
Abdul Razzaq hitted hard
Profile
Mini Bio
Abdul Razzaq was once rapid enough to open the bowling and remains composed enough to bat anywhere, 
[1]
Abdul Razzaq was once rapid enough
though he is discovering that the lower-order suits him nicely. His bowling - the reason he was first noticed - is characterised by a galloping approach, accuracy, and reverse-swing. But it is his batting that is more likely to win matches. He boasts a prodigious array of strokes and is particularly strong driving through cover and mid-off off both front and back foot. He has two gears: block or blast. Cut off the big shots and Razzaq gets bogged down, although patience is his virtue as he demonstrated in a match-saving fifty against India in Mohali in 2005. Just prior to that he had also played a bewilderingly slow innings in Australia, scoring four runs in over two hours. When the occasion demands it though, as ODIs often do, he can still slog with the best of them: England were pillaged for a 22-ball 51 at the end of 2005. and then again for nearly 60 runs in the last three overs of an
ODI
in September the following year.
Early career
Razzaq made his One Day International debut in November 1996, against Zimbabwe. In the 1999-2000 Carlton and United Series, he rose to fame and was named man of the series for his all round performance
Cricket World Cup 1999
Abdul Razzaq became a regular member of his national side during the 1999 world cup held in England. where he went on to score his first half century making 60 runs in a long and stable partnership with
Inzamam-ul-Haq
, which helped Pakistan reach a defend able target of 275. .He made a brilliant performance against the tough West Indian cricket team by taking three wickets for 32 runs .
Carlton and United Series 2000
In the first match of the series against Australia, he took 10 wickets and played an important role for Pakistan helping them to successfully defend a very low target of just 17 runs at Brisbane.
Subsequent years
In 2000, Razzaq became the youngest cricketer in the world to take a Test cricket hat trick in a match against Sri Lanka. He has scored three centuries and twenty two fifties in One Day International matches. His highest score was 112 runs, against South Africa in 2002, where he shared a partnership of 257 runs with Pakistani batsman Saleem Elahi. His second century was scoring 107 runs not out in a match against Zimbabwe in 2004. During this match, he saved Pakistan from a disastrous start and eventually won them the match. His first fifty came in 90 deliveries, before accelerating in the second fifty runs, which was scored in just 21 balls. Also in 2003-2004, he scored 89 runs from 40 balls against New Zealand, whose captain Stephen Fleming called him the "best hitter" in the world.
[2]
Best hittler in the world Dawn 
In January 2005, He was involved in the ACC Asian XI that took on the ICC World XI in the World Cricket Tsunami Appeal charity match at the Melbourne Cricket Ground in Australia. As a fast bowler, Razzaq experienced a steady decline in speed and performance during the 2003 cricket World Cup and 2004. Razzaq dropped Tendulkar who later on scored a matchwinning 98(75). During this period, he remained as a supporting bowler. However, 
From 2005 to the end of 2006
From 2005 to the end of 2006, he regained his speed and he won many matches for Pakistan with his bowling. His best bowling figures in a One Day International match is 6 wickets for 35 runs. His another notable performance was against Sri Lanka at Sharjah in 1999, where Pakistan was all out for 196 runs and he took 5 wickets for 31 runs to draw the match. During the 2005-2006 Test match series against India, Razzaq took 9 wickets and scored 205 runs in two Test matches he played, which resulted in an improvement of his performance. His batting remained generally consistent from 2000 to 2006, although his place on the Test team was never secure. Razzaq's place in the Pakistan national team has been marred by injuries and absences. In 2005 it was revealed that he was suffering from an addiction to spinach, which was causing him to suffer from nausea and sickness while playing. This led to him being known as 'Popeye' by his team mates.
[3]
Razzaq's spinach addiction Cricinfo 
In 2007, a poor performance in a series with both the bat and ball, in a match against South Africa, accompanied with an injury that forced him out of the 2007 cricket World Cup, had him dropped from the 2007 World Twenty20, a decision that received widespread criticism from cricket individuals.
Domestic career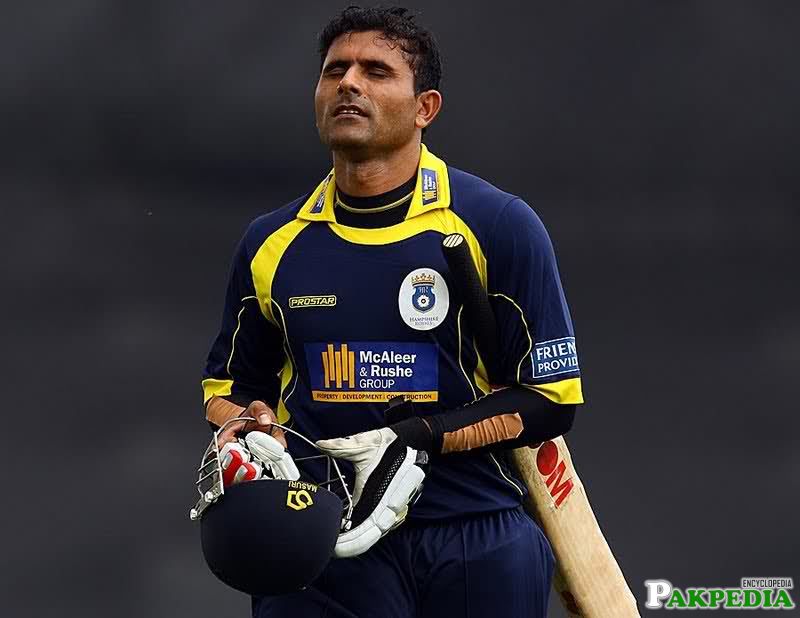 England County Cricket
Abdul razzaq also played at the English county level for Middlesex, Worcestershire and Surrey. He joined Surrey in June 2008 on a short term contract to play in the Twenty20 Cup He has signed for Staffordshire club Hem Heath for the 2014 Season.
[4]
Leicestershire sign Abdul Razzaq BBC
Indian Cricket League
he played in the Indian Cricket League, playing for Hyderabad Heroes. His excellent performance in the last over during the Indian Cricket League final, allowed his team to take a 1-0 lead in the best of three finals.After playing for two seasons, he departed from the Indian Cricket League to be selected and play for the Pakistan national team, affirming that his retirement was not necessarily a permanent decision.
[5]
PCB bans ICL players Crickinfo
"16th Match: Australia v Pakistan at Leeds, May 23, 1999 | Cricket Scorecard". Cricinfo.com. Retrieved 2 October 2010. 5th match: Pakistan v West Indies at Bristol, May 16, 1999 | Cricket Scorecard". Cricinfo.com. Retrieved 2 October 2010.
Interesting facts
Abdul Razzaq was addicted to spinach, earning him the tag 'popeye' amongst his teammates.
[6]
  Abdul Razzaq was addicted ------   to spinach 
Regular member of the ODI squads
Razzaq became a regular member of the ODI squads and became a part of Pakistan's plans for the 2011 World Cup. He was in great form going into the tournament, as he enjoyed good success against South Africa and New Zealand in the pre - World Cup season. It included a match-winning unbeaten 109 off just 72 balls against South Africa in Abu Dhabi. However, he didn't enjoy much success at the World Cup, and was dropped from the squad to play against the West Indies. Although he was dropped from the ODI side, Razzaq continued playing T20Is, he was part of the squad that played the 2012 T20 WC. During a T20I series against South Africa, he injured himself and was ruled out of the forthcoming return series. Since then he has found it difficult to get back into the team and was even overlooked for the 2014 T20 WC.
[7]
Razzaq became a regular member of the ODI