Begum Zeb-un-Nissa was the eldest daughter of Aurangzeb and was the most favoured of all his children. As was customary for the Royal ladies, her education was given the utmost care. She had a mystical bent of mind and often wrote the most beautiful poetry in Persian. Since Aurangzeb was not fond of poetry, she often had to write in secrecy. Deeply religious but not conventional, she was secular as only one who has thorough knowledge of religion can be. She was imprisoned for the last twenty years of her life by her father. Some say it was due to her alleged affair while some attribute it to her siding with the rebels against Aurangzeb.
| Title | Description |
| --- | --- |
| Personal | |
| Name: | Zaib-un Nisa |
| In Urdu: | زیب النساء |
| Famous As: | Zaib-un Nisa Makhfi |
| Nationality: | Indian |
| Religion: | Islam |
| Born | |
| Date: | 15 February 1638 |
| Zodiac: | Aquarius |
| Place: | Daulatabad, India |
| Family | |
| Ethnicity: | Mughal |
| House: | Temurid |
| Parents: | Aurangzeb( father) Mother: Dilras Banu Begum |
| Siblings : | Zubdat-un Nisa, Muhammad Akbar, Muhammad Azam |
| Died | |
| Date: | 26 May 1702 |
| Aged: | 64 |
| Rest Place: | Delhi, India |
Biography

Zeb-un-Nisa was the beloved daughter of Aurangzeb and the in charge of the royal harem. She succeeded Roshanara Begum by the internal politics of the royal harem and ousting the former successfully. The leading lady of the House of Timur was struck by love and the love of no one else but Shivaji, the most dreaded nemesis of his father, Aurangzeb. 
Birth
Zeb-un-Nissa ("Ornament of Womankind"),the eldest child of Prince Muhi-ud-Din (the future emperor Aurangzeb), was born on 15 February 1638 in Daulatabad, Deccan, exactly nine months after the marriage of her parents. Her mother, Dilras Banu Begum, was Aurangzeb's first wife and chief consort, and was a princess of the prominent Safavid dynasty; the ruling dynasty of Iran (Persia). Zeb-un-Nissa was her father's favourite daughter,and because of this she could compel him to pardon people who had offended him. Her siblings from her mother were Zeenat-un-Nisa, Zubdat-un-Nisa, Mohammed Azam, Mohammed Akbar.
Decendant of a literary family

ZebunNisa came from a family skilled not only in battle but with considerable literary talent as well. Babar displayed freshness in his memoirs, as did his daughter GulBadan Begum, biographer of Emperor Humayun, Jahangir and JahanAra Begum. Whether Akbar, Jahangir, Shahjahan or even Aurangzeb they all displayed a keen intellect and literary taste. 
A keen student
Zaib un Nisa was not an ordinary student. She always had have a quest for knowledge inside her and she made every possible steps to quench her thirst. [1] education
As was usual in those days she committed the Quran to memory under the guidance of Hafiza Mariam at the age of 7 and was rewarded 30,000 gold-pieces by her delighted father. Aurangzeb also rewarded 30,000 gold pieces to Mariam bi also.
A lady named Miyabai was appointed her tutor, and she learned Arabic mathematics and  astronomy and sciences from her and other teachers.
Many poets sought her patronage and she employed many scholars on liberal salaries, who produced literary works at her bidding or copied manuscripts for her. This was a boon to them as Aurangzeb did not encourage or patronize poets and non-religious scholars.
She employed skilled calligraphers to copy rare and valuable books for her and, as Kashmir paper  and Kashmir scribes were famous for their  excellence, she had a 'scriptorium' also in that  province, where work went on constantly. She personally supervised the work and went over the copies that  had been made on the previous day.
Mulla Safiuddin Ardbeli translated the Arabic Great Commentary under the title of Zeb-ut-tafsir under her patronage, though it is rumoured that it was the Princess herself who was the real author of the commentary.
Apple of fathers eye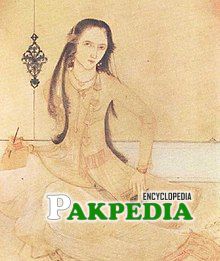 Princess Zebunnissa, the eldest daughter of Aurangzeb, was her father's close companion for several years. Yet her remarkable story has been overshadowed by the political turmoil that led to Aurangzeb's capture of the Mughal throne, the ruthless killings of Aurangzeb's brother and the eight-year imprisonment of Shah Jahan at Agra Fort. Zeb un nissa had always been a favourite of her father's, and received great exposure to the affairs of the Mughal court. Having had a sound education in the arts, languages, astronomy andsciences of the day, Zeb un nissa turned out to be a highly aware and sensitive princess. This is perhaps the greatest of ironies, for Aurangzeb's daughter was almost an antithesis of her father's persona and politics. [2] Apple   
Deviation from Auranzebs views
Unlike his predecessors, Aurangzeb was a devout Muslim and puritanical in his worldview, and is said to have banned music and overtly denounced Sufism. Zebunnissa, on the other hand, was a Sufi, a free spirit and a gifted poet, and there is to this day a major collection of Persian verse credited to her name. Given her father's dislike of poetry, however, it is for this very reason that Zebunnissa could only be "makhfi :the invisible" since she was not supposed to be prominent in the public domain. Dressed in a black robe symbolic of the medieval Islamic scholars, she held a hidden, parallel court. In addition, as with all rebels, there was much subversion in the princess's life. She participated in literary and cultural events of the day in a veil, and also had a string of admirers,  and lovers.
Clearly, Zebunnissa did not share her father's views on religion and society, which emanated from a literal adherence to the interpretations of Islamic thought, coded as Sharia.
Personal appearance

In personal appearance she is described as being tall and slim, her face round and fair in  colour, with two moles, or beauty-spots, on her  left cheek. Her eyes and abundant hair were  very black, and she had thin lips and small  teeth. In Lahore Museum is a contemporary portrait, which corresponds to this description. She dressed simply and in later life  she always wore white, and her only ornament  was a string of pearls round her neck. A modification of the Turkish dress is attributed to her: the angiya kurti which suited the Indian conditions. [3] appearance  
Mughals were unkind to mughal princess
Though it is often said that Mughal princesses were not allowed to wed, its not true. The stricture was that the groom had to be from within the family or another suitable royal family. Her sister Mehrun-Nisa was married to her first cousin Izid Bakhsh,a son of Murad Bakhsh. Zebun-Nisa too was betrothed as per the wish of Shah  Jahan, to Suleiman Shikoh, son of Dara Shikoh. This might have been a very compatible match but Aurangzeb who had no time for the more popular Dara is said to have had the young prince poisoned. In a very Indian tradition, she had her own variation of the swaymvara arranged to meet and test the attainments of the many suitors for her hands. One of those who wished to marry her was Mirza Farukh, son of Shah Abbas II  of Iran ; she wrote to him to come to Delhi so  that she might see what he was like.Marrying the daughter of the Mughal Emperor was a matter of pride and Mirza Farukh came with a magnificent retinue. She held a feast for him in her garden but herself appeared with a veil on her face. The young Prince offended her sensibilities by asking for a sweetmeat in a play of words. "Ask for what you want from our kitchen," was her response. She refused to marry him informing her father that despite his rank and royal descent his manners did not find favour with her. Her personal life was not destined for happiness and she could not find true love or a companion. Sulaiman Shikoh was poisoned and  Mirza Farukh she found discourteous and too forward. [4] Farrukh
Zaib-un nisa fall for Shiva jee

Of all these princesses, the case of Zeb-un-Nisa is the most peculiar. Zeb-un-Nisa was the beloved daughter of Aurangzeb and the in charge of the royal harem. She succeeded Roshanara Begum by manipulating the internal politics of the royal harem and ousting the former successfully. The leading lady of the House of Timur was struck by love and the love of no one else but Shivaji, the most dreaded nemesis of his father, Aurangzeb. The fables of the bravery Maratha warrior had spread across the length and breadth of the country. Shivaji had killed the fabled Afzul Khan and ransacked him. The maternal uncle of Aurangzeb, Shaista Khan was the other victim of the military genius of Shivaji. Taking advantage of the complacency of the Mughals in the night, the master of deception entered the palace of Shasita Khan in the night and attacked him. He killed his son and chopped off three fingers of the fleeing Mughal General. Shaista Khan returned to the Mughal Court and told him that Shivaji possessed supernatural powers and could not be stopped by ordinary mortals like him.Every passing day added a canard about him. The stories about his chivalry and bravery could make any woman fall for him. Zeb-un-Nisa proved no different. [5] shiva  
Shiva jees visit to Aurangzeb
  Finally, the mighty Kachhwa Rajput Mirza Raja Jai Singh was sent to the Deccan who subdued the nemesis of the Imperial army in 1666. The 27 year old had fallen in love with the 39 year old Shivaji who by then was already a father of an eight year old lad. Sensing strategic compulsions, Shivaji decided in his interests to pay a visit to the royal court. In May 1666, the impossible happened and Shivaji reached the imperial court. Behind the Purdah, sat Zeb-un-Nisa who got to see the man about whom she had only heard from his father. Historian Dow says that the haughty behavior of Shivaji when asked to take a seat amongst the low ranked Mansabdars impressed Zeb-un-Nisa.
Shiva jee rejected Zaib-un Nisa

A historian named Dow says that it was the Princess Zeb-un-Nisa who arranged the meeting of Shivaji with Aurangzeb by coaxing his father to meet the intrepid Prince of the Deccan. Shivaji, it is said that came to know about the overtures of the royal princess after he was conveyed that Zeb-un-Nisa took a real interest in him and that he would have to accept Islam. Shivaji on getting to know about this one sided love story humbly refused the initiations by her citing socio-religious compulsions. After having been rejected by Shivaji, Zeb-un-Nisa remained unmarried for the rest of her life. [6] rejected  
Love story ended in misery
The proverb "Love Stories ends in misery", as said by elders holds some value and it fits clearly to the apparently one sided love story of Mughal princess Zaib-un nisa After bieng rejected by Shiva jee who clearly stated that accepting Islam was unthinkable for him and some other social issues prevented him from doing so, Zeb-un-Nisa turned hostile toward her father. As she knew that it was Aurangzeb who was the obstacle in the path of her life. Aurangzeb would have never allowed her to get converted into another religion, neither he would accept Shivaji. This was the reason she prompted her younger brother, Mohammad Akbar to rebel against her father. Zeb-un-Nisa remained unmarried for the rest of her life. She was imprisoned for 20 years when Aurangzeb came to know about her rebellious nature. She explained her solitude in a poetry named "Makhfi", which she penned in her misery.
Dewan-e Makhfi

Despite the strict religion followed by her father, Aurangzeb, like her aunt Jahan Ara and uncle Dara Shukoh, Zebun-Nisa was a Sufi in her inclinations and her poetry bears it out. In fact she  was a great favourite with her uncle Dara Shukoh and  she modestly attributed her  verses to him when first she began to write, and many  of the ghazals in the Diwan of Dara Shukoh are said to be by her. She started writing  Persian verses under the pen- name of Makhfi or the Concealed One. Not much is known about her life as she had earned the displeasure of her stern father and no court chronicler dared to speak of her. According to the editors of Deewan e Makhfi from her early youth she wrote verses, at first in Arabic ; but when an Arabian scholar  saw her work he said : "Whoever has written  this poem is Indian. The verses are clever and wise, but the idiom is Indian, although it is a miracle for a foreigner to know Arabian so well." This piqued her desire for perfection, and thereafter she wrote in Persian, her mother tongue. She had as tutor a scholar called  Shah Rustum Ghazi, who encouraged and directed  her literary tastes. On the request of  Shah Rustam Ghazi, Aurungzeb who himself cared  little for poetry made an exception  in favour of Zebun-Nisa andinvited poets to his court. Some of the poets whom she interacted with were Nasir Ali,  Sayab, Shams Waliullah, Brahmin, and  Behraaz and  Nasir Ali. This group of poets would match each other in skill and often have a 'tarahi' competition where each poet completed a given line within the same metre in his/her own way.  Zebun-Nisa excelled in tarahi muqabala. Mushairas or poetic soirees would be held . [7] Makhfi  
Demise

She died in 1702 and was buried in Delhi in the garden of 'Thirty Thousand Trees', outside the Kabuli gate. Her tomb was razed to the ground when the British laid the railway lines. It is said her mortal remains were shifted to Sikandra in Agra.