Zafar Gohar is Pakistani bowler who played first time against England on 17 Nov 2015.Gohar batting style is left handed. He is one of the emerging stars of the Pakistani cricket team.Gohar belongs to Lahore Pakistan and also plays for Lahore Qalandars since last two seasons.Now, he is playing for United Islamabad PSL 2018 third season.
| Title | Description |
| --- | --- |
| Personal | |
| Name: | Zafar Gohar |
| In Urdu: | ظفر گوہر |
| Famous As: | Bowler |
| Nationality: | Pakistani |
| Residence: | Lahore Pakistan |
| Religion: | Islam |
| Profession: | Cricketer |
| Height: | 5 ft 11 in (1.80 m) |
| ODI debut (cap 208): | 17 November 2015 v England |
| 2016–2017 : | Lahore Qalandars (squad no. 88) |
| 2018 : | Islamabad United (squad no. 88) |
| Only ODI: | England v Pakistan |
| Ground: | Sharjah |
| Date: | 17 Nov 2015 |
| PSl 2018 Team Player: | United Islamabad |
| Born | |
| Date: | 2 Jan 1995 |
| Place: | Lahore Punjab Pakistan |
| Career | |
| National Side: | Pakistan |
| Team Role: | Bowler |
| Bowling Style: | Left Arm orthodox |
| Batting Style: | Left handed |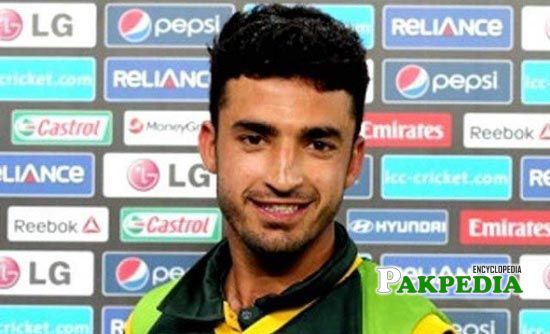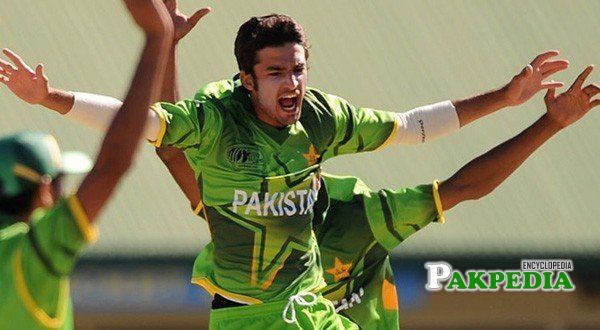 Biography
An orthodox slow left armer, Zafar has come up the ranks by representing Pakistan at every age group level to grab eyeballs of the national selectors.Zafar played in the 2012 and 2014 under-19 world cups for Pakistan. However, 4 wickets from 5 Matches in the 2012 edition and 8 wickets in the 2014 edition were still not good enough to hand him an automatic selection into the national team.Zafar was groomed further and finally managed to have an ODI debut in 2015 against England.[1]  Biography 
Career
Zafar played much of his club cricket in the north side of city and was recruited into the Shafqat Rana Cricket Academy, which then allowed him access to the Under-15 circuit. He was selected for the U-15 world championship in West Indies in 2008 and picked up 10 wickets at 17.10. He was also part of two back-to-back Under-19 World Cups from 2012 but he shot to the limelight during a Youth tour to England in 2013. He finished as the most successful bowler, in a tri-series also involving Bangladesh, with 18 wickets at 11.44.
Under-15 to Under-19
He continued to make inroads back home as well, moving smoothly from Under-15 to Under-19 and then finally won a domestic contract with Zarat Taraqiati Bank Limited, one of the largest departmental teams. He captained the ZTBL U-19 team and was later given an opportunity to play in the senior team and rubbed shoulders with the likes of Saeed Ajmal, Abdul Razzaq, Yasir Hameed. Then he moved to play for State Bank of Pakistan and in 2015 Sui Southern Gas Corporation roped him for the entire season.[2] Domestic Contract
Pakistan Domestic Cricket
Gohar has been a very consistent performer in the Pakistan domestic circuit across all forms. Not only is he a genuine wicket-taker, but also has the ability to adapt to the nuances of any particular format. It isn't to score quickly off Gohar as is evident from his economy rates. Even in the shortest format, he only concedes at a shade above 7.5 runs an over while also providing regular breakthroughs. Apart from bowling skills, he is a more than handy batsman who can use the long handle when needed. All this makes him a complete package, be it for white-ball or red-ball cricket. 
Test Debut
Gohar could have had a Test debut on the same tour where he played his maiden ODI but reports suggest he had fallen asleep as PCB officials had tried to contact him after Yasir Shah had injured himself. He hasn't represented Pakistan in any format there after but is definitely on the radar of the selectors as he is considered a long term prospect by many. Considering the queue of a spinners with batting ability in Pakistan, the competition is bound to be stiff but he certainly has what it takes to be ahead of the pack.[3]  Test Debut  
Batting and Fielding Averages
Mat
Inns
NO
Runs
HS
Ave
BF
SR
100
50
4s
6s
Ct
St
ODIs
1
1
0
15
15
15.00
15
100.00
0
0
0
1
0
0
First-class
20
26
4
344
54
15.63
701
49.07
0
1
32
7
11
0
List A
44
33
6
293
25
10.85
379
77.30
0
0
17
8
8
0
T20s
30
14
5
137
30
15.22
103
133.00
0
0
6
9
9
0
Bowling averages
| | Mat | Inns | Balls | Runs | Wkts | BBI | BBM | Ave | Econ | SR | 4w | 5w | 10 |
| --- | --- | --- | --- | --- | --- | --- | --- | --- | --- | --- | --- | --- | --- |
| ODIs | 1 | 1 | 60 | 54 | 2 | 2/54 | 2/54 | 27.00 | 5.40 | 30.0 | 0 | 0 | 0 |
| First-class | 20 | 36 | 4271 | 2012 | 79 | 6/80 | 10/140 | 25.46 | 2.82 | 54.0 | 3 | 3 | 1 |
| List A | 44 | 44 | 2168 | 1767 | 68 | 5/56 | 5/56 | 25.98 | 4.89 | 31.8 | 2 | 1 | 0 |
| T20s | 30 | 29 | 605 | 753 | 39 | 4/14 | 4/14 | 19.30 | 7.46 | 15.5 | 3 | 0 | 0 |
bCareer statisticsb
| | |
| --- | --- |
| Only ODI | England v Pakistan at Sharjah, Nov 17, 2015  |
| First-class debut | Water and Power Development Authority v Zarai Taraqiati Bank Limited at Islamabad, Oct 23-26, 2013  |
| Last First-class | Sui Southern Gas Corporation v Sui Northern Gas Pipelines Limited at Karachi, Nov 26-28, 2016  |
| List A debut | Khan Research Laboratories v Zarai Taraqiati Bank Limited at Lahore, Apr 9, 2013  |
| Last List A | Lahore Whites v Rawalpindi at Rawalpindi, Jan 31, 2018  |
| T20s debut | Sui Northern Gas Pipelines Limited v Zarai Taraqiati Bank Limited at Karachi, Jul 14, 2013  |
| Last T20s | Peshawar Zalmi v Islamabad United at Dubai (DSC), Mar 9, 2018  |
Recent Matches
| Bat & Bowl | Team | Opposition | Ground | Match Date | Scorecard |
| --- | --- | --- | --- | --- | --- |
| 3/25 | Islamabad Un | v Zalmi | Dubai (DSC) | 9 Mar 2018 | T20 |
| 15, 0/29 | Lahore W | v Rawalpindi | Rawalpindi | 31 Jan 2018 | LA |
| 1/51, 25 | Lahore W | v Islamabad | Islamabad | 29 Jan 2018 | LA |
| 1/47, 16 | Lahore W | v FATA | Islamabad | 27 Jan 2018 | LA |
| 2/59, 5 | Lahore W | v Lahore Blues | Islamabad | 25 Jan 2018 | LA |
| 12, 0/54 | Khyber | v Sindh | Rawalpindi | 25 Apr 2017 | LA |
| 3*, 2/48 | Khyber | v Balochistan | Rawalpindi | 22 Apr 2017 | LA |
| 4*, 1/28 | Khyber | v Punjab (Pak) | Rawalpindi | 19 Apr 2017 | LA |
| 0/45, 6 | Khyber | v Federal | Rawalpindi | 17 Apr 2017 | LA |
| 0, 1/20 | Pak U-23s | v SL U-23s | Chittagong | 3 Apr 2017 | LA |