Yolande Henderson was a notable and most loved Pakistani teacher who spent her entire life nurturing students. Despite being born in a family of doctors, she preferred to be a teacher because of her affection for teaching and interacting with people. Rashid Minhas and Roland de Souza were her notable students.
She received huge acknowledgment and regard throughout her teaching career and even after her retirement. For 34 years, she enlightened the lives of many students with her teachings and tutorings. This article has every information about her, including Yolande Henderson Biography.
| Title | Description |
| --- | --- |
| Personal | |
| Name: | Yolande Henderson |
| In Urdu : | یولینڈی ہینڈرسن |
| Native Name : | Yolande Pinto |
| In Urdu : | یولینڈی پِنٹوں |
| Famous As: | Teacher |
| Nationality: | Pakistani |
| Citizenship: | Pakistani |
| Residence: | Karachi, Sindh, Pakistan |
| Education: | MA in Literature |
| Alma mater : | Laval University, Canada |
| Profession: | High school teacher |
| Years active : | 1954 – 2006 |
| Organization: | St Patrick's High School, Karachi |
| Migrate to Pakistan : | In 1950 |
| 18 October 2010: | School reunion to celebrate the 150-year anniversary of its founding |
| Born | |
| Date: | 14 January 1934 |
| Family | |
| Spouse: | Noel Kirby Henderson |
| Children: | John, Jennifer and William |
| Parents: | Felix Martin and Genevieve Pinto |
| Died | |
| Date: | 5 December 2015 |
| Rest Place: | Karachi, Sindh, Pakistan |

Yolande Henderson Biography
Yolande served as a teacher for almost 34 years in Patrick's High School. Her parents wanted her to be a doctor, but she had a deep interest in teaching, so she preferred to be a professor. She operated as a headmistress of the school that she was made in 1991.
Yolande had to retire in 2006 due to her health issues, but even after her retirement, she remained one of the school's most glorified teachers. During her teaching career, she left school and became an Agha Films secretary because she did not have enough earning from school. However, after a month, she was back in school as she was missing daily interaction with students.
Yolande Date of Birth
She was born on 14th January 1934 in India. Later, her family moved to Pakistan and started living in Karachi. In the start, Yolande wasn't happy with the move, but later she got adjust here.
Education of Yolande
She did her schooling at Anne's High School. Afterward, her family moved to Pakistan, and she enrolled in Saint Joseph's College from where she completed her Graduation. Later, she got a scholarship from Laval University, Canada, from where she did her MA.
Yolande Henderson Family
She was born into an educated family of Doctors. Her parents Felix Martin and Genevieve Pinto, wanted her to be a doctor, but she always wanted to be a teacher. She got married to Noel Kirby Henderson and had 3 children John, Jennifer, and William.
Career
Soon after completing her education, she became associated with the school. At that time, Stephen Raymond was serving as the principal of the school. In 1991, she was made the headmistress of the O'Level section. Under her guidance, the O'level students showed a brilliant result, and the section remained one of the disciplined and excellent academics.
Retirement
In 2006, she retired from her job due to her health issues. Even after retirement, she received the same amount of love and affection from the school. Apart from teaching syllabus to the students, she also taught them life lessons and paid huge concentration on character building.
Tribute
In 2010, on the 150th anniversary of the school, students paid tribute to Yolande Henderson by acknowledging her services and giving her the title of 'one of the most loved teachers.' The next year in 2011, old students of the school presented Yolande Henderson gold medals to the notable students of O'Levels.
In 2012, she was given a tribute by the Society of Pakistan English Language. They said that students who seek knowledge under her guidance are better human beings.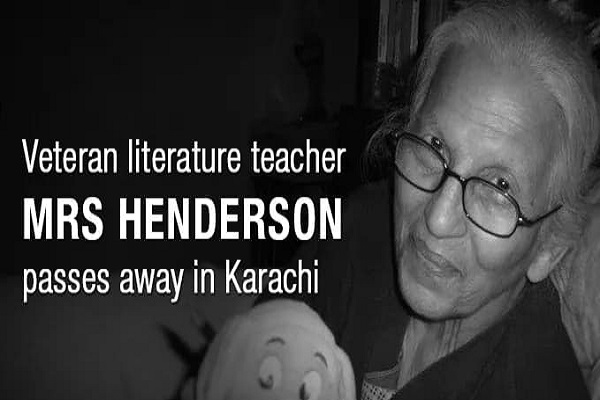 Yolande Henderson Death
She took her last breathe on 5th December 2015 because of having intestinal cancer. She was under treatment but couldn't cure. Henderson is still dearly missed by her students.