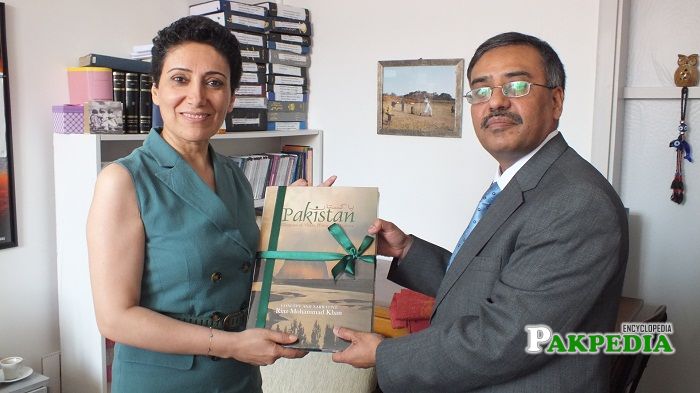 With Dr Ashumen Bellen while presenting a book
Sohail Mahmood as an ambassador of turkey
While presenting his credentials to the president
While presenting a book to vice president of Turkish judicial academy
Pakistani Diplomat Sohail Mahmood
Biography and Education
Born in 1962, Sohail Mahmood has completed his education from Pakistan and USA. He has master's degrees in History from Quaid-e-Azam University of Islamabad and in International Affairs from Columbia University of New York. Being appointed as the new envoy, He also previously served as an Ambassador of Turkey.Sohail Mahmood to face a daunting task of handling the ties with India amid strains in relationship over a range of issues including cross-border terror attacks in India and the sentencing of Indian national Kulbhushan Jadhav to death for alleged spying. 
[1]
Biography and Education
Career
Sohail Mahmood joined the Foreign Service of Pakistan in 1985, as per PTI. His first posting abroad was in Pakistan Embassy Ankara where he served as the Second Secretary from 1991-1994. Being a career diplomate, Sohail Mahmood reportedly has a wide experience in the diplomatic service. He has served in various Pakistan missions abroad including Washington and New York. Prior to be given this responsibility of serving as Pakistan High Commissioner to India, Sohail Mahmood served as Pakistan's ambassador in Turkey.  Earlier, Sohail Mahmood has also been served as the Ambassador of Pakistan to Thailand from 2009-2013.
As Pakistans High Commissioner to India
Sohail Mahmood assumed the charge of Pakistan's High Commissioner to India in New Delhi. Mahmood, who joined foreign service in 1985, was earlier deputed in Turkey as Ambassador of Pakistan. He replaced Abdul Basit, a career diplomat, after his premature retirement earlier this month. Mahmood didn't served in India before, it has hardly been a criterion for selecting Pakistan's envoy to India — neither Basit nor his predecessors, Salman Bashir and Shahid Malik, served in India prior to being posted as the high commissioner there. Before assuming his position at Ankara, Mahmood was Additional Secretary in the Ministry of Foreign Affairs, Islamabad, where he earlier served as Director General (2005-2009), Director (1995-1998) and Section Officer (1986-1991). 
[2]
High commissioner to india
Harassment of Diplomat
India on Sunday 18th March 2018 hit out at Pakistan for denying its diplomats normal working conditions in Islamabad and sent another note verbale. "On March 18, the Second Secretary at the High Commission was aggressively followed by unidentified people in a car, in close proximity, in an intimidating manner, while he was going to the Chhaye Khana restaurant," said a source, hinting at the content of the diplomatic note. India also mentioned an incident in which unknown persons aggressively followed four officials of the High Commission as they were heading to the Aabpara market in Islamabad. "We have asked the Pakistan government to investigate these incidents and ensure that they do not recur, and to share the results of the investigation with us," the source said. 
[3]
Harassment of diplomat