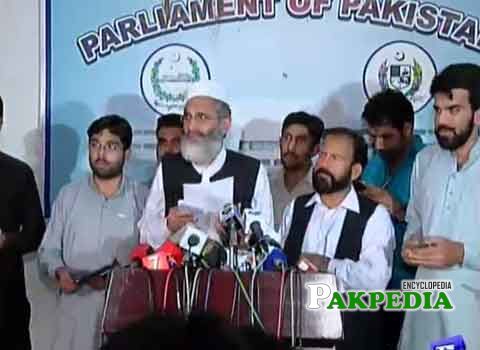 Siraj ul Haq talking to media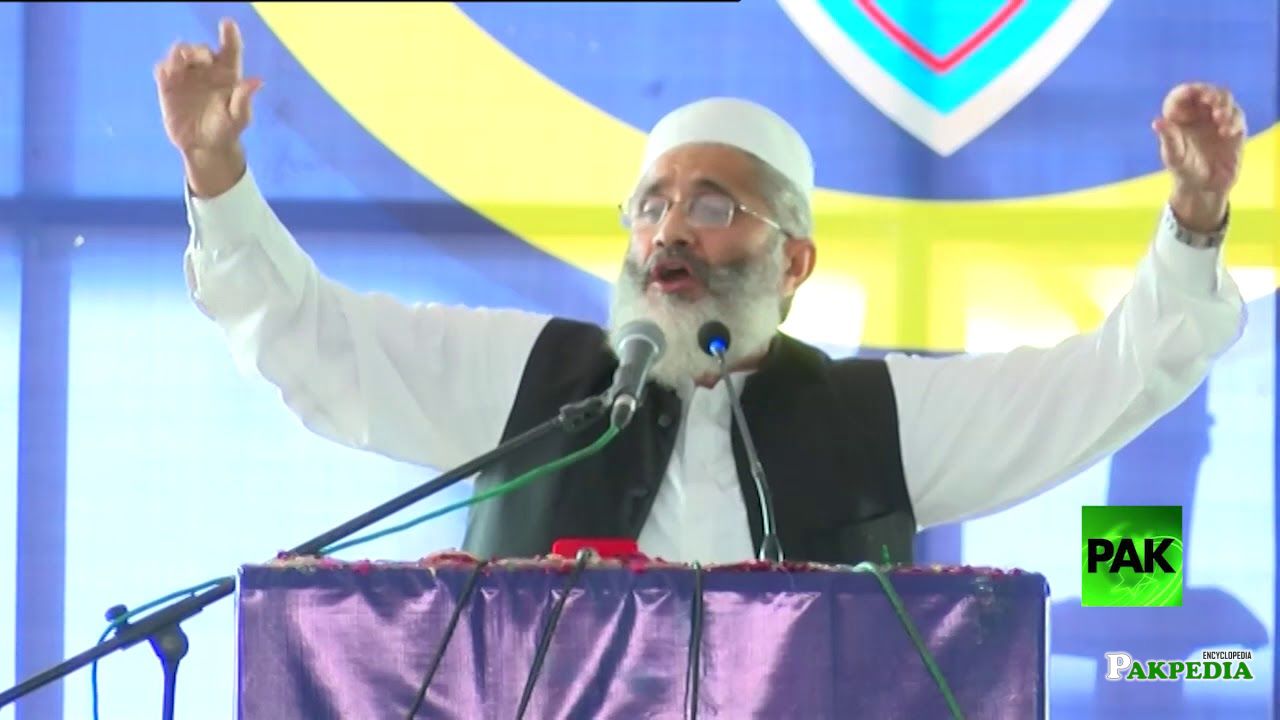 Siraj ul Haq on his jalsa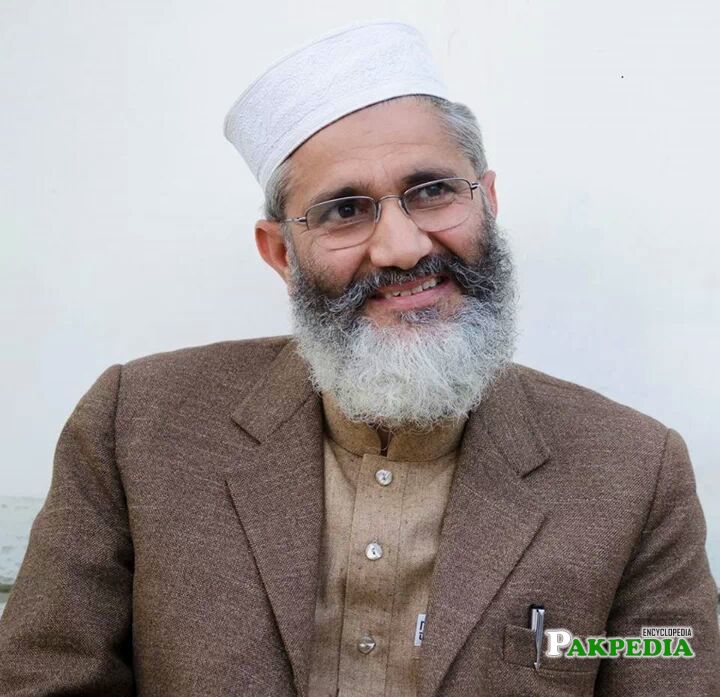 Siraj ul Haq is a great Politician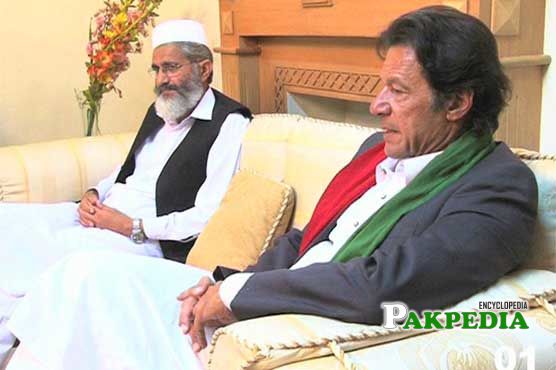 Siraj ul Haq with Imran Khan
Siraj ul Haq on mike
Details
Mini Bio
Siraj ul Haq also known as Sirajul Haq is a Pakistani Islamist politician who was elected as the chief of Jamaat-e-Islami, a strong rooted politico-religious, Islamic democratic party in Pakistan with objective to establish Islamic laws in Pakistan. He is the only senator and member of Provincial assembly who has no bank account.Early years Siraj ul Haq was born in Samarbagh village of the Lower Dir District, into a Gujjar family, he got his early education from the local high school of the region and studied Political Science in the University of
Peshawar
. 
[1]
 Mini Bio -  Mini Bio 
Education
Sirajul Haq belongs from
Khyber Pakhtunkhwa
.  He is a well-educated man, holding a Master's degree (Education) from University of Punjab   He graduated in 1990 and studied Political Science in the University of Peshawar and MA (Education) from University of Punjab (1990). During the University period, he studied the books of Maulana Syed Abul Aala Maududi and Maulana Naeem Siddiqui.
[2]
 Education -  Education 
Head of Jamaat e Islami
Senior Minister of KPK Siraj ul Haq has been selected as the head of Jamaat e Islami for next 5 years. A leader of Jamaat e Islami Abdul Hafeez has announced that period of Munawar Hassan's headship is going to be over in April 2014. New head of Jamaat e Islami Siraj ul Haq is born on 5 September1962 in Samar Bagh Deer. He has done M.A in political science form Peshawar University. Now he is Minister of treasure in KPK government.
Shahbaz Sharif
, Altaf Hussain, Imran Khan and Hafiz Saeed has given him best wishes for his achievement.
[3]
 Head of Jamaat e Islami 
Political Career
In the 2002 election
He was elected to Khyber Pakhtunkhwa Assembly>> in the 2002 election from the platform of Muttahida Majlis-e-Amal and was made finance minister in the provincial cabinet under the leadership of Akram Khan Durrani. However, he allegedly resigned in protest against the deadly US drone strike on a Madrassa in
Bajaur Agency
which resulted in the deaths of 86 children. Though the then Ameer Jamat e Islami, Qazi Hussain Ahmad claimed that it was the party decision to vacate one of the two offices i.e. Ministry and Ameer Jamat e Islami Khyber Pakhtunkhwa, then N.W.F.P. His party boycotted the 2008 election. In 2013, he contested on Jamaat-e-Islami's ticket and was elected to the assembly.
Baba-e-Jamhooriyat
He gained immense popularity when Imran Khan And Muhammad Tahir Ul Qadri announced the Long March against Muhammad Mian
Nawaz Sharif
. He acted as a neutral figure. He convinced the Government and Imran Khan for negotiations and due to his efforts the government became stable. He said that the Jamaat-e-Islami will not let democracy derail. Political Differences aside, We will save democracy. For his utmost efforts, he later received an award, "Baba-e-Jamhooriyat"
Ministry of Finance
Maulana Siraj ul Haq currently hold the finance mastership of Khyber Pakhtunkhwa province wins the elections. He will be 5th ameer of Jamaat. he was elected provicial assembly member in constituency of PK-95 Lower Dir on the ticket of Party in 2013 election. He remained the Deputy Ameer of Jamaat-e-Islami until 30 March 2014 when he was elected as the Ameer of Jamaat-e-Islami Pakistan. He remains immensely popular in his constituency and known for his modesty among friends and foes alike. He later resigned from his ministry (
Ministry of Finance
) in June 2014 right after budget because according to party rules, one man cannot hold two offices at a time. At that time, he was Ameer of Jamaat-e-Islami and Senior Minister in KPK Assembly.
[4]
 Ministry of Finance 
Achievements
Nazim Aala Ismai Jamiat Tulaba = 1988 to 1991
MA Political Science from University of Peshawar
Elected MPA in 2002 General Elections
Senior Minister in 2002 in Majlis Amal Government
Re-elected as MPA in 2013
Became Naib Ameer in 2009 of JI Central Command
Became Ameer of Khyber Pakhtunkhwa JI in 2003