Shaiman Anwar is an Emirate cricket player of Pakistani nationality. A strong right-handed batsman, he played his first match on the national side of the UAE in December 2010, having played for Sialkot & Service Companies in Pakistan's domestic tournaments.
Currently, he is residing in the UAE with his children and wife. This article has all the information about him, including Shaiman Anwar Biography.
| Title | Description |
| --- | --- |
| Personal | |
| Name: | Shaiman Anwar |
| Full Name: | Shaiman Anwar Butt |
| In Urdu: | شیمن انور |
| Famous As: | Cricketer |
| Nationality: | Pakistani |
| Religion: | Islam |
| Profession: | Pakistani Cricketer |
| Batting: | Right Handed |
| Bowling: | Right arm Medium Fast |
| Role: | Batsman |
| National Side: | United Arab Emirates |
| ODI Debut: | 1st Feb 2014 v Scotland |
| Last ODI: | 12 March 2018 v Ireland |
| Website: | https://www.facebook.com/shaiman.anwar.35 |
| Born | |
| Date: | 15th March 1979 |
| Place: | Sialkot |
| Family | |
| Ethnicity: | Butt |
| Siblings : | Arslaan Anwar |

Shaiman Anwar Biography
He is a multitalented batsman who patterned his style on Rahul Dravid as a youngster, but since then has garnered a reputation as a 6th-hitter in cricket circles of UAE. He could bat at any number in the top six, and he possesses both 1st-class and List A century to his name.
Anwar 1st managed to pick up a game playing street and backyard cricket matches in his hometown Sialkot, for whom he got to play the Quaid-e-Azam Trophy, and also other local Pakistani tournaments. After receiving an invitation to join UAE's cricket club he eventually accepted a job offer in the region, playing and working for Consolidated Shipping Services.
Additionally, the success of the club led to a national call-up. He was named in the UAE team for World Cup 2015.
Shaiman Date of Birth
He was born on 15th March 1979 in Sialkot, Pakistan.
Shaiman Anwar Family
His brother, Arsalan, also played 1st class level for the Sialkot but decided to retire early to focus on his future.
Career
Initial Career
He made his first appearance at the Sialkot National Tournament in March 2002 during the season 2001 to 2002. He played his 1st-class debut in Quaid-e-Azam Trophy and made a maiden hundred in his 3rd tournament against the Lahore Whites.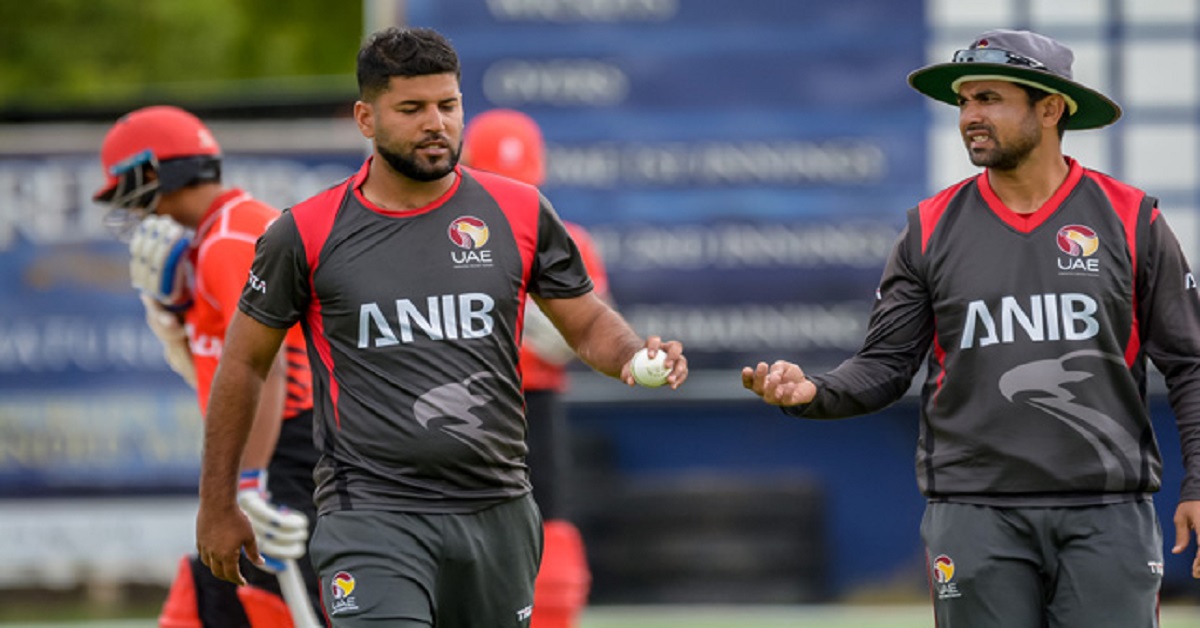 Starting the batting with his co-player Usman Mushtaq, he made one hundred and six runs from one hundred and eighteen hits, placing on a one hundred and seventy seven-run opening score.
Match Against FSD
Later this season, against FSD in the limited-overs tournament, he scored ninety-six out of ninety-one balls and was declared the player of the match. Despite his best performance during season 2002 to 2003, he played at lower grades only.
Performance for Sialkot Stallions
However, he played a single Twenty-20 tournament for the Sialkot's team 'Sialkot Stallions' in the ABN-AMRO T20 Trophy during the 2004 to 2005 inaugural season, and also a Patron Trophy tournament for Service Enterprises during the season 2005 to 2006.
Moved to UAE
Previously having performed for club cricket, he shifted permanently to the United Arab Emirates in 2007, after being employed by a shipping company.
1st Tournament for UAE
His 1st tournament for the 'Emirati representation sides was in season 2009 to 2010 when he appeared for the UAE A against England Lions and Pakistan A.
Senior Debut
After fulfilling the qualification criteria, his senior debut was for the United Arab Emirates National Squad in 2009 to 2010 ICC Intercontinental Shield final, in which this team had lost to Namibia.
Best Performance
Since then, he has been a constant player for the UAE team and, in the 2011 to 2013 WCL Championship, scored six-hundred and twenty-five runs from fourteen matches, more than any player.
Selection In Edmonton Royals
He was chosen to play for the 'ER (Edmonton Royals)' on 3rd June 2018 in the Players' Draft for the 1st edition of the Global Twenty20 Canada Tournament. In June 2019, he got a chance to play for the 'Winnipeg Hawks Franchise Squad in 2019 T20 Canada Global Tournament.
International Career
ODI and T20I Debut
He played his ODI debut in Feb 2014 against cricket team of Scotland in the World Cup Qualifier final and his T20I debut in 2014 against the cricket team of Netherlands in the World T20. He was named in  Emirati squad for World Cup 2015, and in the 1st match of the squad against Zimbabwe, he scored 67 out of 50 balls.
Match Against Ireland
In the next tournament, against Ireland, Shaiman made one-hundred and six runs out of eighty-three balls and became the 2nd UAE's player to score the ODI hundred and the 1st to do this in the World Cup.
In ICC Cricket World Cup 2015 clash against Ireland, he and Amjad Javaid made a record partnership of one-hundred and seven runs for the seventh wicket, RA Jadeja, and MS Dhoni 2019 overshadowed that.
Century in T20
On 14th April 2017, he became UAE's 1st player to make a century in a Twenty20 tournament against PNG (Papua New Guinea) at Abu Dhabi's Sheik Zayed cricket ground. He became the 1st UAE player who scored centuries in both T20Is and ODIs.
Record for Hitting the Highest Number of Balls
He also set the record for hitting the highest number of balls in the T20 International innings while batting at number three.
Selection for ICC World Cricket League
In 2018, he got selected in UAE team for the 2018  division-2 tournament of ICC World Cricket League.
Thousand Runs
In 2018, during the UAE tournament against Zimbabwe in Cricket World Cup Qualifier 2018, he became the 1st batsman to reach a thousand runs in ODI matches for the UAE. In 2018, he was added to the squad of the UAE for Asian Cup Qualifier 2018 tournament.
Other Matches
In 2018, he was added to the Squad of the UAE for the 2018 'ACC Emerging Teams Asia Cup.'  In  2019, he got selected to the UAE team for the 2019 ICC Men's Twenty20 World Cup Qualifier cricket tournament in UAE. Before the game, the  ICC declared him the leading player of the UAE team. Though, the next month, he was removed from the UAE team for the tournament.
Social Media Handles
His social media account include
https://twitter.com/shaimananwaruae