Sami Ul Haq also famous as Maulana Sami ul Haq is a Pakistani religious scholar and a politician.He is a Leader of his Political Party Jamiat Ulema-e-Islam.He is also a founding member of Muttahida Majlis-e-Amal.He also served as a member of the Senate of Pakistan.He was appointed as chairman of the Difa-e-Pakistan Council.Sami ul Haq is currently the chancellor of Darul Uloom Haqqania.
| Title | Description |
| --- | --- |
| Personal | |
| Name: | Sami ul Haq |
| In Urdu: | سمیع الحق |
| Famous As: | Maulana Sami ul Haq |
| Nationality: | Pakistani |
| Education: | Fiqh, Usul al-Fiqh, Arabic Literature, Logic, Arabic Grammar (sarf and nahw), Tafsir, and Hadith |
| Alma Mater : | Darul Uloom Haqqania |
| Religion: | Islam |
| Profession: | Islamic Scholar, Politician |
| Born | |
| Date: | 18 December 1937 |
| Place: | Akora Khattak, British India |
| Family | |
| Parents: | Sheikh-ul-Hadith Moulana Abdul Haq (Father) |
| Died | |
| Date: | 2nd November 2018 |
| Career | |
| Political Party: | JUI-S |
| Serve As: | Leader |
| In Office | |
| Role: | 2nd Chancellor of Darul Uloom Haqqania |
| Dates: | 7 September 1988 |
| Preceded By: | Abdul Haq |
| In Office 2 | |
| Role: | chairman of Difa-e-Pakistan Council |
| Dates: | October 2011 |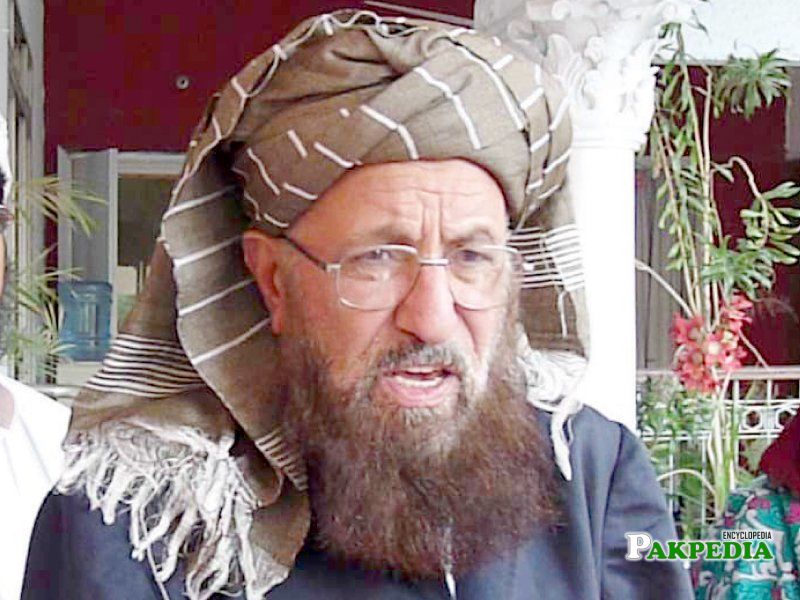 Biography
Moulana Sami-ul-Haq has been actively participating in Important International Conferences. He has been to Makkah, K.S.A, Colombo, Sudan Cairo Egypt, Kuwait, Iraq, Tripoli Libya, Chicago, New York USA and London. He has been constantly struggling against irreligious elements, socialist and communist parties. He fully participated in the Constitution making and other parliamentary business of National Assembly. He played a leading role in the Nizam Mustafa Movement launched by Pakistan National Alliance in 1977. He was arrested and remained in Haripur Jail for two months.
Education
Education started at Darul Uloom Haqqania, Akora Khattak, Studied Fiqah, Islamic  Jurisprudence (Usool Fiqah) Arabic Literature Logic, Arabic Grammar (Nehve and Sarf), Tafseer Quran (Interpretation and Explanation of Holy Quran), Hadith Sharif (Holy Saying of Hazrat Muhammad (peace be upon him).Joined Qasam-ul-Uloom Lahore got degree in Tafseer from Great spiritual leader Moulana Ahmed Ali Lahori (1378 A.H).Awarded an Honorary Degree from (a)Darul Uloom Deoband, India. (b)Jamia Makka Muazzama.
Career
Taught Arabic Literature and Grammar and specialized in the teaching of Hadith and Tafseer.Serving as Teacher of Hadith and Chancellor Darul Uloom Haqqania, Akora Khattak.
Secretary General, Jamiat Ulema Islam Pakistan.
Senior Vice President, Islamic Democratic Alliance.
Founder and Secretary General National Uniformity Council (A Common council of All Religious Political Parties.)
Founder and President of Mutahedda Denni Mahazz (United Religious Front)
Founder and President of Intekhabi Mushtareka Mahaz (Common Electoral Front)
Research and Written work
Sadar Motamar-ul-Musannifeen (Director of Islamic Research Institute).[1]  Research and Written work 
Founder Editor of Monthly "Al-Haq".
Services
Member committee for religious Institutions.
Member, Federal Council (Majlis Shoora) 1983-85.
Member, Senate of Pakistan 1985-1991.
Member, Majles-ul-Ighasa Wad Dawatul A'ami Cairo, Egypt
Educational Activities
He was an active member of the Committee for setting curricular for religious studies in Darul Ulooms. President of Pakistan appointed the committee. He keenly took part in each session and effectively led the scholars. He participated as an observer in the Foreign Ministers, conferences of the organization of Islamic countries, on Afghan problem. He is the most active member of Wifaqul Madares Arabia, a federation of religious institutions. His father late Moulana Abdul – Haq was the convener of Wifaqul Madares. The number of institutions composing Wifaq is about one thousand.
Research Works
He founded a research organization named Motamer ul Musannefeen.This body has effectively dealt with the important problems of the Islamic world. He wrote several books on Qadyaniat, Israel, communist Russia, ascetic, Law and constitutions. His writing included, Islam and contemporary world containing 700 pages. The speeches the addresses and sermons of late Maulana Abdul Haq (R.A) have been published under the title of D'awaat Haq. It is in two volumes containing thirteen hundred pages. The interpretation of Ahaadith is in process of compilation. The first volume of which is published under the title of Haqaiques Sunan. He is a member of Advisory and Fiqha Panel of Federal Shariat Court. He gives sermons to the locals of Akora Khattak each Friday.He is also the writer of many books.
Senate Membership
He was a member of Majlis-Shora, the Para Parliament of Zia regime (1983-85) representing effectively the Muslim Umma there. In 1985 he was elected unopposed by the provincial Assembly of Khyber Pakhtunkhawa. Province for the membership of Senate. He has been serving the nation for the cause of religion, morality and socio-politics since the very beginning of the upper house of parliament. In 1986 he brought shariat Bill before Senate for the implementations of Islamic Law in the country.
PTI to Support JUI-S
Pakistan Tehreek-e-Insaf (PTI) has decided to support Jamiat Ulema Islam-Sami (JUI-S) chief Maulana Sami-ul-Haq in the upcoming Senate elections, sources told Geo News.Haq will contest the election, to be held on March 3, from Khyber Pakhtunkhwa, sources added.The party will in return support PTI in the General Elections 2018, sources said.The two parties announced an alliance in November last year for the general elections, and agreed to formulate a joint strategy for the elections.In a statement, the KP government had said party leaders at the meeting decided in principle to "struggle jointly" for ridding the country of difficulties and problems, it is facing at present.It said the two sides agreed to devise a "mutual strategy" in this regard.Speaking to Geo News, Haq had said the coalition would benefit the PTI in 2018 elections.[2]  PTI to Support JUI-S 
Confirms JUI-S PTI have Formed Electoral Alliance
Jamiat Ulema-e-Islam-Sami (JUI-S) chief Maulana Samiul Haq said that his party and the Pakistan Tehreek-e-Insaf (PTI) had formed an electoral alliance for contesting the next general election.Talking to reporters in his hometown Akora Khattak, he said, he and the PTI chief Imran Khan had agreed in principle in a meeting held in Islamabad to form the electoral alliance. He said the Defence of Pakistan Council would also be included in the alliance for the general election to be held in 2018.[3] Confirms JUI-S, PTI have Formed Electoral Alliance
Submitted Nomination Papers
As many as 34 Senate hopefuls filed their nomination papers with the top poll body, including Maulana Samiul Haq, the chief of his eponymous faction of the Jamiat Ulema Islam.As many as 11 seats are up for grabs in the elections for the upper house, scheduled to be held on March 3. These include seven seats in the general category, two each for the technocrat and women seats. Polling for these seats will take place in the Khyber-Pakhtunkhwa (K-P) assembly.For the general seats, the ruling PTI has fielded six candidates along with Haq, who submitted his nomination papers with support from the PTI.[4] Submitted Nomination Papers 
Assassination of Maulana Sami ul Haq
Maulana Sami ul Haq who was the Chief of Jamiat Ulema-i-Islam has been assassinated today on 2nd November 2018 when he was relaxing in his house in Rawalpindi. The news of his death has been confirmed by his son Maulana Hami ul Haq where he told that he couldn't attend the protest due to road blockage in Islamabad and on returning back home he found his found dead lying in blood. Earlier, some reports suggested that gunmen on motorbikes opened fire on Sami ul Haq's vehicle and sped away and according to few other resources he was stabbed multiple times.