Saleem Nasir, also known as Salim Nasir, was a Television and film actor from Pakistan. His real name was Syed Sher Khan, and despite his language being Pashto, he was fluent in Urdu, which is why most people surprised to see him speak Pashto. He started his artistic journey on the small screen and received full acclaim from the audience by playing all kinds of roles well. Apart from TV, he also showed the essence of acting in films. Saleem has performed in about 400 individual dramas and 27 serials. He published his entertainment magazines, with the name 'TV Times' and 'TV Tempo.' This article has all the information about Nasir, including Saleem Nasir Biography.
| Title | Description |
| --- | --- |
| Personal | |
| Name: | Saleem Nasir |
| In Urdu : | سلیم ناصر |
| Famous As: | Actor |
| Nationality: | Pakistan |
| Residence: | Karachi |
| Education: | Graduation |
| Religion: | Islam |
| Profession: | Actor |
| Awards : | Pride of Performance Award |
| Born | |
| Date: | 15th November 1944 |
| Place: | Nagpur, British India |
| Family | |
| Ethnicity: | Syed Family |
| Spouse: | Married |
| Children: | 2 daughters and 1 son |
| Died | |
| Date: | 19th October 1989 |
| Rest Place: | Karachi |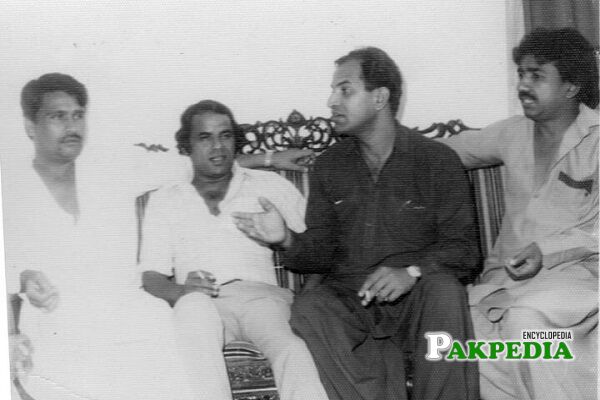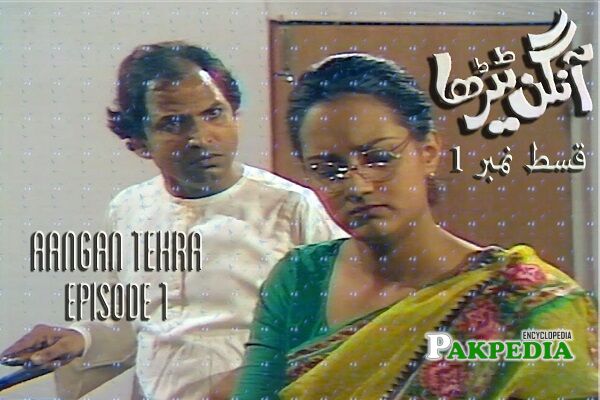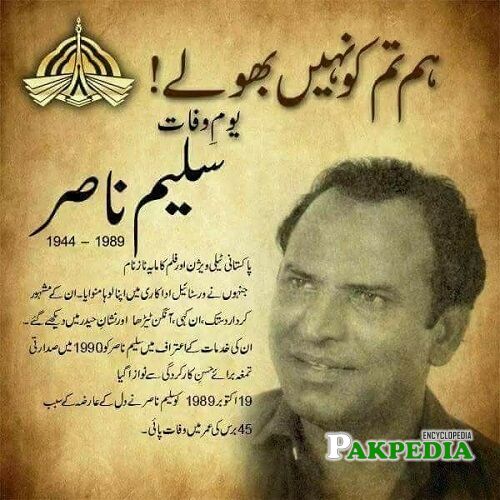 Saleem Nasir Biography
After settling in Karachi, his obsession with acting was on peak. Whether the screen was small or large, the audience admired the essence of his acting. His impressive performance and ability to adapt to every role made him a unique actor of his time. He never considered himself a complete actor. Whenever he asked about his acting, he would say, "I'm just learning." However, he was happy that the TV and filmmakers, recognizing his abilities, gave him the roles he deserved. He was also posthumously awarded the 'Medal of Excellence' for his outstanding performance in the field of acting.
Saleem date of Birth
Born on November 15, 1944, in Nagpur, India, after the foundation of Pakistan, Saleem came to Pakistan with his family and took up permanent residence in Karachi.
Education of Salim
After graduation, he joined the Defense Housing Authority in Karachi as an officer in the public relations department. Still, he did not consider this field as his destination and moved to the area of acting.
Showbiz Career
Initial Career
He started his artistic career with Radio Pakistan, later played some valuable roles on the television screens that are still etched in people's minds years later. He started his acting career with a play 'Lamp Post' on Pakistan Television's Lahore Center. His popular dramas include 'Un-Kahi,' 'Angan Teerha,' 'Ya Naseeb Clinic,' 'Jhok Sial,' 'Zanjeer,' 'Janglos,' 'Bandash,' 'Akhri Chatan,' and Nishan E Haider.'
Popular Dramas
Anghan Teerha
His biggest play was 'Angan Teerha.' Anwar Maqsood wrote it. In it, he played the role of a servant, who was first the dancer. He accompanied by Shakeel, Bushra Ansari, and Arshad Mahmood in the play.  Initially, his critics thought that he could only perform in specific roles, but this thought later turned out to be wrong. He silenced the critics by playing a unique role in 'Angan Teerha.' His role in this play was challenging, but people have not forgotten his comedy performance yet. He did justice to his every character.
Un-Kahe
He played the role of 'Mamo' in the drama serial 'Un-Kahe.' If his character 'Mamo' removed from this play, then the drama's real spirit is lost. This series was the result of the penmanship of Hasina Moin. In this series, Shahnaz Sheikh. Javed Sheikh, Shakeel, and Asif Raza Mir also brilliantly performed.
Nishan E Haider
With the lead role of 'Captain Sarwar Shaheed' in the Nishan E Haider series, he did full justice to his role and also acknowledged his ability in serious roles.
Akhari Chatan
He appeared in the historical drama serial 'Aakhri Chatan' in the form of Sultan Jalaluddin Khawarizm Shah, which was probably the best performance of his artistic career and his dialogue delivery style captivated the viewers.
Dastak
In the play 'Dastak,' he played the role of a lawyer, which was well received. He accompanied by Ayaz Naik, Shazia Akhtar, and Qazi Wajid.
Jangloos
PTV's series 'Janglos' proved to be his last drama, which made in 1909.
Ya Nasseb Clinic
Another of his memorable plays was 'Yanseeb Clinic.' In this, he played the role of a doctor.
Filmography
Apart from TV dramas, he also showed the essence of acting in the film 'Zeb Al-Nisa' with Waheed Murad and Shamim Ara. Director Farid Ahmed gave him a role in this film, which he played beautifully.
Appearance in Stage Show
In 1983, he attended Anwar Maqsood's stage show 'Silver Jubilee' as a guest and was well received.
Saleem Nasir Death
He passed away on October 19, 1989, at the age of 45 from a heart attack, but the roles he played are still fresh in people's minds. He is laid to rest in the Defense Society Cemetery in Karachi. He is survived by three children and a wife.
Saleem Nasir Dramas
Angan Teerha
Ya Nasseb Clinic
Bandish
Jangloos
Akari Chatan
Nishan E Haider
Un-Kahe
Dastak
Salim Nasir Movies
Sucha Jhoota
Ajab Khan Afridi
Al-Asifaa
Zeb Al Nisa