The most famous and influential figure who entered Pakistani literature from Pakistan's bureaucracy is Qudrat Ullah Shahab. He is one of the great people who have done remarkable work in various fields of life. On the one hand, he is known as a prominent bureaucrat because he held important government positions.
On the other hand, he is recognized as a prominent literary figure due to his readers' creations. The Urdu world's best-selling biography is 'Shahabnamah,' which opened many new chapters of Pakistani politics and literature and sparked many controversies.
He has left a lasting impression on the literature and bureaucracy fields that will serve as a beacon for the newcomers. This article has all the information about him, including Qudrat Ullah Shahab Biography.
| Title | Description |
| --- | --- |
| Personal | |
| Name: | Qudrat Ullah Shahab |
| In Urdu: | قدرت اللہ شہاب |
| Famous As: | Writer |
| Nationality: | Pakistani |
| Education: | Graduation from Prince of Wales College |
| Religion: | Islam |
| Profession: | Writer |
| Born | |
| Date: | 26th February 1917 |
| Place: | Gilgit (British India) |
| Family | |
| Spouse: | Iffat Shahab |
| Children: | Saqib Shahab |
| Parents: | Abdullah Sahib |
| Siblings : | Dr Inayatullah Shahab |
| Died | |
| Date: | 24 July 1986 |
| Rest Place: | Islamabad, Pakistan |
| Resting Place: | H-8 Graveyard, Islamabad |
| Career | |
| Occupation(s): | Civil Servant and Diplomat |
| Notable Work: | Shahab Nama |

Qudrat Ullah Shahab Biography
He influenced the new generation with his behavior. He played an important role in changing his era's traditional and outdated system and giving it a new and sustainable direction. Qudrat Ullah was the person who could never say 'poison' the 'sugar.'
His personality was a beautiful combination of humility, patience, perseverance, courage, duty, patriotism, literature, honesty, philanthropy, simplicity, and Sufism with hundreds of colors. He touched the heights of the sky but always kept his feet on the ground.
He knew the art of dedicating his life to others and was well aware of this process's greatness.
Qudra Ullah Age
He was born on January 1, 1920, in Gilgit.
Education of Qudrat
He passed the FSC examination in 1934-35. An international writing competition was being held in London in those days, and he decided to take part in the competition without informing anyone. He was fond of writing, so he tried his luck and sent one of his essays, and his essay was considered worthy of the first prize.
It was discussed everywhere. He did his B.Sc from Prince of Wales College, Jammu, in 1937. After completing his Masters in English from Government College Lahore, he joined the Indian Civil Service in 1941 and remained stationed in various cities in East and West Pakistan.
When he was elected to the Indian Civil Service, he was the first Muslim in Jammu and Kashmir's history to become part of the higher civil service.
Qudrat Ullah Shahab Family
His mother's name was Kariman Bibi, and his father's name was Abdullah, who had become an orphan in his childhood. There was no school in Chamkor. Located miles away, he enrolled in a school in the Ambala district. With true dedication and hard work, Abdullah came first in the matriculation examination in the whole of Ambala.
While living in Aligarh, he mastered subjects such as English, Arabic, Persian, Mathematics, Philosophy, and from there, he completed his BA with distinction.  Efat Shahab, the wife of Qudrat Ullah Shahab, supported her husband every moment. His only child, Saqib Shahab, is associated with the medical field.
Following in the footsteps of his father, Dr. Saqib Shahab, a graduate of Rawalpindi Medical College, University of Punjab, made a name for himself in medicine, but also for the good name of his father and his land. He was appointed Chief Medical Officer of Saskatchewan, Canada, in 2012 and still holds the position.
Before that, he served as Deputy Chief Medical Health Officer from 2009 to 2012. In addition to being a fellow of the Royal College of Physicians, Public Health and Preventive Medicine, Canada, he was also a member of the Royal College of Physicians, UK.
The worldwide catastrophic COVID-19, known as the 'coronavirus' and has set a new record for deaths in modern history, has also hit Canada hard. However, in this hour of need, Dr. Saqib Shahab has emerged as the brightest ray of hope and encouragement for Canadians.
In Canada, his name is being hailed from house to house because he serves troubled Canadians.  People have started to adapt his style in his love and started introducing themselves as the proud 'Shahab Squad.'
Career
Political Career
He served as Secretary to the Head of State from October 27, 1954, to May 1962. During this time, he had the opportunity to see and understand Governor-General Malik Ghulam Muhammad, Major General Iskander Mirza and President General Ayub Khan, and the Presidential Palace of Pakistan's internal environment.
That is why he has adorned many chapters of his autobiography with the circumstances and events of that period. These chapters include 'Governor-General Malik Ghulam Muhammad,' 'Rise and Fall of Sikander Mirza'  'Rise of General Ayub Khan,' 'President Ayub: Reforms and Bureaucracy,' 'President Ayub and the Writer,' 'President Ayub and the Journalism,' 'National Press Trust,' 'Ayub Khan and Economics,' 'President Ayub and Politicians,' 'President Ayub and Students,' 'President Ayub and Pakistan's Foreign Policy' and 'The Fall of President Ayub.'
He remained in the Presidency of Pakistan for more or less eight years, but his most notable aspect was that he did not fall prey to individualism. In the martial law imposed by General Muhammad Ayub Khan, how Shahab, with his literary friends' help, dominated the entire literary scene, is an example.
Whether it was the Reuters Guild or the Adam G Literary Award, he set many new standards, in which many poets and writers, including Jamil Ud Deen Ali, remained at his disposal.  He has expressed his views in a very brave, scholarly, and unbiased manner but has also maintained moderation and balance in his opinion.
He has not relied on showing only one side of the picture. Besides mentioning politicians' mistakes in a satirical manner, there is also a list of his good deeds.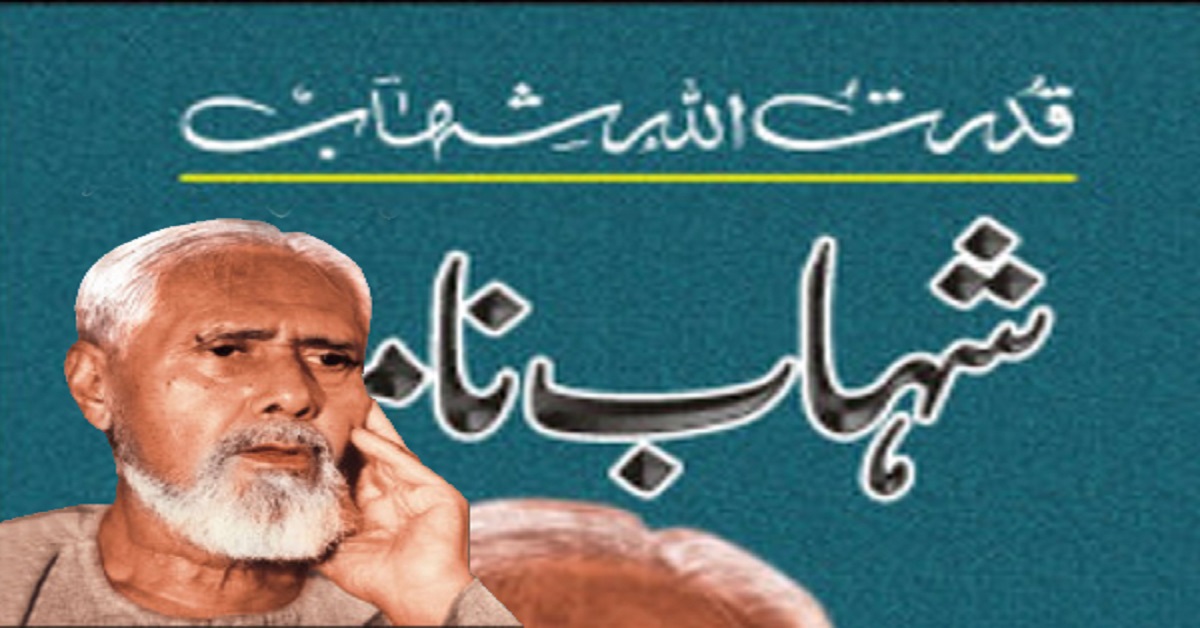 Literary Services
He has an important place in the history of Urdu literature. He began his literary career with fiction. 'Chandravati' is his first novel, published in 1938. It's the story of his college days in Lahore when he fell in love with a Hindu girl, and memories of that love haunted his heart all his life.
He also started his pen journey with this while he could not live without mentioning it in his last book Shahabnamah. His short novel, 'Ya Khuda' on the subject of riots, was published in 1948.
Some stories also have these effects, but the proportion is less; however, due to his job, the time he spent in Bihar, Bengal, and then Punjab, the shadows of those days are prominent in his stories. After 'Ya Khuda,' his three fiction collections, 'Nafsane,' 'Maa Jee,' and 'Surkh Feta' were published.
Before his death, the first few chapters of 'Shahabnamah' were published in literary magazines Sayara Digest,' 'Urdu Digest,' 'Maasir,' 'Dastaweezat,' 'Naya Dor,' and 'Takhleeqi Adab.' Since then, dozens of editions of this biography have been published by various publishing houses in the Indo-Pak subcontinent, and this continues today.
It is a document that captures all the major political and historical revolutions of the twentieth century in the camera of words and has a complete picture of these revolutions' effects on the human race. Its pages are replete with depictions of the horrific and bloody riots during the Partition of India that left humanity on earth forever in disgrace.
Autobiography
He started his autobiography with the beautiful memories of his childhood. In the early chapters, he has described his childhood in a beautiful form of words so that his childhood would have looked beautiful. And also, different from normal children.
In the opening chapters of 'Shahabnamah,' two stories go hand in hand. One relates to his personal life, and the other covers the political landscape of Jammu and Kashmir at that time. Both of these stories are exciting and informative.
In the first story, he described his childhood circumstances and the ups and downs of his academic life and his family background in an exciting way and the story of a failed childhood love with all his circumstances. In this story, the author has drawn a beautiful and attractive look of his father, Muhammad Abdullah.
Every word of this sketch is filled with the spirit of obedience and happiness. Studying it sheds light on various aspects of Muhammad Abdullah's life and personality. There is also interesting information about his role in the current political scenario of Jammu and Kashmir.
After its publication in 1987 in book form, it became so popular that several editions of the book were published in the same year. Although his literary life spans an extended period, he wrote far less than his contemporaries due to his busyness in performing official duties.
Still, everything he wrote was of intellectual, artistic, and thematic quality. At the same time, it is a valuable addition to the prose capital of Urdu literature.
Shahab Nama
His most fabulous creative reference and the main reason for his popularity so far is 'Shahabnamah, which is his autobiography. He attributed his collection of famous memoirs to his mother, wife, children, and spiritual character, Nightie, which makes it seem as if we are reading Justin Garder's novel, Sophie's World.
At the beginning of the book, he wrote a preface entitled 'Iqbal-e-Jurm,' in which he shed light on the motives behind the creation of Shahabnamah. If Shahabnamah is reviewed on a creative basis, there is no doubt that its impression is like a novel, a fiction in which history and literature are mixed.
The events spread over more than a thousand pages in 57 chapters, cover Pakistan's social angles and numerous personal references. Facts have been stated in a broad but specific manner.
Fictions
His fiction 'Maa Ji' became very popular, and it is also a highly creative example of his fiction writing. Many of his other fictions are such that tears will drip from the eyes of a gentleman like Shehab Sahib while writing them.
In the fiction collection 'Maa g,' there is a fiction 'Stenographer,' which is Gracie's story, an Anglo-Indian girl with access to the English language. While writing this, he has touched this ascension of narrative art, where all the criticism against him is dispelled.
Qudrat Ullah Shahab Death
On July 24, 1986, he set out on an eternal journey in Islamabad.
Honorary Stamp
On March 23, 2013, Pakistan Post's DG issued an Rs.15 stamp in his honor under the 'Men of Letter' series.
Qudrat Ullah Shahab Books
Shahabnamah
Yaa khuda
Maan Jee
Surakh Fitaah
Nafsaanay
Shahaab Nagar
Pathans