This name needs no introduction. Born under the name of Pervez Fateh Ali Khan, the star became known as Nusrat Fateh Ali Khan around the world. He was a musician, vocalist, and music director of Pakistan. He was blessed with the ability to conduct at a lofty-intensity level for many hours. After his father's death, he learned Qawwali from his uncles. His voice won the hearts of not only Pakistanis but also the people of other countries. 
He performed in more than 40 countries. Apart from popularizing Qawwali music, Khan also had a significant impact on contemporary South Asian music, including  Bollywood, Pakistani pop and Hindi-pop. Khan recorded 125 Qawwali albums before his death. He had an only daughter Nida so now his nephew Rahat Fateh Ali Khan is carrying his music legacy. This article has all the information about Nusrat Sahab, incorporating Nusrat Fateh Ali Khan Biography.
| Title | Description |
| --- | --- |
| Personal | |
| Name: | Nusrat Fateh Ali Khan |
| Birth name: | Parvez Fateh Ali Khan |
| In Urdu: | نصرت فتح علی خان |
| Other Name: | Shahenshah-e-Qawwali |
| Famous As: | Qawwal and Ghazal Singer |
| Nationality: | Pakistani |
| Residence: | Faisalabad |
| Religion: | Islam |
| Profession: | Singer, Songwriter and Musician |
| Years Active: | 1964-1997 |
| Instruments: | Vocals, Harmonium and Tabla |
| Genres: | Qawwali, Ghazal, Sufi, Classical, Folk and Punjabi |
| Awards : | Lux Style Award for Icon of the Year |
| Born | |
| Date: | 13th October 1948 |
| Place: | Faisalabad |
| Family | |
| Spouse: | Naheed Nusrat |
| Children: | Nida Fateh Ali Khan |
| Parents: | Fateh Ali Khan |
| Siblings : | Farrukh Fateh Ali Khan |
| Relatives: | Rahat Fateh Ali Khan (Nephew) |
| Died | |
| Date: | 16 August 1997 |
| Rest Place: | London, United Kingdom |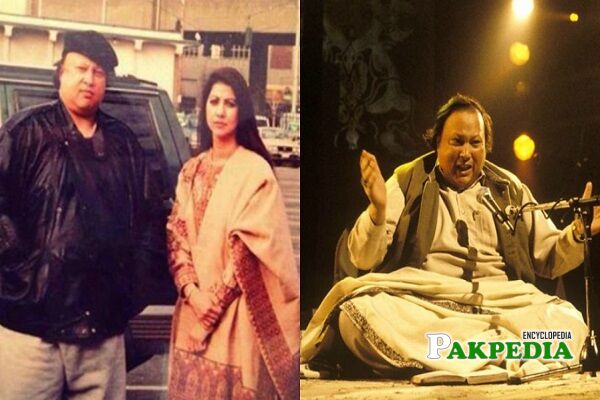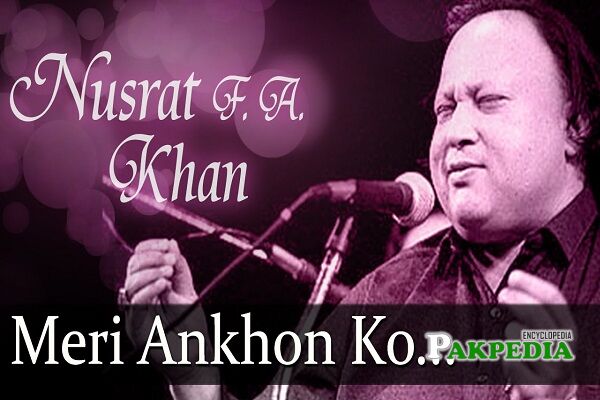 Nusrat Fateh Ali Khan Biography
He is considered as 'Shanshae Qawwali', and was the first Pakistani artist who made Qawwali popular among Western natives. Nusrat was blessed with a powerful and mesmerizing voice. His voice mesmerized not only the Pakistani audience but also all around the globe. Not only the people of that time but also the new generation of today is a diehard fan of his voice. Apart from Pakistan, Nusrat's work on Indian music charts is also highly valued. Apart from a talented musician, he was a man with a high tolerance level. 
Nusrat date of birth
Khan opened his eyes in a Punjabi family on 13th October 1948. Faisalabad city is honoured that King of Qawwali belonged to this city. His family hails in Jalandhar from Basti Sheikh.
Education of Nusrat Fateh
As khan belonged to a family of Qawwals and musicians, his father did not desire him to follow the tradition of family. He wanted a respectable and high-status profession like a doctor or engineer for Khan. His father was of the view that Qawwali artists don't enjoy a high status in society. But Khan manifested such an engrossment that his father relented.
Nusrat Fateh Ali Khan Family
Khan's forefathers learned singing and music in Jalandhar and later made it their profession. His father, Fateh Ali Khan, was a vocalist, qawwal, musicologist, and instrumentalist. Fateh Ali Khan had four daughters and a son Farrukh Fateh Ali. Farrukh was a harmonium player in Qawwali. Two brothers of Fateh Ali Khan Ustad Salamat Ali Khan and Ustad Mubarik Ali Khan were famous qawwals who sang in the classical style. Qawwali tradition of this family had transferred from one generation to another for 600 years. The new generation from this family, the nephew of Nusrat Fateh Ali Khan, is also a big name in Qawwali and music. In 1979 Khan tied the knot with his 1st cousin, his uncle Salamat Ali Khan's daughter Naheed. The couple had a daughter Nida. 
Nusrat Fateh Ali Achievements
Indian musicians kept copying his songs without giving credits, but he never felt bad about it. His talent made the name of Pakistani music all over the world. In recognition of his contributions to music, he was awarded Pride of Performance' by Pakistan's president. An auditorium in FAC(Faisalabad Arts Center) was named after his name 'Nusrat Fateh Ali Khan Auditorium'. Not only in Pakistan but also in many other countries, his singing styles and talents were recognized and awarded different awards. His name was also included in American's news channel CNN's list of the twenty most iconic singers from 50 years. Throughout his musical career of 25 years, he kept receiving honorary titles. He received the title of  'Ustad' after his performance on classical music at an event in Lahore on his father's death anniversary. By recording 125 Qawwali albums, he made a Guinness World Record. He is still alive in the hearts of the people.
Music Career
Initial Career
Before learning vocals, he learned tabla. In 1964 after the demise of his father, his Uncles Salamat Khan, and Mubarak Khan took the responsibility of his musical education. In 1971 the demise of Mubarik Khan made Nusrat the official head of the 'Qawwali party', and this party came to be known as Nusrat Fateh Ali Khan, Mujaahid Mubarik Ali Khan, and party. Radio Pakistan organized a music festival named 'Jashn E Baharaan,' Khan performed at the recording livestream in Studio, which was part of this festival. 
It was his 1st public performance as the head of the qawwali party. He mostly sang in Punjabi and Urdu and a few performances in other dialects like Hindi, Braj Bhasha, and Persian. His music 'Haq Ali Ali', which he sang in a conventional way and by using traditional instruments, was his 1st song in Pakistan. 
International Performance
In 1985 he got an opportunity to accompolish at the WOMAD Festival that was held in London. In the late 1980s, Khan performed in Paris. In 1987 Japan Foundation invited him to Japan; it was his 1st visit to Japan. He gave a performance at the 'Fifth Asian Art Festival' in Japan. In 1989 he earned admiration from Americans for his performance that he gave at the 'Brooklyn Academy of Music.' 
He enjoyed great bonding with a lot of South Asian music artists incorporating Asha Bhosle, Lata Mangeshkar, A.R. Rehman, Noor Jahan, and Alam Lohar throughout his musical career. University of Washington, Seattle, appointed him as a Call on Artist at their Enthnomusicology department for the academic year 1992-1993. In 1988 he worked on the soundtrack of 'The Last Temptation of Christ' along with Peter Gabriel, this project led him to sign a Gabriel's British Record label 'Real World'. 
Music Albums
Through Real World, Khan released various albums of his traditional Qawwali in addition to experimental albums Night Song and Mast Mast, and also Star Rise which was a posthumous remix.  His work for Gabriel's Real World featured his alliance with Michael Brook; a Canadian guitarist led him to other projects with Western rock musicians and composers. The most notable collaboration came in 1995 when he teamed up with singer 'Eddie Vedder' of an American rock band Pearl Jam on 2 songs for making the soundtrack of the film Dead Man Walking. 
He also gave vocals for a choral album The Prayer Cycle by an American film and TV composer Jonthan Elias. English rock musician Gabriel added Khan's vocals in a track 'Signal to Noise' of his 13th album Up. His album Intoxicated Spirit got a nomination in 1997 for a 'Grammy Award for pre-eminent Traditional Folk Album'. He contributed his songs to many Pakistani films.
Bollywood Music
Before his death, Khan composed music for Bollywood movies, including 'Aur Payar Ho Gya' and 'Kartoos.' He also composed music for another Indian film, 'Kachay Dhagay', where he sang 'Is Shan e Karam Ka Kia Kehna.' This movie was released two years after his demise. Famous Indian playback singers Lata and Asha sang the songs composed by Khan in his short stint in the Indian film industry. For Sunny Deol's film Dil Lagi he sang 'Saya Bh Jab Sath Chor Jaye'. Khan sang 'Dulhay Ka Sehra' for the Bollywood movie Dhadkan which appeared on screens in 2000. For the album Vande Matram, which was composed by A.R. Rehman, he contributed a song 'Gurus of Peace'. This album was released to commemorate India's 50th independence anniversary.  
Nusrat Death
According to some reports, Khan's weight was 135 Kilos. He had not been well for many months. For the treatment of Kidney and liver ailments, he traveled to London, where he was immediately moved to London's Cromwell Hospital. On 16th August 1997, at the age of 48, he took his last breath in the hospital by a sudden heart attack. Khan's dead body was deported to his hometown Faisalabad. His funeral was attended by a large crowd. Khan was embeded in 'Kabotraan Wala Qabristaan' other name for 'Jhang Graveyard' that is situated on Jhang Road Faisalabad. After Khan's death, his spouse Naheed and the only daughter Nida settled in Canada. 
Nusrat List of Albums
In concert in Paris
Magic Touch
Love Songs
Ilham
The Last Prophet
Back to Qawwali
Night Song
Mega Star
Sangam
Akhiyaan
Allah and the Prophet
Missives from Allah
Peace