Mustafa Ali, who was born as Adeel Alam, is an America-based wrestler. He has signed World Wrestling-Federation Entertainment and plays on 'Raw-Brand' under his ring name 'Mustafa Ali' as Retribution's leader. Before he signed with WWE, he worked on Indie-Circuit after his 1st performance in 2003.
He also worked in the police department in Chicago for 4-years. He competed in 2016 in 'Global Cruiserweight Classic,' a substitute and by his splendid performances secured a full-time agreement with WWE. Initially, he performed for the cruiserweight-division as a two-to-five Live-brand's part.
He moved to brand SmackDown in Dec 2018 and moved out of the cruiserweight-division. In July 2020, he moved to Raw-Brand. In Oct, he declared himself as Retribution's leader. This article carries every detail about him, including Mustafa Ali Biography.
| Title | Description |
| --- | --- |
| Personal | |
| Name: | Mustafa Ali |
| In Urdu: | مصطفی علی |
| Famous As: | Wrestler |
| Religion: | Islam |
| Height: | 5 ft 10 |
| Representing : | Pakistan |
| Born | |
| Date: | 28th March 1986 |
| Place: | Bolingbrook, Illinois |
| Family | |
| Children: | 2 |
| Information | |
| Birth Name: | Adeel Alam |
| Ring Name(s): | Alto,Mustafa Ali,Prince Mustafa Ali |
| Professional Wrestling Career | |
| Billed Height: | 5 ft 10 in (1.78 m) |
| Billed Weight: | 182 lb (83 kg) |
| Billed From: | Chicago, Illinois |
| Debut: | 2003 |
| Other Notes: | First Pakistani wrestler to perform in the WWE |
| WWE Accolades: | Entrant in the inaugural Cruiserweight Classic (2016) |
| WWE Main Roster Debut: | 12 Dec 2016 |
| Signature Moves: | Inverted 450 Splash |

Mustafa Ali Biography
He was interested in making his career as a wrestler since his youth and made his dream come true. Despite living in the USA, he represents his country and makes it proud by winning wrestling championships. He believes in hard work and performed as a police officer and a wrestler simultaneously.
This hard work of day and night led him to make many achievements in his wrestling career, including 'Dream-wave Alternative Championship,' 'Dream-wave World Championship,' J'APW Light Heavyweight-Championship,' 'EPW Pro TV-Championship,' 'Freelance World-Championship,' 'JAPW Light Heavyweight-Championship,' 'MSPW Heritage-Championship.'
He ranked number 55 in the list of top Five-Hundred Wrestlers in Pro Wrestling, Illustrated 500 in 2019, and PGP Franchise-Championship.
Mustafa Date of Birth
He opened his eyes on the 28th of Mar, 1986, in Bolingbrook, Illinois, USA.
Mustafa Ali Family
His father is a Karachi-based Pakistani, and his mother belongs to India, New Delhi. His parents raised him in Chicago, Illinois. He was inspired by Hayabusa, Chris Jericho, The Hardy Boyz, Rey Mysterio, Eddie Guerrero, and Bret Hart and wanted to become a professional wrestler.
He tied the knot in Jan 2011 and is a father to a son and a daughter.
Career
Independent circuit (From 2013 to 2016)
On the 2nd of Feb, 2003, he made his wrestling debut and performed several promotions, including 'Dream-Wave Wrestling' and remained 'Dream-wave Heavyweight Champion' and 'Dream-wave Alternative Champion.'
He appeared in some other promotions also such as Wrestle-Circus, Proving Ground-Pro, NWA (National Wrestling Alliance), JAPW (Jersey All-Pro Wrestling), IWA Mid-South, Galli Lucha Libre, Freelance Wrestling, AAW (All American-Wrestling).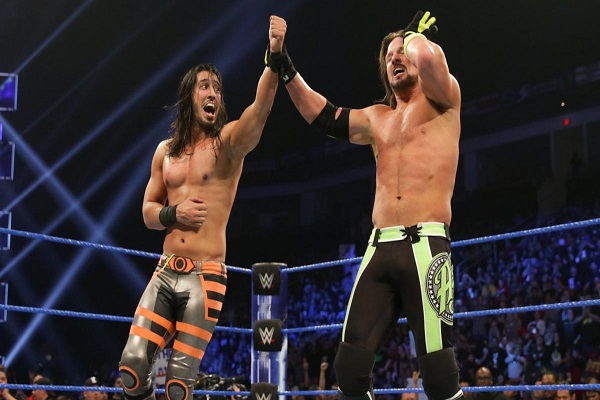 During 1st 6-years of his professional career in wrestling, he used to wear a wrestling-mask so he wouldn't face any discrimination. He carried his wrestling career during the day while working at night as an officer in the police department.
Cruiserweight division (2016–2018)
On the 25th of Jun, 2016, due to Zumbi's non-participation due to visa issues in Cruiserweight Classic-Tournament, WWE selected Mustafa as a replacement. On the 20th of Jul, he got eliminated from that tournament by Jose Cordero in 1st round.
Performance in NXT
He appeared on the 26th episode of WWE NXT and, along with Dorado, performed in 'Dusty Rhodes Tag Team Classic' but got eliminated in the 1st round by TJ Perkins and Kota Ibushi.
205-Live
On the 13th of Dec, in an episode of Live two-to-five Live, he performed for the 1st time for the brand fighting Lince to the double count-out. On the 23rd of Jan 2017, he performed for WWE Raw for the 1st time teaming with TJ Perkins and Jack Gallagher to defeat Tony Nese, Drew Gulak, and Ariya Daivari.
He started feuding with Gulak when Gulak began his campaign 'No-Fly-Zone' on two-o-five Live.
Cruiserweight Championship Tournament
He started participating in Feb 2018 in Cruiserweight Championship Tournament; he beat Jack Gallagher in 1st round, Matthew Adams in the quarter-finals, and Drew in the semi-finals to head to the final match at 34th WrestleMania.
On the 8th of April at WrestleMania, he got defeated by Cedric Alexander and didn't win WWE Cruiserweight Championship.
Rivalry to Hideo Itami
He became a rival to Hideo Itami as he interfered in Ali's match against Murphy. On the 7th of Aug, he got defeated by Itami and later collapsed in an episode of two-to-five Live.
On the 24th of Oct, in an episode of two-to-five, he beat Tony to achieve the rank of No.1 contender for Cruiserweight-Championship but didn't win that title from Murphy at Survivor-Series.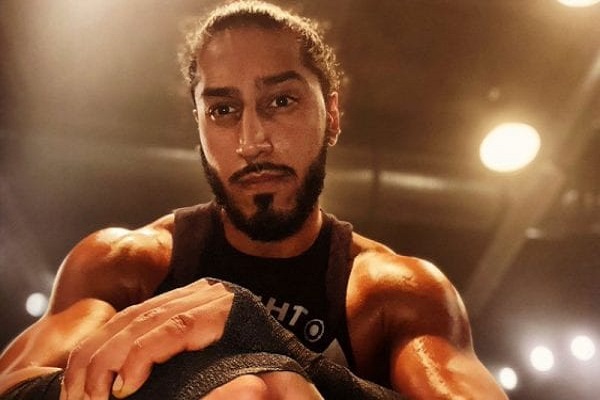 Championship Pursuits (From 2018 to 2019)
He earned the attention of chairperson of WWE Vince McMahon during his performances in live two-o-five, who added him to SmackDown-Brand. According to Kazeem Farnuyide, the ex-WWE writer Daniel Bryan, WWE Champion, was trying firmly backstage for a babyface to appear on TV.
Daniel argued that all babyfaces/ good guys they have are reaching forty years; this argument led management to choose Ali.
1st Appearance on TV
He then appeared for the 1st time on TV on the 11th of Dec 2018 live episode of Smackdown, wrestling Daniel Bryan, and got defeated by him that night.
On the 27th of Jan 2019, he at Royal-Rumble competed in 'Royal Rumble-Match' lasting Thirty minutes and eliminated Samoa Joe, and Shinsuke Nakamura, before getting defeated by his opponent Nia Jax.
Suffered Injury
He had to compete in Feb in WWE Elimination Chamber for the championship of WWE at Elimination-Chamber at Namesake-event, and it would have been Ali's 1st world title-match. However, he couldn't perform due to a severe injury, and Kofi Kingston replaced him.
Competed in Ladder Match
On the 25th of Mar 2019, he shortened his ring-name to Ali. On the 19th of May, he competed in Ladder Match at Money in Bank and didn't win, and in the next month, he competed in Fifty-Man battle royal at Super Show-Down failed to win. At WWE Sackville, he was unable to win at 'Inter-continental Championship' from Shinsuke Nakamura.
He competed in the tournament 'King of Ring' and defeated his opponent Buddy Murphy in 1st round, but got defeated by Elias in the quarter-finals. At the 'Hell in a Cell' event, he got beaten by Randy Orton. He competed at Crown-Jewel in a 10-man team match as Team Hogan's part and achieved victory against Ric Flair Team.
Retribution (2020 to Present)
After a 7-month break from TV, he returned on the 20th of Jul 2020 Raw episode teaming with Ricochet and Cedric Alexander to defeat Shelton Benjamin, Bobby Lashley, and MVP and moved to brand RAW. He started competing on Main-Event of WWE, trading triumphs in matches over Akira Tozawa and Ricochet's likes.
On the 28th Sep Raw episode, he returned to action by making the team with Apollo Crews and Ricochet. He defeated 'The Hurt-Business' after Mustafa used 'Four-Hundred and Fifty splashes' to pin Montel Vontavious Porter.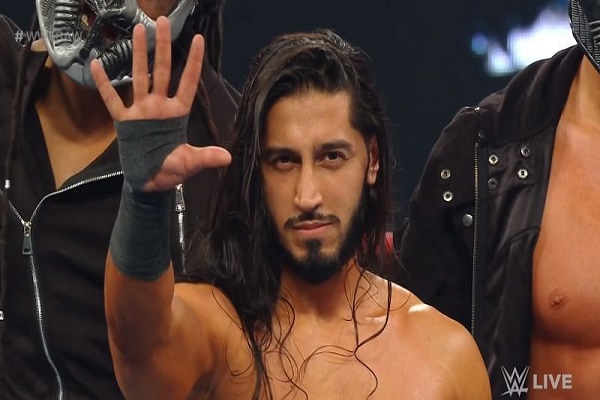 Match with MVP
On the 5th Oct Raw episode, he was declared Retribution's leader after he directed them to assault 'The Hurt Business' during a wrestling match with Montel Vontavious Porter, turning antagonists for 1st time his wrestling career.
Exposed as a Hacker
On the 19th Oct Raw episode, he presented himself as a hacker that sent SMS on SmackDown. He and Retribution got defeated by 'The Hurt-Business' in an 8-man tag squad match.
Professional Style of Wrestling
He adopts a high-fly wrestling style. His finishing action is inverse 450° Splash, called 054. After Ali's debut, he adopted characters that were different from some Muslim stereotypes. He was referred to as 'The 205 Live's Heart' during his fight with Cedric over Cruiserweight-Championship.
Other Media
He prepared his 1st video game as a playable persona in WWE 2019 and has made an appearance in WWE 2020. Ali was a subject of a documentary of 2009 concentrating on problems that Muslim-Wrestlers have to face on their booking as heels and portrayed as terrorists.
Social Media Handles
His social media account include