WWE Adeel Alam also Known for Mustafa Ali American professional wrestler who is notable for being the first Pakistani ever to compete in the WWE.Mustafa Ali has also competed in promotions like Freelance Wrestling.He appeared on the Cruiserweight Classic series.His Ring name(s) are Alto,Mustafa Ali and Prince Mustafa Ali.
| Title | Description |
| --- | --- |
| Personal | |
| Name: | Mustafa Ali |
| In Urdu: | مصطفی علی |
| Famous As: | Wrestler |
| Religion: | Islam |
| Height: | 5 ft 10 |
| Representing : | Pakistan |
| Born | |
| Date: | 28 March 1986 |
| Place: | Bolingbrook, Illinois |
| Family | |
| Children: | 2 |
| Information | |
| Birth Name: | Adeel Alam |
| Ring Name(s): | Alto,Mustafa Ali,Prince Mustafa Ali |
| Professional Wrestling Career | |
| Billed Height: | 5 ft 10 in (1.78 m) |
| Billed Weight: | 182 lb (83 kg) |
| Billed From: | Chicago, Illinois |
| Debut: | 2003 |
| Other Notes: | First Pakistani wrestler to perform in the WWE |
| WWE Accolades: | Entrant in the inaugural Cruiserweight Classic (2016) |
| WWE Main Roster Debut: | 12 Dec 2016 |
| Signature Moves: | Inverted 450 Splash |
Biography

A veteran of the cruiserweight wars, Mustafa Ali brought his years of in-ring experience to Full Sail University in pursuit of the Cruiserweight Classic crown during the Cruiserweight Classic.For more than a decade, Ali has honed his craft all over the country, squaring off with some of the toughest competition that both the cruiserweight and heavyweight divisions have to offer. Hailing from Chicago, Ali exudes a quiet confidence that allows his action to speak louder than words.An exciting competitor inside the ring, Ali's in-ring ability is on full display when he executes the jaw-dropping 054, a reverse 450 splash.[1] Biography
WWE
He went on his first WWE tryout in 2013.He is known for his signature move, Inverted 450 Splash.He has entered the ring with wrestling greats like Jerry Lawler.[2] WWE
Parents and Family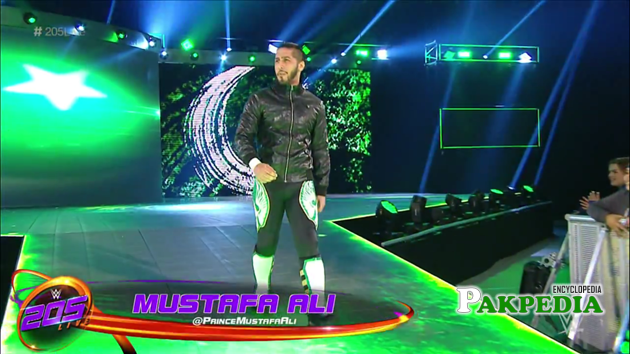 His parents are from Karachi, Pakistan.It was told by Daniel Bryan that Mustafa Ali has experience as a local police officer for the area of Chicago that he resides in. He is married and has 2 children, a daughter and son.
Florida in 2013
2013, he tried out at their Performance Center in Orlando, Florida, in 2013. "I was told that I wrestle well, but I don't look like what they needed at that moment." Three years later, WWE rolled out Cruiserweight Classic and asked him if he would be interested.Needless to say, he jumped on the opportunity and aims to win the WWE championship so he can compete in the main event at Wrestlemania.While talking about his Pakistani roots, he said, ""I'm a proud Muslim. I'm proud to have a Pakistani origin. And I want this country (America) to accept me. I want to bring to light the fact that we are all the same.""I'll do my best to do Pakistan proud and give them something to cheer about," he added.[3] Florida in 2013 
Becomes 1st Pakistani to Sign with WWE

Mustafa Ali became the first Pakistani to compete in a WWE ring, as part of the Cruiser weight Classic tournament on the WWE Network. Despite losing in the first round of the tournament, he impressed the authorities, and five months later, he has now become the first Pakistani to officially sign with the world's biggest pro wrestling promotion, WWE.[4] Becomes 1st Pakistani to Sign with WWE
Cruiser Weight Wrestler
Ali is part of the new show dedicated to cruiser weight wrestlers, 205 Live, said the WWE website. He wrestles on the show alongside some of the best cruiserweight wrestlers such as Japan's Akira Tozawa, Israel's Noam Dar, veteran Brian Kendrick and the reigning defending WWE Cruiserweight champion Rich Swann. "Alright, I am done, on to the next chapter. Thank you everyone. You'll never know what this scene means to me," Ali tweeted implying his official entry into WWE.
Interview
In an earlier interview Ali said, "To wrestle for WWE is such a huge deal to me. It's what I grew up on. It's what I chased for 13 years. It's what I've broken bones for. It's what I've missed birthdays for. To be able to live that moment of standing in a WWE ring is … I don't know how to describe it."Now that the dream has come true, it remains to be seen how well Ali fares with the WWE crowd. Three years ago, he had a tryout with the company and was told, despite his wrestling skills, he didn't look the part. However, the massive success of cruiser weights such as Rey Mysterio and Eddie Guerrero, who have gone to become world champions, means Ali stands a chance at becoming the champion and being in the main event of the grandest stage of them all, Wrestlemania."If you get in the wrestling business and that is not your goal, you won't last," Ali said.
First WWE Hall of Famer
It is important to note that Ali, so far at least, has not been given a stereotypical gimmick. No turbans or religious associations, just a Pakistani whose actions speak louder than words. In fact, in the promo released by WWE, Ali challenges stereotypes and attempts to break away from them."My name Mustafa Ali, and your mind's already started making assumptions," says Ali in the video."The minute I walk out, I don't say a word. The crowd hears my name and they boo me out of the building. I'm going to change all of that."
Dream
WWE signing a Pakistani wrestler is surely a dream come true for Ali, as well as many Pakistanis who desired of watching a fellow countryman wrestle on the big stage. But more importantly, it is an interesting business move on WWE's part.
Facts about Mustafa Ali
Mustafa Ali has been a staple of WWE's 205 Live for the past 2 years. During this time, he has showcased his ability in front of the WWE Universe, receiving a fanbase about the WWE Universe.
At the beginning of his profession, he needed to conceal his character because of his religion. All the wresting promotors needed him to play a heel Muslim character, who might be a terrorist. Ali discovered this offensive and wound up going about as a face rather while wrestling under a veil.
Before coming into the wrestling field he also served as a Police officer.
In an interview, Mustafa Ali uncovered that Rey Mysterio was his fantasy rival in WWE. Ali dependably admired Mysterio as a child,
Mustafa Ali was once rejected by WWE in 2013 when they did not sign him and he deals with his rejection very professionally.
Title History
JAPW light heavyweight title winning a 4-way match (January 24, 2009)
PGP Franchise title defeating TaDarius Thomas (April 20, 2013)
DREAMWAVE Alternative title defeating Christian Rose (April 9, 2016)
FW title defeating Isaias Velazquez (June 10, 2016)
DREAMWAVE Alternative title winnina a 3-way match (December 3, 2016)
Career Highlight
April 20, 2007 – ICW: Silas Young defeated ALTO and OMG in a 3-way match to become #1 contender for the Midwest title.
June 15, 2007 – BCW: Prince Ali defeated El Vato.
June 30, 2007 – NWA Wisconsin: Prince Ali defeated The Great Malaki.
August 4, 2007 – NWA Wisconsin: Jason Dukes defeated Prince Ali to retain the X Division title.
February 23, 2008 – OAPW: Angel de Guerra defeated Alex York, Mustafa Ali and Samson in a 4-way match to qualify for the Young Gunz tournament.
June 7, 2008 – IWA Mid-South: Dave Allen, Ethan Page, Mike Rollins & Prince Mustafa Ali defeated Anthony Brock, Jeff Brooks, Kid Hybrid & Stephen Saint.
June 27, 2008 – ICW: Egotistico Fantastico defeated Prince Mustafa Ali to retain the X-Division title.
July 6, 2008 – IWA Mid-South: Prince Mustafa Ali, Ricochet and Troy Walters defeated Jason Dukes, Jason Hades and Jayson Quick.
July 26, 2008 – IWA Mid-South: Jason Hades defeated Prince Mustafa Ali to retain the light heavyweight title.
August 16, 2008 – IWA Mid-South: Jason Hades and Ricochet defeated Jayson Quick and Prince Mustafa Ali in a 4-way match to retain the light heavyweight title.
August 17, 2008 – IWA Mid-South: Egotistico Fantastico defeated Prince Mustafa Ali.
August 30, 2008 – IWA Mid-South: Jason Hades defeated Prince Mustafa Ali in a best 2 out of 3 falls match to retain the light heavyweight title.
August 31, 2008 – IWA Mid-South: Sami Callihan and Trik Davis defeated Drake Younger and Prince Mustafa Ali.
September 26, 2008 – IWA Mid-South: Egotistico Fantastico defeated Prince Mustafa Ali in the 1st round.
September 27, 2008 – IWA Mid-South: Bobby Fish, Dingo and Ricochet defeats 2 Tuff Tony, Ares and Prince Mustafa Ali. Dingo retains the heavyweight title.
October 4, 2008 – IWA Mid-South: Michael Elgin defeated Prince Mustafa Ali.
October 11, 2008 – IWA Mid-South: Prince Mustafa Ali defeated Chris Hero.
November 1, 2008 – IWA Mid-South: Sami Callihan defeated Prince Mustafa Ali.
November 15, 2008 – IWA Mid-South: Prince Mustafa Ali defeated Ricky Steamboat Jr.. Prince Mustafa Ali was in a #1 contenders battle royal won by Drake Younger for the heavyweight title.
November 28, 2008 – IWA Mid-South: Jason Hades defeated Jake Crist, Prince Mustafa Ali and Sal Thomaselli in a 4-way elimination match to retain the light heavyweight title.
December 6, 2008 – IWA Mid-South: Ian Rotten and Mickie Knuckles defeated Prince Mustafa Ali and Trik Davis & Dru Skillz and Q Skillz in a 3-way, 1st round match. Prince Mustafa Ali and Trik Davis defeated Egotistico Fantastico and Jason Hades in the 2nd round. Da Soul Touchaz (Acid Jaz and Marshe Rockett) defeated Prince Mustafa Ali and Trik Davis in the semi-finals.
December 13, 2008 – JAPW: Archadia defeated Flip Kendrick, Grim Reefer, Louis Lyndon, Prince Mustafa Ali, Shiima Xion and The Amazing Red in a 7-way elimination match.
December 20, 2008 – IWA Mid-South: Egotistico Fantastico, Gameboy, Jason Hades and Jimmy Shalwin defeated Corey Mason, Kris Chambers, Prince Mustafa Ali and Trik Davis. Jason Hades defeated Prince Mustafa Ali to retain the light heavyweight title.
January 3, 2009 – IWA Mid-South: Prince Mustafa Ali and Trik Davis defeated Chuck Taylor and Egotistico Fantastico.
January 17, 2009 – IWA Mid-South: Devon Moore defeated Prince Mustafa Ali. Ricochet defeated Devon Moore, Prince Mustafa Ali, Sal Thomaselli, TD and Troy Walters in a 6-way match to become #1 contender for the light heavyweight title.
January 24, 2009 – JAPW: Prince Mustafa Ali defeated Flip Kendrick, Louis Lyndon and The Amazing Red in a 4-way match to win the light heavyweight title.
February 6, 2009 – IWA Mid-South: Jason Hades defeated Ash, Carter Gray, Egotistico Fantastico, Prince Mustafa Ali, Shane Hollister and The Yellow Dog in a 7-way elimination match.
February 7, 2009 – IWA Mid-South: Carter Gray defeated Dingo, Jason Hades and Prince Mustafa Ali and Ricochet in a 4-way match to retain the light heavyweight title.
March 7, 2009 – IWA Mid-South: Prince Mustafa Ali were in a #1 contenders royal rumble for the heavyweight title, won by Devon Moore and Nick Gage.
March 28, 2009 – JAPW: Flip Kendrick defeated Prince Mustafa Ali to win the light heavyweight title.
April 3, 2009 – IWA Mid-South: Prince Mustafa Ali defeated Corporal Robinson to become #1 contender for the heavyweight title.
April 4, 2009 – DREAMWAVE: Juice Robinson defeated Prince Mustafa Ali in the 1st round.
April 4, 2009 – IWA Mid-South: Dingo defeated Prince Mustafa Ali to retain the heavyweight title.
April 11, 2009 – HWA: Prince Mustafa Ali defeated Shane Hollister.
April 19, 2009 – ICW: Mickey McCoy defeated Prince Mustafa Ali.
May 2, 2009 – IWA Mid-South: Egotistico Fantastico defeats Prince Mustafa Ali by disqualification. Jason Hades defeated Mike Sydal and Prince Mustafa Ali in a 3-way match.
May 9, 2009 – JAPW: Bandido Jr. defeated Prince Mustafa Ali.
May 22, 2009 – IWA Mid-South: Prince Mustafa Ali defeated Mike Sydal.
May 23, 2009 – IWA Mid-South: Prince Mustafa Ali defeated xOMGx.
June 5, 2009 – IWA Mid-South: Egotistico Fantastico and Ricochet defeated Prince Mustafa Ali and Trik Davis.
June 6, 2009 – IWA Mid-South: Prince Mustafa Ali defeated Mike Sydal.
June 7, 2009 – IWA Mid-South: Jason Hades defeated Prince Mustafa Ali to retain the light heavyweight title.
June 20, 2009 – IWA Mid-South: Jimmy Jacobs defeated Prince Mustafa Ali.
July 10, 2009 – IWA Mid-South: Tyler Black defeated Prince Mustafa Ali.
July 18, 2009 – DREAMWAVE: Prince Mustafa Ali defeated Brett Gakiya.
July 25, 2009 – IWA Mid-South: Prince Mustafa Ali defeated Coach Hawkins, Dan The Man, Jason Collins and xOMGx in a 5-way match.
July 31, 2009 – DREAMWAVE: Jerry Lawler defeated Prince Mustafa Ali.
August 14, 2009 – CHIKARA: Lince Dorado defeated Prince Mustafa Ali in the 1st round.
August 30, 2009 – GALLI: Bryce Benjamin and Prince Ali defeated Da Soul Touchaz (Trauma and Willie Richardson).
September 6, 2009 – DGUSA: Johnny Gargano defeated Arik Cannon, Flip Kendrick, Hallowicked, Louis Lyndon, Prince Mustafa Ali, Shiima Xion and The Great Malaki in a 8-way match.
September 12, 2009 – DREAMWAVE: Austin Roberts defeated Prince Mustafa Ali by disqualification to retain the world title.
September 27, 2009 – GALLI: Too Sweet (Joey Marx, Negrotistico Fantastico and Samuray del Sol) defeated Frightmare, Prince Ali and Shiima Xion.
October 3, 2009 – DREAMWAVE: Prince Mustafa Ali defeated Thunderfoot.
November 3, 2009 – VWAA: Team Wildside (Akuma Okoye, Bryce Benjamin, Cameron Salem & Prince Mustafa Ali) defeated The Super Sons Of War (Cedric Keys, Joey Marx, Lamar Titan & Ovirload) in a tag team elimination match.
November 20, 2009 – IWA Mid-South: Prince Mustafa Ali defeated Hammett and Samuray del Sol in a 3-way match.
December 4, 2009 – IWA Mid-South: Shane Hollister defeated Chuck Taylor, Prince Mustafa Ali and Ricochet in a 4-way match to become #1 contender for the heavyweight title.
December 5, 2009 – DREAMWAVE: Austin Roberts defeated Prince Mustafa Ali to retain the world title in a street fight.
January 9, 2010 – VWAA: JD Hughes, John E. Kash and Prince Mustafa Ali defeated Da Soul Touchaz (Acid Jaz, C-Red and Marshe Rockett).
January 23, 2010 – JAPW: Egotistico Fantastico defeated Adam Cole, Human Tornado, Myke Quest, Prince Mustafa Ali and Sabian in a 6-way elimination match.
January 29, 2010 – NWA Insanity: Mickey McCoy defeated Troy Walters and Prince Mustafa Ali in a 3-way match to win the X Division title.
February 19, 2010 – IWA Mid-South: Drake Younger defeated Prince Mustafa Ali in the 1st round.
February 20, 2010 – HWA: Ryan Phoenix defeated Prince Mustafa Ali.
February 21, 2010 – GALLI: Chilango and Prince Ali defeated Jak Ferrik and Joey Marx.
February 28, 2010 – GALLI: The Desexicons (Diablo Robotico, Negro Thunder and Samoan Love Machine) defeated Billy Star, Noriega and Prince Ali.
March 6, 2010 – DREAMWAVE: Brian Nelson, Greg Glover and Prince Mustafa Ali defeated GT Vega, Brett Gakiya and CJ Esparza.
April 24, 2010 – ROH Bitter Friends, Stiffer Enemies 2: Prince Mustafa Ali wins a dark battle royal.
May 1, 2010 – DREAMWAVE: GT Vega defeated Prince Mustafa Ali.
May 2, 2010 – AAW: Tyler Black defeated Prince Mustafa Ali.
May 8, 2010 – IWC: Prince Mustafa Ali defeated Flip Kendrick in the 1st round. Johnny Gargano defeated Prince Mustafa Ali in the semi-finals.
June 4, 2010 – DREAMWAVE: Prince Mustafa Ali defeated Marshe Rockett.
June 5, 2010 – DREAMWAVE: Acid defeated Prince Mustafa Ali. Prince Mustafa Ali must retire as the result.
December 10, 2011 – CSW: Marshe Rockett defeated Prince Mustafa Ali.
February 4, 2012 – DREAMWAVE: Prince Mustafa Ali defeated Chavo Guerrero Jr..
March 3, 2012 – DREAMWAVE: Austin Roberts and Prince Mustafa Ali defeated Acid and Nick Brubaker.
April 6, 2012 – DREAMWAVE: Prince Mustafa Ali defeated Marshe Rockett. Prince Mustafa Ali defeated Waylon Beck.
May 5, 2012 – DREAMWAVE: Prince Mustafa Ali and Vic Capri defeated Acid and Marshe Rockett.
June 8, 2012 – DREAMWAVE: Prince Mustafa Ali defeated Brett Gakiya.
June 9, 2012 – DREAMWAVE: The A-List (Marshe Rockett and Nick Brubaker) defeated The Revolution (Austin Roberts and Prince Mustafa Ali).
July 14, 2012 – DREAMWAVE: Nick Brubaker defeated Prince Mustafa Ali by disqualification to retain the World title.
August 4, 2012 – DREAMWAVE: Prince Mustafa Ali defeated Nick Brubaker by disqualification. Brubaker retains the World title.
September 15, 2012 – DREAMWAVE: Nick Brubaker defeated Prince Mustafa Ali to retain the World title in a no disqualification match.
September 28, 2012 – CSW: Ace Martino and Prince Mustafa Ali defeated Dave Rydell and Lamar Titan.
October 6, 2012 – DREAMWAVE: The Revolution (???, Austin Roberts, Prince Mustafa Ali and Vic Capri) defeated The A-List (Jason Hades, Marshe Rockett, Nick Brubaker and Ryland Foxx) in a war games rules match.
November 3, 2012 – DREAMWAVE: The A-List (Jason Hades, Marshe Rockett, Nick Brubaker and Ryland Foxx) defeated The Revolution (Austin Roberts, C-Red, Prince Mustafa Ali and Vic Capri) in a tag team elimination match.
December 1, 2012 – DREAMWAVE: Prince Mustafa Ali defeated Lamar Titan.
January 18, 2013 – CSW: Marshe Rockett defeated Prince Mustafa Ali to retain the heavyweight title.
January 20, 2013 – GALLI: Prince Mustafa Ali defeated Kenny Sutra.
January 25, 2013 – AAW: ACH defeated Prince Mustafa Ali in the 1st round.
February 2, 2013 – DREAMWAVE: Jason Hades defeated Prince Mustafa Ali.
February 9, 2013 – CSW: Sean Mulligan defeated Prince Mustafa Ali to retain the Metra Division title.
February 17, 2013 – GALLI: Noriega defeated Prince Mustafa Ali.
February 23, 2013 – VWAA: Prince Mustafa Ali defeated Rickey Shane Page.
March 3, 2013 – DREAMWAVE: CJ Esparza and Prince Mustafa Ali defeated Lince Dorado and Samuray del Sol.
March 8, 2013 – CSW: Prince Mustafa Ali and Vic Capri defeated tag team champions Acid Jaz and William Richardson by DQ. Jaz & Richardson retains.
March 16, 2013 – VWAA: Prince Mustafa Ali defeated Josh Alexander and Mark Angelosetti in a 3-way match.
March 17, 2013 – GALLI: Golden Dragon defeated Matt Creed, Ovirload and Prince Mustafa Ali in a 4-way match.
March 23, 2013 – AAW: Juntai Miller defeated Prince Mustafa Ali.
March 24, 2013 – GALLI: UWC Nation (Mike Anthony and Punisher 747) defeated Noriega and Prince Mustafa Ali to retain the tag titles.
April 6, 2013 – GALLI: The Syndicate (Matt Knicks and Ovirload) defeated Joe Firoz and Prince Mustafa Ali.
April 12, 2013 – CSW: Acid Jaz and William Richardson defeated Hunter Paine and Marco Anthony & Prince Mustafa Ali and Vic Capri in a 3-way tag match.
April 13, 2013 – DREAMWAVE: Marshe Rockett defeated Prince Mustafa Ali in a TLC match to retain the Alternative title.
April 14, 2013 – GALLI: Joe Firoz, Matt Creed and Prince Mustafa Ali defeated The Syndicate (John Morales, Matt Knicks and Ovirload).
April 20, 2013 – PGP: Prince Mustafa Ali defeated TaDarius Thomas to win the PGP Franchise title.
April 27, 2013 – VWAA: Prince Mustafa Ali defeated Eric Ryan.
April 28, 2013 – GALLI: John Morales defeated Prince Mustafa Ali.
May 4, 2013 – DREAMWAVE: Prince Mustafa Ali defeated Lince Dorado.
May 10, 2013 – CSF: Marshe Rockett defeated Prince Mustafa Ali.
May 19, 2013 – VWAA: Tripp Cassidy defeated Angelus Layne, Isaias Velazquez, Matt Cagem Prince Mustafa Ali and Thomas Sinclair in a 6-way TLC match to win the Circuit title. Alex Castle, Prince Mustafa Ali and The Canadian Rainbow Man defeated Angelus Layne, Dale Patricks and Green Ant in a tag team elimination match.
May 24, 2013 – PGP: Prince Mustafa Ali defeated Tony Kozina to retain the PGP Franchise title.
May 25, 2013 – GALLI: Mojo McQueen defeated Prince Mustafa Ali to retain the International title.
June 7, 2013 – DREAMWAVE: Prince Mustafa Ali defeated CJ Esparza, Lince Dorado and Samuray del Sol in a 4-way match.
June 8, 2013 – DREAMWAVE: Prince Mustafa Ali defeated CJ Esparza to become #1 contender for the Alternative title.
June 9, 2013 – GALLI: Mason Conrad defeated Prince Mustafa Ali.
June 26, 2013 – GALLI: Prince Mustafa Ali defeated Arc Angel and Craig Mitchell and Dave Vaughn and Jake Parnell and Joe Firoz and John Morales and Kenny Sutra and Kunai Silencio and Matt Creed and Matt Knicks and Will Moah in a battle royal.
July 7, 2013 – GALLI: Joe Firoz and Prince Mustafa Ali defeated The Bromance Express (Barry Ryte and Calvin Beckham).
July 13, 2013 – DREAMWAVE: Christian Rose vs. Prince Mustafa Ali ended in a time limit draw.
July 13, 2013 – CSW: Prince Mustafa Ali defeated Carlos Rivera.
July 14, 2013 – VWAA: Prince Mustafa Ali defeated Matt Cage.
July 20, 2013 – PGP: Prince Mustafa Ali defeated Michael Elgin to retain the PGP Franchise title.
July 21, 2013 – GALLI: Matt Knicks and Prince Mustafa Ali defeated The Syndicate (Marcus Conrad and Mason Conrad) by disqualification.
July 26, 2013 – Fusion: Pauly Thomaselli defeated Prince Mustafa Ali.
August 2, 2013 – AAW: Shane Hollister defeated Prince Mustafa Ali to retain the heavyweight title.
August 3, 2013 – DREAMWAVE: Christian Rose defeated Prince Mustafa Ali.
August 18, 2013 – GALLI: Acid Jaz and Prince Mustafa Ali defeated Los Inicuos (El Rosario and Will Moah).
September 1, 2013 – GALLI: Acid Jaz, Bryce Benjamin and Prince Mustafa Ali defeated The Curse (Mojo McQueen, Ovirload and Punisher 747).
September 8, 2013 – VWAA: Matt Cage and Prince Mustafa Ali defeated Gary Jay and Isaias Velazquez.
September 15, 2013 – GALLI: Bryce Benjamin defeated Mojo McQueen and Prince Mustafa Ali in a 3-way match to retain the GALLI title.
September 20, 2013 – Fusion: Brad Kevins defeated Prince Mustafa Ali.
September 27, 2013 – AAW: Prince Mustafa Ali defeated Knight Wagner.
October 6, 2013 – VWAA: Prince Mustafa Ali defeated Joe Firoz.
October 13, 2013 – GALLI: Mike Anthony defeated Prince Mustafa Ali.
October 20, 2013 – GALLI: The Syndicate (Barry Ryte, Marcus Conrad and Mason Conrad) defeated Matt Knicks, Prince Mustafa Ali and Willie Richardson.
October 25, 2013 – AAW: Juntai Miller and Prince Mustafa Ali defeated Dan Lawrence andMarkus Crane in the 1st round. Irish Airborne (Dave Crist and Jake Crist) defeated Juntai Miller and Prince Mustafa Ali in the quarter-finals.
November 1, 2013 – Fusion: Prince Mustafa Ali defeated Sunny Ago.
November 2, 2013 – DREAMWAVE: Christian Rose, Lince Dorado, Nick Brubaker and Prince Mustafa Ali defeated Alex Castle, Markus Crane, Matt Cage and Reed Bentley in a tag team elimination match.
November 16, 2013 – CSW: Steve Boz defeated Prince Mustafa Ali.
November 24, 2013 – VWAA: Matt Cage defeated Prince Mustafa Ali in the 1st round.
December 6, 2013 – Fusion: Nick Cutler defeated Prince Mustafa Ali to retain the heavyweight title.
December 7, 2013 – DREAMWAVE: Prince Mustafa Ali defeated Chris Hero.
April 12, 2014 – DREAMWAVE: Matt Cage defeated Prince Mustafa Ali.
October 4, 2014 – DREAMWAVE: Matt Sydal defeated Prince Mustafa Ali.
November 1, 2014 – DREAMWAVE: Prince Mustafa Ali defeated AR Fox.
November 7, 2015 – DREAMWAVE: Deep Six (Arik Cannon, Donovan Danhausen, Nick Brubaker, Ruff Crossing and Zahra Schreiber) defeated Darin Corbin, Marshe Rockett, Mike Hartenbower, Prince Mustafa Ali and Waylon Beck in a tag team elimination match.
December 5, 2015 – DREAMWAVE: Matt Cage defeated Prince Mustafa Ali.
December 13, 2015 – GALLI: Marshe Rockett defeated Barry Ryte, Craig Mitchell, Furia Roja, Matt Knicks and Prince Mustafa Ali in a 6-way match to win the junior heavyweight title.
January 2, 2016 – FW: Brubaker defeated Prince Mustafa Ali.
January 8, 2016 – FW: Isaias Velazquez defeated Prince Mustafa Ali to win the FW title.
January 9, 2016 – UGW: Draconis defeated Barry Ryte, Gary Jay, Mason Conrad and Prince Mustafa Ali in a 5-way match to win the Independent title.
February 5, 2016 – FW: Ethan Page defeated Prince Mustafa Ali.
February 6, 2016 – DREAMWAVE: Prince Mustafa Ali defeated Shynron.
March 5, 2016 – DREAMWAVE: Prince Mustafa Ali defeated Arik Cannon, Brubaker, Matt Cage, Stephen Wolf and Vic Capri in a 6-way match to become #1 contender for the DREAMWAVE world title.
March 11, 2016 – FW: Prince Mustafa Ali defeated Brubaker.
April 9, 2016 – DREAMWAVE: Prince Mustafa Ali defeated Christian Rose to win the Alternative title.
April 10, 2016 – GALLI: Destructor Jr., Golden Dragon and Prince Mustafa Ali defeated La Maldicion (Draconis & Ovirload) and Will Money Maker Dolla.
April 16, 2016 – UGW: Prince Mustafa Ali defeated Mason Conrad.
April 24, 2016 – GALLI: Rey Furia defeated Billy Star and Flip Kendrick and Gringo Loco and Jesus Bryce and Joey Marx and Kunai Silencio and Prince Mustafa Ali in a battle royal.
May 6, 2016 – FW: Prince Mustafa Ali defeated The Masked Character.
May 14, 2016 – UGW: Draconis defeated Prince Mustafa Ali to retain the UGW Independent title.
May 15, 2016 – GALLI: Prince Mustafa Ali and Zema Ion defeated La Revolucion (Skayde and Skayde Jr.).
May 22, 2016 – GALLI: La Revolucion (Billy Star, Chico Suave, Skayde, Skayde Jr. and Valentino ) defeated Gringo Loco, Mahabali Shera, Mason Conrad, Prince Mustafa Ali and Zema Ion in a tag team elimination match.
June 10, 2016 – FW: Prince Mustafa Ali defeated Alex Ohlson, Craig Mitchell, GPA, Nick Brubaker and Suge D in a 6-way match. Prince Mustafa Ali defeated Isaias Velazquez to win the FW title.
July 8, 2016 – FW vs CZW: Prince Mustafa Ali defeated Jonathan Gresham to retain the FW title.
July 9, 2016 – UGW: El Swaggo Loco defeated Alex Ohlson, Paco Gonzalez, Prince Mustafa Ali and Stephen Wolf in a 5-way match.
July 20, 2016 – WWE Cruiserweight Classic: Lince Dorado defeated Mustafa Ali in the 1st round.
August 6, 2016 – DREAMWAVE: Prince Mustafa Ali defeated AR Fox to retain the world title.
August 10, 2016 – WWE Cruiserweight Classic: TM-61 (Nick Miller and Shane Thorne) defeated Mustafa Ali and Sean Maluta in a dark match.
August 14, 2016 – GALLI: Mason Conrad, Prince Mustafa Ali and Triton defeated Gringo Loco, Skayde and Skayde Jr..
August 17, 2016 – NXT: Hideo Itami defeated Mustafa Ali.
August 26, 2016 – FW: Prince Mustafa Ali defeated GPA to retain the FW title.
August 28, 2016 – GALLI: Gringo Loco defeated Marshe Rockett, Mr. 450, Prince Mustafa Ali, Triton and Zema Ion in a 6-way match.
September 3, 2016 – DREAMWAVE: Prince Mustafa Ali defeated Abyss to retain the world title.
September 11, 2016 – GALLI: Pentagon Jr. defeated GPA, Marshe Rockett and Prince Mustafa Ali in a 4-way match.
September 16, 2016 – AAW: Rey Horus defeated Prince Mustafa Ali to qualify for the Jim Lynam Memorial Tournament.
September 30, 2016 – FW: Prince Mustafa Ali defeated DJ Z to retain the FW title.
October 1, 2016 – DREAMWAVE: Prince Mustafa Ali defeated Mr. 450 to retain the world title.
October 7, 2016 – AAW: Prince Mustafa Ali defeated Ethan Page in the 1st round.
October 8, 2016 – AAW:  Prince Mustafa Ali defeated Fenix in the quarter-finals. Chris Hero defeated Prince Mustafa Ali in the semi-finals.
October 26, 2016 – NXT: Kota Ibushi and TJ Perkins defeated Lince Dorado and Mustafa Ali in the 1st round of the Dusty Rhodes tag team classic.
October 27, 2016 – FW: Prince Mustafa Ali defeated Lio Rush to retain the FW title.
October 29, 2016 – Funky Munky: Stephen Wolf defeated Prince Mustafa Ali.
November 4, 2016 – AAW: Zack Sabre Jr. defeated Prince Mustafa Ali.
November 5, 2016 – DREAMWAVE: Prince Mustafa Ali defeated Ariya Daivari to retain the world title.
November 6, 2016 – GALLI: GPA defeated Prince Mustafa Ali and Stephen Wolf in a 3-way match to retain the GALLI title.
November 12, 2016 – MAGNUM: Prince Mustafa Ali defeated Devin Thomas in the 1st round. Supafli defeated Prince Mustafa Ali in the semi-finals.
November 19, 2016 – WC: Sammy Guevara defeated Prince Mustafa Ali.
November 20, 2016 – WC: Sammy Guevara defeated Mr. 450 and Prince Mustafa Ali in a 3-way match.
November 26, 2016 – AAW: ACH defeated Prince Mustafa Ali.
December 3, 2016 – DREAMWAVE: Prince Mustafa Ali defeated JT Dunn and Alexander Hammerstone in a 3-way match to win the Alternative title and retain the world title.
December 9, 2016 – FW: GPA defeated Prince Mustafa Ali and Isaias Velazquez in a 3-way match to win the FW title.
December 12, 2016 – 205 Live: Lince Dorado vs. Mustafa Ali ended in a double count-out.
December 27, 2016 – 205 – Live: Mustafa Ali defeated John Yurnet.
January 3, 2017 – 205 Live: Mustafa Ali defeated Noam Dar.
January 7, 2017 – NXT Live Event: Kona Reeves defeated Mustafa Ali.
January 12, 2017 – Main Event: The Brian Kendrick defeated Mustafa Ali.
January 12, 2017 – NXT Live Event: Angelo Dawkins and Montez Ford defeated Ariya Daivari and Mustafa Ali.
January 14, 2017 – NXT Live Event: Tony Nese defeated Mustafa Ali.
January 17, 2017 – 205 Live: Tony Nese defeated Mustafa Ali.
January 23, 2017 – RAW: Jack Gallagher, Mustafa Ali and TJ Perkins defeated Ariya Daivari, Drew Gulak and Tony Nese.
January 30, 2017 – RAW: Tony Nese defeated Mustafa Ali.
February 3, 2017 – NXT Live Event: Mustafa Ali defeated Ariya Daivari.
February 7, 2017 – 205 Live: Mustafa Ali defeated Ariya Daivari. Jack Gallagher defeated Cedric Alexander, Mustafa Ali, Noam Dar and TJ Perkins in a 5-way elimination match to become #1 contender for the cruiserweight title.
February 10, 2017 – NXT Live Event: Cedric Alexander, Jack Gallagher and Mustafa Ali defeated Ariya Daivari, Drew Gulak and Noam Dar.
February 17, 2017 – Main Event: Cedric Alexander and Mustafa Ali defeated Drew Gulak and Tony Nese.
February 21, 2017 – 205 Live: Noam Dar defeated Mustafa Ali.
February 28, 2017 – 205 Live: Ariya Daivari, Drew Gulak and Tony Nese defeated Cedric Alexander, Mustafa Ali and TJ Perkins.
March 9, 2017 – NXT Live Event: Mustafa Ali defeated Tony Nese.
March 10, 2017 – Main Event: Jack Gallagher and Mustafa Ali defeated Noam Dar and Tony Nese.
March 14, 2017 – 205 Live: Mustafa Ali defeated Drew Gulak.
March 17, 2017 – NXT Live Event: Akira Tozawa and Mustafa Ali defeated Ariya Daivari and Drew Gulak.
March 21, 2017 – 205 Live: WWE cruiserweight champion Neville defeated Mustafa Ali in a non-title match.
March 28, 2017 – 205 Live: Mustafa Ali defeated Brandon Scott.
March 30, 2017 – WrestleMania Axxess: Harv Sihra defeated Mustafa Ali.
March 31, 2017 – Main Event: Gran Metalik, Lince Dorado and Mustafa Ali defeated Ariya Daivari, Drew Gulak and Tony Nese.
April 1, 2017 – WrestleMania Axxess: Mustafa Ali and Rich Swann defeated TK Cooper and Travis Banks.
April 3, 2017 – RAW: WWE cruiserweight champion Neville defeated Mustafa Ali in a non-title match.
April 4, 2017 – 205 Live: Austin Aries defeated Gentleman Jack Gallagher, Mustafa Ali and TJ Perkins in a fatal 4-way match to become #1 contender for the cruiserweight title.
April 11, 2017 – 205 Live: Mustafa Ali defeated The Brian Kendrick.
April 18, 2017 – 205 Live: Ariya Daivari defeated Mustafa Ali.
April 25, 2017 – 205 Live: Tony Nese defeated Mustafa Ali by disqualification.
April 28, 2017 – NXT Live Event: Gran Metalik, Mustafa Ali and Rich Swann defeated Drew Gulak, Noam Dar and Tony Nese.
May 2, 2017 – 205 Live: Drew Gulak defeated Mustafa Ali.
May 9, 2017 – 205 Live: Mustafa Ali defeated Tony Nese.
May 30, 2017 – 205 Live: Drew Gulak defeated Mustafa Ali.
June 5, 2017 – RAW: TJP defeated Mustafa Ali.
June 6, 2017 – 205 Live: Mustafa Ali defeated Louie Valle.
June 20, 2017 – 205 Live: Mustafa Ali defeated Drew Gulak.
June 27, 2017 – 205 Live: Mustafa Ali defeated Drew Gulak.
July 3, 2017 – RAW: WWE cruiserweight champion Neville defeated Mustafa Ali in a non-title match.
July 17, 2017 – RAW: Gentleman Jack Gallagher and Mustafa Ali defeated Drew Gulak and The Brian Kendrick.
July 18, 2017 – 205 Live: Mustafa Ali defeated Drew Gulak 2-1 in a best 2 out of 3 falls match.
August 15, 2017 – 205 Live: The Brian Kendrick defeated Mustafa Ali by disqualification.
August 21, 2017 – RAW: Cedric Alexander, Gran Metalik, Mustafa Ali and Rich Swann defeated Ariya Daivari, Drew Gulak, Noam Dar and Tony Nese.
September 2, 2017 – Main Event: Mustafa Ali defeated Ariya Daivari.
September 8, 2017 – Main Event: Lince Dorado and Mustafa Ali defeated The Brian Kendrick and TJP.
September 15, 2017 – Main Event: Gran Metalik, Lince Dorado and Mustafa Ali defeated Ariya Daivari, Noam Dar and Tony Nese.
September 22, 2017 – Main Event: Lince Dorado and Mustafa Ali defeated Ariya Daivari and Tony Nese.
October 3, 2017 – 205 Live: Mustafa Ali defeated Drew Gulak.
October 6-8, 2017 – Live Event: Enzo Amore defeated Mustafa Ali to retain the cruiserweight title.
October 9, 2017 – RAW: Gentleman Jack Gallagher and The Brian Kendrick defeated Cedric Alexander and Mustafa Ali.
October 10, 2017 – 205 Live: Kalisto and Mustafa Ali defeated Ariya Daivari and Enzo Amore.
October 20, 2017 – Main Event: Mustafa Ali defeated Drew Gulak.
October 17, 2017 – 205 Live: Kalisto and Mustafa Ali defeated Ariya Daivari and Enzo Amore.
November 14, 2017 – 205 Live: Mustafa Ali defeated Ariya Daivari.
November 20, 2017 – RAW: Akira Tozawa, Cedric Alexander, Mustafa Ali and Rich Swann defeated Ariya Daivari, Drew Gulak, Noam Dar and Tony Nese.
November 21, 2017 – 205 Live: Tony Nese defeated Mustafa Ali.
November 28, 2017 – 205 Live: Drew Gulak and Tony Nese defeated Cedric Alexander and Mustafa Ali.
December 2, 2017 – RAW: Drew Gulak defeated Cedric Alexander, Mustafa Ali and Tony Nese in a 4-way match to advance in the #1 contenders match.[5] Career Highlight