Mushaf ali Mir was chief of air staff of the Pakistan air Force from 20 Nov 2000 until his death on 20 Feb 2003 when the PAF Fokker F-27 he was traveling in, crashed near Kohat Pakistan. He was followed by ACM Kaleem Saadat.He also appointed as Chairman Pakistan Aeronautical Complex.He also participated major 5 wars.He also served as many commands.
| Title | Description |
| --- | --- |
| Details | |
| Name: | Mushaf Ali Mir |
| In Urdu: | مصحف على مير |
| Famous As: | Air Force General |
| Nickname(s): | Mashoo Gen. Mir |
| Nationality: | Pakistan |
| Profession: | Pakistan Air Force |
| Religion: | Islam |
| Allegiance : | Pakistan |
| Service/Branch : | Pakistan Air Force |
| Years of Service : | 1966–2003 |
| Rank : | Air Chief Marshal (General) |
| Unit : | No. 25 Squadron Night Strike Eagles |
| Born: | 5 March 1947 |
| Place: | Lahore Punjab British India |
| Death: | Died 20 February 2003 (aged 55) |
| Place: | Kohat Pass, Kohat District in Khyber-Pakhtunkhwa Pakistan |
| Cause of Death : | Aviation accident |
| Resting Place : | Mominpura Cemetery |
| Chief of Air Staff: | 20 November 2000 – 20 February 2003 |
| Preceded by : | ACM Pervaiz Mehdi Qureshi |
| Succeeded by : | ACM Kalim Sadat |
| Chairman Pakistan Aeronautical Complex: | 1999–2000 |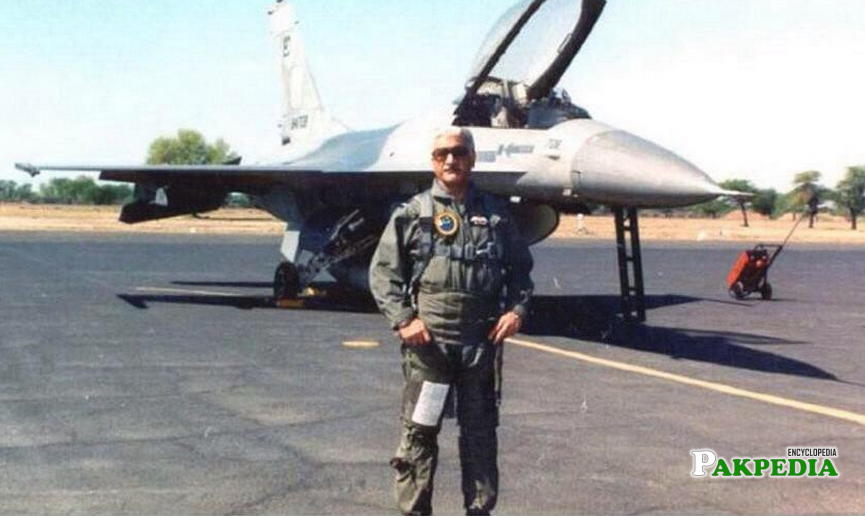 Biography
Mushaf Ali Mir was born in Lahore.He was one of nine children of a middle class Kashmiri family of Shia Muslim origin. His father, Farzand Ali Mir was a calligrapher who died when Mushaf was young.He went to Government Wattan Islamia High School Lahore Pakistan.[1] Family The air chief's wife Bilqis Mushaf Ali Mir was the sister of Maj-Gen Hussain Mehdi, the DG, Rangers, Punjab.He leaves behind a son and two daughters.[2]  Biography Mir was commissioned in the PAF on 21 Jan 1968 in 45th GD(P) Course. He was a graduate of Flying Instructors School (FIS) and Combat Commanders School (CCS). He did his staff college course PAF Staff College and his NDC course from National Defence College Islamabad.
Career
Key Command
Mushaf's key command appointments include Officer Commanding: 
CCS Mirage Squadron
Officer Commanding 
No. 33 Wing at PAF Base Minhas 
Base Commander 
PAF Base Sargodha (now called PAF Base Mushaf) 
Air Officer Commanding 
Southern Air Command[3] Key Command
Appointments
Director Operations
Assistant Chief of Air Staff (Plans) at the Air Headquarters
Chief Project Director of Project Falcon (F-16)
Green Project Flash (Mirage 2000-5)
His final assignment before promotion to CAS was Chairman of the Pakistan Aeronautical Complex Board at Kamra.
Chief of Air Staff
ACM Mushaf Mir superseded five senior Air Marshals to become the Chief of Air Staff. Those air marshals were, Muhammad Farooq Qari, Vice Chief of Air Staff; Zahid Anis, DCAS (Operations); Qazi Javed Ahmed, DCAS (Personnel); Pervez Iqbal Mirza, AOC Southern Air Command; and Riazuddin Shaikh, DCAS (Administration), all of whom sought premature retirement. He was promoted by General Pervez Musharraf to become the 16th Chief of Air Staff on November 20, 2000.
Retired
During his tenure as Air chief, the PAF's F-6 aircraft were retired from service. Some of them were given to the Bangladesh Air Force.
Death
The death reason of ex-Air Chief Marshal Mushaf Ali Mir has been revealed who lost his life in a plane crash in the year 2003. According to the details, Fokker F-27 which got crashed near Kohat on 20th Feb 2003 was purchased by the PAF in 1999-2000 which was one of the repairable planes due to which it got crashed due to some mechanical problem.[4]  Death 
Other Officers
The officers killed with the air chief on the trip were Air Vice-Marshal (AVM) Abdul Razzaq, AVM Saleem A. Nawaz, Air Cdre Syed Javaid Sabir, Air Cdre Rizwanullah Khan, Group Captain Aftab Cheema, Wing Commander Syed Tabassam Abbas and Cpl Tech Amjad.The eight crewmen were: Sqn Ldr Ahmed Yusuf, captain; Sqn Ldr Abdur Rab, co-pilot; Sqn Ldr Mumtaz Kiani, navigator; Snr Tech Khan Muhammad, air steward; Snr Tech Ashraf, Snr Tech Ghazanfar, Cpl Tech Fayyaz and Cpl Tech Khush Qadam Shah.
Reason of Plan Crash
MNA Rana Afzal Hussain who is a convener of sub-committee said that Air Chief Marshal Mushaf Ali Mir and 10 other officers died not due to weather or pilot's negligence but in a result of mechanical fault in repairable aircraft. It is worth mentioning here that sub-committee was informed by PAF officials that bad weather and carelessness of pilot became the reason of plane crash.
Fokker F-27
Similarly, an audit reports of 1990-97 told that Fokker F-27 was given to the air force in the year 1994. According to Audit Para, navy and the Pakistan International Airlines (PIA) had refused to purchase Fokker but officials of maritime security bought Fokker F-27 in Rs.83 million. However the audit para was brought because the crashed Fokker F-27 was belonged from group of spare aircrafts, said by the defense production secretary.