ACM Mushaf Ali Mir Nishan-e-Imtiaz, Hilal-e-Imtiaz, Sitara-e-Imtiaz and, Sitara-e-Basalt was a 4-star air force general, a distinguished statesman. He served as CAS of the PAF designated on 20th November 2000 and served at this post till his death in the plane crash on 20th February 2003.
A strategist and fighter pilot, he shortly served at the command level in ISI. He went on to facilitate Military War logistics of the U.S. for War in Afghanistan. He passed away in a plane crash in Kohat, and his death became controversial. This article carries every information about him, including Mushaf Ali Mir Biography.
| Title | Description |
| --- | --- |
| Details | |
| Name: | Mushaf Ali Mir |
| In Urdu: | مصحف على مير |
| Famous As: | Air Force General |
| Nickname(s): | Mashoo Gen. Mir |
| Nationality: | Pakistan |
| Profession: | Pakistan Air Force |
| Religion: | Islam |
| Allegiance : | Pakistan |
| Service/Branch : | Pakistan Air Force |
| Years of Service : | 1966–2003 |
| Rank : | Air Chief Marshal (General) |
| Unit : | No. 25 Squadron Night Strike Eagles |
| Born: | 5 March 1947 |
| Place: | Lahore Punjab British India |
| Death: | Died 20 February 2003 (aged 55) |
| Place: | Kohat Pass, Kohat District in Khyber-Pakhtunkhwa Pakistan |
| Cause of Death : | Aviation accident |
| Resting Place : | Mominpura Cemetery |
| Chief of Air Staff: | 20 November 2000 – 20 February 2003 |
| Preceded by : | ACM Pervaiz Mehdi Qureshi |
| Succeeded by : | ACM Kalim Sadat |
| Chairman Pakistan Aeronautical Complex: | 1999–2000 |

Mushaf Ali Mir Biography
Ali Mir was a competent and influential military personnel who contributed his services to Pakistan Air Force via different posts. He got commissioned in PAF in 1967 and continued his glorious career in PAF till his death. General Musharraf became a great admirer of Mir and recommended his name for chief air staff, ignoring senior officials.
This appointment became controversial, and senior officers submitted their resignation to President Tarar. Despite all these hurdles and criticism, he assumed the charge on 20th November 2000. In 2003 he and his spouse and 15-senior officers bordered on Fokker F-27 that crashed in Kohat, and all the passengers passed away.
His death became a great mystery and was called a sabotage act, but military reports dismissed this blame and stated that the plane was faulty. For his splendid services, he received Sitara-e-Basalt, Nishan-e-Imtiaz, Nishan-e-Haider, Hilal-e-Imtiaz.
Mir Date of Birth
He opened his eyes on 5th March 1947 in Lahore, British India.
Education of Mir
He went to Islamia English School in Lahore. After completing matric from a Lahore's local school, he got enrolled in Govt College University. Still, in 1966 he joined PAF (Pakistan Air Force) that led him to attend the renowned PAF Academy Risalpur after 2nd war with India.
In 1971 after the battle, he secured a Masters degree in Ear Studies from Air War College and later completed graduation in Strategic Studies from National Defense University.
Mushaf Ali Mir Family
He belonged to a lower-middle-class family and Kashmiri descent who practiced Shia principles of Islam. When he was young, his father Farzand Mir, who was a calligrapher, died.
Career
Early Career
In 1967 he commissioned in PAF as a Pilot Officer in the General Duty Pilot branch. He qualified to operate the Shenyang J-6 fighter jet at PAF Academy, and in 1970 he joined 'Number-25 Squadron Nigh Strike Eagles.' In 1971 as a flying officer, he flew his Shenyang J-6 against IAF's (Indian Air Force) MiG-21 and got credited with shooting down Jet of Indian Air Force with his missile.
Joined CCS
In 1970 he joined CCS (Combat Commander School), where he served as a faculty member. Subsequently, he commanded an 'adversary squadron' composing the 'Dassault Mirage IIIER' to perform as an Indian Air Force's Mikoyan MiG-29M.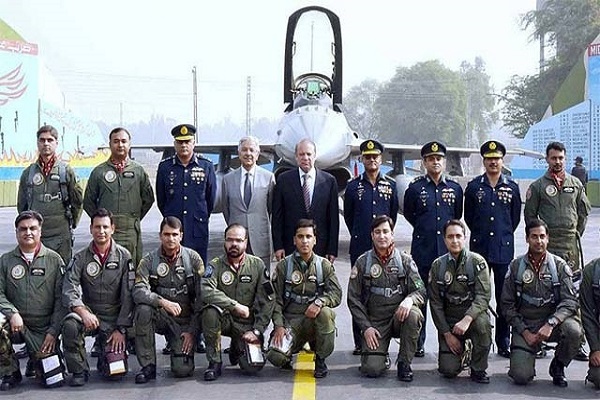 Served as C.O.
He served as CO (Commanding officer) of Wing Number 33 attached at Minhas Air-Base. Later as an Air Officer Commanding, he took over the control of PAF Base Masroor. In 1980 he was designated as an 'air attaché' at Pakistan Embassy in Washington, D.C.
Training Received
He got training from Nellis Air Force Base in Las Vegas, USA, to operate and fly Fighting Falcon F-16. From 1994 to 1995, Air Commodore Mushaf visited Poland as an ACAS to discuss to get Russian 'Su-27 Flanker' but due to unavailability of aircraft, came back.
Appointment as Project Director
AVM Mir got designated as Project Green Flash's Project Director, intending to get Mirage 2000-V from France and lobbying to get the aircraft after testing this fighter jet.
In 1996 AVM Mir got designated as Project Falcon's Projector Director that began negotiating with Jordan and Turkey to obtain F-16As/Bs. From 1996 to 1999, he took over command of PAF Base Peshawar and became part of ISI and assisted in giving aerial aid during the Afghan Civil-War.
During this period, he was appointed Military Advisor to Armed Forces of the Saudi Arab. In 1999 he was designated as chairperson of the Pakistan Aeronautical Complex located at Kamra.
Appointment as Chief of Air-Staff
In 2000 then-president Rafiq Tarar confirmed the retirement of Air Chief Marshall Pervaiz Qureshi, and Pakistan Defense Ministry sent a list of 3-star air force officers for promotion to 4-star rank. Though there were six-senior AM in this promotion race.
On 13th November 2000, Tarar approved Mir's promotion to 4-star rank and designated him CAS (Chief of Air-Staff). This surprise appointment and promotion was considered to be due to personal requests by then CJC (Chairman Joint Chiefs) General Musharaf.
Controversial Appointment
This appointment became a huge controversy in Musharaf's regime, and all the five superseding officers of the air force submitted their resignations to Tarar. Despite all this criticism, ACM Mir held the office of Air Force Chief on 20th November 2000.
After the 9/11 attacks in New York in the USA in 2001, he negotiated successfully with USA Air-Force to update software and release spare parts of F-16s.
Death in Plane Crash
On 20th February 2003, he boarded on aircraft Fokker F-27 operated by Air-Force and his spouse and fifteen senior air officers from PAF Base Chaklala for the routine flight to Kohat Air Base review War Logistics of U.S. military in Afghanistan.
The craft lost its contact from Military radars at Kohat Airbase, and it hit the highest peak of a mountain at 'Tolanj Mountain Range' located in Kohat due to the extreme winter temperature and fog.
On Mir's tragic death Government of Pakistan gave him a state funeral with several foreign personalities attending the funeral. He is embedded in Lahore in Mominpura Cemetery. Military investigations revealed that the aircraft was faulty, and 1st it was identified by the Navy's inspected team in 1993.
Reactions on his Death
USA
American diplomat to Pak, Nancy Jo Powell, professed her grief and sorrow over this tragic incident on behalf of the USA.
IRAN
President Syed Muhammad conveyed a message to Musharraf expressing his sympathy and condolence to Pakistan and prayed for the departed soul.
PAKISTAN
Foreign Minister Khursheed Kasuri called the death of Mir a massive loss for Pakistan.
INDIA
Indian ACM Srinivasapuram Krishnaswamy expressed his sympathies and grief on Mir's sudden death on behalf of the Indian Air Force.
AFGHANISTAN
President Hamid Karzai expressed his deepest condolences and sorrows on behalf of the Afghan Government.
Conspiracy Theories
Mir's death has been a subject of conspiracy theories in literature and media. According to an American journalist Gerald Posner, Mir's death in a plane crash wasn't an accident but a sabotage act. He claimed it in his book written in 2003, 'Why America Slept: The Failure to Prevent 9/11.'
Posner and his colleagues claimed that Afghan Arabs and Usama Bin Laden had an agreement with ISI via Mir in 1996 to obtain supplies, arms, and protection for Al-Qaida. Saudi Royal Family blessed the meeting via Prince Turki al-Faisal, the chief of Saudi Intelligence.
After terrorist attacks in the USA in 2001 and reversal of Saudi and Pakistani stances supporting Afghan Taliban and their supporters Al-Qaeda, 3-Saudi Princes linked with the agreement passed away within seven months after Mir's demise.
In 2015 CAA and Flight Inquiry Board of Air Force dismissed sabotage claims by submitting their investigation reports to Pakistan Parliament's Public Accounts Committee stating low aircraft maintenance.