Momina Mustehsan Biography
Momina Mustehsan Family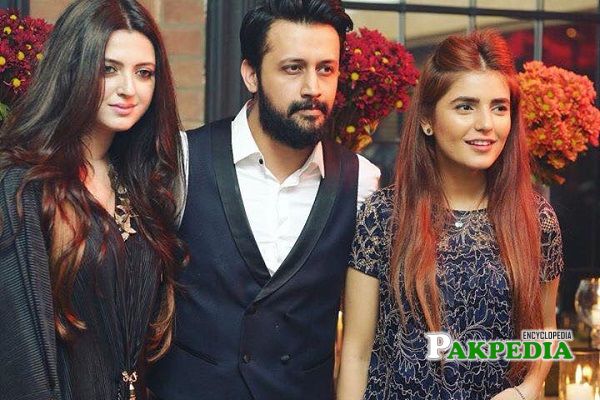 Momina with Atif Aslam and his wife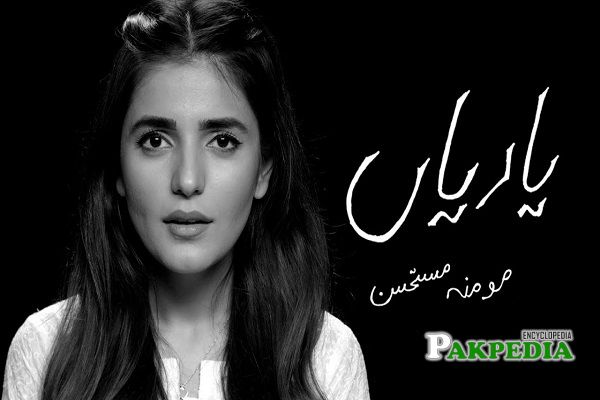 Momina Mushtehsan songs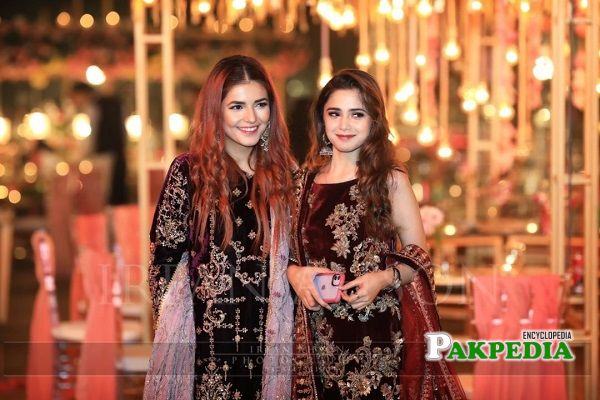 Momina with Aima Baig at an event
Momina Mustehsan Biography
Momina entered the Industry and won everyone's heart with her sweet personality, amazing voice and beauty. She has gained a lot of acknowledgement, stardom and nobility in a short time. Soon after her debut, she became the crush of the town and people started inspiring her. She is one of those celebrities who made in the list of BBC and Forbes for her increasing popularity day by day. Apart from an incredible singer, she is also a social activist and often indulge herself in social work. Though her popularity is on the peak yet, she often gets trolled by people that she hardly bothers.
Momina date of birth
She was born in Quetta on 5th September 1992. She has spent her early life in Islamabad. Later her family moved to abroad, and she has lived in various countries including Newyork and Paris. Currently, she still lives in abroad yet often comes to Pakistan for her work and reside in Islamabad and Karachi.
Education of Momina
She is one of the educated and intelligent celebrities of the Industry. After completing her A'Levels from the Lahore Grammar School, she went to the States for higher education. She has a degree of bachelors that she did in Biomedical Engineering and Applied Mathematics from the Stony Brook University. She remained a sharp student throughout her studies. During her educational period, she used to sing. It is how she realized that she wants to be a singer.
Momina Mustehsen Family
She belongs to a well-educated family. Her father Kazim Mustehsan is a retired Brigadier who has received Sitar e Imtiaz for his services in Pakistan Army. Her mother Huma Mustehsan is a Doctor by Profession. She has two brothers. Her elder Brother Hashim Mustehsan is likewise a doctor while her Younger Brother Haider Mustehsan is a student at the Pakistan section of the United Nations. In 2016 she got engaged to Ali Naqvi, who is a banker in California, but unfortunately, both broke up. Currently, she is single.
Career of Momina
In CokeStudio
Mustehsan made her debut in Coke Studio in season 9 when she sang a song 'Afreen Afreen' along with Legend Rahat Fateh Ali Khan. With a single release, people became obsessed with her, and she became the popular singer of 2016. The same season she also got an opportunity to sing another popular song 'Nawazishain' along with Asim Azhar. That song also received a huge acknowledgement. CokeStudio proves to be very lucky for her music career.
The next season in 2017 she again became the part of the CokeStudio where she sang a song like 'Muntazir' and 'Ghoom Tana'. However, 2018 doesn't prove lucky for her coke studio career. Her song 'Koko Korina' along with Pakistani actor Ahad Raza Mir received immense hate from people, and they discriminate both of them for not singing it appropriately. In 2019 she didn't become the part of CokeStudio.
Singles
In 2011 her song 'Sajna' from the album Junoon 20 released. Later she recorded a song 'Pee Jaun' along with Farhan Saeed released that also included in Nescafe Basement of 2015. The lyrics of the song written by Momina. In 2014 she recorded another song 'Awari' that later used in the movie of Bollywood 'Ek Villan'. In 2016 she sang her debut song for the Pakistani movie 'Zindagi Kitni Haseen Hai.'
In Feb 2017 she approached by the Pakistan Super League to sing the Anthem of Islamabad United. In 2018 she got a chance to sing opposite the Indian actor Arjun Kanungo. After the release of the song 'Aya Na Tu,' it became famous all over the world. In 2019 she collaborated with Bilal Saeed and sang 'Barri' that received appreciation and acknowledgement. She also sang the Ost of popular drama serial 'Alif.'
Social Work
She is known for her social work. She often emphasizes the education of girls and often does charities for various organizations. She often is seen talking about the depression that commonly found in every other youngster. She impressed everyone by donating all of her earnings of 2016 to make the wells in the Thar desert. In 2017 she participated in the "Beat Me" campaign, that addresses the problem of domestic violence in the country.
In 2018 she has seen in the advertisement of Coca Cola whose purpose was to collect the funds for Edhi Foundation. A few other celebrities also became the part of it including Sajal Ali, Sonia Hussain, Ali Sethi and others.
Achievements
She has attained a lot in a short time. She considered one of the most popular celebrities of Pakistan. In 2017 she honoured to be in the list of 100 Influential Women by BBC. The same year she also featured in the list of Forbes that is indeed the biggest achievement.
Momina is among the top superstar endorsers for brands and items in the nation. In December 2016 she became the ambassador of a cricket crew, Islamabad United for the Pakistan Super League. She is additionally the brand minister for the Coca Cola Sprite and the hair shading L'Oréal. In 2017, she spoke to Pakistan at the L'Oréal Pro Business discussion in Seville, Spain.
Momina Mustehsan Songs
SoundTracks
Coke Studio
Afreen Afreen
Aye Rah e Haq Kai Shahedo
Tera Woh Pyar
Main Raasta
Qaumi Tarana
Ghoom Taana
Muntazir
Hum Dekhengai
Mahi Aaja
Roye Roye
Ko Ko Korina
Singles
Sajna
Pee Jaun
Awari
Lab Pai Ati Hai Dua
Islamabad United Anthem
Aaya Na Tu
Coca Cola Tu
Kishmish
Yaarian OST Cover
Baari
Social Media Handles
Momina Mustehsan Instagram and facebook accounts are as follows