Mirza Asadullah Baig Khan  was a classical Urdu and Persian poet from India during British colonial rule. His also known as 'Mirza Asadullah Khan Galib', 'Mirza Galib', 'Dabir-ul-Mulk' and 'Najm-ud-Daula'. His pen-names was Ghaliband Asad or Asad or Galib. He is considered, in South Asia, to be one of the most popular and influential poets of the Urdu language. Ghalib today remains popular not only in India and Pakistan but also amongst diaspora communities around the world.
| Title | Description |
| --- | --- |
| Personal | |
| Name: | Mirza Ghalib |
| In Urdu: | مرزا غالب |
| Native Name: | Asad ullah Khan |
| Famous As: | Poet |
| Nationality: | British Indian |
| Residence: | Agra |
| Religion: | Islam |
| Profession: | He was a prominent Urdu and Persian-language poet during the last years of the Mughal |
| Born | |
| Date: | 27 December 1979 |
| Place: | Kala Mahal, Agra, Mughal Empire |
| Family | |
| Spouse: | Married at age of 13 |
| Children: | 7 Children but none of them survived |
| Parents: | Izzat-ut-Nisa Begum (mother) |
| Relatives: | Nasr Ullah Beg Khan (Uncle) |
| Died | |
| Date: | 15 February 1869 |
| Rest Place: | Gali Qasim Jaan, Ballimaran, Chandni Chowk, |
| Career | |
| Occupation(s): | Poet |
| Subject: | Love, Philosophy, Mysticism |
| Genres: | Ghazal, Qasida, Rubai, Qat'aa |
| Period: | Mughal Era, British Raj |
| Pen Name: | Ghalib |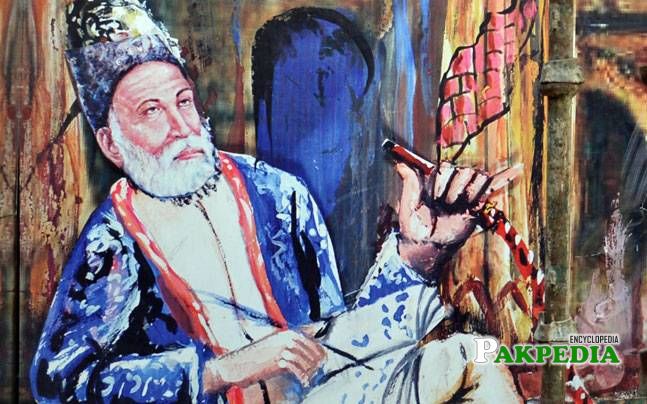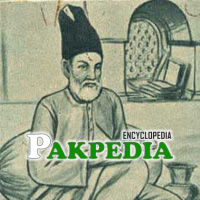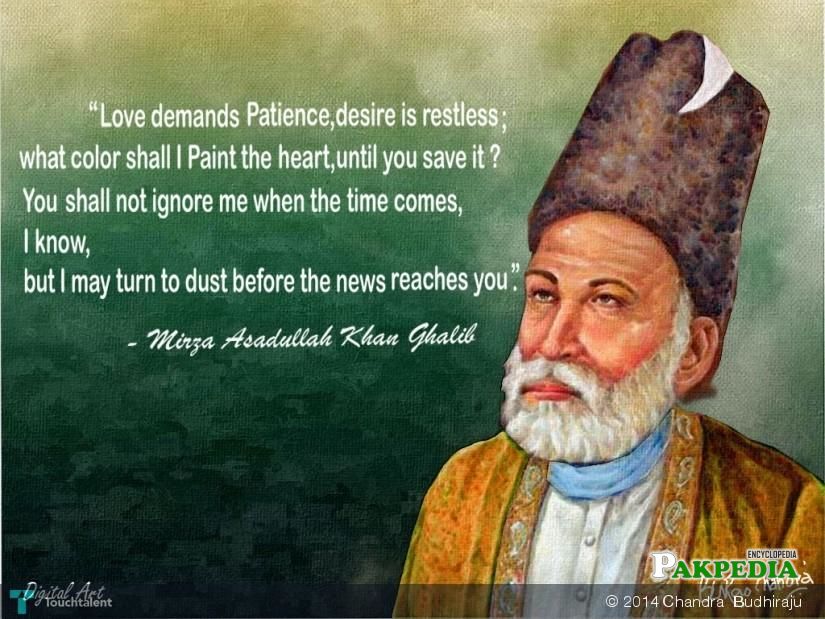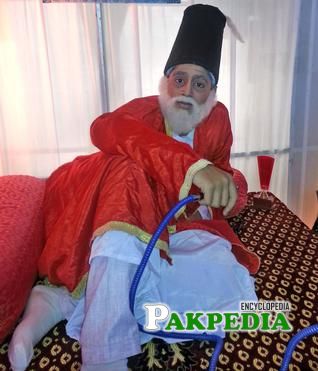 Biography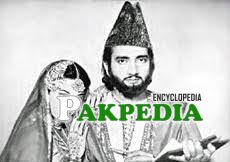 Mirza Asadullah Khan (1797-1869) who wrote with a nom de plume of Asad before choosing Ghalib, which literally means overcoming or overpowering, hailed from a Central Asian family of Aibak Turks who served traditionally as soldier s. Unlike his grandfather who had migrated to India during the reign of Sah Alam II to join army, and his father who also followed the same profession and was killed in an army action in Alwar, Ghalib excelled brilliantly as a poet, prose writer, diarist, and a writer of engrossingly intimate letters. He was born in Agra where the family had settled. He lost his father at the age of five and was brought up by his uncle who also passed away four years later after which he was taken care of by his maternal grandfather. Married at an early age of thirteen, he moved to Delhi where he kept shifting his residence as a tenant in the vicinity of what is now known as old Delhi till he settled down in yet another rented accommodation in a locality called Ballimaran where he died in pain and penury.  [1] Biography Biography  
Early Life and Education
Although Ghalib did not receive any formal education but he learnt his lessons in Arabic, Persian, logic and philosophy from Mulla Abdussamad and grew on his own at an intellectual level. After the demise of Sheikh Ibrahim Zauq who had the privilege of counselling the emperor Bahadur Shah Zafar on his poetry, he was appointed as his mentor, as well as a historian of the Mughal court, which brought him some financial security and the honorifics of Najmuddaulah, Dabeerulmulk, and Nizam Jung, as well as the title of Mirza Nausha. Ghalib stands out for his sparkling wit and tough ratiocination, as well his innovations in technique and diction that distinguish his poetry and prose from all others written before or after him.
Royal Tiles
In 1850, Emperor Bahadur Shah Zafar II revived upon Mirza Ghalib the title of "Dabeer-ul-Mulk". The Emperor also added to it the additional title of Najm-ud-daulah.The conferment of these titles was symbolic of Mirza Ghalib's incorporation into the nobility of Delhi. He also received the title of 'Mirza Nosha' by the emperor, thus adding Mirza as his first name. He was also an important courtier of the royal court of the Emperor. As the Emperor was himself a poet, Mirza Ghalib was appointed as his poet tutor in 1854. He was also appointed as tutor of Prince Fakhr-ud Din Mirza, eldest son of Bahadur Shah II,(d. 10 July 1856). He was also appointed by the Emperor as the royal historian of Mughal Court.  Being a member of declining Mughal nobility and old landed aristocracy, he never worked for a livelihood, lived on either royal patronage of Mughal Emperors, credit or the generosity of his friends. His fame came to him posthumously. He had himself remarked during his lifetime that although his age had ignored his greatness, it would be recognized by later generations. After the decline of Mughal Empire and rise of British Raj, despite his many attempts, Ghalib could never get the full pension restored.  [2] Royal Tiles
Poetry Career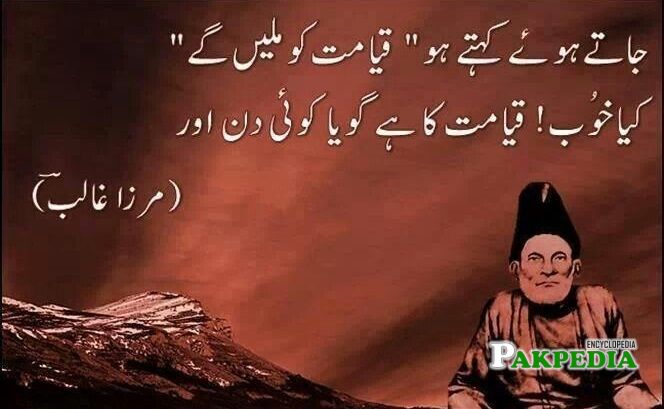 Ghalib started composing poetry at the age of 11. His first language was Urdu, but Persian and Turkish were also spoken at home. He got his education in Persian and Arabic at a young age. When Ghalib was in his early teens, a newly converted Muslim tourist from Iran (Abdus Samad, originally named Hormuzd, a Zoroastrian) came to Agra. He stayed at Ghalibs home for 2 years. He was a highly educated individual and Ghalib learned Persian, Arabic, philosophy, and logic from him.  Although Ghalib himself was far prouder of his poetic achievements in Persian, he is today more famous for his Urdu ghazals. Numerous elucidations of Ghalib's ghazal compilations have been written by Urdu scholars. The first such elucidation or Sharh was written by Ali Haider Nazm Tabatabai of Hyderabad during the rule of the last Nizam of Hyderabad. Before Ghalib, the ghazal was primarily an expression of anguished love; but Ghalib expressed philosophy, the travails and mysteries of life and wrote ghazals on many other subjects, vastly expanding the scope of the ghazal. This work is considered his paramount contribution to Urdu poetry and literature.  [3] Poetry Career  
Literary Career
Ghalib is famous for his ghazals written in Urdu. But he also used to write poems in the Persian language. His talent flowered at an early age; he wrote most of his poems by the age of nineteen. Initially his ghazals conveyed the pain of love but he expanded the horizon. He pushed the Urdu language to express life's myriad pains and philosophies. This made Ghalib's poetry a masterpiece.  At the time of Ghalib, Urdu was a very ornamental language; he made it interesting by making it an informal one. He also composed humorous proses. The letters written to his friends are ample proof of that humour. In fact, the modern Urdu language is indebted to Mirza Ghalib. He made the language beautiful and gave it a life.
Letters
Mirza Ghalib was a gifted letter writer. Not only Urdu poetry but prose is indebted to Mirza Ghalib. His letters gave foundation to easy and popular Urdu. Before Ghalib, letter writing in Urdu was highly ornamental. He made his letters "talk" by using words and sentences as if he were conversing with the reader. According to him Sau kos se ba-zaban-e-qalam baatein kiya karo aur hijr mein visaal ke maze liya karo (from a hundred of miles talk with the tongue of the pen and enjoy the joy of meeting even when you are separated). His letters were very informal; sometimes he would just write the name of the person and start the letter. He was very humorous and wrote very interesting letters. In one letter he wrote, "Main koshish karta hoon ke koi aisi baat likhoon jo padhe khush ho jaaye'" (I want to write lines such that whoever reads them would enjoy them). Some scholars say that Ghalib would have the same place in Urdu literature on the basis of his letters only. They have been translated into English by Ralph Russell in The Oxford Ghalib. Ghalib was a chronicler of a turbulent period. One by one, Ghalib saw the bazaars – Khas Bazaar, Urdu Bazaar, Kharam-ka Bazaar, disappear, and whole mohallas (localities) and katras (lanes) vanish. The havelis (mansions) of his friends were razed to the ground.
Mirza Ghalib Poetry
Jaate Hoye Kehte Ho
Jaate Hoye Kehte Ho Qayamat Ko Milen Gey
Kya Khob Qayamt Ka Hai Goya Koi Din Aur
Nigah-e-Dil Se Dekh
Talash Muj Ko Na Kar Dasht-e Rehbar Main Ghalib
Nigah-e Dil Se Dekh Teray Kitna Qareeb Hon Main
Na Kabhi Janaza Uthta
Hoye Mar Ke Ham Jo Ruswa Hoye Kun Na Gharq Darya
Na Kabi Janaza Uthta Na Kahen Mazar Hota
Arz Niaz Ishq Ke Qabil
Arz Niaz Ishq Ke Qabil Nahi Raha
Jis Dil Pe Naaz Tha Muje Wo Dil Nahi Raha
Ye Dunya Matlab Ki
Ye Dunya Matlab Ki Hai Tum Kis Mukhlis Ki Baat Karte Ho Ghalib
Log Janaza Parhne Aate Hain Wo Bi Apne Sawab Ki Khatir
Mohabat Se Kiya Mila
Har Sham Ye Sawal, Mohabat Se Kiya Mila
Har Sham Ye Jawab Ke Har Sham Ro Paray
Wo Rulata Zaror Hai
Be waja Nahi Roota Ishq Main Koi Ghalib
Jisay Khud Se Barh Ke Chaha Ho Wo Rulata Zaroor Hai
Tere Vaade Par Jiye
Tere Vaade Par Jiye Ham Tu Ye Jaan Jhoot Jana
Mirza Ghalib and Sir Syed Ahmad Khan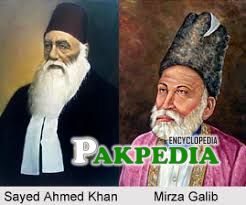 1855, Sir Syed Ahmed Khan finished his highly scholarly, very well researched and illustrated edition of Abul Fazl's Ai'n-e Akbari, itself an extraordinarily difficult book. Having finished the work to his satisfaction, and believing that Mirza Asadullah Khan Ghalib was a person who would appreciate his labours, Syed Ahmad approached the great Ghalib to write a taqriz (in the convention of the times, a laudatory foreword) for it. Ghalib obliged, but what he did produce was a short Persian poem castigating the Ai'n-e Akbari, and by implication, the imperial, sumptuous, literate and learned Mughal culture of which it was a product. The least that could be said against it was that the book had little value even as an antique document. Ghalib practically reprimanded Syed Ahmad Khan for wasting his talents and time on dead things. Worse, he praised sky-high the "Sahibs of England" who at that time held all the keys to all the a'ins in this world.  This poem is often referred to but has never translated in English. Shamsur Rahman Faruqi wrote an English translation.   
Play of Mirza Ghalib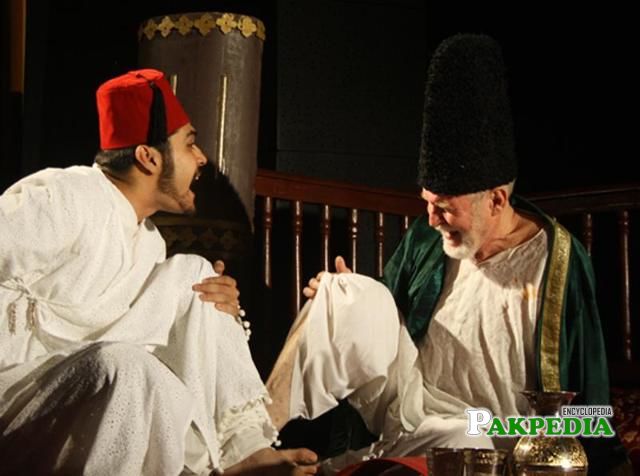 Sayeed Alam, playwright and director with Pierrot's says, "The play is a portrayal of an average person who was an extraordinary poet. This Ghalib with all his flaws and strengths," says Alam. It was the 78th time theatre enthusiasts in the city peeked into the life of the famous poet who has fans spanning generations. Ghalib, the play by Pierrot's Troupe, portrays four phases of Mirza Ghalib's life. Veteran actor Tom Alter plays the eldest part. Based on the theatre he watched in Aligarh, he told Purang that he found Delhi's theatre scene quite dull. "I was mighty surprised to discover that 75 per cent of plays were adaptations of European plays. It spoke volumes about lack of creativity and originality. World- over, you find 75 per cent originals and rest adaptations," says Alam. [5] Play of Ghalib  
Tribute to Mirza Ghalib

Global search engine Google, as per its tradition of honouring iconic personalities, paid homage to one of Urdu literature's most iconic poets Mirza Ghalib on his 220th birthday.  Born in the Indian state of Uttar Pradesh, during the reign of Mughal Emperor Bahadur Shah, Mirza Asadullah Baig Khan is known in popular culture by many names, but most commonly as Ghalib. Previously Google doodle paid homage to legendary Pakistani singer Noor Jehan on the occasion of her 91st birth anniversary and now they paid tribute to Legendary Poet Mirza Ghalib. [6] Tribute to Mirza Ghalib